7 Top Tools to Improve Your Brewery Operations
Published: January 16, 2023
Most of you probably started a brewery because you wanted to brew beer, of course. But as we all know, owning a brewery encompasses way more than just making high-quality liquid in a can or glass. As a brewery, you're responsible for everything that falls under day-to-day operations.
Those duties can run the gamut, including writing recipes, designing the right can label, managing your yeast, considering a trademark, handling payroll, forecasting raw materials, ordering the right glassware, keeping up on the hottest hop trends, and everything in between.
Luckily, you don't have to execute all these business decisions by yourself. There are many tools on the market that make processes in the front-of-house and back-of-house easier for you as a brewery owner.
While we could probably write ten articles on the best tools to help you run your brewery (and don't worry, we will!), we've started by breaking down a few of our favorites.
(Above graphic courtesy of Zapier)
The 7 Top Tools to Improve Your Brewery Operations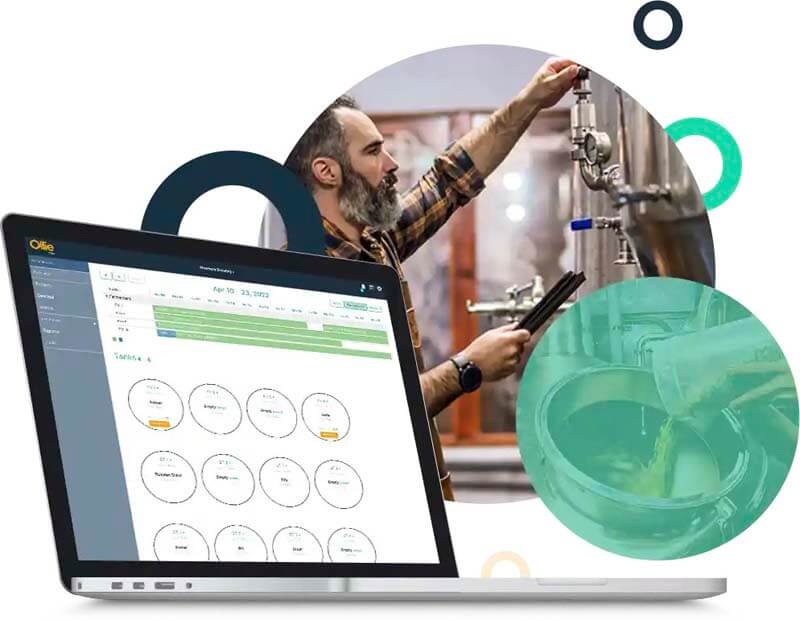 Brewery management software developed by brewers and for brewers, Ollie Ops is an all-in-one tool designed to streamline your daily brewery operations.
Ollie Ops helps you control everything in the brewhouse from start to finished goods.
Track every ingredient and predict your cost of brewing with every batch to get an accurate picture of your cost of goods sold (COGS) across the entire brewhouse.
Keep track of the generation of your yeast from tank to tank, understanding when to ditch a current batch and order new strains.
Forecast and track your raw materials, pulling detailed reports to understand when and how many new ingredients you need to order. Or use the valuable insight gained from analyzing your raw materials usage and trends to help you negotiate hop contracts with vendors.
Even generate TTB reports in an instant.
Manage all your backend operations, assigning tasks to your brew team to keep the brew schedule moving efficiently in the right direction.
Basically, with Ollie Ops, you can handle all the tasks in your brewery from one intuitive, easy-to-use dashboard. So you can spend more time focusing on what's important—brewing beer.
And the best part?
You can try Ollie Ops for free right now. Request a demo here.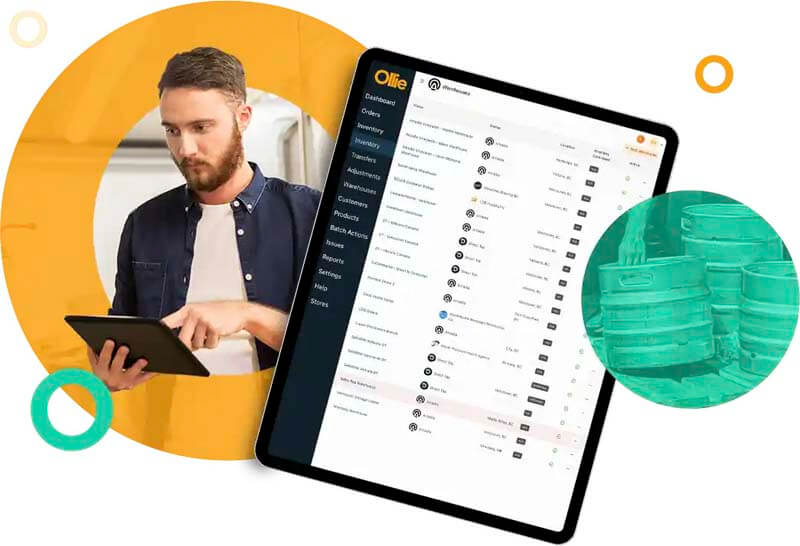 Now that things are efficiently running in the brewhouse, you want to make sure that the beer you're sending out the door gets sold efficiently.
That's your business after all.
With that in mind, every brewery should consider an intuitive full-service CRM system. A tool like Ollie Order, a CRM built specifically for breweries, can help optimize your brewery sales process, keeping track of your customers, logistics, inventory, and more.
Ollie Order solves these typical pain points in the brewhouse, turning them into opportunities.
For instance, keep track of your customers and activities by centralizing all your sales communications and activities from one simple-to-use dashboard.
Control your entire fulfillment process from the sale to delivery, spending less time looking for orders and creating real time invoices with QR codes to stay informed on each delivery.
Allocate and track inventory in real time and easily keep your price lists up to date, making sure your customers are informed with the most accurate updates.
And measure your sales teams' performance with detailed analytics and historical data.
Plus, your sales staff can record their activities from anywhere on the road or on the go.
Ready to take your brewery to the next level? Take Ollie Order for a test drive today.
GoTab empowers consumers with mobile order and pay technology that puts them in control. GoTab operators run lean, profitable hospitality operations with easy-to-use restaurant commerce tools. With mobile ordering, mobile payment, and an all-in-one restaurant POS, GoTab streamlines hospitality operations for consumers and operators.
Started in 2016 by Tim McLaughlin, who spent fifteen years growing and thriving in e-commerce technology, working with clients like Mandarin Oriental Hotels, Goldman Sachs, and Sotheby's Auction, GoTab originated as a web application.
In 2015, McLaughlin's wife opened a brewery called Caboose Commons in Fairfax, VA. The 8,500-sq-ft, three-story brewery featured multiple spaces, including a big outdoor patio. Instead of launching with a traditional counter-service model, the pair decided to go all out, implementing what is now the GoTab mobile ordering product.
"That first weekend, without anyone knowing how to scan a QR code, we saw 1,300 orders come through the app," said Christian Behrle, Director of Strategic Growth for GoTab in an article for Hop Culture. The team realized it had found its niche.
"It was amazing because we would see, when there was a big line, sixty percent of our orders would go through QR," says GoTab Founder Tim McLaughlin. "Mind you, this was when nobody in the country knew how to use QRs. It was crazy."
In 2020, boosted mainly by the global pandemic, GoTab grew an incredible 7,000 percent, with major breweries like Stone Brewing jumping on board.
What started as a contactless ordering payment web service, deploying QR codes to help breweries and restaurants turn tables faster, safely order during the global pandemic, raise check averages, and ultimately boost revenue, GoTab has continued to evolve.
Now the company that revolutionized contactless ordering has also launched its all-in-one restaurant point-of-sale system capable of creating a first-class guest experience while simultaneously handling operations with ease.
Now, breweries can work with one company to achieve multiple solutions.
All told, GoTab can help business owners improve labor efficiency by up to thirty to fifty percent. And those who implement GoTab see on average twenty percent higher tips, thirty-five to fifty percent higher check averages, and turn tables twenty-five percent faster.
GoTab can help your business become stronger in the taproom while simultaneously improving guest experiences.
Essentially, this tool is a win-win for everyone.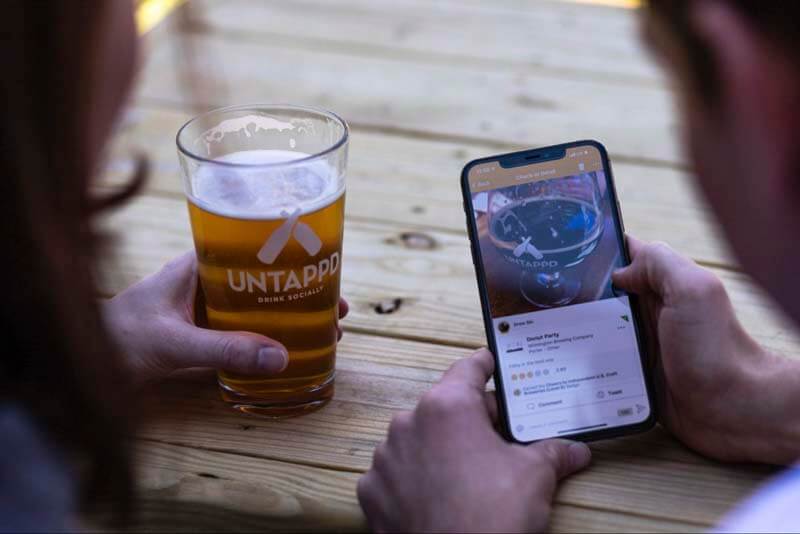 One of the best tools for your restaurant, brewery, brewpub, bottle shop, or beverage company, Untappd for Business is a digital platform that allows you to create print, digital, or QR code menus and share them with the world's largest community of beer enthusiasts.
Using our database of over 3,000,000 beers, you can quickly build a menu for your establishment that you can publish to your website, digital menus, Facebook, and the Untappd app. Leveraging QR codes and well-designed custom contactless print and digital menus helps you create a safe environment for your customers and staff.
Most importantly, with Untappd for Business, you can easily track the most popular beers in your area and stay up to date with the latest beer trends. Understanding your customers' purchase behaviors will help you make strategic customer engagement and inventory decisions.
Plus, you'll boost your bottom line and increase your sales by maximizing your inventory visibility online to drive new customers to your venue.
With Untappd for Business, you have access to an immense world-class beer database, robust analytics, and custom digital and print menus. All in one powerful tool.
Interested in learning more? Check out the definitive guide to understanding Untappd for Business.
Owning a business is all about finding solutions every single day. But what if you had a tool that could make a decision based on the conditions you set? Wouldn't that make your life just a little easier? Work smarter, not harder, right?
"Automation that moves you forward," that's Zapier's tagline. Basically, Zapier intuitively connects with other popular tools such as Asana, Google Sheets, and Salesforce, taking a condition that happens in one and performing an automatic action for you in another based on the rules you set.
For example, if you're adding a new client in Salesforce you can set up a "Zap" to then add that partner to a contact sheet in Google Sheets or as a task in Asana for your team to reach out and send a welcome email.
Really the possibilities are endless because Zapier connects you with 5,000+ of the web's top apps. Many of which are helpful business tools like the ones we've mentioned in this piece.
You can go down a bit of a rabbit hole here, but perhaps this says it all: Major companies such as Meta, Shopify, Dropbox, Asana, and Slack all use Zapier. So you probably should too.
At this point, the craft beer industry has pretty much transitioned online, right? Now, in addition to brewing beer, you're tasked with giving your customers a top-notch ecommerce experience.
Oznr is the online craft beverage marketplace that connects craft beverage enthusiasts directly with the brands they love.
And for you, they handle everything including online sales for pick up or shipping of your beer, ticketing for festivals and events, managing membership societies and bottles clubs, and marketing your brand with special features like random draws, which allow you to fairly choose folks to receive high-demand releases.
In particular, starting a membership, mug club, or bottle society can be a huge way to differentiate your brewery in the midst of almost 9,500 currently operating in the country (Brewers Association).
Typically, fans can purchase access to a membership, mug club, or bottle society for a yearly fee, unlocking special bottle releases, perks, discounts, merch, exclusive tastings and events, and more. A membership program not only allows brewers to give a little something back to their most-devoted fans, but also helps create a loyal culture.
But in the past managing these programs often took a ton of additional hours, maybe even one or two people dedicated to running it, and countless pages of Google Sheets.
"We've spoken with countless people who have created a membership with the best intentions, only to realize…oh man, this is a pain to manage," says Oznr Founder Eric Thelen.
Oznr does all the back-end work for you, saving you time, money, labor, and all the mental headaches.
Distinguish your brand from the competition, create a smooth online sales experience for your customers, and market your most-hyped releases all with Oznr.
A mobile POS solution for breweries, Arryved is one of the most trusted POS systems in the food and beverage industry.
At its core, Arryved lets your staff take orders from anywhere in your establishment, creating a more streamlined dining experience and elevated guest encounter.
Plus, Arryved allows you to customize your POS to your own needs.
But the features extend beyond just those core components.
Other benefits include:
An intuitive data dashboard that shows you which items you're selling perform best and helps you understand areas where you can grow.
QR codes that can make contactless ordering and payments a breeze for your guests and staff.
And even a mobile app that helps guests check out digitally to turn tables faster and create a streamlined ordering process.