The 3 Benefits of Implementing a Successful CRM System at Your Brewery
Published: November 10, 2022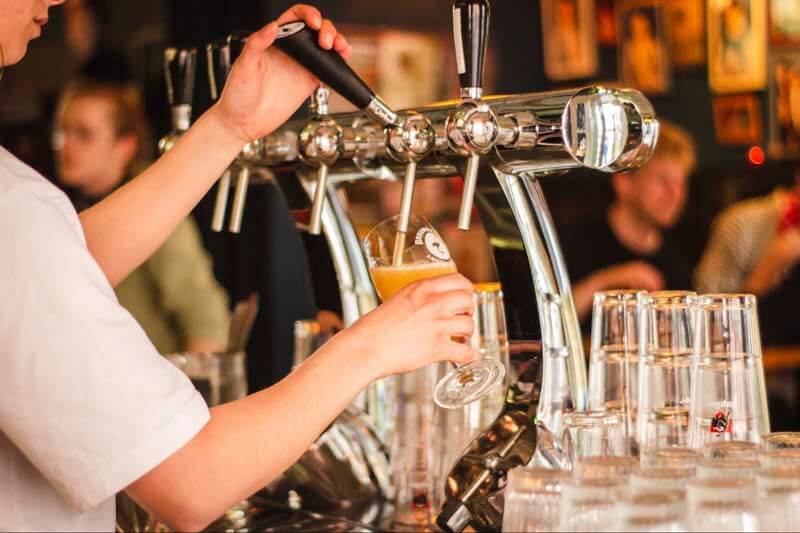 Customer relationship management (CRM) is a collection of data-driven, integrated software tools that manage, track, and store information about your existing and potential clients.
CRM systems streamline a brewery's operations and maximize customer connections and sales leads. Without the support of an integrated CRM solution, your brewery could lose potential revenue and miss growth possibilities.
In fact, in a Capterra survey of 500 businesses, forty-seven percent reported that their CRM significantly impacted customer satisfaction and retention.
With the potential to make a huge difference at your brewery, CRM systems should be a tool in every brewery's arsenal.
(Above photo by Louis Hansel on Unsplash)
What We'll Cover in This Piece:
Better Production and Enable More Sales With Ollie
Discover how breweries all over are making operations a breeze and enabling more sales with Ollie!
Ready to learn more? Drop us a line and our team will be in touch with more information on how to check out a demo of Ollie.
Why Every Brewery Should Have a CRM Solution
What is the most crucial part of owning a brewery? Selling beer, right?
In order to do that, you need to develop relationships with accounts, bars, restaurants and maybe even grocery, multi-outlet, and convenience stores. The amount of people your sales reps talk and sell beer to can grow pretty quickly. If you don't have a way to keep track of all those relationships and sales and a way to generate reports from those transactions, how will you know how your business is performing?
If you're looking to grow as a brewery, it will be essential to have your operations consolidated and run from one easy-to-use platform.
An intuitive full-service CRM system solves that problem by managing your customer data, visits, and activities in the same place you input orders everyday. You can also track visits, calls, and more.
Beyond better sales intelligence for your sales teams, a fully integrated CRM system like Ollie Order can also manage all your inventory, reporting, payment processing, and wholesale operations. Marrying the front and back of house into one universal B2B order management solution, Ollie Order makes ordering easy.
"The integration of your CRM system with your ordering, invoicing, and inventory systems is, in my opinion, its best feature," says Dustin Jeffers, consultant at Ollie Brewery Solutions. "So you won't have to transfer between different programs or systems to handle all the requirements for a sale."
According to Jeffers, a truly great CRM system is one that can grow with you as you increase output or your sales footprint.
3 Benefits of Implementing a Successful CRM System at Your Brewery
1. Help All of Your Sales Representatives Build Amazing Relationships
A robust CRM system makes your sales reps' lives easier. Every day your sales team has a goal to develop relationships and sell beer. Often on the road making account visits, they could have anywhere from ten to fifteen conversations a day.
Your sales reps simply won't be able to recall every discussion from memory. A CRM provides a place where they can record all of their interactions.
With the right CRM, your sales team can build amazing relationships with your customers and keep track of their information, visits, and activities in the same place you regularly submit orders.
One of the specific advantages of a CRM platform like Ollie Order is that it permits breweries to have unlimited users. Everyone from your brewery team can all have access and freedom to create customer groups, record visits and phone calls, and view all prospective retail (B2B) customers within each state and province. Plus, see Ollie Order's Customer Page, which helps sales reps view potential, prospected, and current customers.
"If you are searching for accounts outside, you can view them in a list view or a very useful map view," says Jeffers. "After that, you can use our integrated CRM system by clicking into the account. You can check previous activity that occurred at the account, see who visited them in the past, and keep tabs on recent behavior. You can record calls, visits, and the sort of visit; add a picture to the visit; track expenses at the account; and keep tabs on any problems that may have arisen there."
2. Ordering Is as Easy as One, Two, Pay Me
Your sales team can easily process orders from a mobile phone, tablet, or computer and provide shipping instructions to your distributor in just four seconds.
Getting paid is as easy as clicking "charge card."
Your reps can also view the account's previous orders, re-mail invoices, and, with Ollie's Quickbooks Online integration, check to see whether an order has been paid or not.
Everything you need is in an integrated CRM system. With Ollie Order specifically, just create the invoice, charge the credit card, check inventory, notify your distributor, sync the invoice into Quickbooks, and generate batch tax reporting all in one spot.
3. Keep Track of Your Sales Team's Activities
It's important to give your sales team the tools to succeed and also have the power to track their performance. A CRM can help gather data on how many sales your reps have made.
For example, with Ollie Order, a feature called Activity Report helps a brewery owner actually see how much work a rep is doing in the market.
Kyle Kensrue, an Ollie Account Executive, explains that because Ollie was built by professionals in the brewing industry, the platform specifically added this function.
"Using the Activity Report in Ollie Order streamlines communication between sales reps, management, and even wholesalers," explains Kensrue. "Best of all you can export the report, keeping everyone on the same page for each customer. The benefit is being able to share the activity report with the wholesaler so that they can stay up to date on conversations happening with retail accounts."
From a self-distribution standpoint, the benefit is being able to see all the activity your sales reps are doing and being able to pay out commissions and bonuses accordingly.
"If you self-distribute, you can send reports right away rather than putting out a separate email, providing you and your sales manager with traceability too," says Kensure.
A CRM Has Your Brewery's Back
A great CRM streamlines all of your company's operational procedures into a single, easy-to-use cloud platform that can process orders, manage inventory, generate shipping documents and invoices, and collect payments from your customers.
If you don't have the help of an integrated CRM solution, your brewery might not be optimizing processes, maximizing customer connections, and capturing sales leads.
A great CRM gives you complete functionality that includes payment processing, reporting, faster wholesale operations, and powerful inventory management.
Ready To Add a Successful CRM System at Your Brewery? Start With Ollie
Ollie's software was created by brewers for brewers. The all-in-one B2B order management system makes ordering easy! Request a free demo today.