How Ollie Increased Fonta Flora's Sales by 25 Percent
Published: April 19, 2023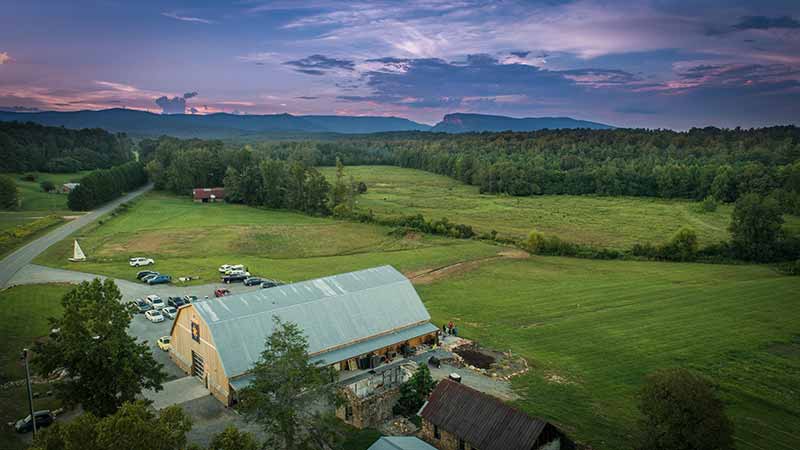 For Fonta Flora Brewery in Morganton, NC, everything happens with intention. Named after a diverse farming village that flooded between 1916 and 1923, when a power company created Lake James to bring electricity to the Catawba Valley, Fonta Flora believes in sourcing local ingredients as much as possible. From beginning to end, Fonta Flora aims to create an experience around their beer, "whether friends are hanging out and drinking at a music festival or in the airport before getting on a plane," says Fonta Flora Lead Sales Rep Matt Lee. "Every beer we produce is an opportunity to create an experience for somebody while paying tribute to the local culture and community."
It makes sense that Fonta Flora would approach its new search for a comprehensive customer relationship management (CRM) system with the same intention.
Inundated with a sales process that included Google spreadsheets, Salesforce, and Monday.com, Lee switched to Ollie at the beginning of 2023 to consolidate all of the brewery's needs into one easy-to-use, intuitive platform.
"With everything we do, there is a high level of expectation, so it was important to find the right partner for our needs," says Lee, who investigated every single option out there. "I whittled it down to something that could check all of the boxes we were looking for and definitely something that could manage all our inventory and sales but also function as a CRM for data collection."
Lee chose Ollie as the solution.
And in just one quarter, Ollie has already helped Fonta Flora increase its sales by twenty-five percent compared to the previous year. At the same time, leveraging Ollie has freed up more time for Lee, the brewery's only current full-time salesperson, to visit and give attention to accounts.
Created by a professional brewer who experienced first-hand how frustrating it is to manage a brewery's day-to-day operations, Ollie understands the order of operations in a brewery in both the back-of-house and front-of-house, designing features geared explicitly towards the beer industry.
For instance, a perceptive CRM platform, front-of-house invoicing, QuickBooks integration, raw material forecasting, yeast management, and TTB reports, to name a few.
Lee isn't sure where Fonta Flora would be at the moment without Ollie, but he knows he's pleased he switched to the platform Built by Brewers, For Brewers™.
Fonta Flora's Biggest Advantages of Using Ollie
Better Production and Enable More Sales With Ollie
Discover how breweries all over are making operations a breeze and enabling more sales with Ollie!
Ready to learn more? Drop us a line and our team will be in touch with more information on how to check out a demo of Ollie.
Replacing the Sales Chaos With an Easy-to-Use CRM
When Lee joined Fonta Flora, he says the sales process was "all chaos."
A combination of QuickBooks and multiple different spreadsheets collecting different areas of data, the sales pipeline meant Lee had five different tabs he had to open and interact with at any given time on his screen.
Looking to improve this order of operations, Lee first brought in Monday.com and paid money to Salesforce, but "they weren't designed to do what we're doing, and the level of customer service was enough reason to ditch them and part ways," he says.
After investigating all of the viable options, Lee says Ollie simply checked the boxes he was looking for at Fonta Flora to manage all the brewery's inventory and sales while functioning as a streamlined CRM for data collection.
Ollie's Real-Time Inventory Maintains Credibility With Fonta Flora's Accounts
For Lee, one of Ollie's best features includes space for real-time inventory. "I can order things and pull them off the board…so I won't double sell, which was frequently happening [before]," he says.
This way, Lee says Fonta Flora can maintain its credibility with accounts, avoiding accounts saying that "Fonta Flora is running out, and they can't deliver on their promise."
Another aspect that Lee loves is Ollie's data collection in one place. "As I go into accounts…it's easy for the management team to see where I'm at and what I'm doing in real time."
Finally, Fonta Flora has recently started to use Ollie's QR codes. When Fonta Flora's drivers make deliveries, they can use QR codes to mark their deliveries in real time. "We can track them, but also, we know that the product is delivered, and our controller doesn't have to guess."
Ollie's front-of-house features help Lee's sales stay on track, keep his inventory current, and show exactly when it is delivered.
With Ollie, Fonta Flora enjoys a streamlined sales pipeline from sale to keg delivery.
Ollie Saves Fonta Flora Two Hours per Day in the Sales Process
Lee may not have realized how much time he spent daily between Google Sheets, QuickBooks, Monday.com, and Salesforce daily.
But looking from the past to now, Lee says Ollie saves an average of two hours per day.
"Before, when we had Monday.com, we'd have to take our orders, populate them there, then go to QuickBooks and punch them in there too," says Lee, meaning at the end of the day, he often rushed home to input everything…again. "It would be stressful."
Now, Ollie runs all those operations in one place, so Lee has more time to help Fonta Flora grow.
"Now I'm able to see accounts to the finish line instead of racing home to go transfer orders on a computer," he says. "It's definitely freed me up; I'm utilizing those two hours, gaining new accounts, and growing partnerships because of that time."
Additionally, the Ollie platform makes communication between the Fonta Flora team a breeze because the software manages all the brewery's sales data in one place.
"I don't have to make phone calls to ask about inventory or billing because everything is right there," says Lee. "I can just direct everybody to Ollie to find information instead of calling or emailing me, so everybody is saving a little bit of time."
And if time equals money…
Ollie Increased Fonta Flora's Sales by Twenty-Five Percent
Perhaps most importantly, using Ollie has increased Fonta Flora's sales by twenty-five percent in Q1 2023 vs. Q1 2022, according to Lee.
Lee says he doesn't think Fonta Flora's sales would have increased if the team wasn't using the Ollie platform.
He attributes this to two specific areas.
First, since Ollie has given him two hours back in his day, he has "all this extra time to get in front of customers, see more customers, and to find the right people to talk to at the right time," says Lee. "[I can] find new accounts or grow current relationships."
Additionally, since Ollie's real-time inventory lets Lee and his team keep track of their up-to-date sales, he's seen a decrease in accidentally double selling.
"[We're] not over-selling or over-promising and under-delivering," he says. "Now we're able to deliver on our promise to customers." All of this helps Fonta Flora maintain good credibility with accounts and, hopefully, leads to repeat business.
Using Ollie has been a win-win for Lee, saving him time in his day, which has increased sales.
Ready to Learn More About Ollie?
A brewery management tool Built by Brewers, For Brewers™, Ollie handles everything in your brewhouse, from recipe development to cost management to raw materials forecasting to front-of-house sales—all with one easy-to-use platform. Spend less time managing spreadsheets and more time doing what you do best: brewing beer.
To learn more about Ollie, request a free demo today.