Generate TTB Reports in 30 Seconds or Less With Ollie Ops and Ollie Order
Published: January 27, 2023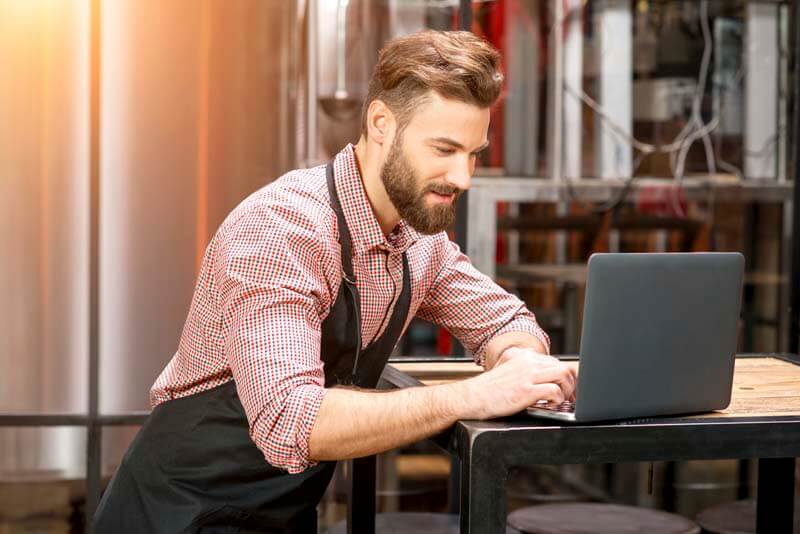 Generating quarterly reports for the Alcohol and Tobacco Tax and Trade Bureau (TTB) can be one of the most frustrating and time-consuming tasks for a brewery owner.
At the end of each quarter, the TTB requires that breweries submit a form indicating the tax they owe on either beer that hit a designated tank, beer that went into package, or package beer sold.
What you choose to calculate that tax on is up to you, but regardless, compiling all the necessary information can often be very stressful and time consuming.
"At the end of every quarter I was always so stressed out because I had to calculate the state tax for the end of month plus pulling everything for the end of the quarter," says Dustin Jeffers, Ollie brewery consultant who previously worked at 3 Sons Brewing Co. "It was always really annoying."
Usually taking Jeffers up to a day or sometimes two depending on if he found discrepancies, pulling together the information for TTB reporting was always difficult.
Which is why Ollie Ops, a brewery software management platform made "By Brewers, For Brewers," and Ollie Order, a customer relationship management (CRM) platform, have been specifically designed with brewers in mind, making TTB reporting a breeze.
It's just one of the seemingly small advantages of Ollie Ops and Ollie Order that end up paying huge dividends for your brewery, saving you time, money, and a slew of headaches.
Ultimately, you'll spend less time compiling documents and more time doing what you love: brewing beer.
Better Production and Enable More Sales With Ollie
Discover how breweries all over are making operations a breeze and enabling more sales with Ollie!
Ready to learn more? Drop us a line and our team will be in touch with more information on how to check out a demo of Ollie.
How to Create a TTB Report in Ollie Ops
If you're a brewery looking to send in your quarterly TTB reports based on either the number of barrels that hit your brite or serving tanks or by the number of kegs, cases, or bottles of beer you package each quarter, then Ollie Ops can easily generate a report to send to the TTB.
Literally, all you need to do is push a button.
According to Jeffers, the report will generate how much beer is sitting in tanks at the beginning of the quarter, how much is produced, how much is designated taxable either in packaging or once it hits a designated tank, what you lost during the process, and how much beer you have left at the end of the quarter.
All of these details are compiled into a printable PDF that you can save and mail to the TTB.
As the brewery owner, you then only need to take line ten and multiply it by 3.5 to figure out how much tax you need to pay.
That's it.
How to Create a TTB Report in Ollie Order
If you're thinking about paying tax based on the amount of beer sold on the front end, then Ollie Order can help generate the right reports.
In Ollie Order the "Excise Report – Inventory" lets you choose a date and shows you what you have on hand at that date.
"You can go in and add up all your total barrelage and that will give you how much beer you have on hand at a certain date," says Jeffers. "This report makes that really easy."
For breweries that want to know how much goods were sold, they can use the "Excise Report – Revenue" setting any date-range parameter to look at all your sales.
"The report pulls up all your buyers and different invoices so you can see what items sold, how many units actually sold, how much volume you sold in barrels and how much volume in gallons," says Jeffers. "It's really helpful to breweries for the state excise tax because every state is different."
For example, Jeffers says that at 3 Sons in Florida he could pull a report that shows him all of their distribution in Florida, sales in the tasting room, export sales (if that applies), and returns.
This report can be especially helpful if something looks off because "you can easily pull in other reports to quickly see where the issues arose," says Jeffers.
The One Best Advantage of TTB Reporting in Ollie Ops
By far the best advantage of TTB reporting in Ollie Ops is that it saves you loads of time and potential headaches.
Whereas before generating these reports for the TTB could take up to two days, in Ollie Ops it takes all of thirty seconds, according to Jeffers.
"The advantage in Ollie Ops is the report is ready to go out of the box," says Jeffers. "As long as you set up your tanks and system correctly, which we make easy to do, at the end of the quarter you're able to just pull that report and you have all the information needed."
Ollie Ops even goes so far as to actually autofill the exact tax form you need to send to the TTB.
Eliminate days worth of work by simply pushing a button in Ollie Ops, creating a report in thirty seconds.
The ease of Ollie Ops TTB reporting capabilities means you can spend significantly less time worrying about spreadsheets, numbers, and calculations and significantly more time brewing beer.
The Two Advantages of TTB Reporting in Ollie Order
You'll also save a lot of valuable time by generating excise inventory and revenue reports in Ollie Order, having all the information you need at a moment's notice.
"When you have to dig for that information, when you don't have everything at your fingertips, and when you have a bunch of different reports [to look through], that's when it can take a couple days," says Jeffers.
Instead, with the reporting capabilities in Ollie Order, you can produce that information within a matter of minutes.
Beyond the speed and efficiency of generating these reports, this function in Ollie Order can also be very helpful if you ever experience an audit.
"I would say in Ollie Order the nice part is we have these two reports you can pull that you can also look back at any time…to see where issues may arise," says Jeffers. "If it ever comes to audit time you can just go back and pull the same report. In case you threw it out or deleted it off your computer, you can easily get it back."
If there is an audit, gathering all the information you need for your case is super easy.
Just Another Way Ollie Makes Brewing Better
At the end of the day, paperwork is sometimes a necessary evil of running a brewery. With the capabilities to easily generate reports to help you pull together all the information you need to disclose your state and federal taxes to the TTB, Ollie Ops and Ollie Order have taken a stressful, annoying task and turned it into an easy-to-use, streamlined process.
Ready to get back to brewing better beer? Get Ollie Ops or Ollie Order.