Chandeleur Island Brewing Saves Hundreds, Gets More Done With Ollie
Published: September 5, 2023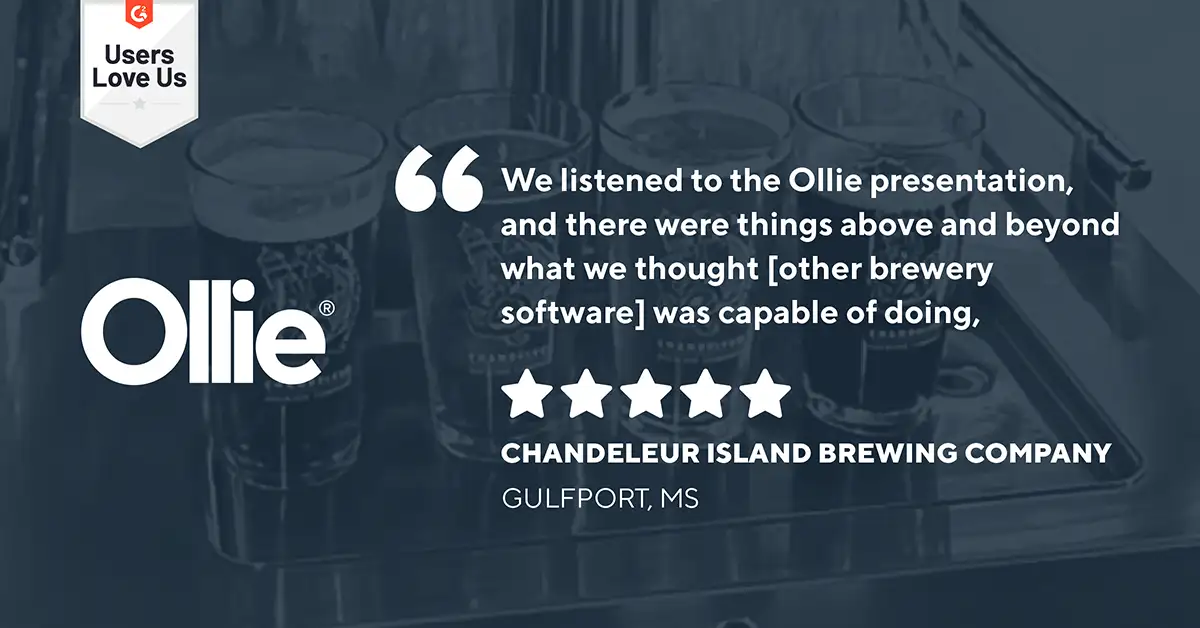 When twin brothers Cam and Cain Roberds opened Chandeleur Island Brewing Company in 2014, they wanted to honor their favorite places of the Southeast region where they lived, namely the Chandeleur Islands off the coast of Mississippi.
Based near Gulfport, MS, Chandy Island, as it's affectionately called, strives to make approachable beers that you can enjoy yourself or pass to a pal on the beach, on a boat, or at a pool, General Manager Gina Prater says.
Being on the coast, Prater says that the company works with organizations to help ensure the water and beaches are clean and the animals in those waters are safe. The beer, she says, touches any state that touches the water, from Louisiana to Alabama. That said, there are many breweries within their market, which is why the 30-bbl system brewery—with a second location in the works—streamlines its operations with the help of Ollie.
Prater says for years, Chandy Island used Ekos, another brewery management software company. But she admits the team didn't utilize much within the platform. Then she says they got an email from Ekos in the fall of 2022 saying there would be a pay increase from $279 monthly to upwards of $900 per month.
"I called them, and I said, 'I'm sorry, this is sticker shock,'" Prater remembers. "I wasn't expecting it at all."
Prater started looking around for more affordable options. When she found Ollie and learned more about all of its capabilities, Prater felt it was a no-brainer to switch.
Unlike Ekos, Ollie was designed by a professional brewer who understood first-hand all the challenges and complexities of running operations in a brewery. Insider knowledge makes Ollie the perfect tool to handle the hurdles of day-to-day logistics in a brewery with features geared specifically towards the beer industry.
Prater says whether the front-end customer relationship management (CRM) tool, raw material forecasting, cost of goods reporting, or the QuickBooks integration, Ollie's features have improved many aspects of Chandy Island's brewing operations.
Better Production and Enable More Sales With Ollie
Discover how breweries all over are making operations a breeze and enabling more sales with Ollie!
Ready to learn more? Drop us a line and our team will be in touch with more information on how to check out a demo of Ollie.
Ollie Saves Chandy Island Hundreds of Dollars Per Month
Brewing is a business. You have to make more money than you are spending. It's par for the course. So when Prater said Ekos sent out an email indicating another price hike—one to the tune of $600 more per month—that was it.
We listened to the Ollie presentation, and there were things above and beyond what we thought Ekos was capable of doing,
"It was massive," Prater says. "We had inherited Ekos, and there were things that we really wanted it to do that potentially it was capable of doing, but we hadn't been utilizing."
Around the same time, Prater says she received an email from Ollie about its brewery management platform and CRM software. She was intrigued.
"We listened to the Ollie presentation, and there were things above and beyond what we thought Ekos was capable of doing," Prater says.
Compared to Ekos, Ollie now saves Chandy Island hundreds per month. Plus, Prater says they're leveraging more of the features to create a more streamlined operation.
Ollie Saves Chandy Island Hours by Not Using Excel Spreadsheets
Prior to Ollie, Prater, who started on the sales team before advancing to general manager, says Ekos didn't have the capabilities to help the brewery on the sales side. Instead, she kept copious Excel spreadsheets, tracking whom she talked to, when, and any particular notes of that visit.
Ollie certainly saves us a lot of frustration …
A tedious process, Excel spreadsheets also made it hard for Prater to track her sales calls across her three-state territory.
"It's challenging as a salesperson to go back through all of your Excel spreadsheets to find the last time you were there, to find out the person that you talked to," Prater says, admitting that while she saved contact numbers and emails in her phone, remembering the more minor details of each account was a big hurdle.
With Ollie, Prater's sales team can easily log and take notes of visits to current and future accounts, tracking progress everywhere they sell or want to sell beer.
"We can always go back [and look at the notes]," Prater says. "So when one of the owners calls and says, 'How come nobody goes into so and so?' I can pull up the history, and [it shows] we've been in there four times, and we've dropped samples, and no one ever wants to talk to us, or the owner wasn't around, or the manager quit, or there are notes about it."
Prater adds, "So that has been very helpful compared to what we were doing with Ekos."
Ollie's comprehensive CRM also makes it easy to download and analyze reports from sales visits—something Prater couldn't do with either Ekos or Excel spreadsheets. She asks each salesperson to send her weekly reports from Ollie. "I don't have to type it all out. … I can copy and paste that and send it to the distributor we're working with or the salesperson with that area," she says.
With that easily obtained info, Prater says Chandy Island can focus more on the business and less on filling in spreadsheets, and just get the distributor or salespeople to follow up with potential accounts.
"[Ollie] allows us to … look at their name before we walk in and say, 'Oh, I talked to Sarah last time, and she was going on a cruise, or her daughter was getting married,'" says Prater. "So then you walk in the door, and you're like, 'Hi Sarah, how was the wedding?'"
With the goal of creating personal relationships with all their accounts, Chandy Island leverages Ollie to make life easier for its sales team and improve its sales process.
"[Ollie] certainly saves us a lot of frustration … [and] has been a huge piece of that relationship building," Prater says.
Ollie Helps Chandy Island Track All Inventory and Cost of Goods Better Than Ever
On the brewing side, Ollie has made it easier for Chandy Island to track its inventory and cost of goods, helping with business decisions later down the line.
It's pretty cool that Ollie will allow me to brew, and then as soon as I get an invoice, it clicks it over to where it needs to go instead of me having to plug it back in.
What makes it better compared to their previous software, Ekos?
"Inventory is easier," says Katie Baimbridge, who initially began with the company in quality control before moving up to head brewer.
Baimbridge says that with Ekos, they'd occasionally run into problems where there were discrepancies with inventory that prevented Chandy Island from brewing. Ollie makes it easier to fight through similar occurrences.
"So I remember this was a big thing [with Ekos] when I would get my raw material and say it wasn't in the system yet, I wasn't allowed to brew," Baimbridge says. "And I was like, OK, well, I've got it in-house. I'm just waiting on a receipt or something like that."
Baimbridge adds, "It's pretty cool that Ollie will allow me to brew, and then as soon as I get an invoice, it clicks it over to where it needs to go instead of me having to plug it back in."
Additionally, Prater says that the system helps with pricing things out.
"What we're doing now is utilizing it properly … putting in batch codes like grain batch codes and fruit batch codes and then price it based on the price paid for it," she says.
With Ekos, Chandy Island had to ask people on the Ekos team to find specific numbers on items or create special reports for them.
"[With Ollie], we know exactly what we paid for every six-pack topper. We know exactly what we paid for every box," Prater says. "So when the owners call and go, 'Hey, we want to do so and so,' we can immediately or within a minute [tell them], 'Well, that's going to cost us $5 more per case that we have to recoup somehow.'"
Prater says this Ollie feature even helped them create an entirely new product—Hydra Alkaline Purified Water. "We just released an alkaline water, and [Ollie] was beyond beneficial in helping create all of the input cost breakdowns by having all that information in our reporting system."
Ready to Learn More About Ollie?
A brewery management tool Built by Brewers, For Brewers™, Ollie handles everything in your brewhouse, from recipe development to cost management to raw materials forecasting to front-of-house sales—all with one easy-to-use platform. Spend less time managing spreadsheets and more time doing what you do best: brewing beer.
 To learn more about Ollie, request a free demo today.