Walking Stick Brewing Co. Switches to Ollie to Improve Keg Tracking and Sell More Beer
Published: April 12, 2023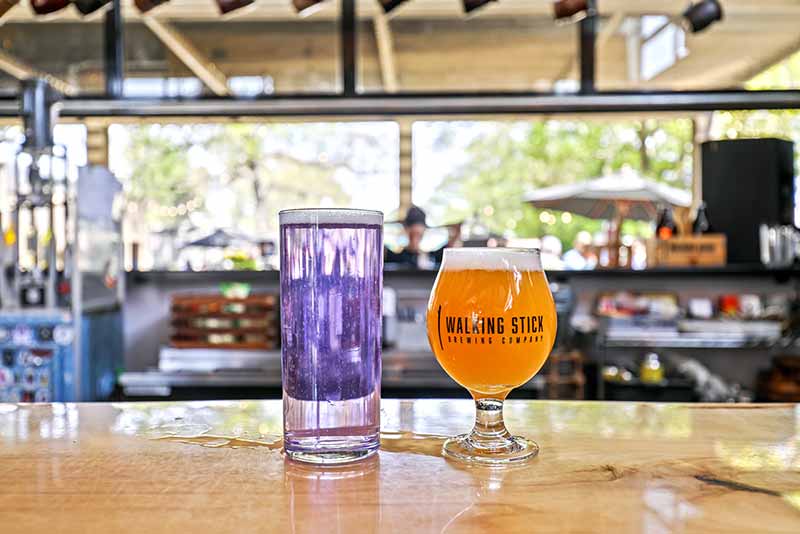 Walking Stick Brewing Co. in Houston, TX, started implementing Ollie's all-in-one brewery solutions platform after reaching a breaking point with its former brewery management software.
Fed up with the error messages, clunky formatting, inaccurate barrelage reporting, and lack of customer service at Ekos, Walking Stick Head Brewer Georgina "Georgie" Solis switched to Ollie in late August of 2022.
After over seven months of leveraging Ollie's easy-to-use, comprehensive, and intuitive platform, Walking Stick has already reaped the benefits.
Created by a professional brewer who experienced first-hand how frustrating it is to manage a brewery's day-to-day operations, Ollie understands the order of operations in a brewery, designing features geared explicitly towards brewers.
For instance, raw material forecasting, yeast management, TTB reports, and QuickBooks integration, to name a few.
At Walking Stick, Solis says it all boils down to accurately tracking volume and packaging and selling beer through an intuitive, streamlined platform Built by Brewers, For Brewers™.
The Main Reasons Walking Stick Brewing Co. Switched to Ollie
Better Production and Enable More Sales With Ollie
Discover how breweries all over are making operations a breeze and enabling more sales with Ollie!
Ready to learn more? Drop us a line and our team will be in touch with more information on how to check out a demo of Ollie.
Frustrated With Error Messages and Lack of Communication
A former police officer in Arlington, TX, Solis started working at a brewery on her days off just cleaning and washing kegs. She fell in love with craft beer and eventually went full-time, working everywhere, from breweries in Arlington to Hungary (the country) to Houston.
Previously at Eureka Heights Brew Co. for four years, Solis worked with Ekos her whole time at the brewery, often facing challenges.
When she transitioned to Walking Stick, she said, "I was so fed up with Ekos." But her new brewery still used the brewery management platform, meaning she immediately ran into issues once again.
"With Ekos, I couldn't figure out how to go in the back end and fix mistakes, and if we did, it just threw everything off," says Solis. "There were so many error codes that it wouldn't let me do anything."
Solis' frustrations compounded because she says Ekos didn't set up their system intuitively for a brewery.
"Ekos is used in a different industry, not beer, so it makes sense it wasn't doing things we needed like splitting kegs and transferring batches," says Solis. "I left Eureka not liking Ekos, and when I came to Walking Stick, it was an even worse setup."
Beyond that, Ekos didn't train the team at Walking Stick on how to accurately use the system, leading to inventory, barrels produced, and packaged items all being reported inaccurately in 2021. "When we looked at the brew sheet, those numbers didn't check out," says Solis, who notes that at the time, despite paying for Ekos, the staff still separately tracked everything with pen and paper, "so at that point, you are paying for a service you are not even fully utilizing."
In an industry that runs on very fine margins, accurately tracking and reporting the volume of beer you make is paramount.
And so is your time and where you spend your money.
"That's why I wanted to get rid of Ekos because everything was a mess," says Solis. "I wanted to start with a clean slate."
Ollie Intuitively, Accurately Tracks Volume and Packaging
At Walking Stick, changing to Ollie has been impactful from the start.
As the sole person inputting numbers and information on the back end, Solis says using Ollie has been a breeze, especially for helping her track volume and packaging.
"Processing the brews from moving them on the hot side all the way through packaging is what I enjoy the most," she says. "[Knowing] those definite numbers…I'm inputting the price per pound for everything, so that's always helpful."
Additionally, because Ollie was Built by Brewers, For Brewers™, the platform includes some intuitive features. For instance, on the cold side, Solis likes how "you just click 'dry hopping' or 'add finings,'" she says. "I don't have to go back in and edit because it's preset in the recipe, whereas in Ekos, I had to go back in and click that specific step."
These may seem like little things, but time is money in brewing, so streamlining the back-end process from start to finish has major advantages.
And with Ollie, the solutions don't stop in the brewhouse.
Ollie Helps Walking Stick Sell More Beer More Easily
At Walking Stick, Ekos caused problems both in the back-of-house and front-of-house, especially with sales orders and invoicing.
"As an original and untrained user to Ekos on the sales order side, it was a headache, and when inventory wasn't live or current, we could not move forward with an invoice, and this would sit as a draft which then was left unposted or even accounted for," says Tiare Austin, general manager at Walking Stick.
One of the best features of Ollie is that even if your inventory is low, you can still sell kegs or packaged beer because the platform intuits that even if beer is in the tanks, the brewery will package it soon.
"A good thing I love about Ollie is if our inventory is low, they anticipate something coming, and [our sales rep] can still put in that order; it won't stop her from making the order because it knows it will get packaged and moved in," says Solis. "Whereas in Ekos, it was like, 'Oh no, you don't have any of those kegs, you can't make that invoice, you can't move forward,' and she would get stuck until it was actually packaged in Ekos and moved over."
The order of operations at Ekos caused stressful situations for Walking Stick on the sales side. And whenever Austin reached out for help, Ekos only sent her an article to read.
Austin, who manages Walking Stick's sales representatives and creates sales orders and invoices, says, "As for Ollie…it's been very easy to maneuver. I think it's great to see/prompt the additional steps for the larger breweries/distributors to follow in terms of shipping, delivery, and payment options."
While Austin can't say Ollie's functionality is the only reason sales have increased, "it has definitely helped," she says. "With Georgie, a part-time sales representative, the market, and our growth, we've been able to grab attention to new accounts, and creating customers/orders with ease has helped alleviate any hiccups as we continue to learn."
Ollie Has Better Customer Service, Fewer Headaches
Beyond leveraging Ollie to keep track of all their volume, packaging, and sales, Walking Stick says an added benefit has been the excellent customer service.
Solis said one of the most frustrating parts of using Ekos was their customer service. Whenever she would call or email them with an issue, they would only respond saying they had fixed the problem without explaining or showing the underlying issues. Inevitably, the problem would keep popping up again because Solis didn't know how to fix it herself. "What the heck!" she says. "Their customer service was super frustrating because they didn't even bother…they didn't even care…they were just like whatever."
Solis had to constantly reach out and go back and forth with Ekos' customer service without knowing what buttons they clicked to solve the problem.
Conversely, Ollie has been ready and attentive to fix the problem and show Solis the solution.
"[Our customer service rep] would quickly film herself guiding us through the problem and send a video," says Solis. "Oh s**t, alright, it won't happen again now."
With that approach, Solis says they haven't needed to contact customer service in months.
Ready to Learn More About Ollie?
A brewery management tool Built by Brewers, For Brewers™, Ollie handles everything in your brewhouse, from recipe development to cost management to raw materials forecasting to front-of-house sales—all with one easy-to-use platform. Spend less time managing spreadsheets and more time doing what you do best: brewing beer.
To learn more about Ollie, request a free demo today.