Should Your Brewery Serve Branded or Non-Branded Glassware?
Published: November 4, 2022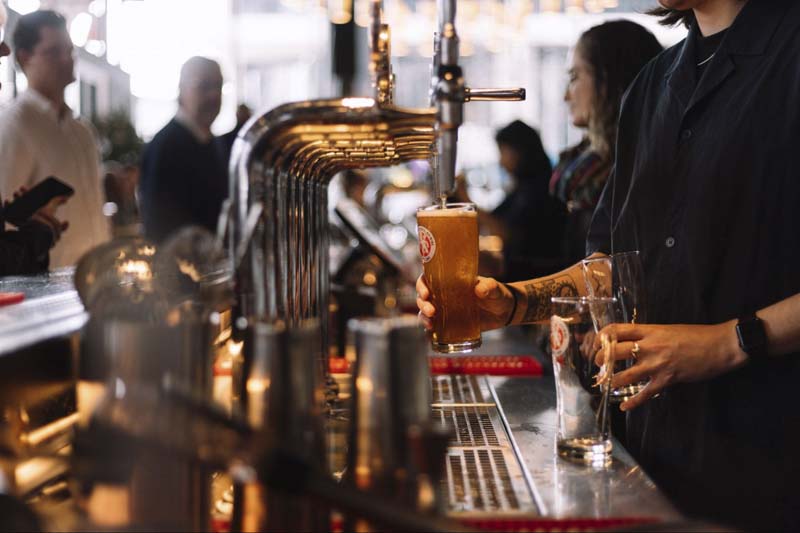 You've probably heard the saying, "You only get one shot to make a good impression." In your taproom, the glassware you serve your beer in is essentially how you make your first impression. And last year we poured a lot of beer in the United States.
Craft Brewing Business reported that small and independent brewers produced 24.8 million barrels of beer in total last year, an increase of eight percent, bringing the market share of craft beer overall (by volume) to 13.1 percent, up from 12.2 percent the year before.
That's a lot of beer! But we're curious exactly how all those beers are being served in taprooms across the country.
There are so many steps involved in creating the ideal pilsner or IPA that, by the time it transitions from grain to glass, you want to ensure that the glass itself is of the highest quality.
Which brings us to the question: Should you serve your beer in branded glasses or in non-branded glasses?
Let's examine the pros and cons of both to help you decide which investment is best for your brewery.
Better Production and Enable More Sales With Ollie
Discover how breweries all over are making operations a breeze and enabling more sales with Ollie!
Ready to learn more? Drop us a line and our team will be in touch with more information on how to check out a demo of Ollie.
Why Branded vs. Non-Branded Glassware Is Important
Although this seems like a small consideration, choosing branded vs. non-branded glassware can have an impact across your business. Picking the right drinkware has the ability to increase revenue, improve the vibe, and most importantly, keep the beer flowing!
At Fort Point Beer Company, San Francisco's largest independent craft brewery with two locations, Chief Brand Officer Dina Dobkin says they took a more thoughtful, holistic approach to drinkware.
"We approached the question of whether to use branded or unbranded glassware as a means of tying customers to our brand for the duration of their visit to our taproom," says Dobkin.
For instance, one taproom uses branded glassware, and the other does not.
Dobkin describes how having the chance to test out two alternative concepts for each taproom allowed them to try out various glassware strategies in order to balance out the brewery's marketing efforts.
At Fort Point's Valencia Beer Hall in the Mission neighborhood of San Francisco, Dobkin says they chose to use branded glassware as the marketing focal point.
Whereas at their Ferry Building Beer Garden they chose non-branded glassware so they could direct their budget towards a giant wall installation instead.
"We determined that the marketing focus would be on the branded glasses if we were to deploy them at one location," says Dobkin. "At the second site, we focused the branding and financial resources on a massive wall installation made out of our recycled beer cans as an Instagrammable tactic. It strikes a balance between the brand presence of beer and the environment."
How can you determine which choice will provide your brewery with the highest return on investment?
Let's compare the benefits and drawbacks of using branded versus unbranded glassware.
3 Advantages of Branded Glassware
1. Branded Glasses Create an Experience
Presentation is everything. Just like we eat with our eyes first, we drink with them first too. When a customer receives a perfectly poured pilsner in the proper glassware that's embossed with your logo or a special design, they're more likely to enjoy the experience.
And if they like drinking that first beer, they'll probably want to order another one.
Or maybe even buy one themselves to take home…
2. Branded Glasses Are Business Opportunities
Branded glassware can become a conversation piece or an easy way to promote your brewery, but most importantly, they can provide an additional revenue stream. If you invest in the right glassware with unique artwork, you can bet people will want to buy them.
"Customers will see your brand often while visiting your brewery, so branded glassware is a terrific idea," says Dustin Jeffers, currently an Ollie Brewery Solutions consultant, who has also worked as head of operations at Saltwater Brewery. "This is useful since it may increase the sale of goods if a consumer enjoys the glass they have been drinking from and learns they may purchase one to take home."
To that end, it's worth investing in additional branded glassware to sell in the taproom.
Pro Tip: To control profit expectations, establish your markup percentage once you know the cost price for your branded glassware. This pricing method, often known as cost-based pricing, is based on adding a markup to the item's cost. This offers you, as the business owner, control over setting the price of your branded glassware in accordance with the desired profit margin.
Branded Glasses Help Grow and Popularize Your Social Media Presence
Branded glassware gives you a distinct advantage across social media.
Particularly on Instagram, where unique, branded glasses give you the chance to promote your brewery to potentially thousands (if not more) craft beer fans.
Consider how many more fans will enjoy eye-catching photos of your beer in a glass with your bespoke artwork.
Plus, those fans can then help spread the word. Imagine if one of these 55 Best Beer Instagram Accounts to Follow in 2022 made a post with your branded glassware? How many potential new customers could you attract? And how could that translate to actual sales?
Branded glassware gives you the opportunity to market yourself worldwide with just a few clicks.
3 Challenges of Branded Glassware
1. Higher Production Cost
Let's start with the obvious: Branded glassware will be more expensive than non-branded glassware.
Let's imagine you want to order 120 pint glasses that are 16oz each and include your branding. A one-color wrap imprint is priced at $2.63 by a business like 4imprint, coming to roughly $315 overall.
Or if you'd want to have your logo etched in glass on 120 of the typical 16oz pint glasses, the cost would be about $7 per glass, for a total of about $885.
You'll save a lot of money—you can buy an entire 24-pack of plain, unbranded pint glasses for just about $1 each!
Pro Tip: If you do decide to buy branded glassware, make sure you ask your glassware provider the right questions: When will your branded glasses be shipped and what is their reimbursement policy on glassware that gets damaged in transit?
2. Be Mindful of Excessive Branding at Your Brewery
If you've ever entered a place where the brand was present on every surface—including the tables, the menus, the carpet, and more—it might be overwhelming.
When considering the concept of branded glassware, it's crucial to do so carefully.
According to Dobkin, it might be excessive to have your logo printed on every wall, as well as on merchandise and glasses. "Your logo doesn't have to be on every product," she says. "Customers shouldn't be overly confused by the options for garnishing your glassware. It should feel right to be consistent."
3. More Costly to Replace
We can guarantee that glasses will break. Since branded glassware is more expensive and more of an investment, replacing them will also be more costly.
To avoid potentially dangerous situations, determine the various breakage hotspots in your brewery—like busy hallways, storage rooms, and dishwashing areas, then make sure there are precautions in place.
Pro Tip: Ensure that your glasses are dishwasher safe. Trust us, pulling a tray of newly cleaned pint glasses out of the dishwasher only to discover the branding has melted off is crushing!
3 Advantages of Non-Branded Glassware
1. Ability to Invest in Other Areas of the Brewery
You'll save money by purchasing non-branded glassware. Divert the extra funds to other areas or your business.
Perhaps you want to invest in an efficient, all-in-one brewery management software. Or reinvest in more creative labels. From a marketing perspective, you could use that supplemental cash to run sponsored posts or hire a videographer to help capture the story of your brewery.
The decision is up to you. Saving money by purchasing non-branded glassware does give you flexibility to invest in other areas of your business.
2. Opportunity to Create Limited Branded Glassware Drops
Leverage the fact that you don't offer standard branded glassware to your advantage by putting out limited-edition glassware drops. People go crazy over exclusive beer releases, so why not pair those with some limited-edition glasses?
You could create glassware for a specific beer release event like an anniversary, or even a seasonal holiday. Work with a local artist to design something super eye-catching and you'll be able to create a pretty compelling narrative.
Drop the exclusive branded glasses at the right time and you'll generate excitement, hype, and a crucial sense of FOMO.
3. More Affordable to Replace
This is actually a two-fold advantage. Using unbranded glassware not only lowers the possibility of customers taking your glasses home with them, but it also means if you do break any, they're more affordable to replace.
As we mentioned, you can purchase standard 16oz unbranded pint glasses for about $1 per glass. If you can buy 100 generic glasses for $100, your monthly budget won't be as severely impacted.
Likewise, replacing any items will be much more manageable on your bottom line.
3 Challenges of Non-Branded Glassware
1. Missed Marketing Opportunities
Branded glasses are like mini billboards. Folks all across your taproom will drink out of them and post pictures on Instagram. Those that purchase actual glasses will take them home and show them to others.
Plain glassware eliminates this essential marketing and branding strategy.
Pro Tip: Should you decide to invest outside of branded glassware, consider allocating that money to other marketing streams. For example, on influencer posts with folks enjoying the atmosphere inside your brewery.
2. A Non-Branded Glass May Give the Wrong Impression
The choice of glassware is like a mirror for your customers, reflecting the personality and originality of your brewery. Non-branded glassware can convey conflicting information about the level of care that a customer can anticipate to go into their beverage.
According to Jeffers, "The trade-off [with non-branded glassware] is that you are not exposing your customers to your branding as much as you could be, and your logo won't be visible in photos they take while visiting your tasting room."
If your brewery has a strong brand identity with incredible label art and local artwork all around the taproom but you serve your beer in plain unbranded glassware, that sends mixed messages to your consumers.
Make sure your brand identity stays consistent across all areas of your business, including your glassware.
3. A Blank Glass Says Very Little About Your Brand
The most successful breweries create a narrative around their brand from the label artwork to the liquid inside the glass to the glass itself. Ask yourself this: What does a plain glass say about your brewery? Not a whole lot, right? And maybe that's what you're going for, and if that's the case, great.
But if you're looking to make a loud, bold identity statement, non-branded glassware won't get the job done; they simply don't create any conversation.
And these days, breweries are a place where people gather to talk and enjoy a good beer. So why not give them something to chat about while they're in your space?
Whether you choose to spend money on branded or non-branded glassware, both have the power to fundamentally change the way your brewery operates, benefitting your customers and your bottom line.
Glassware Isn't the Only Way to Grow Your Brewery. Get Ollie.
Ollie's software was created by brewers for brewers. The all-in-one brewery software manages your process, from raw materials to finished goods. Request a free demo today.