What Is HopHaze? Real Hops Creating Stable Haze
Published: November 1, 2023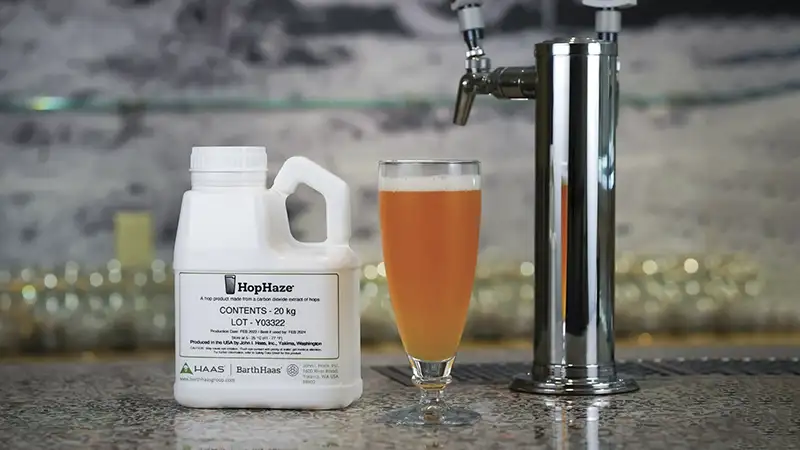 Science never stops trying to improve products across all industries and trades. That's no different within craft beer circles.
Whether it's microorganisms, including thiolized yeasts like Cosmic Punch, or numerous hop products that we've discussed in this space like FLEX®, SPECTRUM®, Salvo™, and INCOGNITO®, science has dug down on the research to develop ways to make brewing processes more manageable and more efficient.
Now, John I. Haas has developed a new product, HopHaze, that makes it easier to generate— and, most importantly, maintain—a haze in beers when you want that look.
We talked with experts from John I. Haas and Anheuser-Busch Brewers Collective Brewmaster Joe Casey, who was integral in the trials of the product while with Craft Brew Alliance, to learn all about HopHaze, its advantages, and how to use it.
(Above Photography courtesy of John I. Haas)
Better Production and Enable More Sales With Ollie
Discover how breweries all over are making operations a breeze and enabling more sales with Ollie!
Ready to learn more? Drop us a line and our team will be in touch with more information on how to check out a demo of Ollie.
This one is pretty obvious, but John I. Haas Research Scientist Julia Jennings explains, saying, "HopHaze is a product that adds haze to a beer."
We've talked before in this space about how certain grains, yeasts, and hops contribute to picturesque haze in hazy IPAs. So why the need to create this product?
When you want to make a hazy beer, and it's not hazy, that's a deal breaker. HopHaze resolves that.
"The idea is that brewers are trying to increase efficiency and flavor," Jennings elaborates. "They dry hop a lot for hazy IPAs but then centrifuge it; when you do that, you lose a lot of the haze."
She adds, "When you want to make a hazy beer, and it's not hazy, that's a deal breaker. HopHaze resolves that."
According to the John I. Haas product page for HopHaze, it is one hundred percent hop-derived, is flavorless and odorless, and has no solids, so you won't have any yield issues, among other features.
How Did John I. Haas Develop HopHaze?
Casey explains how he and his team worked with John I. Haas during the research and development of the product, conducting trials for a year before the company commercialized it.
"We were attracted to it because it was an extremely effective hazing agent," Casey says. "Our initial trials were in an imperial IPA with a heavy hop load, and we added HopHaze and had samples created in cold, room temperature, and a forced [80 degrees Fahrenheit] condition."
Casey says they left the three samples idle for six-plus months, monitoring the haze of each periodically. He admits they didn't measure the analytics of the haze with the samples once they went into storage, opting to base it on visuals and any sediment forming at the bottom of the clear bottles.
"We were well past shelf life; we did not see any significant change in the quality of the haze. It was still very hazy and very homogenous," Casey says. "And we weren't seeing any significant amount of sedimentation on the bottom. … At best, there was a tiny, tiny dusting of a very fine particulate."
Casey adds, "Very acceptable for a product that was as old as it was and its storage conditions."
Casey and his team then tasted the samples, noting that the beers tasted like old beer because they were just that. He says the cold-temperature sample tasted the best.
"We didn't find any significant off notes or anything hop-related aside from just standard age characteristics you get from old beer," Casey says.
Dosing HopHaze is very particular, John I. Haas Brewing Solutions Specialist Alejandro Cortés González says.
Some customers will add HopHaze to the Brite tank, but we would say to avoid high CO2 concentrations,
"It should be dosed as close [as possible] to the end of the lifecycle before packaging," says Cortés González. "It should be done during the transfer from Tank A to Tank B when mixing is going on."
But Cortés González adds that there is one area where people should avoid infusing HopHaze.
"Some customers will add HopHaze to the Brite tank, but we would say to avoid high CO2 concentrations," he says. "The pH could drop fast, and that doesn't help incorporation."
Casey echoes Cortés González in that HopHaze is sensitive to carbon dioxide, and adding a hop extract like this product at that time might cause it to drop out.
"I recommend using nitrogen when pushing it through the piping," Casey says.
Jennings adds that you can modulate the dosage rates to get the haze you want in a beer.
"A little can get less haze; add more for more haze," she says. "Haze stability goes down when you go above the max dosage rate of five hundred ppm."
Adds Casey, "Use fifty to one hundred ppm on the low end, with a high end of four hundred to five hundred ppm milligrams per liter. We've found that two hundred to three hundred ppm worked best on hazy beer. I would recommend brewers run tests themselves."
Cortés González says that using 174 microliters in a twelve-ounce bottle is ideal for test trials of HopHaze. He adds the dose directly into each bottle. He recommends dosing multiple bottles and checking them each month for many months to monitor haze stability.
One thing HopHaze is not is a substitute for hops in the brewing process, Casey notes. He suggests clearing up the beer a little bit, like using a centrifuge, before adding the product to get the best results.
"If there's already a haze element to the beer, adding more doesn't help it much," Casey says.
What Are the Advantages of HopHaze?
"I like it for a couple of things," Casey says. "Number one, it's functional and true to purpose and does what it's supposed to do. So that's always a good sign."
Casey says the second benefit for him is that it is fully hop-based and has no "foreign" components.
It's natural. It's hop-based,
"That was the attraction for me. It's natural. It's hop-based," he says. "Many of those components are already in the beer, so there's no special labeling concerns or regulations. And generally, there are no flavor concerns."
Cortés González believes that HopHaze being devoid of flavor is a big deal.
"There might be other haze-inducing products that alter the flavor, but with HopHaze, that isn't the case," he says.
What Style of Beer Do You Brew With HopHaze?
From Cortés González's perspective, this is a product you want to use in an IPA that has some bitterness.
Where you don't want to use it?
"We've tested it in a few different styles, and it doesn't work well with lagers," Cortés González says. "If there are already some adjuncts in there, it doesn't work as well. Also, stay away from dark beer. It's not appealing at all to see haze in a dark beer."
Jennings adds, "Hazy amber doesn't look good either."
Casey, while agreeing that using HopHaze in dark beer is a bad idea, contrasts Cortés González a bit, saying he doesn't confine the product to an IPA.
"It's up to the brewer on how to use it," he says. "I have used it in a wheat beer, and it worked pretty great. Any beer with a moderate haze to full-on haze, I think HopHaze could be useful."
What Is the Future of HopHaze?
Jennings points out that the hazy beer market is on the downturn, but none of our experts believe it will affect the future of the HopHaze product.
"Before hazy IPAs, there were other hazy beers that had been around for a long time," Casey says. "If hazy IPAs fade, it still has a place in the market. It's natural, it's hops, brewers love hops, so I think it has a lot of legs."
Jennings says that HopHaze ultimately will land in some medium trend as a product that brewers can use to add a haze element to their beer on demand.
Cortés González, however, thinks the market and the product are tied together.
"It'll ride with the interest in the hazy market," he says.
Wherever the craft beer market trends, Jennings says John I. Haas will be ready to provide brewers options to improve their efficiency.
"We're always innovating," she says. "We're excited to give brewers more tools."