What Is Incognito? And How Can It Save You Money and Beer?
Published: January 18, 2023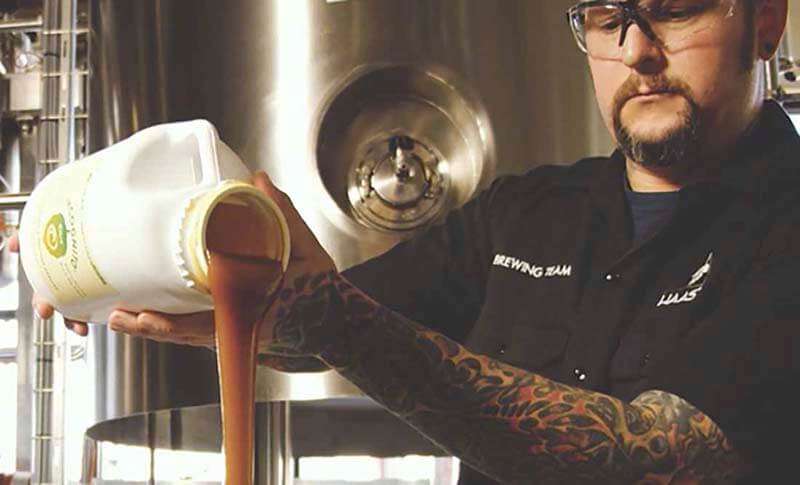 Hops, hops, hops, and more hops. Without a doubt, hops are at the forefront of consumer preferences. In Untappd's yearly roundup of the highest-rated styles of the year, the triple New England hazy IPA finished first with a 4.19 average rating.
But keeping up with customer demand can be difficult on the production side when you factor in the cost of hops and issues with the supply chain.
In fact, the most recent 2022 USDA-NASS National Hop Report showed that overall the value of production for hops in the United States only totaled $618 million, down seven percent from 2021. And overall hop yield across the country only reached 1,694 pounds per acre, down 206 pounds from a year ago.
So many factors can go into what makes a good or bad hop harvest, but one thing remains the same: Consumers still want to get their hop fix regardless of the outside forces.
Which is why new hop products like SPECTRUM, Salvo™, Flex®, HOPSAUCE, and Incognito, among others, are so important to the industry.
These hop commodities offer the aromas, flavors, and even sometimes bitterness of hops without the addition of vegetal material, meaning brewers can increase their yield and save money on the overall batch while still retaining the integrity of their recipes.
Incognito in particular is a flowable CO2 hop extract meant to replace dry hopping that has been making waves across the industry.
As with any of these products, there is no one-size-fits-all answer. You have to experiment to figure out the best way to brew with them based on your unique conditions, equipment, and goals. But we can give you general guidelines, rules, and advice from other brewers in the industry on best practices.
(Above photography courtesy of John I. Haas)
What We'll Cover in This Piece:
Better Production and Enable More Sales With Ollie
Discover how breweries all over are making operations a breeze and enabling more sales with Ollie!
Ready to learn more? Drop us a line and our team will be in touch with more information on how to check out a demo of Ollie.
First introduced into the market by John I. Haas, Inc. and the BarthHaas Group, Incognito is an all-natural hop product designed to replace dry hopping in the whirlpool.
I would call Incognito one of those game changers for a brewer's toolbox,
A flowable, varietal-specific hop replacement, Incognito can mimic the flavor and aroma of hops while dramatically reducing beer loss.
Almost similar to the color and appearance of honey, Incognito "flows super easy and, once it gets in the wort, will just disperse into oil." says Chris Mylroie, brewer at Yakima Valley Hops and founder of Shorthead Brewing.
Overall, this hop product helps reduce beer loss while enhancing the hop aroma and flavor of a beer.
For that reason, "I would call Incognito one of those game changers for a brewer's toolbox," says Dave Colt, VP of brewery operations at Sun King Brewery in Indianapolis, IN.
What Are the Three Advantages of Brewing With Incognito?
There are a few major benefits of brewing with Incognito.
1. Increase Beer Yield, Reduce Batch Loss
At the end of the day, Incognito is meant to be a dry-hop replacement. While dry hopping has become a popular technique for enhancing hop flavor and aroma and augmenting bitterness, it does have some drawbacks.
Mainly, the added expense of using extra hops and the added cost of losing a significant portion of your beer to vegetal material in the whirlpool.
Since Incognito is a one-hundred-percent-liquid-based hop product that is easy to pour at room temperature, brewers can use Incognito as a replacement for their traditional T-90 pellets to avoid beer loss.
Whereas in the past traditional T-90 pellets would soak up wort in the whirlpool, with Incognito you avoid that challenge.
According to John I. Haas, Incognito can reduce beer loss by up to twenty-five percent.
"You don't have all that vegetal matter, so you really save on loss," says Mylroie, who estimates he's made fifty to sixty different beers with Incognito.
Colt agrees this is one of the biggest benefits. "You don't have any vegetal material, so you're getting a higher yield out of a whirlpool than with traditional pellets," he says.
2. Save Money on Shipping Costs and Storage Space
Perhaps an unintended but still helpful benefit of Incognito is that you'll save on shipping costs and storage space. "You can ship a palette of Incognito [compared to] multiple palettes of T90 pellets," says Mylroie.
And since Incognito typically comes in lighter 1kg or 20G jars, you not only save on shipping costs, but you also save on space in your cold storage. Instead of huge bags of hops taking up an incredible amount of space in your walk-in, small jugs of Incognito only need a bit of room.
Plus, Incognito has a shelf life of up to two years when stored properly, according to Colt.
You won't ever find that kind of shelf life with fresh or pelletized hops.
3. Easy Cleanup
Although this benefit may seem minute, its overall advantage compounds over time.
One of the hidden costs of dry hopping is the labor and time associated with removing the leftover hops from the beer, getting rid of the material, and even cleaning.
Since Incognito is a flowable product that disperses right into the beer, you don't have to worry about cleaning up leftover hops.
Save labor. Save time. Save money.
What Is an Effective Dosing Rate for Incognito?
According to John I. Haas and BarthHaas' Incognito guide, a general guideline for dosing is a rate of 50-200 grams per hL (59-235g per bbl) of beer, at least to start.
Looking at it from a smaller scale, as Mylroie does at his 2bbl nanobrewery, "Haas recommends like 1g per liter, but I've done up to 2.5g per liter before I started noticing flavor and impact," he says.
We also recommend referencing Yakima Valley Hops for their comprehensive breakdown of Incognito usage:
Generally a 1:6 replacement ratio.
Usage is 1g/L INCOGNITO in the whirlpool, equivalent to 1.5lb/bbl pellets (5.8g/L).
The maximum recommended dose is 2g/L.
1g of weight is roughly equivalent of 1ml of volume.
Each 20g jar is roughly the equivalent of 4oz of T90 pellet hops in the whirlpool.
INCOGNITO is flowable at room temp, but you can wrap it in a warm towel or place the jug in warm water to lower the viscosity and improve portability.
As with most of these hop products, it's only through true experimentation on your end that you will produce the best results for your beers. But consider these some general guidelines to get you started.
Where to Dose With Incognito
John I. Haas and BarthHaas developed Incognito to be a hop product used in the whirlpool.
And that's where Mylroie and Colt have both found the most success.
"I'll dump [Incognito] in the whirlpool for five minutes, and then I settle, and send it to the fermenter," says Mylroie. "That's the best way I've done it."
And while Mylroie has experimented with adding Incognito in the fermenter, he says that method can be problematic. Often he's found little globules of Incognito floating around, and while cleaning his tanks he could see pieces of Incognito that had cooled too quickly and didn't get into solution. "So I was wasting it, essentially," he says. "Those floaty globules in the fermenter can also produce a lot of hop burn."
For best applications, stick to using Incognito in the whirlpool.
The Best Tips for Brewing With Incognito
While consensus agrees that Incognito should be used in the whirlpool, other questions such as when and how you add Incognito can ultimately affect the hop flavor and aroma you get out of the final beer.
But the whole process actually starts even before you get to the whirlpool.
Incognito is flowable at room temperature, but it's stored cold. On the day you're looking to brew, Mylroie recommends taking the Incognito out of the fridge. "I set it right next to the hot liquor tank and at seventy degrees it becomes pourable," he says.
Once Incognito reaches the pourable stage, both Colt and Mylroie recommend pre-mixing the hop product before adding it to the whirlpool.
Yes, Incognito is workable in an ambient environment, but "if you add it abruptly or incorrectly, it has a tendency to stick along the sides," says Colt. "We tend to break it up a little first with some wort to help get it incorporated into the finished product."
Similarly, Mylroie has his own pre-mixing process. "I'll take a Pyrex measuring cup and I'll measure out 1oz of T90 per 100 grams of Incognito," says Mylroie. "When I start my whirlpool I'll open up the sample valve and fill that mix with hot wort and just mix it up like a soup to really help that oil adhere to the T90."
Again, it's a step that helps prevent your Incognito sticking to the sides of the kettle.
With that idea in mind, Colt also mentions that at Sun King they like to add Incognito at the beginning of the whirlpool "so we can get a thorough mix."
What Are the Best Beer Styles for Incognito Applications?
Since it's marketed as a dry hop replacement, style applications should include any "where you're worried about loss," says Mylroie.
Mylroie indicates hazies and West Coast IPAs are where he's used Incognito the most. But he doesn't see any reason why you couldn't experiment with a lighter beer style. "It's around 55% alpha acid, so you could always try to do a dry-hopped lager with it," he says.
For Colt, he likes to use Incognito where it makes the most sense. "The most bang for your buck would be coming out of heavily hopped beers, especially if doing a big whirlpool addition," says Colt. "As far as using it in any sort of beer style where it requires hop flavor and characteristic, I think gangbusters."
What Incognito Hop Varietals Currently Exist?
You can currently find Incognito available in the following hop varietals: Centennial, Chinook, Citra, Ekuanot, El Dorado, Mosaic, and Sabro.
Cost Is the One Big Consideration With Incognito
The price of Incognito is probably the biggest potential disadvantage of this hop product, especially compared to others.
Mylroie says that 1kg can sometimes run you around $300. At the time of publication, Yakima Valley Hops had a 1kg jug of Incognito priced at $250 while a 20G jar cost $14.99.
For accurate price and purchasing information, check out Yakima Valley Hops Incognito product page here.
The Best Piece of Advice When Brewing With Incognito
Get samples and try it out yourself!
"Any brewer that wants to try Incognito, I tell them to get little samples," says Mylroie. "Just…put in wort, get it hot, and smell it, and you'll buy it because the aromas on it are just amazing."
Brew Your Best Beer. Get Ollie.
A brewery management tool built by brewers and for brewers. Handle everything in your brewhouse from recipe development to cost management. All with one easy-to-use platform. Request a free demo today.