The 10 Best Tips for Brewing SMaSH Beers
Published: March 10, 2023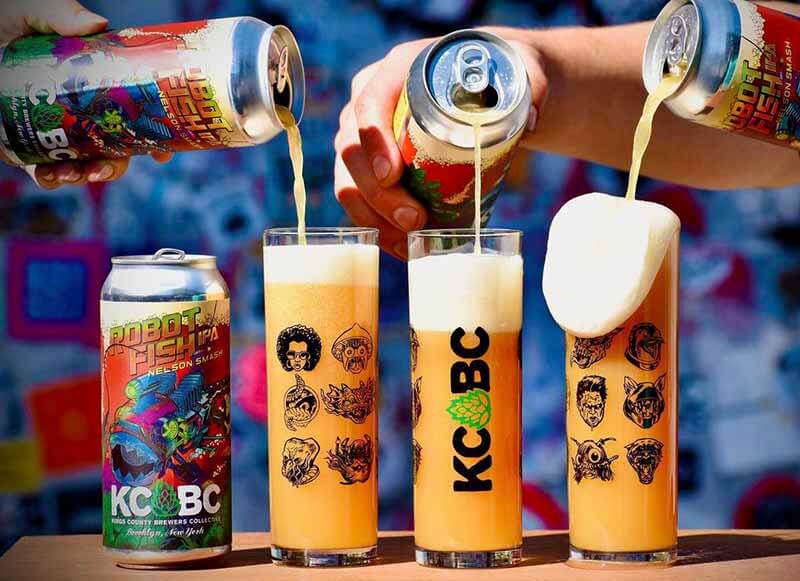 Malt, hops, water, and yeast, the four ingredients that make up a traditional beer. And while we've seen styles expand on that core—everything from smoothie beers to fruited sours to coffee beers—at the end of the day, beer always comes back to these four components. One way for brewers to showcase those first two elements in particular: SMaSH beers.
Otherwise known as "single malt and single hop" beers, this style allows brewers to hone in on a specific malt and hop combination, sometimes showcasing a malt, but more often featuring the unique flavors and aromas of a very specific hop.
Be that Citra, Simcoe, Mosaic, Centennial, Chinook, Cascade, Motueka, El Dorado, Galaxy, or any of the incredibly complex American hop varieties, European hop varieties, or Southern Hemisphere hop varieties, SMaSH beers are one of the most incredible ways for brewers to respect these ingredients.
And although a seemingly simple style on the outside, much like hops, these beers get more complex the more layers you peel back.
Better Production and Enable More Sales With Ollie
Discover how breweries all over are making operations a breeze and enabling more sales with Ollie!
Ready to learn more? Drop us a line and our team will be in touch with more information on how to check out a demo of Ollie.
It's all in the name. Standing for "single malt and single hop," SMaSH beers can technically fall under any style as long as they only include one malt and one hop.
... brewers have the opportunity to hone in on specific ingredients and learn about the flavor contributions.
"That's seemingly pretty straightforward and may seem limiting, but I always thought it was the opposite," says Zack Kinney, Co-Founder of KCBC that has made just south of twenty SMaSH beers over the past few years under a series called ROBOT FISH. "There are so many options within brewing ingredients, hop varieties, malt varieties…rich areas that can be mined for all kinds of learning…where brewers have the opportunity to hone in on specific ingredients and learn about the flavor contributions."
What Is the Goal of a SMaSH Beer?
For Kinney, the goal with a SMaSH beer across his homebrewing and professional career has always been to understand flavor.
"Take an ingredient you don't want to change—say your yeast, maybe you have a house hazy yeast or lager strain—lock that in and focus on learning about this new malt base if you're, say, contemplating switching from this two-row base malt to this other two-row base malt."
SMaSH beers give you an opportunity to dial in a few specific ingredients, tweaking them as you see fit to learn how they alter the flavor and profile of your beer.
Kinney likens it to how winemakers approach wine. "When we talk about grapes, we think about wine as a Zinfandel grape or a blend with some Cab, [for example]" says Kinney. "What we did here as beer is create a singular experiment or an isolated flavor profile because we were really excited about this hop or this malt."
Logan Ackerley, head brewer at Wallenpaupack Brewing Company, who has brewed about a half dozen SMaSH beers, sees this style as a challenge.
"It's not always easy to get a nice drinkable beer by limiting yourself to only two ingredients," he says. "Especially [with] the more hop-forward beer, a lot of brewers tend to use a blend of hops to get whatever flavors they are going for, [but] limiting yourself to one type of malt and one hop is a challenge to find that perfect balance."
With the breadth of both malts and hops available, the permutations of making a SMaSH beer are pretty limitless. So deciding your exact goal with a SMaSH beer is key.
Do you want this beer to help you trial a new malt or hop?
Do you want this beer to sell more, focusing on a hop like Citra that you know will perform well?
Do you want to save on costs by brewing a beer that only focuses on one lower-priced hop?
A SMaSH beer can do all these and more. You'll need to decide which goal works best for you and the beer you plan on brewing.
The One Big Advantage to Brewing a SMaSH Beer
Ackerley points out that, if you take the latter approach, a SMaSH beer can actually save you money in the long run.
... if you can save .30 cents on 1,300 pounds, you're saving a decent amount of money.
Of course, you need to use a less expensive base malt and hop—he recommends El Dorado—to be cost effective.
"If I did the math quickly, base malt is usually around a low .70 cents per pound whereas specialty [malts] go up to over $1 per pound," says Ackerley. "Depends on the recipe, but that's a per-pound savings of up to .30 cents per pound, which on our scale we're probably doing 1,300 pounds, so if you can save .30 cents on 1,300 pounds, you're saving a decent amount of money."
But that's only one way to approach brewing SMaSH beers.
Kinney says the main focus for them at KCBC can vary from working with a cool new maltster, wanting to showcase that malt, to testing out a new hop for a core brand whose recipe they can't mess with on the consumer end.
First and foremost, you need to develop a goal for your SMaSH beer before you can even approach picking out your malt and hops.
The Best Malts and How to Use Them in a SMaSH Beer
"What is the goal with the malt?" asks Kinney. "Are you trying to achieve something, or are you just interested in what this malt will do?"
Answering that question will help you decide what malt to use in a SMaSH beer. "We start with a baseline understanding: We're really interested in trying to achieve a little bit more mouthfeel or maybe a color shift or haze stability, or we're looking for protein ratios or lovibond scale on the malt spec sheet," says Kinney.
Once they hone in on the aim, Kinney says they'll look at the maltster themselves. "Is it someone we're familiar with? Are they American or European," he notes. "Maybe we were originally looking at Thomas Fawcett or an English maltsters' pale ale malt, but now they have this floor malt that could be cool, rustic, and work with any hop variety… Let's give it a shot!"
For Ackerley, choosing malt all depends on the style of beer you're brewing. He's brewed SMaSH beers that range from pale ales to pilsners.
With the pale ale, "we needed a malt to stand up to the amount of hops we were using," he says. For Wallenpaupauck's El Dorado SMaSH Pale Ale, Ackerley used Golden Promise, a malt with "a touch more sweetness, some say bready, nutty, just a slightly more intense malt character overall so it can counterbalance those hops," he says.
Ackerley pointed out that with SMaSh beers, because you're only using one malt, you need to be cognizant of drying out the beer. "We mash in a little higher so we don't ferment out quite as low." he says, noting that El Dorado SMaSH finished around 3.2 plato, whereas most of their standard ales go down into the high 2s."Keeping some of that residual sugar will also add body to the beer. You don't want a thin, watery beer because you're just using one malt, so we mashed higher to build up those fermentable sugars."
On the other hand, Ackerley references a Czech-style pilsner currently in the tanks that used an all-floor-malted Bohemian pilsner malt. "We want to dry the beer out pretty well, so we decoction-mashed that to intensify the malt character but also dry the beer out."
Picking the grain isn't simple either. You have to understand the grain you're going to use and how that might affect your brewing matrix. Will the grain you choose perform better if you add a decoction or step mash? And if so, do you have the time and labor to do that?
"It's a new ingredient so…what's our process going to look like for this; we try to do as much homework and planning in advance," says Kinney. "Once we feel good about step 1, step 2, step 3, step 4, and step 5, now we look at the two to three malts we're considering and make sure to execute that."
Kinney and Ackerley point out a few more considerations around malt in SMaSH beers:
Price
Experimentation is on the forefront of Kinney's mind with choosing malt, but he reminds us that you need to keep the economics in mind too.
Whereas Ackerley noted that you could actually cut costs by brewing SMaSH beers if you just use base malts, Kinney alternatively indicates the price can rack up pretty quickly if you're brewing this style with specialty malts. "You can get over the price range when you're trying to pursue an educational understanding of what this malt contributes," says Kinney. Especially, if you want to test out a new malt to see how it might help you solve a problem in one of your core brands.
"You might have an IPA recipe where you really like it but the head retention isn't ideal," says Kinney. "If you hear about a different malt that has some components that will improve that, a SMaSH beer can be a good way to try that without changing the whole core recipe and retraining the staff."
Grain Mills
If you're working with a completely untested malt, that might perform differently in your mill. At KCBC, to crack their grain, Kinney doesn't have a mash press, but rather a 3-roller mill common at most small breweries. "If this is a brand new malt we probably want to run sieves on it and get the right extract that is appropriate for our mill cap," he says. "The kernel size might be smaller or larger…so that can be an important consideration in terms of the process."
Collaboration
Something Kinney has found useful, especially if you're willing to work with a new supplier or try out a new malt, is to pitch collabing with your maltster. "Saying we'll be the guinea pigs…can we collab and get a price break on the malt…can be a more improvised approach," says Kinney.
Much like with the experimentation around smoothie beers, you will most likely fail with SMaSH beers a couple times. And that's okay!
"One may perform better, worse, or you may never do it again," says Kinney. "The awesome thing about craft beer is that there is still a healthy appetite for experimentation on the customer and brewing side."
The Best Hops and How to Use Them in a SMaSH Beer
Choosing the best hops again goes back to the style you're brewing and the goal of the beer.
In Wallenpaupack's El Dorado SMaSH Pale Ale, Ackerley wanted a hop with a middle-of-the-road alpha acid content to add a little bit of hop character without too much bitterness. "We needed a mid-high-range alpha acid otherwise we'd be using a ton of hops," he says.
El Dorado seemed like the right fit because "it is a great hop in terms of flavor and aroma," says Ackerley. "You can get a nice citrus, a lot of orange and a little bit of grapefruit…for that pale ale that works because we want that fruity, juicy thing."
Kinney agrees that on the most basic level with a SMaSH beer you need to take into account the alpha acid range of the hop you want to use.
"What we're mostly trying to do is understand how the hops in particular express flavor and aroma," he says. SMaSH beers are a great way to hone in and test out the exact characteristics that certain hops bring to the table.
At KCBC, they've explored versions of SMaSH IPAs with a whole variety of hops, including Galaxy, Strata, Nelson Sauvin, Simcoe, Mosaic, and Strata.
"A SMaSH beer is a good way to understand with your process and system, what are the sensory differences?" says Kinney. "What are the performance differences? Is one more tropical versus citrus or vice versa."
But to do that you have to control and reign in the bitterness to some degree. Otherwise, you kind of defeat the purpose of brewing a SMaSH beer.
You can do that through the type of hop you use, the quantity, the time you add it into the boil, or a dry hop, if you choose to do one.
"Let's say we're going to add 2lbs per barrel to the whirlpool. Well, that might make for an incredibly different bitterness level, so we need to understand going into it: Is that intentional? Do we want that? Or are we just trying to compare flavor and aroma? If so, we have to control the bitterness to some degree," says Kinney.
According to Ackerley, any time you're using a single hop you need to think about every aspect of the brewing process. "When adding [the hops], will it work in a dry hop?" he says. "There is more vegetal matter when you don't have any other malt to cover it up, so if you get too much grassy or vegetal taste, you're just hurting the beer itself and hurting the yield."
The best advice Kinney can give is to look at the data on a particular hop and find which one is appropriate for the style of beer you're trying to make in order to extract the maximum potential out of that hop.
"If you're trying to brew a SMaSH beer IPA, you probably want to hop pretty heavily, so look at what you're going to have to do based on the data and what you know from other brewers and use enough but not too much in the right place."
The Best Yeast and How to Use It in a SMaSH Beer
Arguably one of the most important drivers of flavor, yeast is the one ingredient not listed in the SMaSH acronym (SMaSHY beers, anyone?).
And while malt and hops get all the attention in this style, yeast shouldn't be ignored.
You can take two approaches here.
First, you can keep the yeast very clean and neutral in order to let the malt and hops shine. "If we're making a point of calling it a SMaSH beer, we want to showcase the malt and the hops, not the yeast character," says Ackerley, who uses a California Ale yeast in Wallenpaupack's SMaSH beers. "We're not looking for much character out of it, just to ferment properly and drop out clear for beers we've done in the past."
On the other hand, a SMaSH beer can also be a great opportunity to just straight up test the characteristics of new yeast strains such as the Norwegian farmhouse Kveik, London III ale strain, or even a new thiolized yeast.
For instance, Kinney says at KCBC they've brewed a lot of beers with Citra and Golden Promise, but now they're interested in experimenting with a new yeast strain. "Rather than putting that new yeast strain into a flagship where we can't afford the flavor differential in the batch to be totally different—that's not smart for recurring customers—a SMaSH beer is a great opportunity to try a new yeast strain."
The Best Water and How to Use It in a SMaSH Beer
Another component not included in the SMaSH acronym is water.
Since a SMaSH beer just uses one malt and one hop, the type of water used while brewing can actually have a pretty big impact on the beer.
This is something Ackerley thinks about pretty extensively at Wallenpaupack because their water source is a little bit higher on sulfate, which amplifies hop bitterness, he says.
Usually to adjust the water Ackerley uses calcium chloride, but he says that will amplify your malt character. "So if you want a little more malt sweetness, you can use a little calcium chloride which will let that shine," he says. "You can soften your water depending on what style you're going for—we generally do crisper water for our lagers and something softer for pale ale or IPA—all that will affect how hop and malt character comes across."
It's hard to lay out a standard here because everyone is brewing with a different type of water, but it's good to be aware how water chemistry can specifically affect SMaSH beers on a slightly more nuanced level.
How to Market Your SMaSH Beer
Both Kinney and Ackerley separately mentioned that while they technically do brew SMaSH lagers—Czech pilsners with just pilsner malt and Saaz hops or German pilsners with just pilsner malt and Hallertau hops—they don't market these beers with that acronym.
It's only when brewing a SMaSH ale like an IPA or pale ale that they use that moniker.
Why?
"I theorize that the tradition of lager brewing is inherently more about purity and not overloading with layers and complexity of flavors," says Kinney, who is quick to point out that lagers are nuanced and complex, "but when in the ale realm and dealing with esters, higher temperature fermentation, and dry hopping, there is so much more literal sensory organic chemicals in the finished product."
When you're presenting that beer to the customer, using the word "SMaSH" acts as a differentiator, setting your IPA, for instance, apart from all the other beers in that competitive landscape.
"The ability to distinguish your IPA or one of your IPAs from a bunch of others is really important if you're trying to engage with a specific customer or a new customer," says Kinney, noting that's the exact sales technique and tactic they take with the ROBOT FISH SMaSH series.
The complexity of getting to taste the inherent layers of flavors from a certain malt or more likely a hop really appeals to the ardent craft beer fan.
"If you say this is just Citra, people love that hop," says Ackerley. "If you say this is single-hop Citra or any hops like Mosaic, Simcoe, etc., there is something that plays to the customer's preferences."
... they (consumers) want things to be curated, bite sized, quick understanding,
Conversely, Kinney says that the simplicity of a SMaSH beer can help sell them to burgeoning craft beer drinkers as well. "People have information overload," he says. "Now when they're looking at crowded shelves and overloaded draft lists…they want things to be curated, bite sized, quick understanding, so if you hand them [a beer] with seven grains, lactose, and fourteen hops, they glaze over."
A SMaSH beer, on the other hand, is just one malt and one hop, so it's easy to understand.
From that perspective, Kinney says SMaSH beers have the opportunity to connect with both the passionate craft beer fan and the drinking newbie.
Two Examples of Successful SMaSH Beers
These are a couple examples of some very successful SMaSH beers.
ROBOT FISH: Citra SMaSH – KCBC
The version KCBC brews most frequently, ROBOT FISH: Citra SMaSH is a pretty straightforward hazy IPA SMaSH beer, featuring Thomas Fawcett & Sons Halcyon, a British Ale V yeast strain from Omega Yeast, and Citra hops, of course.
"Halcyon is another winter barley from TF&S that is a little lighter in color than Pearl and a little less sweet and less toasty than Maris Otter," says Kinney. "It has more character, color, mouthfeel, and doughy-malty-flavor than your average North American two-row… From our experience, it's extremely consistent—both in kernel size and extract performance—and works as a great base."
Kinney and the crew then load up the beer with tons of Citra; it's the hop they use the most at KCBC, buying more than twenty to twenty-five boxes of that one hop.
Targeting a 6.6% ABV—so it's not as light as a pale ale or as heavy as a double IPA—KCBC puts ROBOT FISH: Citra SMaSH through a single infusion mash.
They do add a little late kettle bittering, just a ten-minute addition, before loading up the whirlpool with one heavy charge of Citra.
Specifically, Kinney says they generally add twenty-two pounds of Citra in the kettle (a small amount at ten minutes and then the rest in the whirlpool) and then 110 pounds for the dry hop (which works out to approximately four pounds per barrel overall).
"We're focusing on that pure expression of bright, citrus-forward, lemony, tropical Citra hops and a nice, mellow English malt that has a little bit of that bread and can handle a heavy hop load while producing a stable haze," says Kinney.
El Dorado SMaSH Pale Ale – Wallenpaupack Brewing Company
The one that Ackerley always remembers, El Dorado SMaSH Pale Ale, uses just Golden Promise malt "so it has a little more character than your simple two-row malt and El Dorado hops," says Ackerley.
The idea for the beer came about when Ackerley went out to the Pacific Northwest for hop selection, finding a lot of El Dorado at Hollingbery and Son that was totally different from what they had been using previously just buying off the spot market. "We had to get that [lot] in a beer and really showcase that hop," says Ackerley.
Because they went with a pale ale style in this beer, Ackerley wanted more residual sweetness and body to the beer, mashing in a litter higher in temperature ensured that this SMaSH beer didn't ferment out quite as low.
Overall, he says El Dorado SMaSH Pale Ale finished at around 3.2 plato, got a touch of sweetness, breadiness, and nuttiness from the Golden Promise malt, and just showcased the incredible juicy, citrus, orange, and grapefruit aromas and flavors from the El Dorado hop.
The Final Word on SMaSH Beers
While SMaSH beers can seem like simple beers on the surface, they actually get fairly complex underneath all the layers and the more you experiment with them.
Great tools for learning and understanding the nuances of different malts, hops, and even yeasts, SMaSH beers should be a tool added to any brewer's arsenal.
As Kinney says, "The SMaSH beer approach can just be a great learning experience regardless of whether you're trying to achieve a specific educational or production goal or just have fun."