New York State Brewers Association Thinks NY Beer, Drinks NY Beer
Published: March 20, 2023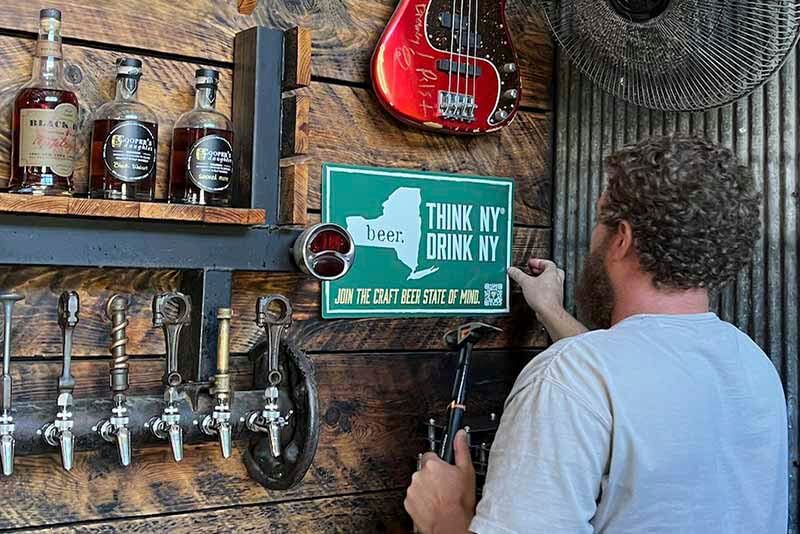 Did you know: New York has the second-highest number of operating craft breweries in the country, behind only California? With 528 licensed breweries brewing beer statewide, New York has a robust, thriving craft beer scene.
But ask anyone to name the best beer states in the country, and you'll probably hear these answers: California, Colorado, Washington, Texas, and Florida, to name a few. "I'd be surprised if you asked ten people if any of them said New York," says Meghan Connolly Haupt, director of partnerships for the New York State Brewers Association (NYSBA). "Our overarching goal is to change that."
The NYSBA works tirelessly to fight for its breweries to gain national recognition; it's only one of the many benefits of joining your local brewers guild.
We've already noted how the Ohio Craft Brewers Association, the Texas Craft Brewers Guild, the Illinois Craft Brewers Association, and the California Craft Brewers Association help breweries in their states.
This week we're showcasing the New York State Brewers Association on its journey to let the world know about the incredible breweries in its borders.
For the NYSBA, it all comes down to a straightforward tagline: Think New York, Drink New York.
(Above photography courtesy of the New York State Brewers Association)
Better Production and Enable More Sales With Ollie
Discover how breweries all over are making operations a breeze and enabling more sales with Ollie!
Ready to learn more? Drop us a line and our team will be in touch with more information on how to check out a demo of Ollie.
What Is the Mission of the New York State Brewers Association?
"In the simplest form, it's to support and help the New York State craft brewing industry thrive," says Connolly Haupt. "Our role as the guild is to support industry growth in our state."
Connolly Haupt states that support can come in many ways, including legislative advocacy, marketing and promotion, and education.
All told, of the 528 breweries in the state, about 432 have joined the NYSBA as active members.
With eighty-two percent participation, the NYSBA boasts the second-highest membership rate in the country, again behind only California.
... it's to support and help the New York State craft brewing industry thrive,
In the NYSBA, you'll find breweries like Bronx Brewery, Brooklyn Brewer, Decadent Ales, District 96 Beer Factory, The Drowned Lands, EBBS Brewing Co., Equilibrium, Evil Twin Brewing, Finback Brewery, Grimm Artisanal Ales, Industrial Arts Brewing Company, KCBC, Hudson Valley Brewery, Other Half, Sixpoint Brewery, and Southern Tier Brewing Co., and so many more.
Overall, the pace of breweries opening in New York has far outpaced that of the rest of the country. Connolly Haupt said when she started in the industry eight years ago, New York had fewer than 150 operating breweries. "The growth in New York State has outpaced the national growth," she says. "Here in New York, the curve has actually been steeper."
The NYSBA has needed to constantly be on its toes, pivoting and developing faster than any other guild.
It's a tall task, but one the NYSBA has approached head-on year after year.
What Are the Goals of the New York State Brewers Association in 2023?
The top goal of the NYSBA this year will be to "get more New Yorkers to drink New York craft beer," says Connolly Haupt.
Because craft beer in New York has grown so fast, consumers have had difficulty understanding New York's place in the craft beer hierarchy.
The NYSBA wants New Yorkers to understand and appreciate just how incredible craft beer is in the state.
"It's really changing that consumer mindset that not only can New York compete with the sheer number of breweries, but the quality too," says Connolly Haupt.
A big part of that mental shift starts with the consumer-facing campaign called Think New York, Drink New York (Think NY, Drink NY).
"It's really a rallying cry," says Connolly Haupt. "Can you drink NY?"
Breweries in the NYSBA can add this designated "Think NY, Drink NY" slogan on their marketing, packaging, cartons, and more.
According to Connolly Haupt, the idea is that if you're standing in a store looking at a massive wall of beer cans, you can easily pick out which ones New York craft breweries made.
"We are encouraging consumers to support breweries in their state," she says.
In 2018, the NYSBA did a relatively robust economic development study that found craft beer accounts for the equivalent of 20,000 full-time jobs and $5.4 billion in economic impact in New York State.
"This is a big industry, and we really need to keep training consumers to look within the boundaries of their own state for quality, freshness, diversity of styles, and award-winning [beers]," says Connolly Haupt.
What Are the Benefits for New York State Brewers Association Members?
The NYSBA vigorously fights for legislation that will benefit its brewery members.
"We're constantly trying to improve laws in favor of craft beer," says Connolly Haupt. "We're constantly fighting bad laws from rearing their ugly heads that could hurt the industry."
Connolly Haupt calls this the "not-very-glamorous-behind-the-scenes" work that most breweries don't even see until a bill passes.
"A lot of younger brewery owners don't realize these battles have already been fought," she says. "They ask: 'Why should I join a guild because everything is great?' Well, that's because the guild has fought for years to make them that way. That's a hard story to tell some of the younger breweries that don't get why they should join."
The NYSBA works directly with a lobbyist and constantly meets with legislators in Albany to ensure industry growth continues in New York.
In 2022, the NYSBA's legislative agenda included supporting the Retail Expansion Bill (Food Truck Bill) that allowed a second retail location to operate in a brewery's licensed premise.
The NYSBA also advocated for S7655/A7746, a bill that amended the Alcoholic Beverage Control Law to extend current labeling requirements. Although the craft beer industry has matured in New York, locally made ingredients haven't grown at the same rate. For a farm brewery to sell "New York labeled beer," sixty percent of all ingredients must be produced in New York State. Set to increase to ninety percent in 2024, this amended bill defers that increase until 2028. Without this stay, many farm breweries in New York would not have been able to meet these new standards.
You can find the NYSBA's current legislative agenda here.
Along with the legislative piece, the NYSBA also provides a huge marketing benefit for its members.
"These small breweries don't have a marketing person; it's the owner, who has a history degree, doing social media," says Connolly Haupt. "So the marketing piece is really, really important."
Connolly Haupt mentions a sophisticated merchandise program where breweries can buy cool merch at a discount, add their logo on the back, and sell co-branded merch, for example.
And of course, being a part of Think NY, Drink NY, which includes a robust interactive marketing platform.
"We were one of the first states in the country to have a consumer-facing app where people can track which breweries they visit and earn rewards," says Connolly Haupt.
With over 50,000 active users on the app, Think NY, Drink NY can help breweries gain recognition with fans.
"The whole intent is to drive people to go visit breweries and to support," says Connolly Haupt. "It's awareness building for our brewery brands."
Membership in the New York State Brewers Association includes all the following benefits:
Brewery-In-Planning – $200 – (non-voting membership)
Access to NYSBA members
Access to NYSBA staff for guidance
Access to private Facebook Group
Official supporter of New York State craft beer
Use of the NYSBA logo and registered tagline for promotional purposes
Opportunity to participate in the exclusive Workers' Compensation program
New York State Brewery – $250 + .10 per bbl. (cap of $5,000)
Lobbying on the state and national level
NYSBA voting privileges
Voting privileges in NYSBA elections (W-Central, Hudson Valley, and Capital district up this year)
Official supporter of New York State craft beer
Access to Discounted Workers Comp programs (new)
Discounted NYS Brewers Competition entry fee
Discounted NYS Brewers Conference fee
Passport listing and participation on our New York Craft Beer App
$100 in Lyft credits for your brewery
Invitations to participate in all NYSBA-, Taste NY-, and I Love NY-sponsored events
Use of the NYSBA and Think NY, Drink NY logo on your support materials
The Four New York State Brewers Association Can't-Miss Events of the Year
The New York State Brewers Association has a slate of fantastic events planned for 2023.
2023 NYS Brewers Conference
The second-largest state-level conference in the country, the NYS Brewers Conference, includes two days of connecting with and learning from industry professionals. This year's theme revolves around sustainability, covering adoptable sustainable strategies and best practices around the industry.
Keynote speakers at this year's conference include Bart Watson, chief economist for the Brewers Association, and Ben Foster, president of Fosterra®.
With forty technical, in-depth breakout sessions and a slate of incredible speakers, the NYS Brewers Conference is one of the best opportunities for New York State breweries to leverage resources, gather together, and connect on essential issues.
"Because a lot of small breweries can't afford to go to the national Craft Brewers Conference (CBC), we're replacing that need, at least in the Northeast," says Connolly Haupt.
New York State Craft Beer Competition
Part of the NYS Brewers Conference, the New York State Craft Beer Competition is the most significant state-level craft beer competition.
This year, the NYSBA received over 1,350 entries, the highest number of all time, according to Connolly Haupt.
Winning has become a point of pride for many NYSBA breweries. In addition to medals in twenty-six categories, NYSBA also awards an overall winner, taking the top from each category and picking one to win the coveted New York State Governor's Cup.
"We will work to promote those winners…because it's a really serious competition," says Connolly Haupt.
BriteVibes Festival
Debuting two years ago BriteVibes Festival works to "reinvent what a beer festival could look like," says Connolly Haupt.
"I don't want to stand around for four hours in a crowd and fight for a tasty beer," says Connolly Haupt. "This model revives the mission to invite more people into the community than would otherwise go to a straightforward beer festival."
Bringing together beer and music at the idyllic Heritage Hill Brewhouse, BriteVibes is a truly unique experience.
You'll also find farm-to-table food, artisan booths, and experiential exhibitors at the festival. Last year they even included a firework finale show.
And, of course, beer from over fifty New York State breweries.
New York State Craft Beer Open
Constantly looking for new ideas, the NYSBA will host a craft beer and golf tournament for the first time this year.
The New York State Craft Beer Open
"Drinking and golf often go hand in hand, but it's usually the macro beers that people slam all day long on the course, right?" says Connolly Haupt. "So this is to introduce to a portion of the community: Here's why, instead of buying those brands, you can support craft breweries."
How Can I Join the New York State Brewers Association?
If you're a brewery or brewery-in-planning in New York State interested in joining the New York State Brewers Association, just visit here to learn more.