California Craft Brewers Association Spotlight
Published: March 13, 2023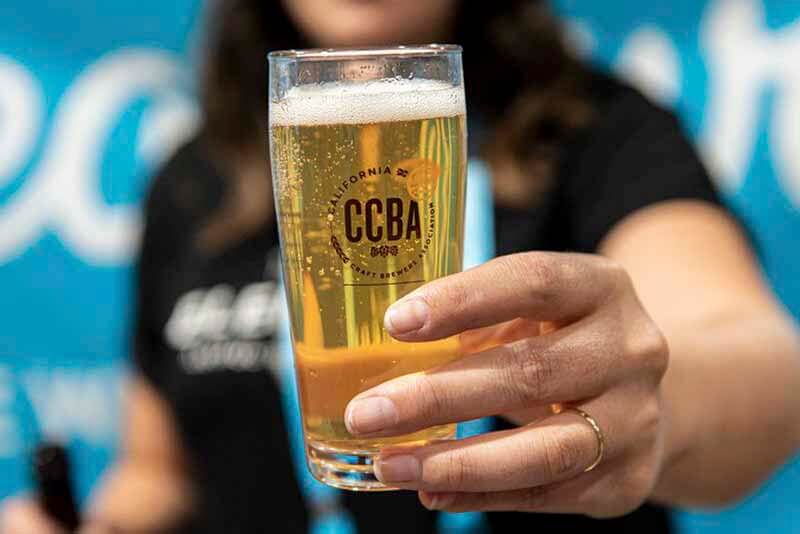 Consider this fun fact: At last year's Great American Beer Festival Awards Ceremony, a total of  235 judges evaluated 9,904 entries from 2,154 breweries from all 50 states plus Washington, D.C., and Puerto Rico, and the Brewers Association awarded 300 medals to 268 breweries across the country—California Craft Brewers Association (CCBA) members took home 66 of the 79 awarded to breweries in the state.
For instance, Wild Fields Brewhouse, who won the 501-1,000 Barrels Brewery and Brewer of the Year. Or North Park Beer Co., who nabbed the 2,001-5,000 Barrels Brewery and Brewer of the Year. And Ghost Town Brewing, who came home with the 5,000-15,000 Barrels Brewery and Brewer of the Year.
That should speak volumes about an organization tasked with representing breweries in one of the country's largest and most well-known craft beer states.
But winning awards is just the icing on the cake to joining your local brewers guild. Becoming a part of your trade organization has many advantages.
Just look at how the Ohio Craft Brewers Association, the Texas Craft Brewers Guild, and the Illinois Craft Brewers Association have helped breweries in their states.
This week we're showcasing how the California Craft Brewers Association advocates for beneficial legislation, curates local events, and hosts extensive technical conferences to promote and support the incredible breweries in the Golden State.
(Above photography courtesy of the California Craft Brewers Association)
Better Production and Enable More Sales With Ollie
Discover how breweries all over are making operations a breeze and enabling more sales with Ollie!
Ready to learn more? Drop us a line and our team will be in touch with more information on how to check out a demo of Ollie.
What Is the Mission of the California Craft Brewers Association?
According to the CCBA's website, "Connecting and empowering the craft brewers of California through advocacy, education, and communication," this 501(c)6 non-profit trade organization fights for the growth of craft beer across the state of California.
No easy task considering California ranks first in terms of the total number of craft breweries in one state—more than 1,100 as of July 2021, according to the CCBA—along with economic impact. In 2020, California craft breweries contributed $9.66 billion to the state's economy.
All told, over 600 breweries make up the entire state association.
Iconic ones like: Firestone Walker Brewing Co., Sierra Nevada Brewing Co., and Russian River Brewing Co. alongside hype ones like HenHouse Brewing Company, North Park Beer Co., Great Notion Brewing, Beachwood Brewing, Highland Park Brewery, Cellarmaker Brewing Company, Brouwerij West, and so many more.
So the CCBA has to live up to some serious brewing history.
But the association itself has set benchmarks. Now the country's oldest state trade association representing craft breweries, the CCBA started in 1989.
Over thirty-three years later, the CCBA's main mission continues to advocate as a collective voice for all the breweries in the state. From curated events to new legislation, the CCBA ensures that California craft breweries benefit from many advantages often not found in other states.
What Are the Goals of the California Craft Brewers Association in 2023?
Legislation is crucial to the CCBA. Thanks to this non-profit trade organization, breweries in California enjoy legal self-distribution, expanded advantages for brewpubs, and relatively relaxed franchise laws.
"The CCBA provides a strong and united voice representing the interest of all of California's craft breweries at the state Capitol by protecting those privileges and many others," reads the CCBA's Legislation page.
Last fall, the CCBA scored a massive win for breweries in the state when Governor Newsom signed AB 2301 and 2307.
The first bill allows breweries to self-distribute to restaurants they own within a five-mile radius.
AB 2301 applies specifically to breweries such as Urban Roots. Previous laws forced the brewery to send its beer to a distributor seventy miles away to sell it at their fried chicken restaurant BAWK!, a mere one mile from the brewery.
In contrast, AB 2307 will enable breweries to open up to eight taprooms (changed from six) and operate up to four kitchens (previously two) amongst those satellite locations.
The bill will be advantageous for breweries such as Fieldwork, which recently hit its licensing limit by opening its latest taproom in San Leandro last year.
"We just want our brewers to feel that the sky's the limit on what they can achieve," said Lori Ajax, executive director of the CCBA, in an article for PorchDrinking. "We are grateful that the governor supported these small businesses and signed AB 2301 and AB 2307."
The CCBA will be looking to build on those big legislative wins from last year. To see the current legislative matters on the CCBA's site, visit here.
What Are the Benefits for California Craft Brewers Association Members?
Benefits for CCBA members run the gamut, including "addressing critical business and supply issues and offering gatherings and events to help foster communications and education among our family of breweries and allied trade network." (CCBA).
Overall, the CCBA member benefits strive to give breweries in California the best opportunity to succeed, grow, and thrive in one of the country's grandest craft beer states. Whether through advocating for specific legislation, crafting enormous networking opportunities, or designing consumer-focused events to support their breweries' beers, the CCBA answers the tall task of supporting craft beer in California.
Beyond all these benefits, here are the star events the CCBA has planned this year.
The Four California Craft Brewers Association Can't-Miss Events of the Year
The California Craft Brewers Association has a slate of fantastic events planned for 2023.
2023 CA Craft Beer Summit
The CCBA's education centerpiece of the year is the 2023 CA Craft Beer Summit. The conference takes place over multiple days, inviting brewery members to network with industry suppliers, collaborate with other breweries, and join technical seminars led by industry leaders.
For instance, this year, keynote sessions will include an opening session with Firestone Walker Brewing Co. Co-Founder David Walker and a closing tap talk featuring Sierra Nevada Brewing Co. Founder Ken Grossman and Russian River Brewing Co. Co-Founders Natalie and Vinnie Cilurzo.
Craft Beer Summit Experience: Rare Beer Event
A part of the CA Craft Beer Summit, the Craft Beer Summit Experience: Rare Beer Event celebrates rare beer from California breweries alongside bites.
Participating breweries include some of the most sought-after across the state, such as Beachwood, Firestone Walker, Moksa, Russian River, Sante Adairius, Urban Roots, and more.
CCBA 2023 Day at the Capitol
Also part of the CA Craft Beer Summit, CCBA Day at the Capitol invites California breweries to meet with local elected officials, discussing legislation that could impact the craft beer industry.
CA Craft Beer Week
Taking place this year from July 21, 2023, to July 30, 2023, CA Craft Beer Week includes a whole week of events celebrating California craft beer.
How Can I Join the California Craft Brewers Association?
If you're a brewery or brewery-in-planning in California interested in joining the California Craft Brewers Association, just visit here to learn more and fill out the sign-up form.