Illinois Craft Brewers Guild Spotlight
Published: March 7, 2023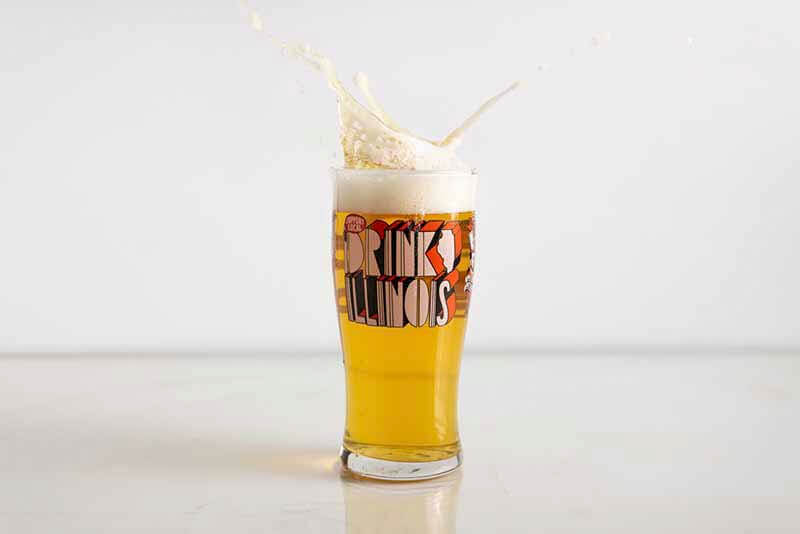 There are many reasons why you should join your local brewers guild. So to help you see some of these advantages in action, we've been spotlighting guilds from around the country.
Everywhere from the Ohio Craft Brewers Association in the Midwest to the Texas Craft Brewers Guild in the South. And all those in between.
This week we're discovering how the Illinois Craft Brewers Guild (ICBG) fosters local events, fights for better industry laws, and finds new ways to promote and support the fine breweries of the Land of Lincoln.
Better Production and Enable More Sales With Ollie
Discover how breweries all over are making operations a breeze and enabling more sales with Ollie!
Ready to learn more? Drop us a line and our team will be in touch with more information on how to check out a demo of Ollie.
What Is the Mission of the Illinois Craft Brewers Guild?
Founded in 1997, the ICBG is "the nonprofit trade organization dedicated to supporting the development and expansion of the craft beer industry in Illinois," according to the ICBG website.
With that in mind, the ICBG approaches its mission from three different pillars: legislative and regulatory advocacy, education, and promotion.
Legislative + Regulatory Advocacy
Under this pillar the ICBG acts as the "voice of Illinois brewers," advocating for "legislation that enables growth and expansion while working to ease unnecessary regulatory restrictions on the state's craft breweries," according to the guild's website.
Education
Through a series of conferences, such as its annual Illinois Craft Brewers Convention and Tradeshow, which took place in Bloomington, IL, from Mar. 6 to Mar. 7, 2023, the ICBG helps its members further their professional development in the industry. Whether through technical seminars or in-depth conversations, the ICBG takes its education component very seriously.
Promotion
To bolster its breweries' consumer reach, the ICBG hosts a whole series of events from incredible one-night festivals like the Festival of Barrel-Aged Beers (FOBAB) to an entire seven-day promotion like Illinois Craft Beer Week.
The goal with each of these events is to "promote member breweries and their craft beer in thoughtful, creative ways to maintain connection with loyal fans while appealing to new craft beer drinkers," according to the guild's website.
All these efforts have helped Illinois rank seventh in terms of economic impact, generating $2.984 million in revenue in the state in 2021, according to the Brewers Association.
All told, nearly 300 breweries make up the entire state guild.
Ones like:
Art History Brewing
Corridor Brewery & Provisions
DESTIHL Brewery
Dovetail Brewery
DryHop Brewers
Duneyrr Artisan Fermenta Project
Forbidden Root
Half Acre Beer Company
Hop Butcher for the World
Maplewood Brewery & Distillery
Marz Community Brewing Co.
Moody Tongue Brewing Company
Off Color Brewing
Phase Three Brewing Company
Pipeworks Brewing Co.
Revolution Brewing
Scratch Brewing Company
Solemn Oath Brewery
The Hopewell Brewing Company
.. and so many more.
What Are the Goals of the Illinois Craft Brewers Guild in 2023?
The Illinois Craft Brewers Guild isn't wasting any time this year. On February 10, 2023, the ICBG filed a bill that would legalize direct-to-consumer (DTC) shipping for the state's craft breweries.
A huge step in the economic success of craft breweries moving forward, DTC shipping became a substantial pillar for many small beverage businesses during the pandemic.
Unfortunately in Illinois, breweries are not currently allowed to ship the beer they make to consumers thanks to an outdated but current law on self-distribution.
An amendment to the 1934 Liquor Control Act, SB2193 would allow breweries with a certain license to ship their goods to folks who are over twenty-one years of age.
In the guild's most recent version of its magazine Illinois Brewing, they liken the legalization of DTC shipping to what those same self-distribution laws did for the industry back in 2011.
At the time, self-distribution laws that let breweries sell to retailers, bars, and restaurants on their own, without a third party, greatly benefitted beverage businesses. Mostly because the margins in the brewing industry are so slim that by removing a third party that takes a cut of each sale, smaller breweries could thrive.
But today, the law actually hinders breweries in Illinois, especially those with a small- to no-distribution footprint because they are so stringent, setting limitations on the types of breweries that can self-distribute along with the actual amount breweries are allowed to self-distribute before they have to bring in a distributor.
"The fact that Illinois laws force some craft breweries to contract with third-party distribution is antiquated and unnecessary," writes Illinois Craft Brewers Guild Executive Director Ray Stout in the guild's Illinois Brewing article. "It creates an intentional power imbalance between local breweries and consolidated distribution corporations through the enforcement of what are called 'franchise laws.'"
Enacted under the Beer Industry Fair Dealing Act, franchise laws basically protect Illinois distributors, meaning once a brewery is locked into a distribution contract they're notoriously impossible to break.
For over a decade it has been that way or the highway, so to speak.
Until now.
With SB2193 breweries can once again take a bit of their own selling power back into their hands, allowed to distribute up to twelve cases of beer per year through DTC shipping to anyone over twenty years old.
The benefits could be numerous.
In a Facebook post the ICBG explained that "data demonstrates that direct-to-consumer shipping helps build brand awareness and satisfy demand for niche products."
According to Stout, breweries have reported business is back to about seventy percent of what it was before the pandemic, meaning people are still consuming a good amount of beer at home.
Illinois breweries need to be able to meet their customers where they are most comfortable.
Something wineries in Illinois have actually been able to legally leverage for more than fifteen years.
So why not breweries?
The ICBG will be hoping this changes as the Illinois State Senate considers this new bill.
What Are the Benefits for Illinois Craft Brewers Guild Members?
Overall, the ICBG gives breweries in Illinois a vociferous voice whether that's through state legislation and regulatory advocacy, brewery-benefitting events, or yearly conferences and technical seminars.
And that doesn't even cover all of the nitty-gritty details that members can access.
Membership in the Illinois Craft Brewers Guild includes all the following benefits:
Direct access to the state's growing craft brewing community
Quarterly meetings, including technical seminars, legislative and legal updates, and networking
Monthly industry-specific educational opportunities (i.e., technical webinars)
Members-only listserv gives brewers direct access to one another for questions, resources, and support
Option to participate in annual ICBG-sponsored events, including Illinois Craft Beer Week, Beer Under Glass, ICBG Golf Outing, Chicago Friday Night Flights (Chicago only), and more (including sponsorship opportunities)
Access to annual Illinois Craft Brewers Conference, featuring two days of technical education, networking, and sponsorship opportunities
Placement on Illinois Brew Map and logo featured at www.illinoisbeer.org
An ICBG-branded tin tacker and window cling to showcase your membership in your brewery or taproom
Promotional support provided by the Guild's PR team through events, social media, traditional media, fundraisers, and other brewery-specific priorities
Brewery listing in Illinois Brewing magazine, a quarterly print and digital publication reaching over 10,000 Illinois beer drinkers, plus potential for editorial features
Insight from industry professionals on rules, regulations, and other updates at the state and Illinois Liquor Control Commission (ILCC) level
Input in building the Guild's legislative agenda at the local, state, and national levels
A voice in electing ICBG leadership via board elections; leadership opportunities for those interested in joining an ICBG committee or running for the Board of Directors (regular members only)
Access to ICBG's legal staff for industry-specific questions; one free legal consultation
Free shipping to Great American Beer Festival and the World Beer Cup; opportunity to have product featured and poured at the ICBG pavilion at GABF (pending its return)
Monthly updates from the Executive Director with important ICBG and industry updates, event reminders, educational opportunities, and offers from associate members
Beyond all these benefits, here are the big events the Illinois Craft Brewers Guild has planned this year.
The Four Illinois Craft Brewers Guild Events You Can't Miss This Year
The Illinois Craft Brewers Guild has a whole slate of amazing events planned for 2023.
2023 Illinois Craft Brewers Convention
This annual statewide conference provides its members an opportunity to attend important technical and educational seminars, engage in panel discussions, and network with other breweries, industry manufacturers, and trade organizations.
Festival of Barrel-Aged Beers
Last year, this groundbreaking festival celebrated its twentieth anniversary. The country's largest and most-revered barrel-aged beer festival, FOBAB has been pushing the vanguard of BA beer in a state where Goose Island Brewmaster Greg Hall essentially invented barrel aging when he introduced Bourbon County Brand Stout as Goose Island's one thousandth batch of beer in 1992.
Friday Night Flights
Created in partnership with Choose Chicago, last year Friday Night Flights included three different tasting events in three different unique Chicago neighborhoods. Beer tastings combined with local food vendors and live DJs for a cool spin on a Friday night out.
Illinois Craft Beer Week
A week of events that celebrates breweries all across Illinois from way down south to up north in Chicago, Illinois Craft Beer Week has one mission: to honor everyone who brews Illinois beer, drinks Illinois beer, and supports Illinois beer.
How Can I Join the Illinois Craft Brewers Guild?
If you're a brewery or brewery-in-planning in Illinois interested in joining the Illinois Craft Brewers Guild, it's pretty easy.
Just visit here to learn more and fill out the sign-up form.