What Brewers Need to Know About a Surplus of Hops in America
Published: April 3, 2023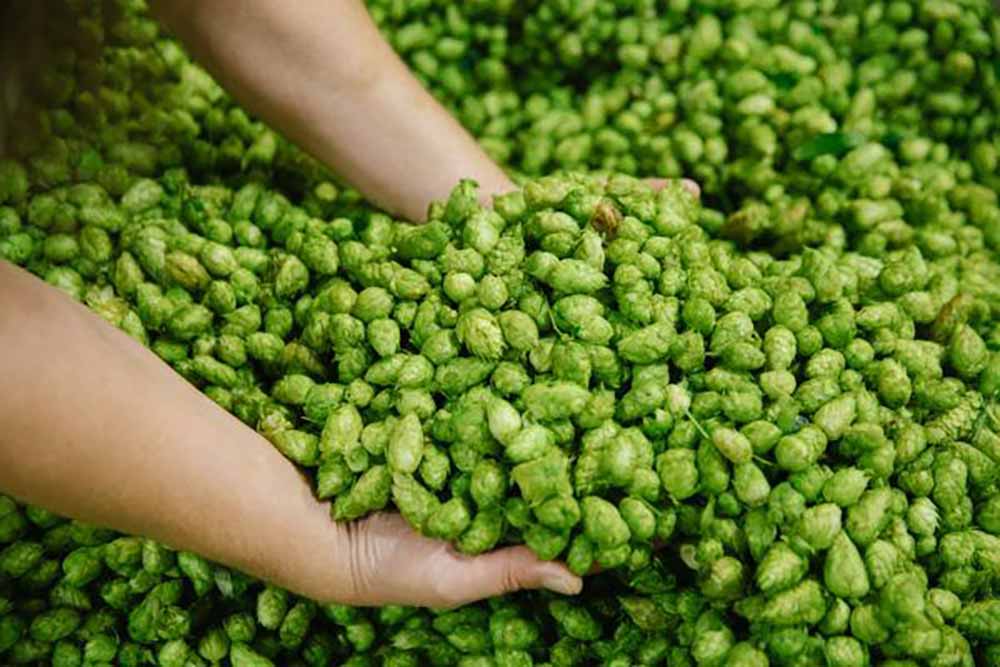 Surprisingly, a new report from the Brewers Association Chief Economist Bart Watson states that the craft beer industry has reached a surplus of hops in the market, outpacing usage for the first time. 
Countless data and consumer preferences point to hop-forward styles dominating American craft beer market sales. But behind the scenes, hop growers have slowly been building up a surplus of hops that has finally reached saturation. 
What does this mean for you as a brewery owner? How will this affect your business? And what can you do to prepare? 
We spoke with Brewers Association Chief Economist Bart Watson and sifted through his BA Collab Hour on "The Hops Market and Brewers Association Raw Materials Survey Results" to answer these questions and more. 
(Above photography courtesy of Sierra Nevada Brewing Company)
Better Production and Enable More Sales With Ollie
Discover how breweries all over are making operations a breeze and enabling more sales with Ollie!
Ready to learn more? Drop us a line and our team will be in touch with more information on how to check out a demo of Ollie.
A Quick History of Hop Production in America
According to Watson in his BA Collab Hour presentation, the hop industry has evolved through three significant periods. 
First, in the early '90s and 2000s, the U.S. hop industry's total pound production of hops stayed static, even declining slightly. 
But the craft beer boom in the mid-2000s changed everything. Production rapidly increased with a new level of demand. 
Why did we have that increase in acreage and production? "It was two parts both driven by craft—the U.S. and globally—we had this huge growth in craft beer," said Watson, noting that of the eleven million barrels of craft growth from 2011-2016, much of that was in hop-forward beers. "Generally, we saw these dual engines of craft and hoppy beer growing very strong. 
As this period of growth peaked, many breweries contracted hops to ensure they could have access to products during a tight time in the hop market. According to Watson, Brewers Association surveys recorded ninety-nine percent of breweries contracting. "Those contracts were fueling that further investment in infrastructure alongside that craft boom," said Watson. 
Today, we're experiencing a period where the development of that infrastructure has actually "led to a place where the production of hops has been higher than the amount of hops actually used combined in the U.S. and globally," shared Watson.
Watson looked at hop stocks reports, noting how these changed year over year, to estimate how many hops were used domestically or via export. 
"While in the 2013-2014 years, we were behind; the shipments were higher than crop pounds—signs we needed investment and growth," said Watson. "Since that point, generally, the crop pounds have run higher than shipments. We have had production of hops in the United States higher than our usage of hops." 
While the hop stocks report doesn't specifically break out the hops growers have stockpiled the most, Watson hypothesized from conversations around the industry that much of the surplus of hops centers around Citra and Mosaic. 
All this boils down to the US currently producing more hops than we use in 2023 and beyond.
What Does a Surplus of Hops Mean for Brewers?
In a few words, the hop market is becoming unsustainable. 
"What we've heard from hop growers and dealers is we've reached a point in the U.S. where we simply have too many hop acres, the hops are piling up in warehouses, and at some point, that situation is going to become unsustainable," says Watson. "Hop growers do not want to be holding these higher and higher inventory levels." 
Watson frames it from a brewing-business perspective. Think about the beer you make. You're probably willing to stock up on cans and bottles to send to your distributor, but there is a saturation point. Eventually, you'll need to pull back the lever on brewing; you don't want to hold on to extra SKUs of your products. 
"That's the point we've reached in the United States," said Watson.
This sounds a bit doom and gloom, but it is more of an educational warning. 
Now is the time to start preparing. 
First, what will you see happen in the hop market? 
Watson shares that you will most likely see an acreage reduction in the U.S. hop industry. "I don't have a specific forecast on how much, but based on what we saw—structural production versus what we need—U.S. hop production will come down closer to that 100 million pound mark or lower (for reference, according to USA Hops 2022 Statistical Report, in 2020, the Pacific Northwest grew 104 million pounds of hops, a record-brewing 116 million pounds of hops in 2021, and 102.2 million pounds last year).
The message here to brewers: You should be thinking about and be ready for the market to swing,
Watson does note that a surplus of hops won't change the market all at once but reiterates that dealers won't sit on this ever-growing surplus forever. 
"For growers, this won't be an easy choice," said Watson. "Right now, they have a tough choice: either idle production or sit on hops they're making and can't sell." 
The hop market will experience a significant change from the last five years when brewers had access to their choice of hops. "Spot markets have been flush, your brewer down the street always has extras, and the varieties that you need are easy to come by, particularly the most-produced varieties," says Watson. Brewers need to prepare because these national changes will trickle down to them locally. 
"The message here to brewers: You should be thinking about and be ready for the market to swing," said Watson.
What Steps Can You Take to Prepare for a Surplus of Hops in America?
As a brewer, you can take a few steps to ensure you prepare for the pendulum to swing. 
First, if you aren't already, now is the time to explore hop contracts strategically.* Watson emphasized that the spot market for hops will become more scarce as hop growers cut back on acreage and try to work through their surpluses. 
"Don't assume availability is going to be the same as today," said Watson. "Very quickly, you can go from a place where: 'It is very easy to get these things, I don't need to contract' to 'If you really needed those hops this year, you were very happy you had a contract for them.'"
Strategic contracting are the keywords here. "That doesn't mean brewers should be rushing out and covering 100 percent of their needs with five-year contracts," said Watson. "But selective contracts decreasing over time for hops that are critical to production helps manage risk." 
The second step requires looking at your recipes and brewing processes.
That could mean switching out some of your traditional T-90 pellets for any variety of cryogenically processed lupulin-enriched pellets on the market: Yakima Valley Hops Cryo Hops, John I. Haas LUPOMAX, or Crosby Hops' newly released CGX Hops, for instance. 
In that same vein, consider experimenting with a host of available CO2 hop extract, flowable commodities—Incognito, FLEX® Salvo™, SPECTRUM, and HOPSAUCE™ to start. 
All of these products can be mixed in with traditional T-90 pellets to help save you from relying solely on pellets or whole-leaf cones while also boosting your yield, flavor, and aroma, and, in some cases, help you save on shipping costs and storage space as well.
A Brewers Association Hop Survey, which has collected fourteen years of data from 2008-2022, found that twenty percent of the equivalent pounds of hops used last year consisted of oils, powders, lupulin powders, or other non-pellet, non-whole-cone products. While eighty percent of the volume was still composed of pellets, there was a sharp increase in the usage of non-traditional T-90 pellets. 
"Using some of these products to find efficiency in both bitterness and hop flavors is something a lot of brewers have been looking at and been using…in different ways not only to make different flavors and different beers but also to save money both on their total pounds they use and on the efficiency of the beer," said Watson. 
Third, look hard at your portfolio and see where you can make changes. "You probably can't do that with every beer (a beer named after Citra and marketed as having 100% Citra hops can't change), but brewers can have a plan for what happens if a certain hop spikes in price and how you can compensate in that beer or your portfolio generally," said Watson, mentioning that a regional brewer told him recently they are dropping all of their beers with a particular fruit that costs too much. 
These changes are happening now, and nothing stops you from doing the same in preparation. 
This brings us to the final point: You need to make a mental shift, understanding that in the coming years, you might not be able to hit up a brewery neighbor down the street for extra hops or that the spot market will run lean. 
*Editor's Note: The Brewers Association will publish a resource on contracting hops with recommendations on contracting specific production. Watson says you can expect to see this resource available in the next month or two.
A Final Word on a Surplus of Hops in America in 2023
For the last half-decade or so, we've enjoyed a booming hop industry, giving us access to an unprecedented number, breadth, depth, and variety of hops.
But the momentum has finally started to swing the other way. 
Now is the time to prudently plan for the future. Take some time to take stock of your portfolio, explore selective hop contracts, and experiment with new hop products. 
Taking the steps now to prepare could pay huge dividends in the long run when the hop market truly reaches an unsustainable peak.
Brew Your Best Beer With the Best Hops. Get Ollie.
A brewery management tool built by brewers and for brewers. Handle everything in your brewhouse from recipe development to cost management. All with one easy-to-use platform. Request a free demo today.