Find Ollie at the Craft Brewers Conference to Save 30% Now!
Published: April 26, 2023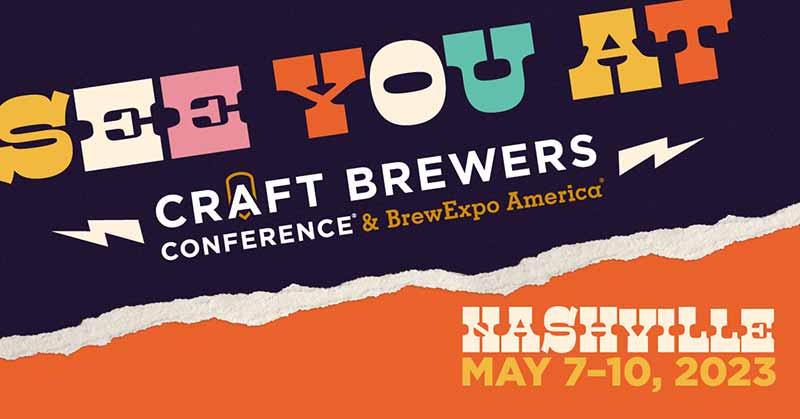 In a little over a week brewers, brewery owners, and others in craft beer will head to the Craft Brewers Conference in Nashville, TN. As the largest craft beer industry gathering, the Craft Brewers Conference includes four days of intensive training, educational speakers, networking opportunities, and more.
To cheers the Craft Brewers Conference, Ollie is offering its best promo: a 3-year price guarantee for 30% off!
While everything else is getting more expensive, Ollie is making it easier to get connected to a brewery management solution that makes production easier while delivering tools to help drive sales!
The best part? We're guaranteeing this price for three years! Stop worrying about your budget, and get back to brewing incredible craft beer. Do you want to start saving now?
If you'd rather wait until the Craft Brewers Conference, here is where Ollie will be and what we'll be doing.
(Graphic courtesy of the Brewers Association)
Where You Can Find Ollie at the Craft Brewers Conference
Better Production and Enable More Sales With Ollie
Discover how breweries all over are making operations a breeze and enabling more sales with Ollie!
Ready to learn more? Drop us a line and our team will be in touch with more information on how to check out a demo of Ollie.
The Ollie Booth on the Trade Show Floor
Day: Monday, May 8, to Wednesday, May 10
Time: 10:00am-4:00pm ET
Where: Booth #1431 at Music City Center (201 Rep. John Lewis Way South, Nashville, TN 37203)
You brew great beer. But you also run a business. Managing a brewery means you also need to get cans in hands and liquid to lips.
Built by Brewers, for Brewers™, Ollie is the all-in-one brewery management platform delivering innovative solutions to breweries looking to brew their best beers while also increasing their sales and driving consumers to their brands.
Find us at the Welcome Reception or visit booth #1431 at BrewExpo America to learn more about Ollie and to meet the rest of the Next Glass family. Explore how we can help transform your operation with cutting-edge brewery solutions and impactful, data-driven insights.
Ollie Welcome Reception at Music City Center
Educational Talk: On-Premise Pricing, Consumer, and Brewery Trends
Day: Monday, May 8
Time: 3:45pm-4:45pm ET
Where: Room 202A and Theater 114 at Music City Center
Join Next Glass CEO Trace Smith as he explores recent on-premise trends within the brewery industry with data powered by Untappd Insights.
From insights on beer pricing intelligence and consumer behavior to taste and purchasing preferences, discover how Untappd Insights delivers the world's most comprehensive view into the on-premise beer consumption experience. Learn how the power of beer data can allow producers and retailers to make invaluable data-driven decisions.
Don't Want to Wait for CBC? Take Ollie for a Test Drive Right Now

Ollie handles everything in your brewhouse, from recipe development to cost management, raw materials forecasting, and front-of-house sales—all with one easy-to-use platform. Spend less time managing spreadsheets and more time doing what you do best: brewing beer.
To learn more about Ollie, request a free demo today.