San Diego Brewers Guild Supports The 'Capital of Craft™'
Published: June 14, 2023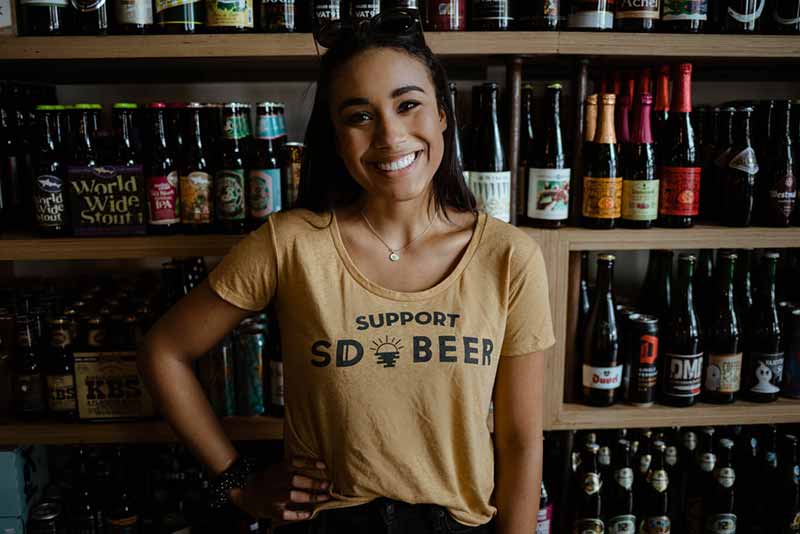 Known as the homebrewing capital of the country for years, San Diego has spawned a generation of talented brewers, many of whom started their own places or cut their teeth at stalwarts such as Stone, Ballast Point, or AleSmith. The state of California is a powerhouse for craft beer, with the city of San Diego home to over 150 of those incredible breweries. For instance, Athletic Brewing Company, Bagby Beer, Belching Beaver, Border X Brewing, Burgeon Beer Company, Harland Brewing Company, Karl Strauss, North Park Beer Co., Pizza Port, Pure Project, The Lost Abbey, and more.
The San Diego Brewers Guild advocates for and supports the breweries in a region known as the 'Capital of Craft™.
So while it's undoubtedly a big job, someone has to do it.
According to current San Diego Brewers Guild Board President Haley Smith, all executive members volunteer, working day jobs at breweries across the city.
But the entire board knows firsthand the benefits of a dedicated, active guild. And in a city with such a rich beer history, an industry organization like the San Diego Brewers Guild is paramount.
(Photography courtesy of the San Diego Brewers Guild)
Better Production and Enable More Sales With Ollie
Discover how breweries all over are making operations a breeze and enabling more sales with Ollie!
Ready to learn more? Drop us a line and our team will be in touch with more information on how to check out a demo of Ollie.
What Is the Mission of the San Diego Brewers Guild?
Founded in 1997, the San Diego Brewers Guild "promotes local small businesses and entrepreneurs of craft beer via education, events, and community involvement," according to the association's website.
With breweries producing award-winning beer and generating significant tourism, the guild works to "promote awareness of craft breweries in San Diego and get people to visit our members' locations," says Smith. "We try to educate people on the difference between craft beer and big beer to drive traffic to our tasting rooms."
The more the guild can direct people to its members' taprooms, the more everyone can continue to grow.
What Are the Goals of the San Diego Brewers Guild in 2023?
This year, Smith emphasizes that the guild will focus on driving traffic to taprooms. "Brewery members always want to join because they're looking for help telling their story and getting people to their tasting rooms," she says. "Especially after everything with 2020, brewery owners want foot traffic, and that's our goal to spread the word through tourists and educate San Diego people about why craft beer is so important to our community."
Smith calls it "getting back to basics."
Since California is so big, the state has several industry organizations, ranging from city to region. At the top of it all, the California Craft Brewers Association advocates for legislative change to help all its breweries, freeing up more local guilds, those in San Diego, to focus on marketing, promotion, events, and other benefits for its members.
What Are the Benefits for San Diego Brewers Guild Members?
Smith believes the most significant benefits to San Diego Guild members are two-fold: education and promotion.
The guild hires a built-in PR and social team to promote its breweries. "We constantly put out content about our members on social media platforms to stay at the forefront of media attention," she says. "It's something we spend our resources on [because] continually trying to come up with new ways to promote our members is number one."
Membership to the San Diego Brewers Guild is $300 for breweries under 2,000 bbl, $375 for production between 2,000-10,000 bbls, and $600 for over 10,000 bbls, including all the following benefits:
Voting Member
Publishing Access to sdbeer.com
Publishing Access to SD Beer Job Board
Tap Into Knowledge Educational Training & Seminars
Member Meetings & Events
Electronic Member Mailings
Up-to-date Industry News
Access to Industry Data & Reports
Member Directory Listing
Event Participation Opportunities
Marketing Opportunities
Sponsorship Opportunities
Beyond all these benefits, here are the significant events planned this year.
The Four Can't-Miss San Diego Brewers Guild Events This Year
San Diego Beer Week
"The number one thing we're known for is San Diego Beer Week," says Smith.
Taking place every year the first week of November, San Diego Beer Week includes ten days of tap takeovers, keep-the-pint nights, and other events that show consumers "what makes craft beer so different from big beer," says Smith.
San Diego Brewers Guild Golf Tournament
The largest fundraiser event of the year, this golf tournament has taken place in September for the last seven years.
With a different brewery set up at each hole, the event combines the best of work and play.
"It's a super fun way to try out new beers if you love playing golf," says Smith. "I play, hit a couple of balls, and drink beer on the course all day!"
San Diego Beer Weekend
Hosted on June 9, 2023, San Diego Beer Weekend is a newer initiative with thirty-five participating breweries that sell a commemorative glass.
"We're trying to engage the public to get into tasting rooms, try new places, get fun glassware to take home, and remind them about visiting locations," says Smith.
San Diego Craft Beer Con
An industry-focused event Craft Beer Con offers brewery members three different education tracks to participate in during a one-day educational conference.
Members can listen in on panels chock full of experts discussing technical topics, learn the business side of brewing, or brush up on their marketing and sales skills.
How Can I Join the San Diego Brewers Guild?
If you're a brewery or brewery-in-planning in San Diego interested in joining the San Diego Brewers Guild, it's pretty easy.
Just visit here to learn more