How the Australian Hop Harvest Performed in 2023
Published: July 14, 2023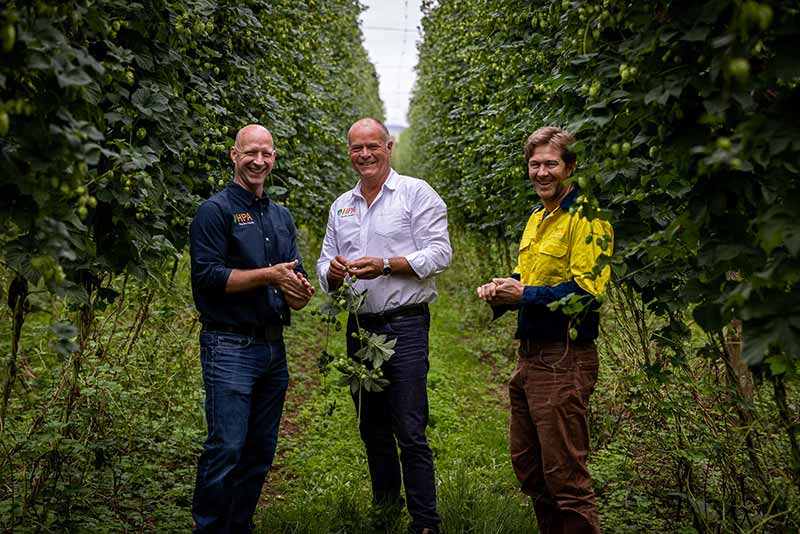 Earlier this year, we covered the 2022 hop harvests in the United States and Europe. The U.S. saw a nominal decrease in its production, down a mere two percent from the previous crop. However, the European harvest saw a starker decline year over year, mainly due to higher-than-average temperatures and limited rainfall. Since the Southern Hemisphere climate harvests their hops in April and May, let's head south of the equator to look at this year's Australian hop harvest, based on a six-page report released by Hop Products Australia last month.
(Photography courtesy of Natalie Mendham | Hop Products Australia)
Better Production and Enable More Sales With Ollie
Discover how breweries all over are making operations a breeze and enabling more sales with Ollie!
Ready to learn more? Drop us a line and our team will be in touch with more information on how to check out a demo of Ollie.
What Was Hop Production in Australia Like in 2023?
Unlike the U.S. and Europe, which saw declines in their respective harvests, the HPA reported an uptick in both hectares picked and tonnes of hops.
HPA picked 847 hectares of hops across Victoria and Tasmania, 37 more than the previous harvest, up 4.5 percent. Farmers gathered a total of 1,821 tonnes of hops, an increase of 164 tonnes, or 9.9 percent year over year.
HPA Marketing Manager Grace Irwin hints that this season could have been more robust, but a third consecutive La Niña weather pattern disrupted the final hectares of its Victorian expansion, which should have been commercial-ready this season.
"Below average temperatures and above average rainfall early in the growing season initially slowed plant growth and caused localized flooding in Victoria towards the end of spring," Irwin says in an email. "Despite the adverse conditions, we were able to modify our calendar of inputs accordingly, with above average temperatures and below average rainfall in summer aiding cone maturation."
Irwin adds that the HPA growing regions have seen record lows in solar radiation four seasons in a row, notably from October to November.
"This remains an area of interest since sunlight drives photosynthesis, and it's possible this could be affecting production volume," Irwin says.
What Were the Most Harvested Hops in Australia in 2023?
The HPA report focuses heavily on six proprietary hop varietals: Galaxy®, Eclipse®, Ella™, Enigma®, Topaz™, and Vic Secret™. (HPA is also breeding some new hops that, when ready, could impart estery tropical fruit, lime and guava, lemon curd, creamy mango, or ginger and saffron flavors in beer—but Irwin says they are not sure when they will be ready.)
Of the proprietary six, Irwin and HPA Head of Sales and Marketing Owen Johnston say that Eclipse was the front-runner in increased production.
The hop varietal produced 161 metric tonnes, a 70 percent increase from the previous harvest.
"The increases in Eclipse have been part of the planned trajectory to support market uptake," Johnston says in an email, adding that this is the final year of that planned supply expansion. "Eclipse continues to get great brewer feedback, both on the farm and in their finished beers."
Galaxy takes the cake by pure production volume, with 1,096 metric tonnes produced in 2023, up 8.8 percent from last year. Vic Secret produced 320 metric tonnes, up 10.3 percent, the second-most-produced hop, just ahead of Eclipse.
Additionally, the alpha acids and oil content exceeded the five-year average in the region, which bodes well for the six proprietary hops, Irwin and Johnston say.
"We are very confident the hops will have great flavor impact in beer," says Johnston.
Irwin adds that Eclipse had a particularly strong showing in alpha and oil content, "that should lead to an exceptional year of performance in beer."
"Eclipse continues to receive particularly favorable feedback from brewers, both on the farm and in their finished beers," Irwin adds. "It smells great in the field and even better when it's drying on the kiln floor."
Cascade only produced 18 metric tonnes of hops, a steep 29.7 percent drop from the previous year. Though the acreage of the hop remains steady, it just had a poor year.
"Below average temperatures and above average rainfall early in the growing season initially slowed plant growth, and Cascade did not recover as well as some of our more modern varieties," Irwin says.
How Does the Australian Hop Harvest Affect the U.S. Market?
When HPA commercialized Galaxy in 2009, the hop became an instant game-changer for its intense peach and passionfruit flavors.
"I do think the power of the Australian program is that we do occupy somewhat of a unique position to create unique flavors," says Johnston, noting that the single market HPA sends the highest number of kilos of its hops to is the U.S. "That demographic is very evolved in their pursuit of flavor and their understanding of the palate. They're technically mature craft brewers who understand how to get the best out of hops."
But despite demand, Australia is still a small player worldwide when it comes to hops. To put it in a global context, where Australia produced 847 hectares of hops—roughly 2,093 acres—the U.S. led the world in production with 61,177 acres. And that was a decrease. Meanwhile, in Europe, Germany produced nearly 51,000 acres of hops, and the Czech Republic produced just over 12,000 acres of hops—all considerably larger than the Australian harvest. And even with its positive production in this year's hop harvest, those without hop contracts might struggle to procure the more popular hops.
"Even with this year's increase in production volume, our forward contracts will only allow for a very limited amount available on the spot market," Irwin says.
Johnston adds that HPA focuses on delivering supply surety with top-notch quality, which he believes HPA did in the 2023 harvest.
"We think that is really what brewers are looking for—great flavors and hop growers or merchants that deliver on their promises," Johnston says. "This harvest result should lead to a good experience and increased confidence for brewers when thinking about tapping into the unique Aussie flavors we offer."
What Might be in Store for the 2024 Hop Harvest?
Weather plays a huge factor in hop production for each harvest year. Johnston says that it appears wet weather patterns have ended, leading to a dryer and warmer growing season.
But Johnston says the most anticipated aspect of the 2024 hop harvest is the new pellet plant in Victoria, which the HPA acquired last summer.
The plant will include brand-new pelleting and packaging equipment, doubling HPA's current processing capabilities.
"This will usher in a new age of quality outcomes as we move to a modern packaging equipment and temperature-controlled pelleting line," Johnston says. "Retention of more oils and alpha in the finished pellet means more bang for your buck."