Hop Report: How Hops Performed in Europe in 2022
Published: February 27, 2023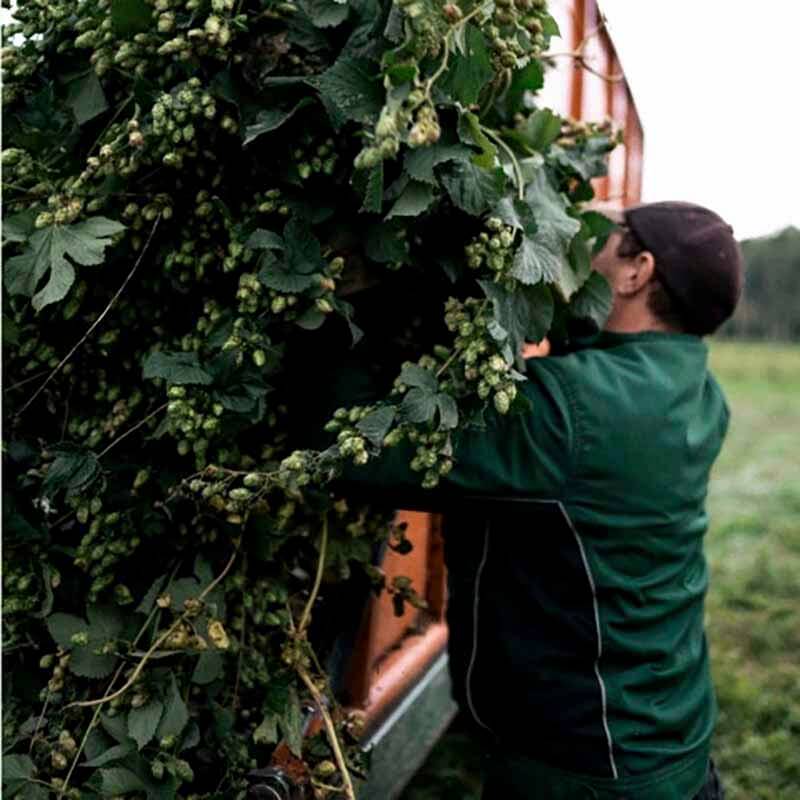 Last week, we covered how hops performed in the United States in 2022. Overall, the U.S. accounted for 61,177 acres of hops in 2022, a slight decline of 2% year over year. But still good enough for the largest amount of hop-producing acreage in the entire world. Next on the list? Germany came in second with 50,915 acres before a big drop off to the Czech Republic with 12,215 acres in 2022.
So this week, we take a look at the biggest takeaway on hop production and acreage in Europe heading into 2023, and what it means for the overall global beer market.
(Above photography courtesy of BarthHaas)
What We'll Cover in This Piece:
Better Production and Enable More Sales With Ollie
Discover how breweries all over are making operations a breeze and enabling more sales with Ollie!
Ready to learn more? Drop us a line and our team will be in touch with more information on how to check out a demo of Ollie.
Hop Production in Europe in 2022
As a high hop-producing continent, Europe had a particularly challenging crop year due to climate factors.
In August 2022, global hop company BarthHaas estimated that the German crop would decrease 20.4% compared to a 2021 harvest that yielded 47.862 tonnes, especially amongst varieties such as Hallertau Mittelfrüh, Northern Brewer, Hall, Tradition, and Perle.
Above-average temperatures and below-average rainfall contributed to this decrease in hop production with varieties like Hallertau Mittelfrüh falling about 18% below the average yield.
Other countries such as the Czech Republic, Slovenia, and Poland also seemed set up for a pretty poor hop crop year. The Czech Republic in particular, a country that produces the third most number of hops around the world, recorded a particularly scanty hop harvest, falling from 8.306 tonnes to an estimated 4.7 tonnes in 2022. Again, this paltry production can be attributed to a combination of drought and higher-than-normal temperatures.
Overall, the question now becomes: How will this sub-par hop season affect the global beer industry?
What Does Hop Production in Europe Mean for the Global Market?
In the short term it's hard to understand what all the long-term effects might be from this one particularly poor year.
... there is enough supply available to satisfy demand, but it will require the cooperation and flexibility from brewers with regards to crop year and varieties.
Prior to 2022, the Czech Republic reported a record crop year (producing 8.306 tonnes of hops in 2021) and Germany produced 47.862 tonnes—good enough for the second largest in the world. So there is speculation that stronger years will help carry the industry through this drought.
From the August 2022 report from BarthHaas, "What all this means for the markets is very hard to gauge. There is certainly supply from previous crops that will help to mitigate shortfall, but these inventories are not necessarily of the varieties that are most needed… Overall, we believe there is enough supply available to satisfy demand, but it will require the cooperation and flexibility from brewers with regards to crop year and varieties."
While the exact effects these shortfalls will have are hard to predict, what is certain is that prices for hops will rise. "Growers are facing significant cost increases, much higher than general inflation, and will not be able to operate at historic price levels," wrote the BarthHaas report. "We also encourage brewers to embrace modern varieties that are better-suited to the changing climate and provide more stable yields than the well-known workhorses of the past."
The Most Dominant Hops in Europe
According to BarthHaas Report 2021/2022, Herkules was the most cultivated hop for at least the fifth year in a row, racking up a total of 6,717 hectares (ha). Good for 33.8% of all of the German hop acres.
"The variety with the largest share of acreage, the bitter hop Herkules, also saw the largest expansion, adding 257 ha (4%)," wrote BarthHaas.
Behind the top German hop, Perle accounted for 3,331 ha (16.2%) and in third place, Hallertau Tradition recorded 2,844 ha in 2021 to account for 13.8% of the total hop acreage in Germany.
Taking a quick look at the Czech Republic, Saaz led the way by far with 4,183.6 ha, followed by Sladek at 373.8 ha, which actually grew by about 9 ha in 2021.
"Although hop acreage remained virtually unchanged, there were some changes in the varietal mix," wrote the BarthHaas report. "Saaz (-33 ha) and Kazbek (-4 ha) hops were grubbed out and replaced with Premiant (21 ha), Sladek (9 ha), and Agnus (8 ha)."
Interested in learning more? You can find the full report here. 
Brew Your Best Beer With the Best Hops. Get Ollie.
A brewery management tool built by brewers and for brewers. Handle everything in your brewhouse from recipe development to cost management. All with one easy-to-use platform. Request a free demo today.