Crosby Hops Introduced New Cryogenically Processed Lupulin Pellets (CGX)
Published: April 17, 2023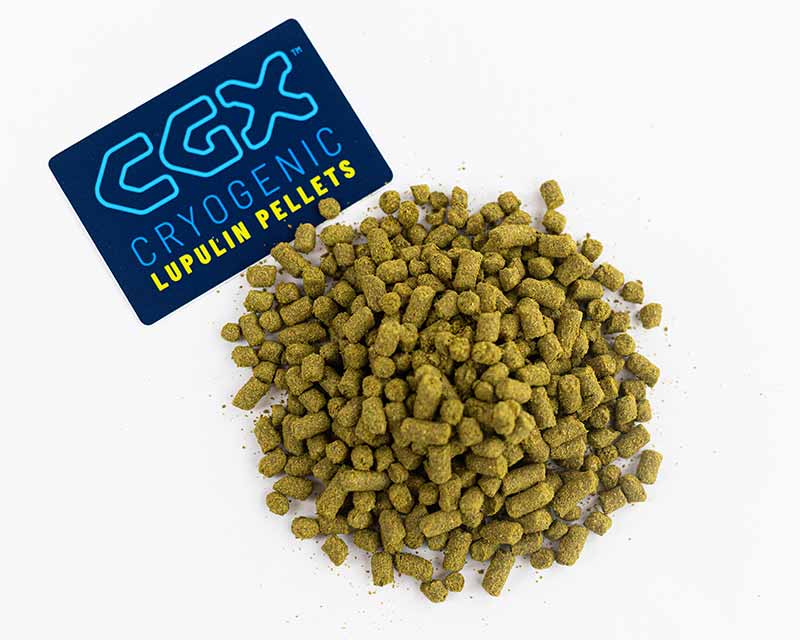 Craft beer drinkers continue to show what they want year after year—IPAs. Whether it's a West Coast or hazy, single, double, or triple, they want that beer that makes hops the headliner of their drinking experience.
If you need statistical proof, for twelve years in a row, the American IPA has been the most checked-in beer on Untappd, notching over 7.2 million check-ins in 2021, followed closely by New England-style and double IPAs.
For the last decade, to take advantage of drinkers' hop cravings, growers have planted more hops to the point that we now have a surplus of hops in America.
Simultaneously, hop companies have rushed to engineer new hop products that produce better yields while not short-changing the customer on quality. Additions of products such as Incognito in the whirlpool or SPECTRUM in the dry hop phases are great examples.
While those aforementioned products are solid, and many brewers continue to use them with great results, others want a product similar to the hops they have grown accustomed to using throughout their brewing careers.
"I think for brewers, going fully into the extract world can feel a little bit artificial and kind of takes the magic away from brewing," says Oregon-based hop manufacturer Crosby Hops Marketing Manager Zak Schroerlucke.
One of the latest hop trends provides that pellet feel with a bit more pizazz in the taste and smell: cryogenically processed hops, or cryo hops.
To make cryo hops, the manufacturer brings out the lupulin from a hop while reducing the vegetation, then pelletizes it, adding a robust aromatic and juicy profile to a beer. The usual suspects are all trying their hand with the cryo hops innovation, including John I. Haas' LUPOMAX and Yakima Chief Hops' Cryo Hops. Most recently, Crosby Hops has also taken to the cryo hops craze with its cryogenically processed lupulin pellets, CGX.
Better Production and Enable More Sales With Ollie
Discover how breweries all over are making operations a breeze and enabling more sales with Ollie!
Ready to learn more? Drop us a line and our team will be in touch with more information on how to check out a demo of Ollie.
While cryo hops and standard T-90 (or Type-90) hop pellets look the same, that's about it. In your standard T-90 pellet, ninety percent comprises vegetation and green material from the outermost part of the hop cone called bract. The other ten percent is lupulin, a hop's alpha acids and essential oils where all that good flavor and aroma reside. Cryo hops are achieved essentially by freezing a hop and shattering it to separate the lupulin from the bract.
The lupulin is then pelletized, creating a more impactful hop.
And with the higher concentration of lupulin, you can get away with using considerably fewer amounts of cryo hops in your hop schedule, leading to better yields and less waste. Oh, and using less also saves storage space, which can come in handy for smaller breweries.
For more detailed information on the cryo hopping process, check out our other article, "Why Cryo Hops® Are the Coolest Hop Trend."
Much like other cryo hop options, each company has its own way of producing these lupulin-rich pellets.
To make CGX, Crosby Hops takes a hop bale and super freezes the pellets with liquid nitrogen and cryogenics. They then put them through separation and sieving processes to enrich the pellets with lupulin.
The entire process—start to finish—is enclosed and devoid of oxygen. The pellets have a lupulin concentration nearly two times that of T-90 pellets. Crosby Hops CEO Blake Crosby says in a video on the company's YouTube page that most brewers using CGX are putting them in during the whirlpool and dry hop phases.
Why Did Crosby Hops Want to Make Its Own Version of Cryo Hops?
"We were noticing an increased demand for concentrated hop products in the U.S. and around the world," says Schroerlucke.
Not only that, Schroerlucke said that Crosby Hops observed that brewers wanted to be more efficient in the brewhouse. With hops typically the most expensive ingredient in the brewing process, it puts brewers in a bind—where to cut costs while maintaining quality.
"A concentrated hop product in a pellet, a cryogenically processed pellet, seems to be a perfect fit," says Schroerlucke.
How Is Crosby Hops CGX Different From YCH Cryo Hops and John I. Haas LUPOMAX?
The big difference is the separate patented processes in creating the cryo hops, according to Schroerlucke. He says that Crosby Hops' CGX pellets are minimally processed, and hardly any oxygen is involved in the process—an extremely volatile chemical element for hops and beer.
The process is quite similar to those used at YCH and John I. Haas, but Crosby Hops CGX pellets are "more minimally processed; less oxygen; and we always are focusing on…what we've been known for when we came out with our T-90 pellets about ten years ago, which is a soft pellet great for dry hopping," says Schroerlucke. "All those quality methods helped us design this product with intention, to [get] the same value we offer with our T-90s into a concentrated hop product."
The 4 Benefits of Brewing with Crosby Hops CGX
Schroerlucke points to four main benefits of using CGX: an increase in yield; the beer flavor and aroma pops; a decrease in cost, notably in storage, shipping, and packaging expenditures; and better sustainability for the planet with less waste.
Increase Final Yield
Schroerlucke says that with the concentrated notes coming from the lupulin, brewers won't need to use as many cryo hop pellets when throwing them into their brew—whether in the hot side during the whirlpool or in a dry hop phase—in conjunction with T-90 pellets.
Crosby Hops' marketing manager says that the lower dosage rate could get somewhere between ten to fifteen percent better yield compared to using entirely T-90 hop pellets, though the metrics aren't exact and depend on a number of factors.
Louisiana's Parish Brewing Company, in using CGX, has seen an increase in yield of around one to two percent, according to Head Brewer Ryan Speyrer. Speyrer points out that he brews 30-bbl batches of beer which then ferment in a 120-bbl tank.
"Sounds small, but when you're talking about a 120-bbl tank of beer and 1.2 bbls is a couple of hundred bucks, so it's not nothing, especially in something like brewing where the margins are not great," he says.
Better Flavor and Aroma
Widowmaker Brewing in Massachusetts has used other cryo hops in the past and were not pleased with the shelf life of the products in cans. Head Brewer Chris Hogan says they noticed a faster drop-off in quality.
But within the past six months, using Comet CGX™ hops, they have rehashed a number of brews, and the flavor and aromatics have come through and held up.
"We really liked them. They held up on our sensory panels," says Hogan. "None of the beers really dropped off and the customers really liked them."
Hogan says in creating beers with CGX, they utilized all their cryo hops in the whirlpool and it came through big time.
"We found that, even before dry hopping, the character was definitely more pronounced for what we like about the Comet that we use generally," Hogan says. "It's nice and punchy and fought through all the bittering hops we used in the boil."
Save on Storage, Shipping, and Packaging Costs
If there is an underlying theme to CGX hops, it's "less is more." Use fewer hops, get higher yield, more flavor, and more aroma. The same can be said for space in the brewhouse as well as savings on shipping and packaging.
"Your cost of shipping should be less, shipping about twice the amount of brewing value in a smaller package," Schroerlucke says. "[It also saves on] storage. Cold storage especially is one of the more expensive things on our side of the business. We're sure for brewers as well… You get to use much less packaging."
Improve Sustainability
Schroerlucke says the CGX benefits also affect wastewater treatment. With much less trub coming out of the tanks, it helps municipalities manage that wastewater more easily.
"We found [CGX can] benefit your business for sure, can definitely benefit your beer, and also the planet," he says.
The Best Ways to Brew With Crosby Hops CGX
There is no right way to use CGX, says Schroerlucke. He mentions they have seen brewers use up to fifty percent CGX hops in conjunction with T-90 pellets. But he notes that the sweet spot is in the 12.5-percent to 20-percent range. Brewers are also more often than not using the cryo hops in IPAs.
Parish Brewing has been contracting with Crosby Hops for years and champing at the bit to experiment with the new CGX. Speyrer says they top out using CGX—Strata CGX™ and Nelson Sauvin CGX™—at twenty percent and use it exclusively in the dry hop process.
"You're enhancing that fruity top note flavor and keeping the vegetal low, but there does seem to be a limit with how far you can go with it," Speyrer says. "It just kind of allows you to get closer towards that brighter, fruitier, tropical character from your hops without hitting that vegetal limit."
Meanwhile, Widowmaker and Hogan use CGX to the tune of fifty percent of their hop schedule. Widowmaker has focused its CGX efforts using the Comet varietal.
Two Examples of Beers Brewed with Crosby Hops CGX
Parish Brewing was an early adopter of Crosby Hops CGX, using Strata CGX in the dry hop to create Vermillionaire hazy DIPA.
"Crosby has always been very good about having nice soft pellets, which is good for dry hopping because they dissolve better into the beer," Speyrer says.
Widowmaker Brewing's Blue Wizard features Comet CGX™, utilized during the whirlpool of the West Coast IPA.
"A lot of our beer is Comet focused, so (it's great) to have a product like that…where your yields increase and potential for saturation of whatever flavor you're trying to go with [increases] as well," Hogan says.
Where Can I Find Crosby Hops CGX?
Crosby Hops has teamed up with manufacturers Indie Hops out of Oregon and The Hop Revolution in New Zealand in releasing CGX.
"Partnering with them was a way to expand access to our customers and to brewers around the world of some amazing varieties and a concentrated format that can benefit their business and a way to incorporate with their T-90 business," Schroerlucke says. "Having competition is better for the industry. For us, this [partnership] was a no-brainer."
According to the company's website, there are fourteen varietals of CGX, including Cascade, Chinook, and Comet. The list, which Crosby Hops expects to expand down the road, also includes varietals from The Hop Revolution (Motueka, Nelson Sauvin, and Riwaka) and Indie Hops (Meridian and Strata), which are all available from each respective provider.
Schroerlucke and the Crosby Hops team will be in Nashville, TN, next month for the Craft Brewers Conference. Their new CGX products will be on full display at the conference, held May 7-10, in Booth 2024.
Schroerlucke says that Strata® CGX™ and Nelson Sauvin™ CGX™ are "taking the win right now," as the most popular, but Cascade CGX™ has been a surprise winner too. "We sold out, which shocked us," says Schroerlucke. "There is still a love for C hops!"
Overall, Schroerlucke says, "Innovation is key to our industry, so CGX is our way of innovating on the hop side to allow another tool in the tool belt for brewers to use… Let's just keep making awesome beer, let's keep consumers excited so our industry stays healthy and we can all benefit."