Beer Branding 101: The Foundational First Steps to Success
Published: August 9, 2023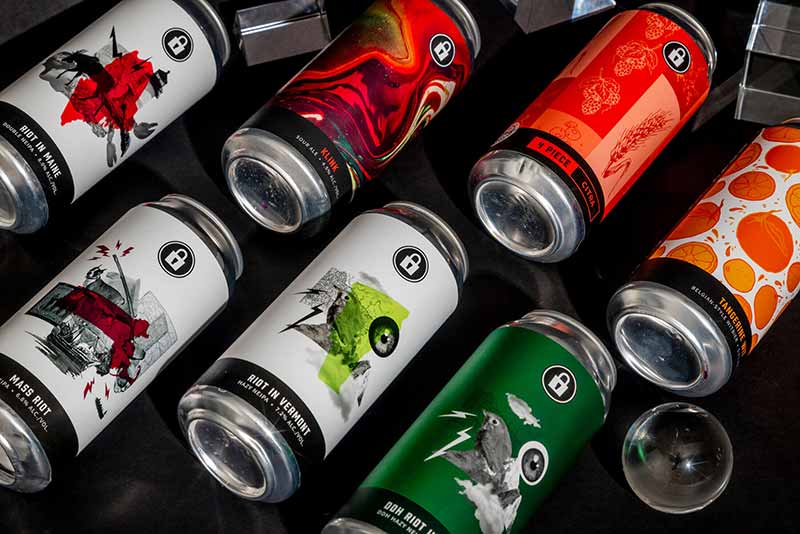 If you're reading this piece, getting into the brewing industry was more than likely a dream come true. Whether you're producing hundreds of barrels a year or tens of thousands of barrels, you started a brewery because you love beer and brewing.
But there's more to a brewery than just the finished product. Some of the more successful breweries across the country have focused on their image—or brand—to help with consumer recognition.
After all, with over 9,500 breweries operating in the U.S., according to the Brewers Association, you're competing with many different companies. The beer can only take you so far, but a strong marketing and branding approach can help you stand out on the shelf.
Beer branding success stories Funkytown Brewery and Prison City Brewing spoke with us about making their images pop, while branding agencies Stout Collective and Sally Morrow Creative shared advice on creating a consumer-facing brand to help your brewery grow.
Better Production and Enable More Sales With Ollie
Discover how breweries all over are making operations a breeze and enabling more sales with Ollie!
Ready to learn more? Drop us a line and our team will be in touch with more information on how to check out a demo of Ollie.
Stout Collective Founder and Chief Executive Officer Matt Tanaka, who has worked with major brands such as Other Half, Southern Grist, Revolution, and Solemn Oath, to name a few, says there is a misconception about branding that it's all about a logo or a label. Beer branding is much more than that.
"It's what your customer takes away after experiencing you," he says. "Good branding has a strong idea and how you want to communicate."
Tanaka notes that the brewing industry is a crowded marketplace where you can get lost in the shuffle. Good branding can help you rise to the top.
"Having it allows you to stand out in a better way," he says.
Funkytown Owners Richard Bloomfield, Zachary Day, and Gregory Williams are lifelong friends, using that bond to build their image beyond just the brewery logo.
"Branding is complex," Funkytown Chief Executive Officer Bloomfield says. "[You're] putting emotions and past experiences together that speak to your brand visually. Then there is the work to make sure people are having positive experiences."
Day adds, "It gives another access point to invoke that emotion, but you have to make sure it speaks to people beyond yourself for a greater connection."
Making that connection could set you apart from the rest.
"If [consumers] relate, they will be more susceptible to come to you," Williams says. "It distinguishes you from others in the industry."
Prison City Co-Founder Dawn Schulz, who works with Stout Collective, picking up a 2022 Gold Crushie from the Craft Beer Marketing Awards for "Best Can Design / Best Beer Series," levels with us about branding.
"What do people think about Prison City when I'm not telling them what we are," she says about how branding can help create a better image outside of messaging.
Sally Morrow Creative Partner David Morrow says branding can only help.
"It's the piece that helps the brewery become unique," David says.
How Important Is Beer Branding for a Brewery?
Now we know what beer branding is all about, but how important is it?
"It's crucially important," Day says.
Sally Morrow's eponymous founder echoes that sentiment.
"It's so important because the brand needs to execute on the promise," Sally says.
Day broke it down a little further.
"Messaging can make or break your company," he says. "What you stand for, it all comes out through your branding. How we speak to the community, it's all part of branding."
He adds, "If you put something out there that's half-hearted or doesn't seem genuine and not intentional, you can get negative blowback. If you work intentionally with a vision, people will come to that."
Schulz said that Prison City was creating logos and messaging as they went along when they first started. But now consistency is what they need as they continue to grow.
"Especially with how we're growing, we need to be consistent with our brand," she says. "We're getting in front of people who don't know who we are. It was cool when we were the little brewpub on the corner, but now that we're branching out, [consistency] is more important."
It's important to reflect on what you're trying to communicate with the customer because they want to know more about your business than just the product, Tanaka says.
"Consumers want to know about the brands they are engaging with," he says.
It's like a relationship.
How Much Success Can You Tie to Beer Branding?
Bloomfield was supremely confident that branding and a brewery's achievements are directly connected.
"Branding is absolutely linked to a company's success, especially in our industry," he says. "Good product alone won't stand. The brand has to provide something memorable to get people to return."
Williams took it a step further, saying you have to look inward to help usher consumer success.
"Trust your brand, and [consumers] will be more supportive," Williams says. "Also, you have to share your brand and create word of mouth, which is important and can lead to more support."
Prison City General Manager Tanner Scarr notes that branding is a living thing that is constantly evolving. With beers on an even playing field, Scarr says success almost has to come from the branding.
"A couple of years back, there were products that were just better than others [leading to those companies' successes]," Scarr says. "Now the beer is on the same level, and it's the branding making the difference and is more important than anything."
Tanaka still thinks beer is the most crucial aspect of the company, and it has to be great, especially with the consumer being more educated about craft beer than ever.
"It's a synergy of both [beer and branding]," Tanaka says. "Liquid is the most important, but branding is a way to communicate about the liquid."
Tanaka adds, "Branding … builds equity in people's minds."
Once a brewery has a proven recipe in the market and gets customers for the first time, that's where the work begins, according to David Morrow.
"After that, it's about keeping up, not sitting on your laurels, and keeping the customers engaged," he says. "It's a matter of keeping up so the brand doesn't lose momentum."
What's a Good Starting Point for Beer Branding?
By now, you should be convinced that branding is a significant factor in a brewery's success. So where is the ideal place to start to build up your brand?
"I think the early work is the strategy work—understanding the basics; coming up with a strategy based on what sets you apart," Sally says. "Then you have a roadmap for the future."
Tanaka seconds Sally.
"Before diving into design, spend some time reflecting on who you are in words," he says. "Think about your values, what makes you unique, and what matters to you. How do you communicate? How do you create great customer experiences in your taproom or on your sales calls? Put that into words, simplify, and then get into design."
Bloomfield says that the trio of lifelong friends knew exactly who they were at Funkytown, which helped them build their identity. When they got rolling, he said it was essential to establish core values.
"It adds to the company vision and shapes the culture," he says. "We knew Funkytown was about community, culture, and customer engagement."
Day adds that their values were about "keeping it funky" and says for any company starting, "make sure your values are a reflection of you." For Funktyown, that has translated into a brand infusing a Black perspective with '90s hip-hop culture into its beer and labels.
Scarr also says it's about knowing who you are as a company.
"Find out who you are at the core of it," he says. "That has to be laid out first—brand and identity go hand in hand."
Top Considerations When Looking Into Beer Branding
When Sally Morrow Creative works with a client, they help them learn about essential knowledge to gain success.
"You need three things: vision or knowing who you are, understanding your customer, and understanding your competition," David says. "Those three have to be present if you want a sustainable brand."
Tanaka says being mindful of the future is also essential as you build your brand, specifically thinking of your design as a visual language beyond just a single logo.
"The goal is to develop a set of visuals that you can use to create new things that continue to build on the brand," he says. "An understanding of brand fonts and colors, as well as iconography and layout, are just as important as your main logo."
Scarr also says thinking of the long game is vital for brand building and success.
"Think scalability. Think toward the future," he says. "Put systems in place to plan for the future and ask how far are you trying to scale and where are you trying to go."
Day reiterates the need to know who you are as a top consideration.
"Take the time to figure out what values and how you want yourself to be reflected through the company," he says. "If you're starting out, take that time to sit down and figure out the things you want to see in your company, considering how you have grown up or the values instilled in you."