Beer Variety Packs: Can They Help You Sell More Beer?
Published: June 23, 2023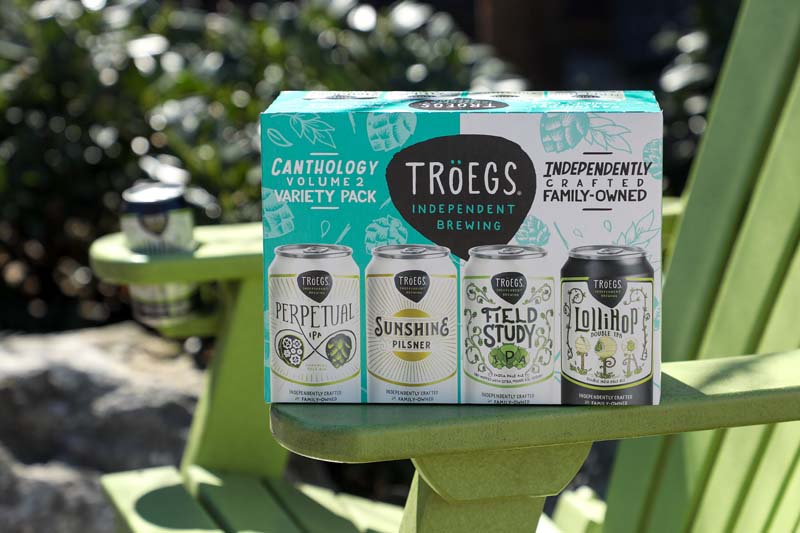 By now, you've mastered your flagship styles. Your helles lagers, hazy IPAs, and Cold IPAs are flying off the shelves. These beers are the best sellers for your die-hard customers, but what about the consumer who might be dipping into your brand for the first time? Or the one going to a summer cookout and looking to get something to please everyone? Or the one who just can't make up their mind?
According to NIQ (previously Nielsen IQ), in 2020 and 2021, variety packs sold better than off-premise beers. In a more recent report on data through April 22, 2023, NIQ found that variety pack sales grew among the Flavored Malt Beverage (FMB) channel, climbing up sixty-four percent and accounting for fifty percent of total FMB sales.
With variety packs gaining more market share and selling better, are they worth considering at your brewery?
We chatted with three breweries who have mastered creating beer variety packs. Here is how the folks at Rogue Ales, Tröegs Independent Brewing, and Great Lakes Brewing Company have engaged new customers with the right blend of offerings through variety packs.
(Photography courtesy of Tröegs Independent Brewing)
What We'll Cover in This Piece:
Better Production and Enable More Sales With Ollie
Discover how breweries all over are making operations a breeze and enabling more sales with Ollie!
Ready to learn more? Drop us a line and our team will be in touch with more information on how to check out a demo of Ollie.
Why Should You Create a Beer Variety Pack?
Tröegs has been making variety packs of their offerings since they launched the company in Pennsylvania over a quarter century ago in 1996. Back then, they put together dozen-bottle twelve-packs and seasonal anthology ones.
They have since made the move to cans and haven't looked back. Now Tröegs offers its Canthology series, which lined up nicely with the 2022 rollout of its state-of-the-art canning line.
"Variety packs are a great way to attract new customers who may not have tried our beer yet," Tröegs Brewmaster and Co-Founding Brother John Trogner wrote in an email. "They don't have to commit to a full case of one particular beer."
Similarly, Rogue has played the beer variety pack game for quite some time. For the Oregon-based brewery, the customer has spoken, and they are listening.
"There's a huge consumer demand for variety packs," Rogue Communications Director Amanda Zessin says. "People like to try a variety of different products, and so to keep up with demand and the requests, we've started making them."
Great Lakes Brewing has a firm hold on the craft beer industry in the Midwest, specifically Ohio. Chris Brown, vice president of sales at Great Lakes, says the variety pack helps the company continue to expand its reach.
"As you move away from your home market, you are trying to bring consumers into your franchise," Brown says. "And data has shown that variety packs are often top-selling items for consumer trial."
Who Does the Beer Variety Pack Target?
Zessin says Rogue's variety packs are for people who haven't necessarily tried their products before.
"It's a good way to sample the products, and you know, they're not just stuck with six [or twelve] of one product," she says. "Instead, they have three of each product, they're not committed to just one style, and they get to try a variety."
Trogner concurs with that sentiment.
"Variety packs are a great way to attract new customers who may not have tried our beer yet, and they don't have to commit to a full case of one particular beer," he says. "Ultimately, we're trying to attract the customer who hasn't had Perpetual IPA yet as well as those others who may have heard of Tröegs and would like to try something new outside the realm of our year-round beers."
Trogner adds that the variety pack is also an excellent option for a consumer to bring to a social gathering where you can appeal to more people's tastes.
Great Lakes Brewing has three different variety packs created to cater to specific consumer demands, Brown says. They have created one pack including best sellers, another featuring all IPAs, and one with rotating seasonals.
Brown says the IPA variety pack "shows our brewers' IPA chops," while the rotating seasonal pack changes up multiple times a year to match the season.
How to Pick the Beers for Beer Variety Packs
Great Lakes Brewing has its original variety pack, the Gimme Five! rotating seasonal, and the Hop Madness IPA-centric variety pack.
"The idea is to have a point of difference of each one, to give the consumer different options based on the occasion," Brown says.
Brown adds that Gimme Five! is ideal for a party or just for someone looking to try a wide variety of styles, the Hop Madness is for the hop lover, and the OG Variety Pack is for the lover of the classic offerings.
Rogue takes the route of hoisting a broader net to lure in more people to their brand.
"We like to choose beers with a diversity of flavor profiles that will appeal to a wide audience," Zessin says. "A lot of times people are picking up variety packs for a party or to have with friends with different palates."
Zessin added that the mix helps when a consumer has different moods from day to day. She says the variety packs have diverse flavor profiles that appeal to a broad group of drinkers.
Tröegs' approach to variety packs is to include known brands while sprinkling in some new offerings.
"Each Canthology volume includes our flagship Perpetual IPA as well as the corresponding seasonal IPA," Trogner wrote. "And we mix in other seasonal and year-round beers based on the time of year they come out."
One Key Tip for Creating a Beer Variety Pack
Giving customers a wide selection of your brand is essential to gain new customers. But one tip that all three breweries gave to intrigue customers, new and old: Mix in a new or exclusive offering.
"Variety packs are a great way for customers to dip their toes into a brewery and see what they have to offer," Trogner wrote. "They also give someone a chance to try a style they may not be familiar with, like Troegenator Double Bock, which is a style that a lot of breweries don't make."
Brown says Great Lakes' IPA variety pack features new options and an option you can only get if you pick up the pack.
"Hop Madness variety pack … includes our new innovation DIPA Vibacious, plus a Hop Madness specialty IPA that is only in [the variety] pack," he says.
Rogue does the same.
"Our pilsner and pale ale—the Dead Guy Pils and Dead Guy Pale Ale—aren't available outside the variety pack," Zessin says. "So if you want to try those new Rogue beers, you have to get the variety pack and try the others as well."
Is a Beer Variety Pack Profitable?
Brown says Great Lakes doesn't make a sizeable margin on their beer variety packs. Despite that, there is value in making them.
"Variety packs are thinner margins than your normal lineup, especially since you touch the product twice. So labor is always going to be a little higher," he says. "Many brands treat a variety pack almost as a marketing play."
Since Tröegs has been building and growing ever since opening its doors, Trogner attributes one thing to massive growth with its variety packs. According to him, Tröegs experienced triple digit growth when they made the transition from bottles to cans with its variety packs.
"We've already seen an exponential growth in sales moving from bottles to cans for our variety packs," Trogner wrote. "Plus, our new variety case packer allows us to build all our variety packs in-house."
Zessin didn't have figures of Rogue's variety pack offerings but was confident of the benefits.
"I do know that variety packs often have a lower margin than other products, but they can sell really well with the right packaging with the right products," she says. "And it's a really good gateway to discovering the brand and the different beers that a company produces."
Is a Beer Variety Pack Worth It?
Trogner was matter-of-fact in his reply.
"Absolutely," he wrote.
Brown says that variety packs are worth it but cautions: "It complicates your operations, and you have to have the manpower to do it."
"That's where some of our best-selling products are," Zessin said of Rogue's packs. "So we wouldn't have expanded, we wouldn't be making more, if it wasn't worth it."
Three Good Examples of Beer Variety Packs
Rogue has multiple beer variety packs available, but its latest offering is the Dead Guy Coffin Club. The pack has Rogue's four "Dead Guy" beers—a pilsner, IPA, pale ale, and Maibock.
Great Lakes has three varieties, including its IPA pack, Hop Madness. The hop-forward pack features four IPAs: TropiCoastal tropical IPA, Hazecraft, Vibacious Double IPA, and the exclusive beer through the pack, Small Batch Hazy IPA.
For Tröegs, volume 2 of its Canthology variety pack includes Perpetual IPA, Sunshine Pilsner, Field Study IPA, and LolliHop DIPA.