Nectaron: Providing 'Overwhelming' Flavors for Great Hop-Centric Beers
Published: November 13, 2023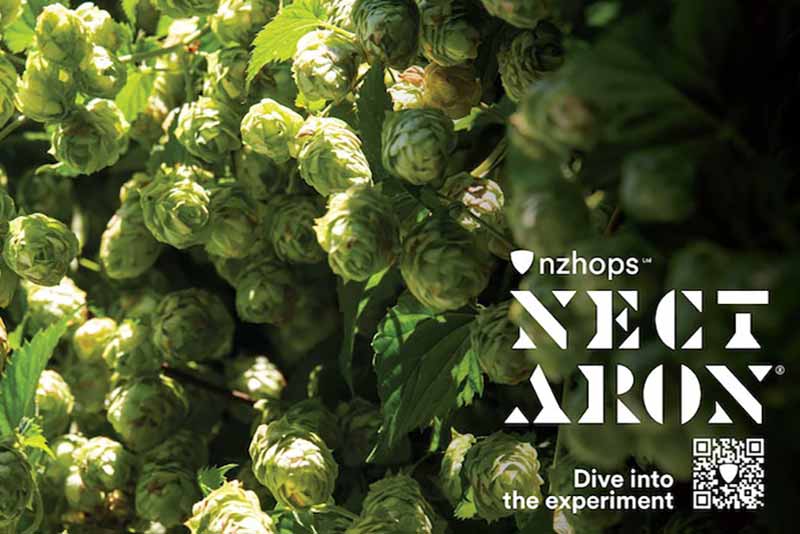 We've (virtually) traveled the globe as part of our hop series, highlighting popular hops used in the craft beer industry, checking in with Australia's Galaxy hop, and then coming back to North America, examining first a newer hop in Mosaic and an old-school "C" hop: Centennial.
For this piece, we will head back to the Southern Hemisphere to New Zealand, diving deeper into a hop that has continued to grow in popularity stateside: Nectaron.
After Nectaron's commercial release in 2020, the hop's popularity grew quickly. So much so that, by 2021, the Brewers Association (BA) added New Zealand-style Pale Ale and New Zealand-style IPA to its BA guidelines. Additionally, brewers in a 2021 Brewers Association member survey ranked Nectaron as the fifth most-wanted hop of the year. Pretty compelling for a hop that only released a year before, especially when you see that the next youngest hop on the list first appeared on the market thirteen years prior.
So what made Nectaron an instant favorite? And more importantly, now three years on from its release, how have brewers maximized its potential?
We chatted with growers from NZ Hops (who also released the new hop Superdelic™ earlier this year) and New Zealand Plant and Food Research, as well as Vitamin Sea Brewing Founder Dino Funari and veteran brewer Chris Shelton about the hop's ancestry, its characteristics, and how to best utilize it in the brewing process.
(Above photography courtesy of NZ Hops)
Better Production and Enable More Sales With Ollie
Discover how breweries all over are making operations a breeze and enabling more sales with Ollie!
Ready to learn more? Drop us a line and our team will be in touch with more information on how to check out a demo of Ollie.
What Is the Ancestry and Analytics of Nectaron Hops?
NZ Hops Chief Executive Officer Blair Stewart and Brand Ambassador Ron Beatson, the chief researcher and developer of the hop during his time with New Zealand Plant and Food Research, explain they crossed Nectaron in 2004, selecting the hop as a seedling in 2006.
Next, NZ Hops propagated Nectaron—steeped in North American and European genetics—before testing it through clinical trials for five years.
Its nickname in the program was Wow because every time you have it in a beer, you'd say 'wow,'
Beatson says the North American tie-in comes out of Russian River. He adds that Nectaron's grandmother is Cluster. The triploid aroma type Nectaron, developed by NZ Hops in collaboration with New Zealand Plant and Food Research as Hort4337, is a full sister of the Waimea hop and contains anywhere between ten percent and fourteen percent alpha acids.
"We looked at the chemistry profile and the beer flavors in the 2012-2013 timeframe," Beatson says. "Nectaron stood out for aroma and flavor. We put it in the ground around 2015-2016."
Kerry Templeton, who has been with the breeding team at New Zealand Plant and Food Research since 2017, said Hort4337 stood out so much from other hops in the program at the time the research team gave it a nickname.
"Its nickname in the program was Wow because every time you have it in a beer, you'd say 'wow,'" Templeton says.
First sold commercially in 2018, Hort4337 made its first sale under the name of Nectaron in 2020.
What Flavor and Aroma Pops in Nectaron Hops?
According to the NZ Hops Nectaron page, the hop will come at you with intense tropical pineapple, passion fruit, and stone fruit characteristics. Templeton says you might get some citrus notes in there, too.
"But they vary depending on the harvest season," Templeton says. "We've used it quite a bit. Sometimes it's got tropical passion fruit, sometimes it has nectarine, sometimes it depends on the day, it varies from beer to beer, harvest to harvest."
He adds, "I think it's definitely got a citrus punch with tropical aromas and stone fruit. It's blended together a bit—think of juices like orange and mango."
... you get a real punchy pineapple, passion fruit, pine, peach, and a little grapefruit.
Funari says Vitamin Sea first got their hands on Nectaron just after its commercial release, creating a single-hop 6.5% ABV IPA, Squared Circle, to test out its profile.
"I hadn't had the beer yet [after it was packaged], and I was out to lunch with family, and I had it, took a sip, and had a 'Holy shi*t!' moment," Funari recalls. "It was a punch to my senses. Immediately, you get this dankness. Then you get a real punchy pineapple, passion fruit, pine, peach, and a little grapefruit. A real punch, but the dankness is what really stood out."
Now, based on that experience, Funari says Vitamin Sea utilizes Nectaron quite a bit, with Squared Circle in the brewery's regular rotation.
Veteran brewer Chris Shelton has worked at Toppling Goliath, Galena Brewing, and, most recently, with Whole Foods Market, among others. He's brewed many times with Nectraon.
"It's overwhelmingly tropical. I'm always hesitant to use fruit as a descriptor, but they are fun for the consumer," he says. "I get pineapple or stone fruit. I get more papaya character to it. I also pick up a little bit of floral when I use a larger dose of it."
He adds, "It's amazing to me."
Beatson doesn't mince words on his feelings about the hop's profile.
"Nectaron has outstanding flavors," Beatson says. "But when you use it in the brewing process, it plays a part in those flavors."
Where in the Brewing Process Should You Use Nectaron Hops?
Beatson says you can use the hop earlier, but its real character comes through late—from the whirlpool or cold-side addition.
"In late addition, it releases wonderful pineapple and peach flavors, and citrus-like grapefruit and orange," he says. "It really shines when you use it late in the brewing process."
Beatson adds that the hop also shines when paired with other hops and notes that it and Citra are synergistic.
"It's a good general hop. It can perform on its own," Beatson adds. "But there are a lot of cases where it's been used with others. It's a good addition hop—that's going to be the most important aspect of it."
In late addition, it releases wonderful pineapple and peach flavors, and citrus-like grapefruit and orange,
Adds Stewart, "We look at it as an all-rounder; it has an intense, unique flavor and plays well on its own, but works as an adjunct hop. We're increasingly getting good feedback on how it lifts and adds complexity to beers with other hops."
For Templeton, he says Nectaron works best as a dry hop.
"One hundred percent, I would say, in a post-fermentation dry hop or late in fermentation," he says confidently.
Funari says they are creatures of habit at Vitamin Sea when they find something that works.
"Typically, it's in the whirlpool and the dry hop," he says. "We use around four to six pounds per barrel for all hops in a beer. For Nectaron, it's about two to three pounds per barrel—about fifty percent of the hop bill. In Squared Circle, we are one hundred percent Nectaron and use six pounds per barrel."
Shelton says his choice of using Nectaron is like Templeton's.
"On the cold side, without a doubt," he says, adding that, "when I do single hop, I'm pretty light-handed on the hot side."
One thing he discovered in using Nectaron as he's dosing in his dry hop—it seems to have no limit on saturation.
"The more you put in, the more flavor and aroma characteristics you get," Shelton says. "It's the most explosive hop on the market right now. I don't think anything is anywhere close to it."
Which Styles of Beer Work Best for Nectaron Hops?
Shelton says he uses the hop in almost every style, including his pilsners.
"It adds a beautiful character," he says. "I've used it in a wheat beer. I've done a 5.3% ABV pale ale. … I've never used it and didn't like how well the beer went."
Templeton agrees with Shelton, saying it works well in IPAs, pale ales, and dry-hopped pilsners.
"Definitely, those are where it performs best," he says. "It'll also go well with a hazy."
Funari uses it in his IPAs but adds that hoppy pilsners and Nectaron are an excellent match, saying that using the hop in that style "will be just fine."
Beatson says it goes well in lighter beers, too.
"I would tend to think it's well-suited for hoppy pilsners or lagers," he says. "But the main attribute is to use in IPAs and pale ales and hazies as well."
For Stewart, it excites him to see hops like Nectaron used in pale ales and other beers outside of IPAs.
"There's not absolute [rules] on how to use this," Stewart says. "It shows that it's an all-rounder."