Three Major Keys to Bringing Old-World Classic Märzen to U.S. Craft Audiences
Published: September 20, 2023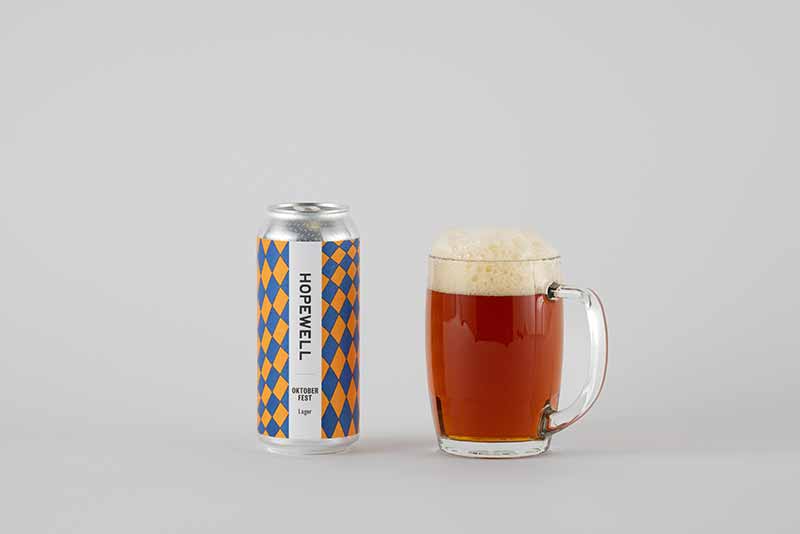 We've covered some classic European styles of beer in this space. Whether it's Czech pilsner, Belgian tripel, helles lager, or farmhouse ales, craft brewers across the U.S. are trying to brew traditional styles true to their origins.
We can say the same with the quintessential Oktoberfest-style beer, Märzen. We already know that lagers are in high demand of late, showing up at the No. 8 and No. 10 most-checked in styles, according to 2022 Untappd data. And reports have shown that lager sales are on the rise.
Named after the month of March, Märzens historically lagered in caves throughout the summer, released during the Oktoberfest celebrations in Germany in late September.
During autumn, many breweries unveil their take on the Märzen. We heard from brewers at Jack's Abby, Hopewell Brewing, and Westbound & Down Brewing about the top considerations, key ingredients, and best practices for making the best version of a Märzen.
(Above photography courtesy of Hopewell Brewing Co.)
Better Production and Enable More Sales With Ollie
Discover how breweries all over are making operations a breeze and enabling more sales with Ollie!
Ready to learn more? Drop us a line and our team will be in touch with more information on how to check out a demo of Ollie.
How Do Experts Describe Märzen?
Jack's Abby Co-Owner and Brewmaster Jack Hendler says if you get a Märzen in Germany versus Austria, you get very different takes on the style.
"I'm expecting malty, on the sweeter side, lighter in color, dryer, not quite that impression of full-bodied amber," he says.
Hendler notes the need for malts with light roast character and highly kilned base, adding that the beer evolved into something different over the years. For instance, the U.S. Märzens compare less to the historical standards of the beer than that of German breweries.
"A lot of Märzen beers have evolved to copper color and dryer, leaning away from tradition," he says.
Westbound & Down Head Brewer Jake Gardner says he and his team of brewers are hopheads, so they enjoy making a Märzen because it takes them out of their comfort zone.
"Märzen is a clear departure from [hoppy beers], and I like that stylistically," he says, adding they do a lot of research to make sure they nail their processes when making the style. "The malt choice has to be king. It's a malt-forward beer and a lager, so tank residency time is important."
I'm expecting malty, on the sweeter side, lighter in color, dryer, not quite that impression of full-bodied amber,
Hopewell Co-Founder Stephen Bossu focuses on the finished product with his Märzen.
"Above all, the Märzen needs to be easy to drink," he says. "It's designed to be drunk in volume and mass. We want it to be lean and nimble and everything you love out of a helles, but with the love of beers with malt and everything in it."
What's the Top Consideration When Brewing a Märzen?
"Hot-side technique is paramount. Have a clean runoff, keeping pH appropriate," Gardner says. "You want these beers snappy on and off the tongue and as drinkable as possible."
Gardner says he shoots for 5.0 or 5.1 pH going into the kettle and for a post-fermentation pH of around 4.25 to make it the most consumable.
I'm a big believer in using what works for you,
Bossu says to avoid getting cute with the process or overthinking it.
"I'm a big believer in using what works for you," he says, adding that they take advantage of several local maltsters in the Midwest along with malts from Germany.
"We use German malts in our Märzen but also local pils malts," he says. "Know your capabilities and what makes you successful and build around that. If you stay true to yourself, you'll get the best beer."
Hendler says to know what you are shooting to brew before starting, referencing some confusion between a Festbier and a Märzen.
"Festbier is now a lighter, more helles-style beer around 5.5% to 6.5% ABV. A Märzen is darker in color and lower in ABV—5% to 5.5% ABV," he says.
Once you figure that out, he says malt selection is the top consideration.
"Get highly kilned malt, sweet with lower attenuation," Hendler says. "Seventy percent attenuation is what you would get with the Märzen. It should have a higher residual extract for malt character."
What Is the Ideal Grist for Crushing Your Märzen Recipe?
Hendler says today's malts are considerably different from those of twenty, fifty, or one hundred years ago. We have better extracts now that are easier to use.
"Using lower-enzymatic malts like a Munich gives a better traditional representation," he says. "Using a little Cara Munich—about two percent—helps balance the modern malt and give an intense kilning flavor."
Gardner says they keep it reasonably simple.
"We use Weyermann Barke Munich, some five and a half percent of Munich 2 from Weyermann, and acid malt to pH spec," he says. "That little Munich pushes that malt flavor forward."
Gardner says they also mash higher on this style, around 153 to 154 degrees Fahrenheit in a single-infusion mash.
Bossu says they use about sixty-five percent pilsner, thirty percent Munich, and five percent aromatic malts.
"Over the years, we have added some malt to build color and eliminated the additional malts because we're happy with the hue the Munich malts give us," Bossu says. "People could go one hundred percent Munich malt, I'm sure. But for this one, we get a better build on building off the pilsner."
Which Hops and How to Use Them in a Märzen
Like many of the classic European brews, Noble hops are the way to go. Bossu likes to use something like a German Tettnang or an Austrian Solea hop.
We use a light touch of first wort hops to achieve seventeen IBUs,
"We do a first wort hopping, then the remainder happen in the whirlpool … and build a good aromatic base, good bitterness that helps keep the whole thing in balance," Bossu says. "The bulk of hops is in the whirlpool. We hit about twenty IBUs, so not very much, but enough where you definitely notice the hop presence in there."
Hendler says he's not too concerned about the hops in this style but has a similar bitterness target as Bossu.
"Twenty to thirty IBU range [is what we shoot for]," Hendler says. "The sweeter the beer, the more IBU; the dryer the beer, the less IBU."
Hendler says they go with a Tettnang, Hallertauer, and Magnum for hops but says he wouldn't focus on the flavor much with the Märzen.
As for the "hopheads" at Westbound & Down, Gardner says they use a German Tettnang.
"We use a light touch of first wort hops to achieve seventeen IBUs," he says.
How Long Does it Take to Turn Around a Märzen?
All three experts say there isn't much of a concern with the lager yeast strain you use for a Märzen, and it doesn't make a difference which one you use to ferment this style out.
I think low and slow is the key to great lager.
But with the lager, they say you have to give it the time it needs to fully achieve the finished product. And you can't cut corners to package faster.
"I think low and slow is the key to great lager. Anyone trying to make it faster than five or six weeks is not doing it justice," Gardner says. "We have a seven-week turnaround for our Märzen. [It will give you better results] not rushing the process."
For Hendler, he says you can get this beer from brew to package in a five- to six-week turnaround, but there's a caveat.
"You need to have a strong fermentation," Hendler says. "About three to four weeks to pass the diacetyl test, then crash it."
Bossu breaks down each step of the fermentation process.
"We knock out at eleven degrees Celsius and hold it there for full primary fermentation," Bossu says. "Once it reaches terminal gravity, we let it free rise for a few days of diacetyl rest; then we crash and lager, a minimum of three weeks lager time."
He adds, "We're not rushing, but once we're happy with the beer, we're moving it out. Thirty days minimum, typically a forty-day turnaround."
Three Examples of a Great Märzen
Hopewell has one Märzen. The beer, initially called Endgrain and since changed to Oktoberfest, is 5.2% ABV, and the brewery describes it as having "a hint of noble hop spice and a clean, effortless finish."
"I think it's an engaging style. A fun style to drink," Bossu says.
Hendler says their Märzen, Copper Legend, toes the line of Märzen and Festbier. The 5.7% ABV beer has a blend of caramel and sweet, toasty malts, ending up highly drinkable.
"We're finding that medium where you can get the best of both sides of the style," Hendler says.
Gardner is super proud of their Oktoberfest Märzen, saying this year's version is the best one yet. The beer is 5.8% ABV and showcases flavors of fresh toasted bread and golden brown biscuit tops.
"I'm proud of our team execution. It's beautiful," Gardner says. "We think it's an A-plus beer in this market."