Farmhouse Ales Have Multiple Paths to Success
Published: August 31, 2023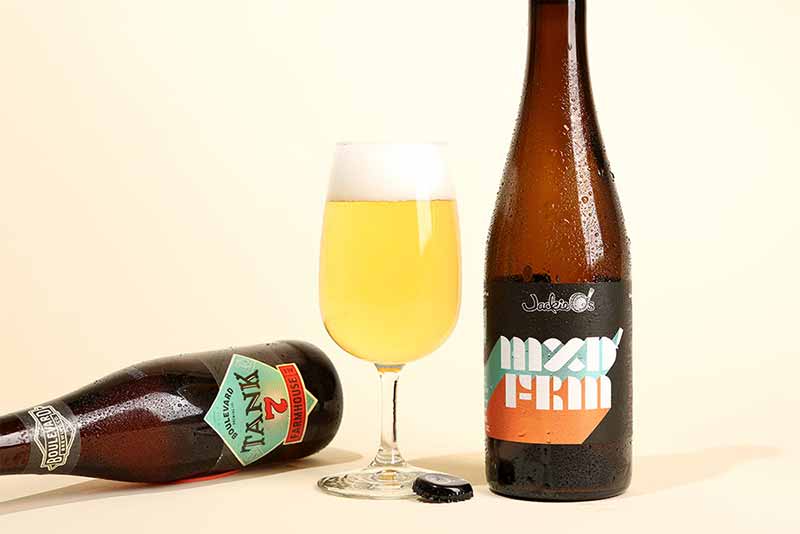 Sweet. Tart. Funky. Earthy.
The list of ways you can describe what a farmhouse ale can be is seemingly endless. A category of its own, farmhouse ales can be taken in many different directions and still be top-notch.
Much like we noted in this piece about triple IPAs, neither the Great American Beer Festival nor the Brewers Association lists farmhouse as a style. However, the organization names farmhouse ale as an "additional note" in the American Fruit Beer and Belgian Fruit Beer categories for both, writing for American Fruit Beer, "Within the framework of these guidelines, fruit beers fermented with Belgian yeast (Wit, Abbey, Farmhouse, Saison, or Brettanomyces) should be categorized as Belgian-Style Fruit Beers, or possibly as fruited Brett Beers."
Our sister platform Untappd notes in its Top 10 Farmhouse Ales piece how saison, biere de garde, grisette, and sahti can all sit under the farmhouse ale umbrella. Think of drawing a mindmap with farmhouse ale at the center—and many other styles branching out. The whole thing gets a little convoluted as you dive into it, so best for the experts to walk us through.
Brewers at Purpose Brewing, Boulevard Brewing, and Our Mutual Friend Brewing (OMF)—all makers of highly rated farmhouse ales—explain their defining characteristics of a farmhouse ale, how they construct them, and what processes can make or break the style.
(Above photography courtesy of John A. Paradiso | Hop Culture)
Better Production and Enable More Sales With Ollie
Discover how breweries all over are making operations a breeze and enabling more sales with Ollie!
Ready to learn more? Drop us a line and our team will be in touch with more information on how to check out a demo of Ollie.
How Do the Experts Define a Farmhouse Ale?
When asked how to define the style, Purpose Brewer Horus Anderson called it a nebulous question, explaining, "There are so many different things that could, should, or don't fit what a farmhouse [ale] is."
Historically, farmhouse ales referred to beers drunk by farmers in the Wallonian region, a French-speaking area of Southern Belgium. But today, farmhouse ale has become a bit of a catch-all term for beer styles like saison, grisette, table beer, and even fruited versions.
A true definition depends on who you ask. Basically, if you query five different brewers for their definition of farmhouse ale, you'll get five different answers.
There are so many different things that could, should, or don't fit what a farmhouse ale is.
For instance, Anderson replies by saying what he would drink. "I tend to go with slightly tart, earthy Brettanomyces flavors," he says. "But that doesn't mean I don't enjoy cleaner farmhouse ales."
Anderson adds, "I don't know if I can answer what's the best version of a farmhouse."
Boulevard Brewing Brand Manager Adam Hall said that he has been spoiled because a previous brewmaster at the Missouri brewery got his hands on a traditional Abbey yeast, and they've been making great Belgian-style farmhouse ales since.
"I think of something super pale, really crisp, estery, phenolic," Hall defines his version of a farmhouse ale.
OMF Head Brewer Jan Chodkowski admits farmhouse ales cover a broad spectrum, but he still knows what he wants.
"A really light but flavorful, easy-drinking Belgian-style beer with fruity aromas and a little acidity," he says. "Definitely want to have a little malt and hop character, [too]."
Chodkowski adds, "Ideally, it's a lighter, more yeast-driven beer with fruity characteristics from the yeast as well as malt characteristics."
What Is the Most Important Consideration in a Farmhouse Ale?
"KISS— keep it simple, stupid," Chodkowski says. "It's not overly complicated."
The OMF head brewer says that the grist is simplified, the hops need to stay in the lower alpha acids, and the yeast is really where you can play around for a unique farmhouse ale flavor and aroma profile.
"Yeast can be as fun or as simple as you want to go with it," he adds. "That's where I tend to explore different flavors. That's where the sky is the limit."
KISS— keep it simple, stupid,
Anderson advises a different approach to creating the farmhouse ale of your choosing.
"I would try to map out where on the realm of the farmhouse you want to land," Anderson says. "Do you want to go clean, go hoppy, do you want to add fruit in it? Do you want to ferment with fruit? Are you going to be aging it?"
Anderson adds, "Starting with knowing where you want to finish, you can reverse-engineer it and deconstruct it."
Hall says yeast is any brewer's main consideration when making a farmhouse ale.
"Be very selective and particular with the yeast," Hall says, adding that it should be "something to survive high [fermentation] temperatures that will knockout really quickly."
Hall also says not to be too overly aggressive with your grist and that hops are a secondary consideration because certain ones can produce yeast esters for an improved finished product.
Which Yeast Is Ideal for Making a Farmhouse Ale?
If yeast is the game changer of this beer, which yeast is the right one to use?
Hall says Boulevard uses an Abbey yeast strain from Belgium. It's one they've been regenerating for over two decades.
"We're fortunate to have a well-staffed lab with a microbiologist and a chemist who manage our yeast bank," Hall says. "Our yeast is the same as it's been for twenty-three years."
Chodkowski says finding a yeast that performs well in your environment could be challenging.
"You don't have to force a yeast. It might not end up working in your environment," he says. "These are funny yeast strains and work well in different parameters. You can pick one and be happy enough, but you want to pick the best one for your brewery environment."
Chodkowski says they like to play around with a few different strains, including Dupont, Brettanomyces, and Saccharomyces.
"Use a blend or something like that," he says.
OMF ferments between seventy and eighty degrees Fahrenheit and then lets it rise above eighty degrees Fahrenheit after primary fermentation.
Anderson has used multiple strains and says he's not a huge fan of what Kviek strains bring to this beer. Instead, he opts for Belgian yeasts when he brews farmhouse ales.
"I shoot for hefeweizen or witbier yeasts, which work really well," he says. "I like using yeast that is cleaner that doesn't over-attenuate to give something for the barrels [during the aging process]. Esterification of these yeasts are pleasant and play well for the final product."
Anderson notes that he likes to ferment out on the warmer side with a mildly expressive strain, so there are plenty of secondary metabolites for yeast to eat at.
What's an Ideal Grist for a Farmhouse Ale?
Again, this varies based on what variation of a farmhouse ale you're trying to create.
"You have to really know what you're shooting for and go from there," Anderson reiterates.
He opts for anywhere from thirty- to fifty-percent base malts, with the rest adjuncts.
"Like flaked wheat, malted wheat, flaked oats, malted oats," he explains. "I also use five or ten percent of some specialty adjunct like spelt, buckwheat, rye, or farro."
Outside of that grist, Anderson said the rest is what you want out of the beer.
Hall notes that Boulevard's grist is exceptionally simplistic.
"Our malt bill, we use house pale malt, and wheat we do all the time [in our farmhouse ale]," Hall says. "It's really eighty percent pale malt, twenty percent wheat; four to one."
OMF's recipe is very similar to that of Boulevard.
"We use eighty percent pilsner and up to twenty percent wheat," Chodkowski says. "It could be less wheat or another grain. I like to incorporate some rye, oats, and we've also used buckwheat."
Chodkowski adds, "Generally, we are not using any Vienna or Munich malts. If you wanted to make a darker Farmhouse for winter, though, you could."
What Hops Should Go in a Farmhouse Ale?
Chodkowski says they've experimented with some dry hopping for their farmhouse ales, but traditionally, they stick to lower alpha hops for hot-side addition in the beer.
"Lower alpha tends to work better with the yeast, and we add a first wort, and maybe a ten-minute," he says. "We used to aim for twenty to thirty IBUs, but now closer to thirty IBUs."
As to which hops they use, Chodkowski says they use a lot of Crystal or even some Tettnang or Willamette hops.
Anderson has messed around with many hops, even saying he's used de-bittered hops in the whirlpool to get more fragrant aromas, but typically sticks to Noble hops.
"I like using a lot of Noble hops. I think that you can get a lot from lower alphas because you can use more vegetal matter," he says. "Early on, I can get half of my IBU count, and the rest can be obtained in the whirlpool."
We use a hell of a lot—three to one—Amarillo to Citra hops,
Hall says they bitter their farmhouse ale with Magnum hops and then add a late addition and dry hop.
"We use a hell of a lot—three to one—Amarillo to Citra hops," Hall says. "Somewhere around 100kg of Amarillo and 25kg of Citra per batch."
How Long Is the Turnaround Time for a Farmhouse Ale?
Hall says the yeast takes about three to four days to ferment, then they crash it, and anything going into bottles gets bottle-conditioned while they force-carbonate the kegs.
Chodkowski says that time is your friend with these beers, saying this can turn into a two-month-long process before packaging.
"As long as you're giving your yeast plenty of time, and even giving a few days after, it'll be good," he says. "Then you definitely want to bottle and keg-condition. The refermentation in bottle and keg really kicks up those awesome yeast characteristics; if you aren't doing that, it'll fall flat."
Anderson explains that he's experimented with temperatures, sometimes knocking out at sixty-eight and letting it free rise into the low seventies. Once it drops four degrees Plato, he lets it go.
"Once it's done, I drop the yeast and let it crash, then I let it sit at ambient temp and transfer to barrels from there," Anderson says. "Usually, I send the finished beer to a holding tank and send to barrels which are purged, and it could take around four to eight weeks to get the flavors we're shooting for, depending on the barrel."
Three Examples of a Great Farmhouse Ale
Boulevard has its famous Tank 7, named after the tank where all the elements perfectly combined when Boulevard first experimented with making a Belgian-style farmhouse ale. Also referenced as a saison, Tank 7 hits 8.5% ABV at around 38 IBUs. It features notes of grapefruit and has a crisp, peppery finish.
"While it is higher ABV, it is nourishing, super yeasty, one of those beers where the yeast speaks first," Hall says. "You get those great esters, and the Brett smells earthy."
Hall adds, "Sipping that takes you back a couple of hundred years."
Chodkowski prefers OMF's Moneta farmhouse ale. A 4.8% ABV farmhouse ale, Moneta is bitter-hopped with Belma and dry-hopped with Cashmere. A highly rated farmhouse from OMF, Weirding Way is a 7.8% ABV Brett-saison dry hopped with Citra.
Purpose has its New Beginnings farmhouse ale. The French saison is 6.1% ABV and includes additions of wheat and oats. The yeast emits esters of banana and spice.