The Three Hottest Packaging Trends in Beer
Published: August 23, 2023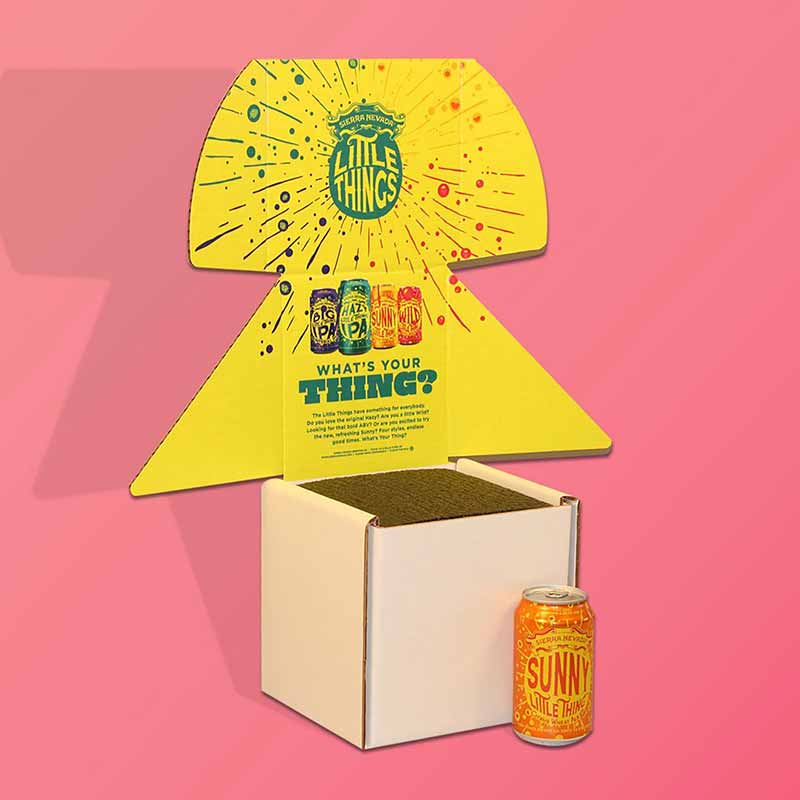 What's the big deal with beer packaging anyway? Only everything. While the craft beer industry must focus on making quality products, the vehicle that drives that beer, or packaging beer, is equally important.
Peel back that label, and you will find that packaging determines many things, including your company's perception, the consumer's price point, and much more.
Staying on top of current packaging trends can give your brewery a leg up when it comes to standing out on a very crowded shelf.
So what are the beer packaging trends in 2023? One thing is clear, at least according to a recent Bump Williams Consulting report, is that "the status quo cannot be maintained." Notably, single-serve cans contributed $392.8 million in incremental dollars in 2023, at the time of the August report, topping the list of packaged beer growth.
Experts at Berlin Packaging, Whale Pod Shipper, and CODO Design, as well as a brewery co-founder from Night Shift Brewing, divulge the three hottest trends in craft beer packaging in 2023.
(Above photography courtesy of @whalepodshipper)
What We'll Cover in This Piece:
Better Production and Enable More Sales With Ollie
Discover how breweries all over are making operations a breeze and enabling more sales with Ollie!
Ready to learn more? Drop us a line and our team will be in touch with more information on how to check out a demo of Ollie.
What Are the Emerging Trends in Beer Packaging?
It's all about cans right now. Multiple positives come from packaging beer in cans.
"Aluminum cans will continue to gain share over glass bottles," Berlin Packaging Market Insights and Brand Strategy Specialist Moira Stein says. "Consumers appreciate cans for being sustainable, lightweight, and easy to transport."
Stein adds that the beer industry helped shift the perception that cans are less premium. CODO Design Partner Isaac Arthur adds that several emerging trends in beer packaging are coming to light.
"We're seeing major brands building sub-brands," Arthur says, citing New Belgium's Voodoo Ranger – the 19.2-ounce can, of which is the the top-growth contributor to incremental dollar sales gains for single-serve cans so far in 2023 according to the Bump Williams report – and Sierra Nevada's Hazy Little Thing as examples.
Arthur continues to point out that while many consumers see sixteen-ounce cans as craft beer options, the dip in the economy has breweries looking for alternatives.
"There are more places now for twelve-ounce cans in six packs," he says.
Single-serve cans are also in play big time at Night Shift, Co-Owner Michael Oxton says.
"For us, we had tried to do 19.2-ounce cans years ago, and there was no interest," he says. "But this year, we have two of the top ten 19.2-ounce cans in Massachusetts. That's clearly been a shift."
Whale Pod Shipper handles the boxed packaging for canned or bottled beer. Owner Jim MacGregor says he has observed a shift to focus on sustainability.
"Curbside recyclable and easy recyclable packaging is a trend we're noticing, as well as biodegradable packaging," MacGregor says. "Our goal is to have every product we offer fully recyclable or biodegradable. … Customers want recyclable packaging, and we design our pods to be that way."
An added trend on the rise that both Stein and Arthur hinted at is digital printing.
"It's becoming a viable way to bring packaging to the market today," Arthur says.
Stein explains why it's becoming a boom.
"Smart packaging like QR codes and augmented reality create fun, unique, and interactive experiences that appeal to tech-savvy consumers and build brand loyalty," she says. The QR codes can link to a brand's website, where consumers can learn some things such as ingredient information, sustainability initiatives, promotions, and new product launches.
What Current Beer Packaging Trends Are Fading?
Aside from declining bottles—a trend that has been ongoing for the better part of a decade, Arthur points out—none of the experts have seen a downturn in any trends.
MacGregor notes that with the rise in other canning options for single serve, there has been a slight decrease in requests for packaging standard sixteen- and twelve-ounce cans.
"We've been seeing a lot more different-size cans being shipped," he says. "That's really changing. They're not always using traditional twelve- and sixteen-ounce cans."
Though Arthur admits he isn't seeing any apparent slide in beer packaging trends, he said he's heard chatter about alternative methods to benefit both the business and the consumer.
"I hear more conversations about the best format to price things right," he says, "to be profitable and for the consumer to afford."
Oxton points to one packaging option he sees as something to avoid in the future.
"I don't see twelve packs as a growth category where we should add," he says, noting they already have five twelve-pack options.
The Night Shift owner said that the company anticipated consumers going for more value options—like larger single-serve cans—but has noticed that four packs "are still holding their own."
Should You Consider Sustainability in Beer Packaging?
MacGregor says Whale Pod Shipper has always listened to the customers' needs, and breweries have come forward looking for more sustainable options.
"We've always had sustainability at the top of our list," he says.
Whale Pod leads the way in creating a more sustainable packaging product, falling into place with what the consumer preferences.
Stein notes that breweries listen to consumers for what they want to drink. The same should apply to how the brand packages its product.
"Today's consumers are very eco-conscious and want to support brands that are doing their part to care for the environment," she says. "When it comes to packaging, this includes using recycled and/or recyclable materials, reducing plastic waste, and using lighter-weight containers that have reduced carbon emissions during shipping."
Oxton feels Night Shift abides by those wants.
"Aluminum is infinitely recyclable. You can't do better than aluminum," he says. "If we were producing in a format not environmentally friendly, we'd be seeking out ways to be more green."
Being more conscious about sustainability is something breweries from the nano-size all the way up to the one percent can accomplish.
"It will become a major trend throughout the industry," Arthur says.
Are Variety Packs Still a Worthwhile Beer Packaging Option?
Oxton believes that variety packs aren't going anywhere.
"They are definitely here to stay," he says. "One of the many cliches is craft beer fans want what's next and what's different. [Variety packs] allow the consumer to mix up what they're drinking that day and try things they haven't had previously. They are great for sampling and great for the consumer."
Stein says variety packs accelerated during the COVID-19 pandemic and continue to be a hot item with multiple benefits.
"They can offer a better price per unit that appeals to budget-conscious shoppers," she notes. "Today's consumers are also looking to experiment with new products and try unique flavors; variety packs allow for that sense of exploration."
MacGregor admits there have been inquiries for their packaging company to provide variety packs. Meanwhile, Arthur didn't add much on variety packs, though he does feel they continue to move.
"But that's more mid-market," he says.
How Have Outlier Beer Packaging Options Fared?
One category where beer packaging appears to have grown is larger 19.2-ounce and twenty-five-ounce single-serve cans.
"Nineteen-point-two-ounce and single-serve cans are booming," Arthur says, adding, "Smaller breweries are trying to get into play [there]."
Stein says twelve- and sixteen-ounce staples continue to dominate, but the price point and the need for breweries to consider consumers' budgets have led to the larger cans' growth.
"As inflationary pressures and rising prices impact consumer budgets, value sizes may become more attractive," she says, but added that they "aren't expected to gain much traction."
While Night Shift offers a couple of styles in the 19.2-ounce can, Oxton wonders how that size and the twenty-five-ounce can differ much from a 750ml bottle or twenty-two-ounce bomber.
"At a certain point, how much beer can one person drink in one setting?" he asks. "It's somewhat of a novelty. It's way easier to crack open a couple of twelve-ounce cans and go back to the fridge."
What Can You Learn From These Beer Packaging Trends?
So with all these trends flowing in different directions, what can we take from all this information?
For Arthur, there's a lot to note from new beer packaging trends, but it comes down to using these shifts to portray your company with the best foot forward.
"I think that across the board, there's something important to learn for a nano brewery and a microbrewery and a macro brewery," he says. "The importance of building your brand is paramount. And that just takes time."
Arthur adds, "What you can do to set yourself up for the future is give great customer service, make great beer, and if you can make it, you'll benefit greatly."
Building off that, MacGregor says it's crucial to provide customers with an experience when they unbox their packaging.
"Start viewing it as a reliable source of revenue and focus on the whole experience and not just throwing beer in a box," he says. "Use packaging that's a more presentational style and protective of the cans. It can increase brand awareness."
Oxton echoes Arthur and MacGregor's brand-building sentiment.
"Once you start looking at options individually, it comes to what kind of brand you are to consumers." He says. "What packaging options you choose says a lot about the brewery you are and what kind of consumers you want to reach."
Stein sums it all up eloquently.
"With many similar packaging forms, brand design is especially important to break through and get noticed in the beer aisle," she says. "In addition to having impactful and eye-catching graphics, it's important to tell your brewery's unique and authentic story to differentiate from the competition and connect with consumers."