American IPAs: An Ambiguous Style with Many Paths to Success
Published: July 31, 2023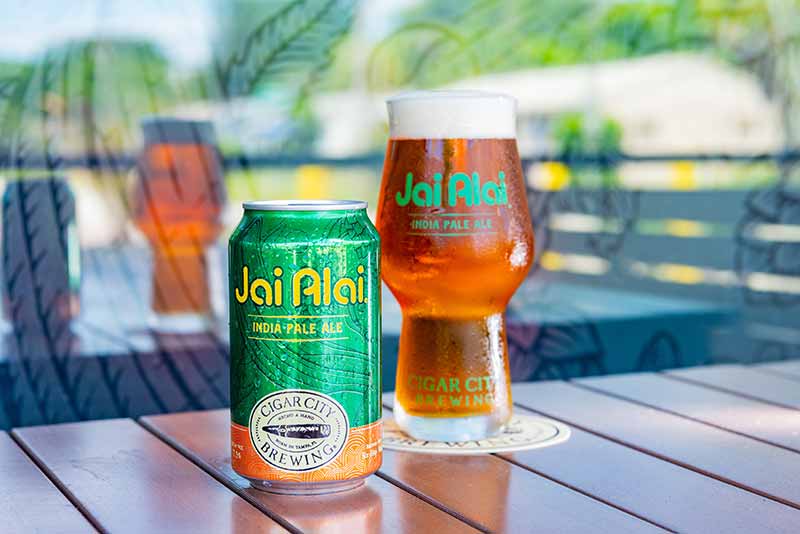 We've talked about several of the highest-rated styles of craft beer over these past few months, showcasing top-ten checked-in beer styles based on the latest Untappd data.
With respect to New England IPAs, double IPAs, fruited sours, Belgian tripels, and pilsners, one style stands out as the cream of the crop.
For the last twelve years, American IPAs have been the most checked-in style on Untappd. The style's over 7.2 million check-ins in 2021 bested the second-place hazy IPAs by more than one million check-ins.
Unlike the other styles we've covered, the American IPA isn't defined by a rigid process. Previously, we wrote about how the Cold IPA could be the future of the American IPA, especially because there is a lot of uncertainty about the style.
So we chatted with Trillium and Cigar City, two breweries pumping out top-rated American IPAs, to get their take on the definition of an American IPA, the challenges of making this style, and how they brew their best versions.
(Photography courtesy of Cigar City Brewing)
Better Production and Enable More Sales With Ollie
Discover how breweries all over are making operations a breeze and enabling more sales with Ollie!
Ready to learn more? Drop us a line and our team will be in touch with more information on how to check out a demo of Ollie.
What Exactly Is an American IPA?
Define "exactly." The style is not exactly anything.
Trillium Co-Founder Jean-Claude Tetreault says the question sounds very simple but is actually very difficult to answer.
"Because American IPA has been constantly changing and constantly evolving since we started making the stuff," he says.
In explaining the American IPA, Tetreault cited numerous iterations of the style over the past forty years, including Harpoon IPA, Dogfish Head's 60-Minute IPA, Sierra Nevada Pale Ale, Stone IPA, and now the slew of New England IPAs.
"It's never been a single static thing," he says. "I think that is the earmark of the American IPA: that it is a consistently and constantly evolving thing that will never have a singular identity."
Cigar City Director of Brewery Operations and Head Brewer Sean Sasscer attempted to put his finger on the pulse of the American IPA.
"The best version of the American IPA is definitely something that focuses on balancing all aspects," Sasscer says. "It's not going to be too hoppy. It's not going to be too bitter. It's not going to be too malty. Everything kind of lives harmoniously in the classic American IPA."
What Is a Typical American IPA Grist?
"That's the fun thing about American IPAs," Sasscer says. "You can do whatever you want."
Of course, Cigar City has its flagship Jai Alai American IPA, but Sasscer notes other examples, like Space Pope, take a different approach. Overall, the head brewer says the typical grist is "nothing too showy."
"A solid two-row malt with a good solid extract base," he says. "[And] something with character like a Munich or Vienna, which adds depth of flavor, and crystal malt—something between C20 to C60."
Echoing Sasscer, Tetreault says that American IPA grists are "really all over the place."
"By and large, they are pretty simple grists," he says. "Simple as American two-row with maybe two percent of Caramalt, a light British crystal malt—C15. Some have wheat, some have rye, but we don't go crazy with flaked adjuncts."
Best Hop Schedule Practices for an American IPA
We've mentioned several times that brewing American IPAs can be complex. Tetreault notes that everything depends on what you're trying to accomplish.
"Most of the beers that we make now, there's almost no kettle addition, and hot side will be limited to a single whirlpool addition," he says. "We've largely moved to do what's called cool pooling, which is dropping your whirlpool temperature to about 165 [degrees Fahrenheit] or so and adding your whirlpool charge."
Tetreault says that ninety-five percent of their hop additions come in the cellar.
At Cigar City, Sasscer takes a different approach to his hop schedule.
"Depends on what you're looking for," he says. "Typically, it's a sixty-minute bittering addition, followed by a ten-minute addition for a little kettle hop flavor, and then a good size whirlpool addition for mostly just aromatics."
Sasscer says that he would use up to a pound per barrel in the whirlpool but still thinks it's a little too high for his tastes, reducing the batch's volume.
"Personally, I would utilize more hops in the dry hop because it's going to shine a little more," Sasscer says, adding that Cigar City does a single dry hop on their American IPAs.
What Are the Top Considerations for an American IPA?
Tetreault says, assuming all other processes are taken care of, it's about seeking the highest-quality hops to make a top-rated American IPA. Having the options of great hops at our fingertips is something that he believes American brewers don't fully appreciate.
"After talking to brewers from around the world, we [in the U.S.] take high-quality hops for granted," Tetreault says, reiterating that Americans have the best access to quality hops in the world. "Brewers from Brazil and Australia wonder why their New England IPAs aren't as bright and vibrant—they might not be getting the best quality hops. That's the first place to look when trying to step up the quality."
While Tetreault focused on hops as a top consideration, Sasscer went the other direction.
"Your malt profile has to be on point," he says. "Not overly biscuity or toasty. It needs to have a backbone that the rest of the structure is going to have. That is going to be what everything else hangs on."
Sasscer adds, "The nice thing about the American IPA is it can almost be anything you want it to be with your hops. As long as you lay out the canvas, your hop aroma can be whatever you want."
Some Challenges You Might Face Brewing an American IPA
One challenge for Sasscer—and many brewers for this beer style—is fermentation. He says the 2.5 to 3 Plato range is perfect. He achieves that using a Chico yeast strain or even a London Ale strain.
"A healthy fermentation is your best ally," he says. "Making sure you are not overly dry or overly sweet. [The Plato range] is not going to be too sweet to take away from the hops, and it can add the body you're looking for."
Tetreault stresses the importance of best practices to create a top-rated American IPA.
"Do all of these standard things to generate good clean wort, including proper vorlauf, and making sure that our yeast counts are low at time of packaging," he says. "Following standard brewing protocol, but making sure that you're using good healthy pitches of yeast that attenuate and flocculate properly [can get you best results]."
Two Examples of a Great American IPA
Tetreault quickly points to Trillium's Fort Point Pale Ale as the American IPA among the best at the brewery. Don't let the "pale ale" fool you. This 6.6% ABV beer balances light malt character with the abundance of Citra and Columbus hops—no wonder the beer boasts a 4.23 rating, out of 5, on Untappd.
"With Fort Point, I wanted to plant a flag in the ground as to where Trillium was going to start with their hoppy beer program," Tetreault says. "I wanted to start [the pale ale] level at where folks would kind of normally start at the IPA level."
For Cigar City, it's Jai Alai all day. The 7.5% ABV beer has 70 IBUs and a 3.93 rating on nearly 413,000 check-ins on Untappd. Jai Alai balances six different hop varietals, and the finished product delivers a bold, citrusy, and balanced product.
Sasscer also points to Cigar City's Space Pope as one of his top American IPAs at the brewery. Mainly because, six years ago, this was the first distributed beer he came up with at the brewery. The 7.3% ABV with 57 IBUs has an "astronomical" amount of Mosaic, Citra, CTZ, and Galaxy hops.
"I wanted it to be approachable for a Jai Alai drinker but completely different," he says. "It uses a few different hops at a higher hopping point with a totally different malt bill but hits the same balance."