Kettle Sour Process Skips the Mess, Saves Time
Published: July 24, 2023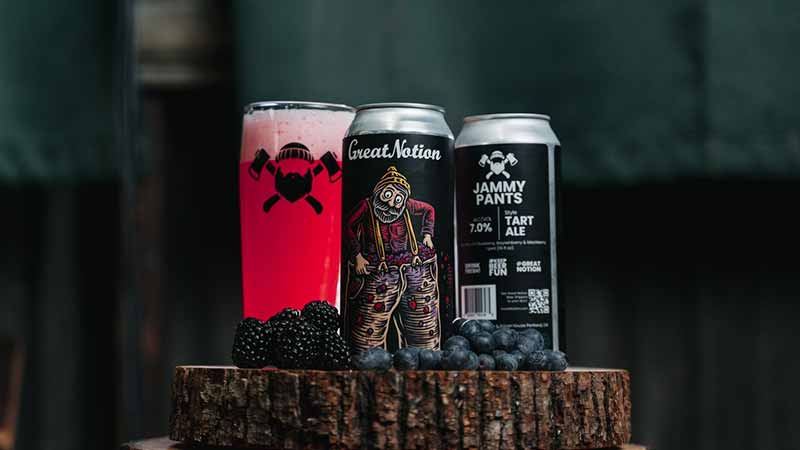 Sour beers are all the rage. According to the latest Untappd data, fruited sour beers ranked fourth in check-ins in 2021, with more than 3 million, behind only American, hazy, and double IPAs.
The popularity of fruited sours didn't change much in 2022, dropping to fifth, with roughly 2.1 million unique check-ins, behind four variations of IPAs. We can probably safely say if it isn't hoppy, then craft beer drinkers are craving something fruity and sour.
Wildly souring a beer can certainly produce some unique flavors, but kettle souring has become popular because it's a faster, more controllable process.
We talked with brewers of top-rated kettle sour beers at Great Notion and Tin Barn, who shared insights on how the kettle souring process gets the flavor you want and none of the stress regarding contamination.
(Photography courtesy of @greatnotion)
Better Production and Enable More Sales With Ollie
Discover how breweries all over are making operations a breeze and enabling more sales with Ollie!
Ready to learn more? Drop us a line and our team will be in touch with more information on how to check out a demo of Ollie.
What Is a Kettle Sour Beer?
Unlike traditional sours that take some time to generate off flavors in beer from bacteria, kettle sour beer benefits from a quicker souring process.
For this fast-acting method, you pitch bacteria into the brew kettle to sour the wort during brewing, achieving a controlled sour that finishes in the typical amount of time you would turn over a standard ale.
"I like kettle over wild because I have control over it," says Tin Barn Co-Owner and Brewer Lauren VanPamelen. "My main goal is the final flavor. I like my kettle sour clean, crisp, with tartness, but a refreshing and beautiful dynamic of flavor."
Great Notion has cranked out top-rated sours for years now, and the brewery's Production Manager Rob McCoy says they tackle it from many different angles—whether they look for a flavor profile, something cost-efficient, or a different end goal.
He adds that they have done several different beers using alternative methods to sour, including mix-culture souring, souring yeast, and adding a souring blend to get a slight acidity, but have always kettle soured.
"We started off kind of exclusively kettle souring all of our beers," McCoy said. "That works great."
What Bacteria Is Best for a Kettle Sour?
After mashing and lautering, you must pitch bacteria into the wort to kickstart the souring process for the kettle sour. Both McCoy and VanPamelen prefer to pitch lactobacillus brevis into the kettle.
"I'm obsessed with lactobacillus brevis," VanPamelen says. "It's easy to work with and control. … I'm happiest with its flavor."
McCoy also likes what the brevis strain does for the final product of the Great Notion kettle sour beers.
"[That strain] works well for us," he says. "It gives us the profile we like for those specific beers."
How to Pitch Bacteria for a Kettle Sour
McCoy explains that the Great Notion process for a kettle sour starts by bringing the wort to a boil for about fifteen minutes before cooling it to about 110 degrees to 115 degrees Fahrenheit.
"We'll just start purging the hell out of it," he says. "When we start recirculating it to chill it, we will start adding CO2 to purge anything else out of the tank."
McCoy says that, even though oxygen should be entirely out following the boiling time, they like to run the CO2 as a precaution. Once completed, they pitch the lactobacillus.
"Then we close up the kettle … and trickle CO2 overnight," he says. "We found that it's been the best [way] to keep oxygen out."
The next day, McCoy says they resume the brew session and finish the boil.
VanPamelen also brings her wort to a boil before cooling it to about 108 degrees Fahrenheit and then pitching her lacto.
"I honestly think [that temperature] is warmer than they recommend," she says. "But I find that my bacteria is happier that way."
As to how long McCoy and VanPamelen leave their lacto going, that all depends.
"First generation on [the lactobacillus pitch], usually it'll take twenty-four hours to get the acidity we like," McCoy says. "Then after that, future generations, it kind of does what we want it to do."
At Tin Barn, VanPamelen decides how long to let the bacteria sit based on a couple of variables.
"I will leave it anywhere from twenty-four hours, thirty-six hours, forty-eight hours, depending on the bacteria pitch, how new it is, and basically till I get the pH I want," VanPamelen says.
What Is the Right pH for a Kettle Sour?
"Our lacto pretty much goes to 3.3 pH and then stops," McCoy says, adding that is the ideal pH they shoot for in their kettle sours. "It's pretty stable for us, which is nice. We don't have to think about it too much. It's not like it's gonna keep getting sour and sour and sour if we leave it."
VanPamelen likes to shoot for a little lower pH on her kettle sour beers, but she explains the reasoning.
"I like to get it as close to 3.2 pH as possible," she says. "Because most of my sours are fruited, so the more tart I can get it in the beginning, the better it'll balance out in the end because the fruit is so sweet."
What Is a Good Kettle Sour Grist?
VanPamelen says she likes to keep it as basic as possible.
"I've got two-row in there, a little acid malt, some Carafoam or Carapils, but pretty much no other major adjuncts," she says. "It's as simple as possible. I don't find pulling any of those adjuncts out actually makes a difference in the final product."
McCoy says their kettle sour grist is very similar to a hazy.
"It's usually pilsner base malt, wheat, flaked oat—sometimes we'll do all wheat; sometimes we'll do all flaked oats," he says. "Depending on the goal, we'll keep it bare bones and keep it to base malts, wheat, and oats."
He adds that they will throw in some maltodextrin if they are trying to build up some body for something that's supposed to be heavier or sweeter. Or if they are brewing up a kettle sour with darker fruits, they will throw in some honey malt or caramel malt to round out the malt flavor, he says.
What's an Ideal ABV for a Kettle Sour?
Great Notion has done it all with its kettle sours, ranging from as low as around 5% ABV to north of 10% ABV. The majority, McCoy says, lies in between.
"Usually, for the bulk of what we're producing, it's either a 6% ABV or like the 8% to 9% ABV," he says. "The 6% ABV is kind of more approachable … more wholesale friendly … [because] people aren't headhunting the high ABV sours like they were a few years ago."
VanPamelen likes to keep her kettle sours even lower than that.
"I stay on the lower side with all my sours," she says. "Our triple-fruited sour is somewhere around 4% to 5% ABV. People who drink that style of beer don't care about the ABV."
What About Cleaning Your Tanks After Brewing a Kettle Sour?
This is where the beauty of this style shines most—at least on the production side of things.
The kettle sour process contains bacteria in one tank without going through tubes and transferring over. Once the bacteria has sat for twenty-four hours or so, the boil in the kettle kills off any of the live bacteria.
"That's one of the beauties of this method that I like," VanPamelen says. "It doesn't require any additional cleaning because I've contained the bacteria to my kettle, and the secondary boil will kill the bacteria."
She adds that the easier cleaning is "one of the reasons why I choose not to do wild sours right now."
McCoy says that they just kick on the kettle, and the bacteria die once it reaches 170 degrees Fahrenheit. They don't worry about the cleaning process.
"Everything is going to see boiling wort at that point. The rule of thumb is ten or fifteen minutes at 170 degrees, any [living bacteria] will be dead," he says. "When it gets going, everything is hot, so yeah, not really [worried about special cleaning procedures]."
Top Considerations When Brewing a Kettle Sour
McCoy matter-of-factly states what he thinks will result in the best kettle sour beer.
"It's the [CO2] purging," he says. "I think you're getting the cleanest flavor just making sure there's as little oxygen in there as possible."
VanPamelen keeps safety top of mind.
"Being able to isolate [bacteria] is a big win if you can afford the kettle time," she says. "That saves you from a lot of things, possible contamination being one of them."
Two Examples of a Great Kettle Sour
It's hard to talk about Great Notion and not point to their highly rated Blueberry Muffin kettle sour. The 6% ABV sour, made with Oregon blueberries, sports a 4.28 rating out of 5 on Untappd.
"Blueberry Muffin was a big part of [what built] our brand," McCoy says. "It's been exciting to see that beer coming from the pub and then brewing ninety barrels of it a month, and people to this day still responding to it. That's been pretty cool."
VanPamelen says one sour she loves from Tin Barn is their Fruit Snacks kettle sour. At 5.6% ABV, the sour—touting a 4.19 rating on Untappd—features notes of peach, apricot, mango, strawberry, raspberry, and mixed berry.
"It tastes like a whole pack of Welch's fruit snacks if you shove them all into your mouth at once," VanPamelen says. "It's sweet; it tastes like candy. It was a cool introduction to kettle souring."