Top-Rated Accounting and Bookkeeping Solutions for Breweries
Published: January 13, 2023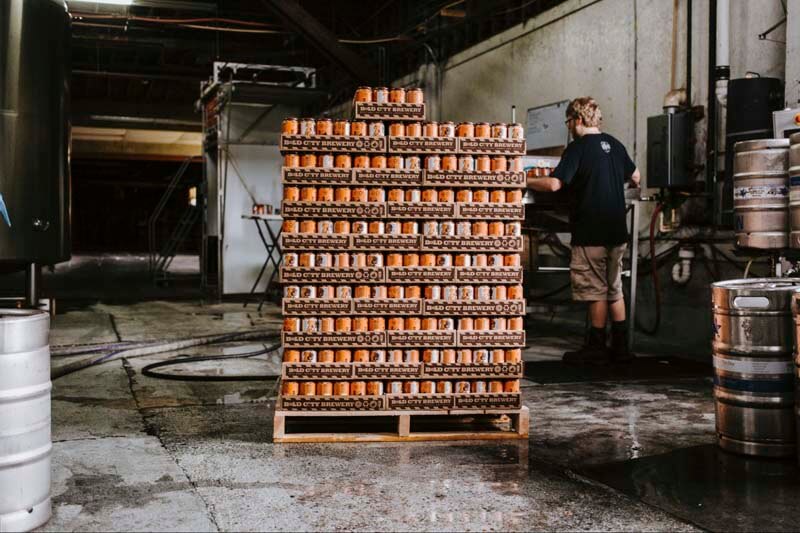 "No longer can breweries survive without the financial wherewithal, operational skill, and finger on the pulse of the consumer. We've seen this bear out in real time. The slow decline of the 'average,' while the cream—those who have taken the challenge head on—rises to the top. The market is speaking."
– Small Batch Standard (a premiere financial agency which serves the craft brewing industry)
There are more than 9,100 craft breweries operating in the US, according to the Brewers Association.
With competition stronger than ever, it's essential that breweries have reliable accounting and bookkeeping systems in place to help manage costs, revenue and growth and, most importantly, streamline operations.
With the guidance of Derek Smith, lead brewery consultant at Small Batch Standard, whose accounting practices and technology are tailored to serve the craft brewing industry, and Maria Pearman, certified public accountant at GHJ, a top accounting firm for hundreds of breweries, wineries, and distilleries, we'll show you the top accounting solutions for your brewery.
(Above photo by Wade Austin Ellis on Unsplash)
Better Production and Enable More Sales With Ollie
Discover how breweries all over are making operations a breeze and enabling more sales with Ollie!
Ready to learn more? Drop us a line and our team will be in touch with more information on how to check out a demo of Ollie.
Why Breweries Need a Good Accounting and Bookkeeping Service
Going into 2023, we're all looking to make resolutions. As a brewery owner, yes, you're making beer, but at the end of the day, you're running a business.  All year round you're constantly looking for ways to improve your brewery management and streamline your operations.
"Breweries run on such tight margins that if you don't understand the day-to-day and month-to-month of what's going on in your business, especially on the financial side, then you're not going to last and you're not going to make money," says Smith.
When it comes to handling, organizing, and managing your money, implementing a good accounting and bookkeeping service is key for several reasons.
...if you don't understand the day-to-day and month-to-month ... you're not going to last and you're not going to make money,
Sharpens Your Business' Data Intelligence
Pearman believes the business environment for brewers is more demanding than ever because "there are headwinds of consumer preference that changes quickly, distributor consolidation, more craft producers than ever before, and many competitive products vying for the same shelf space," wrote Pearman in an email to Ollie. "To compete, breweries will be looking to sharpen the saw on data intelligence. They demand specific, actionable intelligence to shine a light on operational changes that must be made to achieve optimal business results."
According to Pearman, the most important investment any small business can make is in reliable bookkeeping.
"The access to timely, accurate, financial results is priceless," wrote Pearman. "Reviewing the actual results versus budget will identify the operational changes that need to be made to move the company in the direction of your goals."
Using a reliable financial tool helps you, as a brewery owner, understand how to manage your money and run your business effectively.
Gives You an Accurate Breakdown of Brewery Costs
Similarly, Derek Smith from Small Batch Standard also stresses the importance for breweries to have an accurate breakdown of their revenue, cost of commodities, and labor.
"I've worked on the onboarding side for Small Batch Standard for a couple years; a lot of our clients come in with income that just says 'sales,'" explains Smith. "That's a mixture of all their wholesale sales, taproom sales, some includes tips, and some include sales tax. Without the details of how much was sold in draft in the taproom or how much was sold in package distribution…you're flying blind a bit."
According to Derek, an accurate snapshot of your brewery costs is especially critical on the "cost of goods sold" side, because breweries often buy goods and ingredients in bulk.
"If you have a month where you've paid huge bills and they're all going on to your profit and loss, when actually those materials are sitting in your warehouse, they're not associated with your sales, then again, you're flying blind and aren't sure how much you're making," says Smith.
An accounting company or tool can open your eyes, so to speak. By understanding the breakdown of costs in all areas of the brewery, you can create an actionable plan, seeing where you might be able to cut back on spending or invest more.
Gives You an Accurate Picture of Profit
In a rapidly changing and diversifying industry, how do you keep track of the sales of all your different products and brands across your distribution platforms?
"The biggest missing need for breweries is visibility into profitability by SKU by channel," wrote Pearman. "Breweries need to know how much they make on each item sold, and they need that data by channel and region."
We think you know the answer. Keeping track of an accurate picture of your profit across different channels and regions is easiest with a bookkeeping tool or accounting firm.
Best Accounting and Bookkeeping Services for Breweries
As a brewery owner, you understand that there's nothing standard about your operations.
The amount of business tasks you need to consider daily is long, including ordering and maintaining a vast inventory of raw ingredients, writing recipes, paying distribution fees and service taxes… The list goes on. Because there is so much possibility for error, operations can easily fall between the cracks.
An accounting or bookkeeping solution tailored to your management needs can benefit you long term.
Here is a list of the accounting and bookkeeping tools both we and Smith recommend using everywhere from your front-of-house point-of-sale system to your back-of-house brewery management platform.
Brewery Management Software
Investing in a dependable piece of brewery management software should be an essential component of your business.
Not only can this type of software streamline your production, it can also help with everything from recipe planning to quality control and sales analysis.
Recommendations include:
Ollie Ops is user-friendly software developed by brewers for brewers that helps streamline day-to-day brewery operations.
With features like recipe management, which allows you to keep track of all of your recipe's specifications from one tab, and raw materials forecasting, which helps you plan out all of your beers in advance, brewery management becomes a breeze.
With Ollie Ops, you also get extensive TTB reporting, automated for your quarterly returns!
The best part of Ollie Ops though is that it has been designed to integrate directly with QuickBooks.
The Ollie interface, the customer-facing side is great. All of our customers love the ease of use.
In fact, Small Batch Standard has been working alongside Ollie Ops engineers to build out Ollie Ops' QuickBooks Integration feature.
With this build-out, the brewery options for everyday use are made more effective and organized for breweries who trust Ollie Ops to manage their brewing operations.
"A lot of software engineers I've worked with just build what they think is best without understanding the day-to-day implications," explains Smith. "So it has been really great to have a team, like the Ollie team, who wants to understand that better and wants to build it in a way that is best for the clients and those working on the financial side of it."
With their extensive craft beverage industry knowledge, Small Batch Standard is making sure every feature of the QuickBooks software effortlessly flows with Ollie Ops' customers' books.
"It all starts when you buy your raw materials, and then when you start a batch it shows on the accounting side, and when you finish a batch it shows on the accounting side, and then when you sell it to either your taproom or your distribution partners it recognizes the income and the cost of that beer," says Smith. "The Ollie interface, the customer-facing side is great. All of our customers love the ease of use."
This end-to-end brewery management software is tailored for craft beverage industries to help them streamline production, inventory, accounting, and more.
Ekos uses software to help you manage your data digitally so you can spend less time at your computer and more time brewing beer.
With this software you can forecast your next purchase and plan for the future by studying cost patterns and managing specific product recipes. All while discovering insights to help you develop your business.
This software is also compatible with Square and Arryved software, allowing you to keep your systems in sync.
When it comes to revenue and expenditures in brewing, there are many moving components.
Because of this, dependable accounting software is a brewery's best friend when it comes to controlling cash flows for the business.
The correct accounting software can help you file taxes with confidence, keep tabs on your finances as you grow, and eliminate human mistakes through automations.
Recommendations include:
"We have all of our (Small Batch Standard) clients on QuickBooks for ease of use as well as cloud-based accounting," says Smith. "It's our go-to."
Manage your company's finances more effectively by using QuickBooks thanks to its advanced functionality features like invoicing and payment processing capabilities.
The online edition of QuickBooks is accessible through any web browser, whereas the desktop version is installed on the hard drive of your computer.
Already have an accountant or bookkeeper? You can invite them to collaborate with you for free with QuickBooks Online.
Plus, as we mentioned, you can easily integrate QuickBooks with your Ollie Ops brewery management software for the most comprehensive business solution for your brewery.
This software helps simplify your transactions by consolidating them into one place, whether you're paying or receiving money. Automatic bank reconciliation eliminates the burden of entering data by hand.
With accurate tax calculations for employee withholdings, e-filing, and automatic W2s and tax forms, Sage 50cloud Accounting helps you pay your team on time and maintain compliance.
Sage 50cloud Accounting also offers a free 30-day trial to test key features of the software.
Utilize Xero's expenditure management capabilities to control spending and submit or refund expense claims. Connect your bank to Xero in a snap for easy transaction flow.
What makes Xero unique is that it is compatible with Gusto's payroll software. This makes it easy to calculate pay and deductions, pay employees, and update Xero accounts.
Like Sage, Xero offers a 30-day trial so you may choose the plan that best meets your brewery's needs.
Point-of-Sale System Solutions
Great point-of-sale systems give you easy and accurate details of your income by category.
Recommendations include:
Founded by two tech nerds who appreciate craft beer and the people who serve it, Arryved is a mobile POS solution for breweries. Their user-friendly interface makes receiving payments simple for you and your customers through their sales app.
With mobile POS solutions like QR code ordering, menus, and payments, you'll quickly find how happy your customers are and boost staff productivity as well as your bottom line.
"Arryved has really planted their flag as this craft point-of-sales system," says Smith. "They've made a large investment in the craft brewing scene [and] they cater to craft. They have craft beverage-specific reporting [and] keg and draft efficiency that others don't."
This all-in-one platform is designed to help your brewery manage orders, sales, and payments in one location with robust cloud-based software.
Through tableside ordering and payments, you can enable your employees to spend more time with guests, accelerate service with tapside payments, and speed up checkout with portable technology optimized for the restaurant environment.
Every tool in Square's POS is designed to help your team move quickly and efficiently, from order entry to back-of-house operations.
Use conversational modifiers to expedite ordering, make real-time menu modifications across devices, and quickly repeat an order. They offer three POS package options and all with the flexibility to collect payments, even when offline!
Payroll Management Solutions
Smith recommends a payroll system that collects accurate data by department because it makes it simple to see how your company is performing.
"Are you spending too much in taproom wages? Are your salespeople making too much for the income they're bringing in? Without that granularity, you don't know where to correct," says Smith.
You want to ensure that your payroll system can bring in those wages by department and that those wages are accurate on paychecks.
"You never want to have errors on someone's paycheck," wrote Pearman. "Also, the rules around payroll taxes vary between states and type of tax. It's a lot to keep current on and best left to professionals."
Recommendations include:
This tool files your taxes automatically, assists with compliance, and finds hidden tax credits to save you money.
Gusto can calculate and sync your team's hours, PTO, and holidays with payroll automatically—even allow your employees to self-onboard. It is also compatible with Quickbooks for ease of use for everyone from your accountant to your payroll manager.
"Something we really like about Gusto is that it has a built-in integration with QuickBooks so there is no manual entry of wages," says Smith. "Once payroll is run, that data automatically flows to QuickBooks."
Paychex is a market leader in comprehensive human capital management systems for payroll, benefits, human resources, and insurance.
They provide premier payroll and tax filing services as well as industry-leading HR technologies. They offer flexible payroll packages to accommodate the size of your business.
You can efficiently manage your business and employees when and how you choose from your desktop or mobile with their all-in-one Paychex Flex® technology.
This is specified by Paychex as "their proprietary Human Capital Management (HCM) software application that provides an integrated suite of solutions for recruiting, onboarding, HR, time and attendance, and benefits to help businesses manage the employee life cycle."
ADP offers payroll services for small, medium, and large organizations, as well as custom-configured connections with HR, time tracking, and automated employee data syncing.
Online payroll automation helps to avoid costly errors while also providing federal, state, and local compliance support.
They also automatically compute tax and retirement deductions and provide expert advice to ensure you comply with all applicable rules and regulations.
Ready to Grow Your Brewery Operations? Get Ollie.
Ollie's software was created by brewers for brewers. The all-in-one brewery software manages your process, from raw materials to finished goods. Request a free demo today.