The Essential Guide to Becoming a B Corp Certified Brewery
Published: March 24, 2023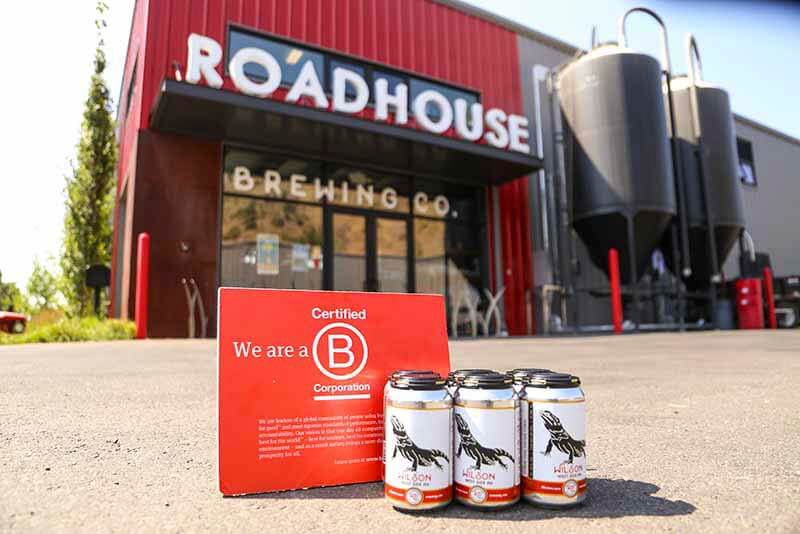 What do a brewery in Wyoming and another in Colorado have in common with companies like Ben & Jerry's, Patagonia, and TOMS? They're all Benefit Corporations (B Corp) Certified businesses. These companies have passed demanding evaluations run by the non-profit B Lab, certifying them as dedicated to changing the world through social, environmental, and sustainable impacts.
Currently, 6,000 for-profit companies in more than 80 countries and over 150 industries are registered as B Corps. Of those, only thirty-five are breweries.
Those like Roadhouse Brewing Co. in Jackson Hole, WY, and Upslope Brewing Company in Boulder, CO , which both earned their certifications in 2018.
Becoming a B Corp Certified brewery isn't for the faint of heart; there are many challenges. But earning your B Corp Certification is a mark of pride, a true testament to your values as a company, and a classification that gives you access to some of the most elite, environmentally, and socially minded businesses worldwide.
(Above photography courtesy of Roadhouse Brewing Co.)
What We'll Cover in This Piece:
Better Production and Enable More Sales With Ollie
Discover how breweries all over are making operations a breeze and enabling more sales with Ollie!
Ready to learn more? Drop us a line and our team will be in touch with more information on how to check out a demo of Ollie.
What Is B Corp Certification?
The B Corp Certification is a designation that recognizes that a for-profit business "meets the highest standards of verified performance, accountability, and transparency on factors from employee benefits and charitable giving to supply chain practices and input materials," according to the organization's website.
"It's the idea that a business operates as a force for good," says Jody Valenta, president and COO at Roadhouse Brewing Co., which achieved its B Corp Certification in 2018. "We're not just building the company for profit, even though we recognize that we need and want to make a profit to continue operating and being successful; we're also doing it with social, environmental, and community impact at the forefront of our operation."
It's the idea that a business operates as a force for good,
For Upslope Brewing Company, another environmental and socially minded brewery that earned its B Corp Certification in 2018, the achievement is "a verifiable way for us to communicate to our employees, customers, suppliers, and partners that we take our environmental and social impact seriously," write the brewery in its 2020-2021 Impact Report.
Overall the B Corp network aims to leverage committed businesses to positively impact the planet.
4 Reasons Why You Should Become a B Corp Certified Brewery
Applying for B Corp Certification should mean that, as a business, you're dedicated to becoming a more sustainable, environmentally friendly, and socially responsible company.
Assuming you earn the privilege of joining the over 6,000 Certified B Corporations in more than 80 countries and over 150 industries, you'll leverage many benefits.
Join a Network of Like-Minded Businesses That Include Patagonia, Ben and Jerry's, and TOMS
TOMS, Warby Parker, Ben and Jerry's, Patagonia, and New Belgium are just a few of the big-name businesses that have earned B Corp Certification.
Once inside this inner circle, you can access any of these businesses through the B-Hive.
"It's an internal networking platform that only B Corps can access," says Valenta. "Companies can share resources with each other or provide business-to-business discounts or opportunities for partnership."
Valenta gives the example of a company looking to create a diversity, equity, and inclusion (DEI) program. She says you can post questions on B-Hive asking, "'Does anyone have one I can use?' And twenty companies, [for example], from all different industries will send you theirs to work from."
Accordingly, becoming a B Corp business means you have what Valenta calls a "great resource hub" at your fingertips "that's really valuable for information and for growth for your organization," she says.
Brew-Up Incredible Collaborations
Along those same lines, becoming a B Corp Certified brewery opens up the opportunity for unique collaborations.
Valenta points to Roadhouse's Cosmic Kush beer, a collab between Creature Comforts, Mainstem Malt, and Roy Farms—all B Corp Certified businesses in the beer industry.
Brewing that beer gave Roadhouse access to malt from Mainstem Malt and hops from the well-known Yakima Valley hop grower Roy Farms.
Becoming a B Corp Certified brewery "opens up some doors and creates relationships for you," says Valenta.
Attract New Customers and Retailers
Looking ahead to the future, Generation Z is coming of drinking age. According to Business Insider, by 2026, Gen Z will be the largest generation, at around eighty-two million people.
So if the next generation of drinkers holds our beers in their hands, we should probably pay attention to what they're saying, right?
In 2021, a study by Forrester reported that fifty-one percent of Gen Zers would ensure that a brand's corporate social responsibility aligns with their own before purchasing. Last year, Knit, a Gen Z insights platform, reported that eighty-nine percent of Gen Zers choose to shop from socially and environmentally conscious brands.
These next up-and-coming drinkers are more interested than ever in supporting companies that have a point of view, take a stance on issues, and support ideals similar to theirs.
Earning that B Corp Certification status will show potential drinkers that you are a business that cares about environmental and social responsibility.
The same applies to the other end of the spectrum with retailers.
"There are certainly some stores like the Whole Foods of the world that are intrigued to find companies that share those common values," says Valenta.
With increasingly crowded retailer shelves, having that one little edge could be the difference to making it into a big store like Whole Foods.
Shows Your Values as a Business
Honestly, at the end of the day, all the benefits mentioned above are excellent, but they don't supersede the overarching goal of B Corp Certification.
Becoming a B Corp Certified brewery is about improving your internal company and taking a stance on creating a better world through your business.
"Before we became B Corp, we put these initiatives in place because we believe that Roadhouse is based upon how we want to treat our people, our environment, and our community," says Valenta. "I don't know that you'd become a B Corp if that weren't…true for your organization, right?"
How Does B Corp Certification Work?
Becoming a B Corp Certified brewery is serious business.
You'll need to meet these requirements posted on the B Corp's website:
Demonstrate high social and environmental performance by achieving a B Impact Assessment score of 80 or above and passing our risk review. Multinational corporations must also meet baseline requirement standards.
Make a legal commitment by changing their corporate governance structure to be accountable to all stakeholders, not just shareholders, and achieve benefit corporation status if available in their jurisdiction.
Exhibit transparency by allowing information about their performance measured against B Lab's standards to be publicly available on their B Corp profile on B Lab's website.
Additionally, you'll need to pass a vigorous application process directed by the non-profit B Lab, which certifies all B Corp companies.
The assessment will score your brewery in the five following categories: Governance, Workers, Community, Environment, and Customers.
To pass, your brewery must land an "Overall B Impact Score" of 80/200.
How to Apply for B Corp Certification
Achieving B Corp status isn't easy. There are rigorous standards in place to ensure that B Corp businesses truly uphold the organization's ideals.
When Upslope first achieved B Corp Certification in 2018, they were only the twentieth brewery in the country to hit that mark. And as of 2020, only thirty-six establishments are B Corp Certified breweries.
Considering over 9,500 craft breweries operate nationwide, according to the Brewers Association, that number is tiny.
That's not to scare you, just to show that you should be ready if you apply.
Let's break down the process.
Take the B Impact Assessment
The first step on your B Corp Certification journey starts with taking the B Impact Assessment, which will tell you "the quick and dirty: Does my company have what it takes to become a B Corp?" says Valenta.
If you receive a low score or are on the edge, you can connect with the B Corp team to discuss what you need to improve to reach a viable level.
"We want as many companies as possible to get to this level," says Valenta. "So they're a great resource if you're not getting over the limit."
Additionally, even if you qualify, the assessment can show you areas of your business to improve.
Valenta notes that at Roadhouse, while they received high scores in the Environment and Workers categories, they got a low score in Customers; it's now an area the brewery spends time improving.
Fill Out a Detailed Questionnaire
Passing the B Impact Assessment is only the first step. Next, you'll need to complete a thorough questionnaire that asks specific questions about your operations (see below for examples).
"It's not like: Do you love the environment, yes or no?" says Valenta.
For example, a couple of questions Roadhouse encountered:
What percentage of your energy is produced from low-impact, renewable resources?
What practices has your company implemented from your suppliers to reduce greenhouse gas emissions produced through your supply chain?
"[These are] questions that take time and data to dive into, that you really have to work on," says Valenta.
Back Everything Up With Documentation
The last part of the equation will be supporting everything with hard documentation.
For instance, if you say that the brewery produces fifty percent of its energy from renewable resources, you must show how.
"It's not just the ethos of your company or what you believe in; it's also how you're tracking and what metrics you follow," says Valenta.
It's a system of checks and balances. You can't simply add solar panels to the brewery roof, for example, and call it a day.
A B Corp business needs to track those solar panels and decide how to optimize them based on their performance.
"That awareness as an organization on how we can improve and what it's contributing and then how we're spreading that awareness to our shareholders is part of the value and part of what B Corp is looking for," says Valenta.
How Long Does B Corp Certification Take?
The process can vary from brewery to brewery, but for Roadhouse, the entire certification took between six months to a year, according to Valenta.
According to B Corp's website, the length of certification and verification will vary based on a company's size.
Small- to medium-sized companies can expect to wait between six to eight months, while larger, multinational companies might have to hold on for a little longer.
We expect that most breweries will fall into the small-to-medium-sized category.
Still, you should expect that applying for B Corp Certification from start to finish will be an extensive process.
What About B Corp Recertification?
It's the goal for every B Corp that we're not stagnating or decreasing but continuing to improve our impact on our society and the environment,
Earning a B Corp Certification doesn't mean you're free and clear for the rest of all time. You need to recertify every three years (or after a change in company ownership) to ensure that you're upholding your values.
"It's just to keep you honest, right?" says Valenta. "To make sure that you're continuing to uphold the standards that let you become a B Corp in the first place."
Recertification might even mean an opportunity to bump up your score for some.
At the time of publication, Valenta mentioned that she expects Roadhouse's new B Corp score to jump from 85.4 to around 120, thanks to all the new initiatives they've started over the past four years.
"It's the goal for every B Corp that we're not stagnating or decreasing but continuing to improve our impact on our society and the environment," says Valenta.
Two Examples of What It Takes to be a B Corp Certified Brewery
To give you an idea of what it might take to become a B Corp Certified brewery, we looked at some initiatives that help Roadhouse and Upslope pass the demanding assessment.
Roadhouse Brewing Co.
We built Roadhouse with extreme sustainability initiatives in mind,
For Roadhouse, sustainability has always been top of mind. From the beginning, Roadhouse Co-founders Colby Cox and Gavin Fine wanted the brewery to be environmentally friendly.
"Being in Jackson Hole, you're perpetually reminded of how beautiful this country is and how much we want to protect it," says Valenta. "We built Roadhouse with extreme sustainability initiatives in mind, and we focused on how we wanted to treat our people and what role we wanted our employees to have in our company."
To that end, Roadhouse is an ESOP (employee stock ownership plan) company. This model gives company stock to employees, ensuring they are physically and emotionally invested in the business.
Unsurprisingly, the brewery scored very well in the "Environment" and "Workers" categories on the B Impact Assessment.
Overall B Impact Score: 85.4*
Highest-Scoring Category: Environment (45.8)
Best for the World**: 2021 Best For The World: Environment; 2022 Best For The World: Environment
The list of initiatives that have earned Roadhouse a high score for environmental impact as a B Corp brewer is long.
But Valenta points out that their louver system is her favorite. Essentially, instead of using a chilling system, the brewery leverages cold, fresh Jackson Hole air to keep its facilities cool around six months out of the year.
"Ninety-five percent of our cooler coldness during those months is coming from the louver system, which is such a no-brainer if you live in a really cold climate," says Valenta, noting it can also potentially save a ton of money.
Additionally, Roadhouse installed solar panels on their roof and a nitrogen generator that pulls nitrogen from the air, so they don't have to buy any.
Along those same lines, Roadhouse installed a CO2 recapture system a year and a half ago. Since then, the brewery has collected 17,000 pounds of CO2 fermentation, recycling the gas into carbonating beers. "Your ROI from what you're paying for both CO2 to what you're paying to have the system is pretty immediate," says Valenta. "And you're also getting a higher-quality product."
And they implemented a steam recapture system that collects steam produced in the brewery and recycles it into its systems. "That's a nice closed-loop system," says Valenta.
Lastly, on the environmental impact side, Roadhouse joined Microstar's multi-use shared-keg program, which allows breweries to exchange kegs instead of dumping them.
*Editor's Note: As mentioned earlier, Roadhouse expects this score to bump to 120 after their official recertification results come through. But at the time of publication, this is Roadhouse's Overall B Impact Score.
**Best For The World is an additional designation given to businesses by B Lab that recognizes B Corps in the upper echelon of the five scoring categories. These businesses have achieved some of the highest-verified scores in a given category and rank in the top five percent of B Corps of similar size.
See Roadhouse's Overall B Impact Score
Upslope Brewing Company
Another brewery hyper-focused on sustainability, Upslope gained high marks for its work on the environment, for its workers, and for its community.
Overall B Impact Score: 86.9
Highest-Scoring Category: Environment (24.0), Workers (24.3), Community (21.7)
When Upslope opened in 2008, the brewery focused on social and environmental responsibility from day one.
Ten years later, they applied for B Corp Certification. Initiatives that help them become a B Corp Certified brewery start with a robust compost and recycling program in partnership with Eco-Cycle. With a goal to achieve zero waste at all of their events, Upslope consistently achieves a 90%+ diversion rate from the landfill at their events each year.
Additionally, Upslope's 1% for the Rivers campaign donates one percent of all Upslope Craft Lager to the local Trout Unlimited chapters. Since 2015, Upslope has donated over $77K to various Trout Unlimited chapters in the Rocky Mountain West.
At the brewery, Usplope uses only 0.95 therms/barrel of natural gas, putting them within the top twenty-five percent of breweries for fuel efficiency in their size category, according to the Brewers Association Sustainability Benchmarking Tool.
These are just a few of the initiatives that helped Upslope reach B Corp Certification. To see a complete list, check out Upslope's 2020-2021 Impact Report.