Southern Grist Shares 4 Tips on How to Market a Successful Non-Alcoholic Brand
Published: December 23, 2022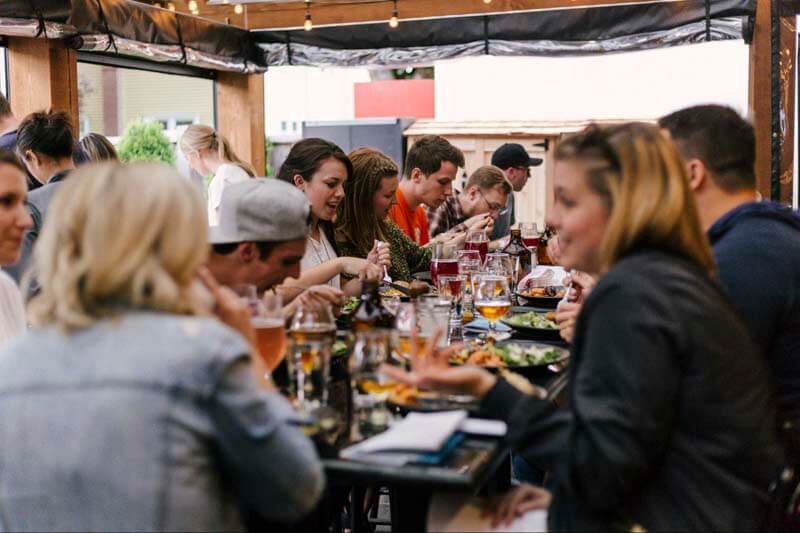 The non-alcoholic beer market isn't just having a moment, it's solidifying its place on the shelves alongside the rest of craft beer in the world.
According to a retail report by Drizly, "Overall, eighteen percent of retailers surveyed plan to carry more NA beer in 2023." The report also showed that roughly sixty-one percent of respondents named beer as the non-alcoholic product they intend to carry more of next year.
Now more than ever, consumers are turning to non-alcoholic beverages as a healthier drinking alternative.
Consequently, with a growing number of breweries and brands exploring non-alcoholic options, this is an interesting category to explore.
While we already wrote about "Tips on Brewing Non-Alcoholic Beer from an Award-Winning Brewer," there is another side to this equation beyond just the backend logistics.
For a long time in the United States, NA beer and beverages have been stigmatized, garnering a reputation for poor taste and flavor. How do you slowly change that image and market non-alcoholic beer in today's more accepting market?
We sat down with Southern Grist Brewing Company, whose non-alcoholic fruited sour won the Bronze Award for Non-Alcoholic Beer at the 2022 World Beer Cup, to understand the ins and outs of marketing a successful non-alcoholic beer brand.
(Above Photo by Priscilla Du Preez on Unsplash)
What We'll Cover in This Piece:
Better Production and Enable More Sales With Ollie
Discover how breweries all over are making operations a breeze and enabling more sales with Ollie!
Ready to learn more? Drop us a line and our team will be in touch with more information on how to check out a demo of Ollie.
Why Should You Consider Brewing a Non-Alcoholic Beer?
For one thing, the industry only continues to grow exponentially.
In 2021, the non-alcoholic beer market in the United States recorded a revenue of nearly five billion U.S. dollars while the non-alcoholic beer industry generated 25.28 billion US dollars in revenue globally.
And according to NielsenIQ, the non-alcoholic beer category grew 31.7 percent from 2020 to 2021. The double-digit growth was eclipsed only by interest in the non-alcoholic spirits category, which grew 113.4 percent during the same period.
We saw a clear trend emerging over the last four to five years
All the data points to a subcategory of beer that's continuing to gain steam in America and around the world.
For that reason, Southern Grist Brewing Company decided to enter the non-alcoholic beer space with their own offerings in early 2022.
"We saw a clear trend emerging over the last four to five years," says Kevin Antoon, founder and CEO at Southern Grist Brewing Company. "That trend was amplified with the health push during Covid. Since we already had non-alcoholic on our project timeline, we knew it was time to act and add this as an option under the Southern Grist beverage umbrella."
Brewing a non-alcoholic beer could create an additional revenue stream for breweries. But beyond the obvious potential for revenue, making a low-alcohol option shows your existing customers that every audience has value.
"We realized a few years back that to truly have a lifestyle brand, everyone needs to be included," explains Antoon. "Southern Grist  is constantly and unapologetically experimenting with new styles. Nothing is off limits, and that includes non-alcoholic beer. When it came to asking ourselves if [we] should make a non-alcoholic beer, the answer was simple: Why WOULDN'T we?"
For anyone getting into the non-alcoholic beverage space there are a few considerations to keep in mind from the best ways to brew an NA beer to the best marketing strategies.
The Four Best Tips for Marketing a Non-Alcoholic Brand
Understanding not just the range of consumer audiences but also the variety of reasons why a consumer would pick a non-alcoholic choice over a conventional beer is crucial when planning your brewery's entry into the non-alcoholic market.
1. First, Market your Brand to Smaller Non-Alcoholic Groups
According to Antoon, one of the first ways Southern Grist introduced its non-alcoholic brand to the market was through smaller NA groups.
Testing the beer out in niche communities helped it eventually grow as word spread.
"Once we introduced our first non-alcoholic beer to the smaller local NA groups, positive feedback came in faster than we thought," says Antoon. "Word spread in the social media groups that support NA, and soon the inquiries came flooding in."
By getting buy-in from those local NA groups, Southern Grist could use their positive feedback to help build the brand with their own fan base.
2. Market Your Non-Alcoholic Beer Like a Beer…Just With Added Benefits
Contrary to popular belief, non-alcoholic beer is not exclusively for people who want to quit drinking or take a break from alcohol.
"There are times a Southern Grist beer would really hit the spot, but you're not looking for the buzz," says Antoon. "Whether you've already had a couple and want to get home safe or simply want to enjoy the flavor without the impact, we have beer for that."
It was essential for Southern Grist to create a drink for everyone, NA beer fans and their alcoholic-drinking fans alike.
And that meant brewing a non-alcoholic beer on brand—innovative, experimental, and flavorful. Just like they would with any of their alcoholic options.
"Our non-alcoholic beers are created with the same time-intensive, adjunct-heavy brewing practices as our alcoholic beer," explains Antoon.
For example, their award-winning non-alcoholic beer called Parallel is brewed with real passion fruit and raspberries as well as lactose to give that traditional fruited sour-style mouthfeel.
Southern Grists' NA beers are just as flavorful and impactful as their regular beers, but without the added ABV, meaning their consumers can partake in drinking culture without overindulging.
"Think about hiking and celebrating with a couple friends over a few non-alcoholic beers," says Antoon. "All the celebratory taste without stumbling your way back down the trail. Cleansing your body and liver over the period of a week or two helps in so many ways…but it is not easy."
In some cases, a non-alcoholic beer can satisfy the craving to drink by providing all the flavor without the calories or intensity of hangovers.
"Many people fight the surprising urges with a 'treat' of a non-alcoholic beverage," says Antoon. "Of course, weight loss and health is at the top of the list for most, but that is not everything. Next time you crave a beer, try a non-alc or two or three instead. You will be surprised at the gratification and the taste."
3. Leverage Your State's Non-Alcoholic Beer Laws to Run Unique Promotions
One of the advantages of starting a non-alcoholic beer brand is that it's not necessarily bound to the same stringent laws as your alcoholic beverages.*
For many, in the past, sending alcohol across state lines has been illegal, or even just giving away alcohol for free can come with serious stipulations.
But with non-alcoholic beer, you aren't bound to the same rules, meaning you have a slew of additional marketing options at your fingertips to deploy.
Antoon explains that, in the beginning, to help market their non-alcoholic beer "Company Pilsner," they gave away a free can to anyone who bought a standard alcoholic 4-pack.
This buy-one-get-one strategy helped Southern Grist market the new NA beer because it was free product advertising and an excellent talking point with customers at the point of sale.
"Giving away the non-alcoholic can with the purchase of our alcoholic products allowed us to penetrate a market that may not spend money on a craft beer with no alcohol (yet), but would be interested enough to crack a can out of curiosity, since it was free."
Antoon explains that this marketing strategy was possible because of the laws around non-alcoholic beer purchases.
"The best part of non-alcoholic marketing and sales is we are not handcuffed by the laws that govern beer with alcohol," says Antoon, who also pointed out that they could send non-alcoholic beer to anyone who wanted it no matter what state they lived in. Something they couldn't necessarily do with alcoholic beer depending on a state's individual laws regarding alcohol shipments.
In this way, brewing a NA beer has actually helped Southern Grist reach new markets and audiences.
*Generally, in the U.S., beer is considered non-alcoholic if its ABV content is 0.5% or less, but laws vary state by state. Please check the non-alcoholic beer laws in your state or consult with your attorney for the most up-to-date legal information.
4. Be Intentional When Marketing and Making Your Product
Above all, Antoon encourages breweries that while marketing a non-alcoholic beer to your audience is important, so is approaching the product production with the same care that you do your regular beers.
Those who are brand loyal are paying attention!
"Do your research and never sacrifice quality thinking this is for a different audience so it doesn't impact your brand," says Antoon. "Every audience is important. The NA audience is bigger than you may think…and they, too, expect and deserve the highest of quality."
Focus on Marketing and Let Ollie Manage Your Brewing
As your marketing efforts get underway, let Ollie, the software that was built by brewers for brewers help you and your production team create the best-tasting non-alcoholic beer on the market with Ollie.
Ollie's raw material forecasting technology helps you brew the best-tasting beer. You'll receive real-time notifications when your inventory levels are running low so that you can be on top of any issues at all times.
Ollie's drag-and-drop scheduler makes it simple to schedule all your fermentations, too! Click on a date, schedule a brew, drag it around to put it right where you need it. It's that easy. Request a free demo today.