RTDs Are on the Rise. What Should I Do As a Brewery?
Published: March 17, 2023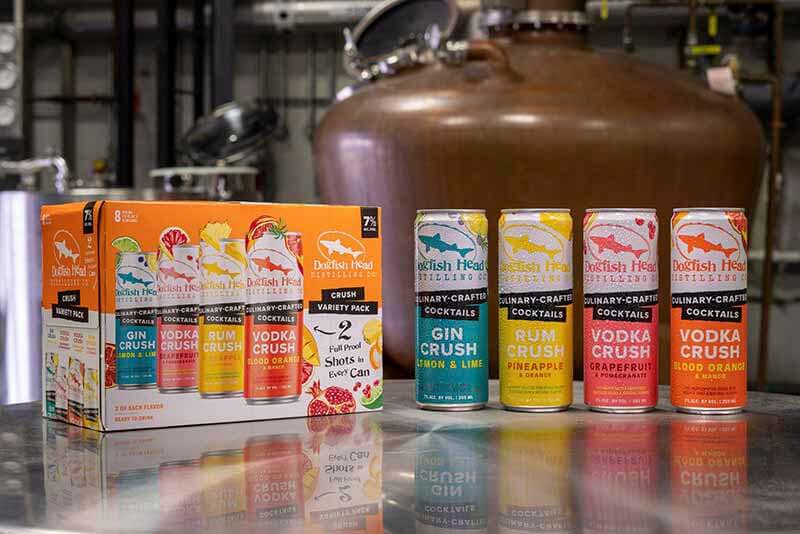 During the pandemic, one bev-alc segment grew leaps and bounds above the rest. The ready-to-drink (RTD) category has steadily risen in popularity for the last few years. RTDs were one of the only categories to thrive during the pandemic, and those ripple effects continue to…well, ripple.
According to the alcohol e-commerce site Drizly, RTDs within the spirits category gained a +400% share year over year from 2019 to 2022 on the platform.
And in a survey performed on the site in October, 47% of respondents indicated that they would drink RTDs year round, regardless of the season.
All point to RTDs seeing sustained, healthy growth into 2023 and beyond. We expect that RTDs will continue to see a three-digit change.
So what does that mean for you as a brewery? Should you invest in creating a brand beyond beer? One that isn't necessarily a hard seltzer? And if so, how do you go about doing that?
We talked with two major brands that have invested in RTDs—Dogfish Head Craft Brewery and Stone Brewing—to answer these questions and more.
(Above photography courtesy of Dogfish Head)
What We'll Cover in This Piece:
Better Production and Enable More Sales With Ollie
Discover how breweries all over are making operations a breeze and enabling more sales with Ollie!
Ready to learn more? Drop us a line and our team will be in touch with more information on how to check out a demo of Ollie.
An acronym for "ready-to-drink," RTD technically means "anything that can be immediately consumed (without mixing) and is ready to drink," wrote Erin Smith, VP of marketing at Stone Brewing, in an email to Next Glass. The brewery released a tequila-based canned cocktail lineup under the Stone Buenafiesta Margaritas brand in late October 2022.
So while you can argue that hard seltzers fall under the RTD category, there is some debate on whether they do.
"The RTD category is very broad, and often it can be confusing for drinkers," wrote Sam Calagione, co-founder of Dogfish Head Craft Brewery, which released a line of canned cocktails two years ago, in an email to Next Glass. "At Dogfish Head, we break the RTD category up into sub-segments. There's malt-based RTDs; spirits-based RTDs, like Truly Vodka Seltzer; and [an] even more specific sub-segment of the category, the spirits-based RTD canned cocktails, like Dogfish Head's lineup of libations."
Regardless of the exact definition, one thing is for sure: RTDs are hot right now and are only getting hotter.
For the last decade, hard seltzers have been the product breweries turned to when venturing beyond beer. But the tides have changed. For the first time last year, the alcoholic bubbly showed a 17% year-over-year decrease during the 2022 Labor Day weekend, according to Drizly. And during the summer, one of the busiest times of the year for hard seltzer sales, Drizly reported sales dropping below last year's Fourth of July numbers.
Instead, canned cocktails and spirits-based drinks are on the rise. According to IWSR, the on-premise share of total spirits-based RTDs increased from 3.5% in 2019 to 10.7% in 2022, forecasted to reach 16.5% by 2026.
I think the one major driver was the COVID pandemic,
"We're in this interesting time where RTDs are going to grow more on-premise because they've been so heavily weighted to the retail side," said Brandy Rand, chief strategy officer of IWSR, at BevNet Live Winter 2022 in December.
During the pandemic, RTDs exploded in popularity because drinkers could recreate that bar-like experience they were missing from their homes.
"I think the one major driver was the COVID pandemic," wrote Calagione. "During the country-wide quarantine, folks were not going to bars or restaurants. They still wanted bar-quality cocktails in the comfort of their homes, but without the hassle of actually mixing something."
But Smith points out that canned spirits had been growing pre-pandemic. "Spirits have been on the rise, and people have been getting more exploratory in what they're bringing home from the grocery or liquor store," she wrote.
It seems like COVID just accelerated the trend.
Although Dogfish Head had been distilling spirits for more than twenty years and released their first ready-to-pour cocktail in 2017, it wasn't until the RTD category rose that they canned a spirits-based beverage. "We saw the demand for RTD canned cocktails increasing and knew we had some great recipes that were ready to share on a broader scale," wrote Calagione.
Just look at how the number of products grew: Three years ago, less than a thousand new RTDs entered the market. In 2022, on the other hand, 1,600 new spirits-based cocktails launched in the bev-alc space.
Even though folks have returned to drinking at restaurants and cocktail bars, they still like the convenience of RTDs, driving the segment's growth into the future.
Over the last two years, premium-priced RTDs have accelerated faster than any other segment, with value growth outpacing volume growth at a compound annual growth rate (CAGR) of 8% vs. 5% from 2022 to 2026, according to an annual report from IWSR.
Drizly's study supports IWSR's findings. In a Bev Alc Insights report which surveyed 250 independent liquor store owners, Drizly found that 63% of participants plan to stock their shelves with more RTDs this year, with 71% already reporting they've changed their inventory, bringing in more RTDs.
In other words, hard seltzers have come to a halt, and RTDs have roared ahead. Consumers are trading their alcoholic fizz for tequila-based, vodka-based, or whiskey-based drinks in a can.
On its current trajectory, the RTD segment is projected to increase by an additional $11.5 billion U.S. dollars in the next five years, overtaking hard seltzers by 2025.
The Three Factors Driving the Growth of RTDs
These are the main factors driving the growth of RTDs.
Convenience
By far and away, one of the most significant contributors to the growth of RTDs is convenience. An alcoholic beverage trade organization called the Distilled Spirits Council of the United States (DISCUS) surveyed 2,000 registered voters over twenty-one years old, releasing a report on RTDs that found that an incredible 92% of consumers choose RTDS for convenience. At the same time, 85% reported that portability impacted their purchasing decision.
"American consumers are increasingly prioritizing convenience, taste, variety, and quality in their choice of beverages," says Robert Blizzard, partner at Public Opinion Strategies, who conducted the survey for the DISCUS report, in an article for Forbes. "Spirits-based RTDs fit squarely into this trend, so it's no surprise these products are leading the spirits category in both market growth and consumer popularity."
Millennials and Gen Z Consumers
A growing number of younger drinkers, mainly Millennials and Gen Zers, have helped the rise of RTDs.
We're targeting a slightly younger consumer, maybe late 20s to early 30s;
This demographic often looks for a better-for-you beverage or an alternative to beer.
RTDs tick both those boxes.
When asked the target consumer for Dogfish Head's Canned Cocktails, Calagione wrote, "We're targeting a slightly younger consumer, maybe late 20s to early 30s; they are outgoing, social and enjoy spending evenings out with friends, full-flavored drinks in hand."
Premiumization/Innovation
That same DISCUS survey also found that 88% of consumers chose RTDs because the taste aligned with their favorite alcoholic beverage. In that same vein, 94% reported drinking RTDS because they offered their preferred flavor.
Additionally, and this is big, 82% of participants prefer RTDs because "they taste better than beer."
"This desire for the newest, most unique, and equally important, most convenient option inspired suppliers to stretch their creativity, delivering what consumers want while simultaneously creating new revenue streams," wrote Smith.
Innovation is one of the main reasons why Stone jumped into the segment. "Buenaveza and subsequently Buenavida and now Buenafiesta are flavor-forward, premium, and inspired by our San Diego roots and proximity to the Mexican border," wrote Smith. "We felt we could authentically step into the space with a tequila-based margarita under that brand family."
Smith reminds us that the entire goal of the Buena Brand Family is to "welcome new fans to Stone with innovations that work for their occasion," she wrote. "Buenafiesta specifically exists to celebrate the good life in an elevated way that reflects Stone's border-close hometown of San Diego."
In other words, RTDs simply offer a whole flavor palate that beers can't. Consequently, spirits are already perceived as a "higher-quality product."
According to IWSR, most spirit-based RTDs fall into the "premium-and-above" range, often double the price of malt-based products. And while in the past this has made spirits-based RTDs less attractive, price is no longer a significant concern for most consumers when weighed with the overall appearance of a super premium product.
How the Growth of RTDs Affects Breweries
While it may seem like the growth of RTDs lands outside the realm of brewing beer, it doesn't.
Not at all.
First, those folks no longer drinking hard seltzer are turning somewhere. And it's probably not to beer. More likely, RTDs are siphoning those Millenial and Gen Z drinkers looking for a better-for-you, beyond-beer alternative.
Second, look at where some of the biggest breweries around the country are spending their money.
In 2020, Sierra Nevada invested in brands such as Strainge Beast, a hard kombucha. While the brewery originally released Strainge Beast three years ago, Sierra Nevada recently announced plans to build a new 500,000-bbl facility focused exclusively on beyond-beer products like Strainge Beast or hard tea.
In 2021, Dogfish Head, which merged with The Boston Beer Company in 2019, launched its now award-winning canned cocktails. Calagione reported that Dogfish Head Canned Cocktails grew 55% in the last three months, outpacing the total spirits-based RTD Canned Cocktail segment.
Similarly, Boston Beer brand Truly rolled out its new Truly Vodka Seltzer last October. The cans include six-times-distilled premium vodka and real fruit juice for a new beyond-beer offering.
And in Southern California, Stone Brewing launched a tequila-based canned margaritas lineup under the Stone Buenafiesta Margaritas brand in late October 2022.
Additionally, all-RTD-focused brands have found success, with those like Sunboy Spiked Coconut Water winning Brewbound's 2022 Pitch Slam Competition presented by Ollie.
Basically, beyond-beer continues to go above and beyond.
What Are the Three Benefits of Creating RTDs?
Diversified Demographics
RTDs bring in different types of consumers looking for other drinking occasions. "It's an opportunity for fans who aren't interested in beer (or who may just want to mix up what they drink on any given occasion) to experience our brand," wrote Smith.
With Buenafiesta Margaritas, Stone can appeal to a different type of consumer while still keeping within the identity of the Buena Brand Family.
Similarly, Dogfish Head launched its canned cocktail line to appeal to its current consumer and attract new ones.
"We were able to tap into…our already-existing consumer base…while broadening our reach to other groups of drinkers," wrote Calagione.
Diversified Portfolio
In addition to attracting new consumers, Dogfish Head Canned Cocktails flexed the brewery's creative muscle, expanding its portfolio.
"[They've] allowed us to further showcase our off-centered way of thinking and reinforce our commitment to creating craft beverages with high-quality culinary ingredients," wrote Calagione. "They have also helped bolster our brand awareness and reputation as innovators in spaces beyond just beer."
Similarly, Stone's Buenafiesta Margaritas add a layer of complexity to the brewery's offerings.
"[It's] a new way to experience Stone's brand," wrote Smith. "Whether it's through a Buenafiesta Margarita, a hard seltzer, or an IPA, we hope people recognize the quality, consistency, creativity, and unique experience that comes with every one of our offerings."
Diversified Distribution
It also opens up new points of distribution in the on- and off-premise,
Investing in a line of RTDs could potentially open you up to new methods of distribution. Your products could be featured in a new type of store—supermarket, convenience store, retail outlet—and even in a new aisle of that store.
"It also opens up new points of distribution in the on- and off-premise," wrote Smith.
But Smith cautions that this also means you take on new challenges navigating tricky state-by-state liquor laws (see below for more).
The Seven Major Considerations a Brewery Should Make Before Investing in an RTD
All signs point to RTDs continuing to pick up steam. As a brewery, you should consider whether now might be a good time to invest in starting a line of RTDs.
But before you do, here are seven things you need to keep in mind.
Recognize the Laws
How and where you can sell RTDs varies from state to state. In many areas, the type of alcohol determines where you can sell an RTD. For instance, forty-seven states currently allow grocery stores to sell malt-based RTDs, while only thirty-one of those states allow spirits-based RTD sales at a supermarket.
And even in a state where spirits-based RTD sales are legal in grocery stores, the regulations can vary.
Rules and regulations for distributing a spirits-based product can vary from state to state, and they can be very different from the laws brewers are familiar with,
For example, in North Carolina, Alabama, and Pennsylvania, you can only sell spirits-based RTDs in state-run stores. Malt-based RTDs, on the other hand, can be distributed in multiple retail outlets.
And in Colorado, while around 2,000 supermarkets sell beer and malt-based RTDs, only thirty stores hawk spirits-based RTDs.
The laws in each state are constantly changing. Over the past four years, Iowa, Mississippi, and Michigan have all updated the legal ramifications around selling spirits-based RTDs in retail locations where you can also buy beer and wine.
Last year, Vermont announced a change in selling spirit-based RTDs. Previously, only eighty-two of the state-run retail outlets could market these products. Now, an additional 1,030 private beer and wine retail outlets can carry spirits-based RTDs.
These stringent liquor laws are the main reason Stone launched Buenafiesta Margaritas only in Southern California for the time being. "Getting it right is more important than doing it quickly," wrote Smith, noting the brand doesn't currently have plans to distribute further afield. "We are testing Buenafiesta in Southern California (the #1 RTD market in the U.S.) to learn as much as we can before expanding."
Even Dogfish Head, a beverage business with an extensive nationwide distributor network, had to do its homework before releasing its canned cocktails simply because of the varied, nuanced liquor laws in each state.
"Rules and regulations for distributing a spirits-based product can vary from state to state, and they can be very different from the laws brewers are familiar with," says Calagione, admitting even Dogfish Head is still navigating them. While their canned cocktails are available in most states, according to Calagione, they've yet to hit fifty-state distribution even a couple of years later. "We hope to get there in the coming years…so stay tuned!" he wrote.
The lesson here: Check with your lawyer or local liquor commission to understand the laws for distributing spirits-based RTDs in your state. If you can only sell a spirits-based product in a select number of stores, the juice might not be worth the squeeze.
If your state is pretty lax regarding where consumers can buy spirits-based RTDs, you could keep exploring producing these canned cocktails. But beware: If you want to expand to other states, you'll need to go through the whole rigamarole of understanding their liquor laws again.
Discover Your Differentiator
Much like craft beer; the RTD shelves are becoming increasingly crowded. What will make your brand stand out?
If you can carve out a unique differentiator and make that clear to consumers,
"Figure out exactly what your point of differentiation will be and make that incredibly clear to shoppers," wrote Smith. "It's getting increasingly hard for shoppers to understand what differentiates each of these offerings and why they should select one over the other. If you can carve out a unique differentiator and make that clear to consumers, I believe a beverage like Buenafiesta can stand out."
For Stone, the ingredients, the sourcing, and the use of real fruit really set this brand apart.
For Dogfish Head, it was adding two full-proof shots of Dogfish Head Distilling Co. spirits made from scratch into each canned cocktail. "There aren't many, if any, other spirits-based RTD brands that can make this claim," wrote Calagione. "It's also our use of high-quality culinary ingredients to create bar-quality flavor…[these are huge differentiators for us]."
Calagione continues, "My advice for breweries interested in entering the RTD space is the same as my advice for folks looking to start a brewery. The key to achieving success is creating products that are consistent, high-quality, and well-differentiated from competitors."
Do Your Ingredient and Spirit Research
When Stone decided it wanted to make a tequila-based RTD, the research came first. Smith noted that their team tried every ready-to-drink margarita they could find, studied trends on TikTok, and spoke with accomplished mixologists about what made the best margarita. "We also spent time honing in on which flavors people wanted most," wrote Smith. "We wanted a range that showcased the craftsmanship while giving consumers the variety they crave."
Ultimately, the brewery used premium tequila from a company in Jalisco, Mexico, that has been making tequila for more than 150 years and real fruit juice, including lemon, lime, pineapple, strawberries, and others.
"Our brewers carefully sourced all these ingredients themselves to bring their vision to life," wrote Smith. "Each margarita…is 12.5% ABV, equal to two cocktails in each 12oz can…[and] uses a wide array of premium ingredients, which results in some visually stunning colors, fresh real fruit, and real tequila taste."
Similarly, Dogfish Head's culinary approach to brewing drove their spirits-focused innovations. Using their Delaware-based restaurants as "test kitchens," Dogfish Head tests out new ideas for potential canned cocktails with real consumers. Along with the two full-proof shots of Dogfish Head Distilling Co. spirit, the canned cocktails include real fruit juice. Whether that's rum distilling over pineapple and oranges in the line's Pineapple & Orange Rum Crush; vodka distilled with honeyberries and macerated with strawberries in the Strawberry & Honeyberry Vodka Lemonade; gin with real lemon and lime juice in the Lemon & Lime Gin Crush, to name a few.
Using these premium ingredients has to be a factor in your recipe development.
At just the federal level, the excise tax on a 12oz spirits-based RTD at 5% ABV is more than two times that of a 12oz malt-based RTD at 5% ABV.
"Cost of goods (including taxes) is always a consideration, and it's important to us that we maintain the highest quality while minimizing how much of that cost passes onto consumers," wrote Smith. "We don't cut corners on ingredients to save cost if it risks quality, but we make smart choices so that we're not priced out versus competitors."
Smith notes that Stone ran extensive pricing analysis throughout their product development to assess the right suggested retail price.
You must understand that making a premium, high-quality RTD could cost you more on the backend. Are you equipped to handle that upfront investment?
Nail Your Production Process
Will you source your preferred spirit or distill your own? Both come with their own challenges completely outside the stratosphere of brewing beer.
Smith couldn't hammer this home enough. "Production, production, production," she wrote. "Many breweries don't have operational capabilities to either develop or execute spirit-based products. Understanding your options and the best route to hitting shelves is key."
Stone took ample time to try various tequila purveyors before landing on the right one.
One of the first steps was ensuring we had all the needed distillery equipment and resources to scale our cocktail production accordingly
Dogfish Head, on the other hand, distills its own. Everything from rum to vodka to gin.
"One of the first steps was ensuring we had all the needed distillery equipment and resources to scale our cocktail production accordingly," wrote Calagione, who also mentioned that it helped having team members on staff already well-versed in the art of distilling (remember the brewery has been making spirit for the last twenty years). "These are two big factors for breweries to think about as they consider adding spirits-based RTDS to their portfolios."
And it's not just the right equipment; you also need the right ingredients.
Be Selective With Your Spirits
If you decide to make a spirits-based RTD, the choice of spirit could be your most important decision.
According to that DISCUS survey, 55% of the 2,000 surveyed preferred spirits-based beverages to other RTDs.
In 2022, Gen Z consumers preferred tequila-based RTDs, according to IWSR, while Millennials most enjoyed whisky-based RTDs, the segment with the fastest growth.
Overall though, vodka-based RTDs recorded the most volume out of all spirits-based RTDs.
Vodka made up 20% of spirits-based RTDs in 2019, growing to almost 46% by 2021, according to IWSR.
The jump was big enough to overtake tequila-based RTDs as the leading spirits base.
Here's what the market looked like:
45.9% vodka-based spirits
33.3% tequila-based spirits
12.6% other-based spirits
8.2% rum-based spirits
Stone chose tequila as the base spirit for their Buenafiesta canned cocktails because it fell in line with their Buena Brand Family of beverages. But also because the brewery felt "tequila had great synergies with beer," wrote Smith. "It is plant-based with flavors derived by terroir, aging, fermentation, and geography."
Stone took their tequila selection so seriously that Smith likened it to sourcing hops, with brewers intensely trying different versions and learning more about the producers.
Eventually, Stone settled on a 150-year-old company with 1,000 hectares of blue agave farmland. "Of the tequilas we sampled, this one had the most character," she wrote. "It has a little bit of sweetness, some complex resiny character, and an agave flavor that came through in a really special way."
So paying attention to any of those three categories—vodka, whisky, tequila—will be in your best interest.
Price Appropriately
"Pricing is key," wrote Smith. Spirits-based RTDs are often considered premium products and cost more to make, but you also want to be competitive with other options on the shelf.
Pricing your RTDs can be a delicate balancing act.
"We didn't want to price ourselves out, but given the high-quality ingredients and strong ABV, Buenafiesta can command a bit more," wrote Smith. "We also have research that points to consumers being substantially more willing to pay for real spirits vs. malt. They can do the mental math around ingredients, ABV, and quality to understand why pricing can vary widely."
At the moment, you can find Buenafiesta Margaritas retailing for around $15 per 4-pack.
At Dogfish Head, Calagione indicated that years of brewing with higher-quality culinary ingredients worked in their favor when pricing their canned cocktails.
"Once drinkers see that we're crafting these cocktails with only the finest culinary ingredients, I think they understand why the cost is slightly higher than our competitors," wrote Calagione. "Not to mention, our canned cocktails tend to be slightly higher in ABV, with two full-proof shots of Dogfish Head Distilling Co. spirits in each can."
Currently, at Total Wine, a Dogfish Head Bar Cart Cocktail Variety Pack (which includes eight 12oz cans)—the best-selling SKU, according to Calagione—costs $17.99 for the consumer.
A single 4-pack, on the other hand, retails for $11.99.
Consider Your Packaging and Branding
You will often find many RTDs on the market in skinny cans. Dogfish Head took this approach with its Canned Cocktails to visually and physically separate them from the brewery's line of beers. "We also choose the skinny can format because we felt it conveys some lightness, a feeling mirrored in the flavor profiles…sessionable and easy to enjoy," wrote Calagione.
Stone went in another direction. "Many people associate the skinny can with beverages that offer perceived better-for-you benefits, or a hard seltzer brand being a category that put that shape on the map," wrote Smith. "Buenafiesta isn't either of those things and furthermore, we don't currently have the packaging capability to run skinny cans."
Ultimately, the RTD's brand identity should dictate the packaging you choose and where it fits in your portfolio.
Understand How and Where to Sell Your RTDs
As we already stated, convenience is one of the essential advantages of RTDs. That extends to how people drink RTDs and where they purchase them.
That same DISCUS survey reported that most respondents wanted their RTDs at easily accessible locations such as supermarkets, entertainment venues, bars, and restaurants.
Following that vein of convenience, folks are looking to pick up their spirits-based RTDs in places like grocery stores, convenience stores, or more prominent retail outlets like Target or Walmart.
"It's critical to understand your distributor network and state regulations," wrote Smith. "Depending on geography, launching a spirit may require developing entirely new networks. Do your homework!"
Adding a layer of complexity here, it also matters where you position your RTD in the store. The placement of Stone's Buenafiesta Margaritas varies from store to store, Smith told us, but typically you'll find them in the ready-to-drink section or near the beer aisle. But not in the beer aisle.
Similarly, for Dogfish Head, placing their canned cocktails in an area of the liquor store away from their beers made the most sense.
If you don't have an easy pipeline or connection to these more prominent retail-focused locations, creating an RTD might not be your best option.
What Is the Future of RTDs?
Here's the thing with trends: They come and go.
Cocktail culture isn't going away,
Could anyone predict that the hard seltzer bubble would start to burst and fizzle out a few years ago?
Maybe. But maybe not.
"Much like we saw in the past couple of years with the hard seltzer segment, I think RTDs will see an increase in competitors working to solidify a place in the category," wrote Calagione. "It's already a very competitive space with lots of options for drinkers, but I think those options are going to expand even further in the coming years."
So take everything we write here with a grain of salt (on a margarita rim), but it appears that RTDs are here to stay for now.
"I absolutely think the RTD segment is going to stick around," wrote Smith. "Cocktail culture isn't going away, and I believe the demand for convenience that was established during COVID will only grow stronger. Flavor will continue to be king, with brands that find the balance between classic and innovative winning share. It's going to be exciting to see how this category continues to develop!"