Ollie: Now Streaming on All Brewbound Podcasts
Published: July 16, 2023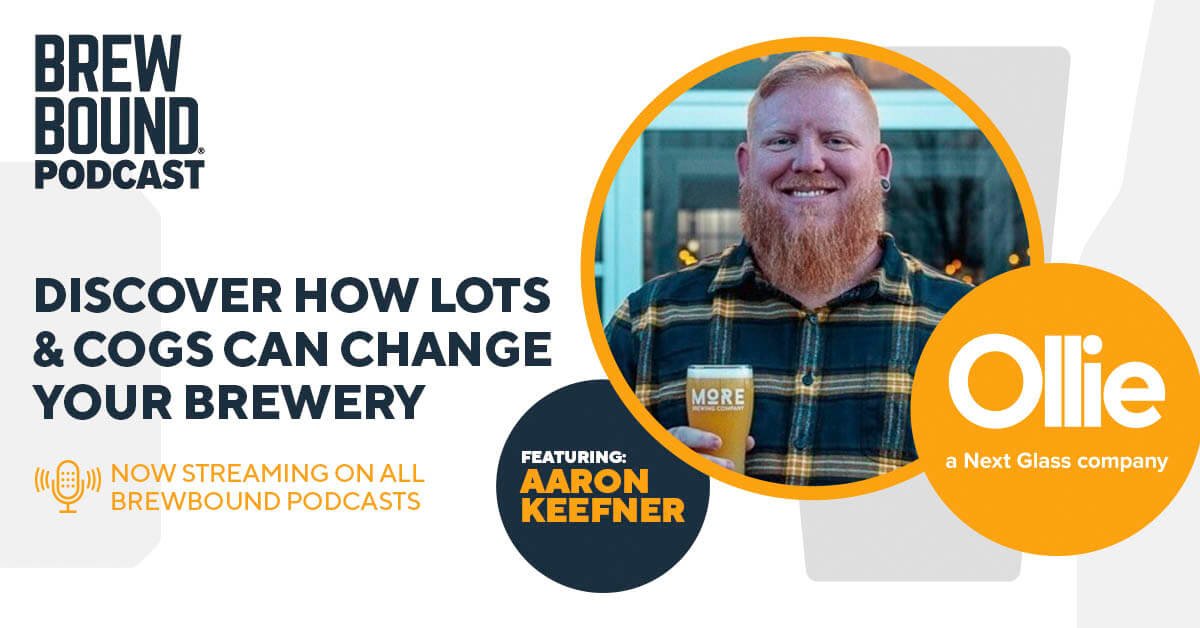 Better Production and Enable More Sales With Ollie
Discover how breweries all over are making operations a breeze and enabling more sales with Ollie!
Ready to learn more? Drop us a line and our team will be in touch with more information on how to check out a demo of Ollie.
Where can I listen to the Brewbound Podcast?
The Brewbound Podcast is a leading podcast highlighting conversations with leading beer executives, and entrepreneurs. This weekly content drop provides amazing insight for the professionals working within the beer industry.
You can easily find the latest Brewbound Podcasts on your favorite listening app or grab it directly from Brewbound.
Shipping Up to Boston for Brew Talks
Released Jul. 12, 2023
With Brew Talks taking place today (July 12), the Brewbound team previews the Boston event and shares why they're excited.
Justin then quizzes Zoe on her wants in a taproom experience after reviewing a listicle on the best breweries in Massachusetts.
The team also salutes Chicago's Funkytown Brewery for winning the Samuel Adams Brewing the American Dream Brewing & Business Experienceship.
The show wraps with a game of Another Round or Tabbing Out on Truly Hard Seltzer's zero gravity sweepstakes.
Who is the Craft Beer Drinker in 2023?
Released Jul. 6, 2023
The Brewbound team gives a quick overview of the Brewers Association and Harris Poll's latest craft beer consumer survey and plucks out a few key takeaways.
Plus, Justin and Zoe dish on a Lagunitas defection to Firestone Walker, decry Friday news dumps, and play Another Round or Tabbing Out on Bud Light's latest media blitz.
A Collab Beer to Rebuild Ukraine
Released Jun. 29, 2023
Wisconsin Brewing's Paul Verdu and Move Ukraine's Ken Shearer join the Brewbound Podcast to discuss the Move Ukraine collaboration beer project aimed at helping rebuild Ukraine.
Verdu and Shearer are seeking brewers to join the effort to brew a pilsner with sunflower seeds – the sunflower is the national flower of Ukraine. The duo share how the collaboration beer came to fruition, and why its mission is so personal to Verdu.
Plus, the Brewbound team discusses the latest news stories – including a July 4 preview from CGA and Monster's entry into hard tea – and whether Tucson, Arizona is a desirable retirement destination in Another Round or Tabbing Out.
Released Jun. 22, 2023
What's it like to attend a hard seltzer festival in 2023? Brewbound reporter Zoe Licata shares her first-person experience at Seltzerland in Boston.
Plus, BevNet spirits editor Ferron Salniker joins the podcast for the first time, detailing everything that went down at the Distilled Spirits Council of the United State's annual meeting.
Zoe and Brewbound editor Justin Kendall also run through the latest headlines, including more craft brewery CEO changes, this time at New Belgium and Lawson's Finest. Justin wildly speculates what Sierra Nevada founder Ken Grossman should do now that a top craft brewery exec hits free agency.
And the team plays Another Round or Tabbing Out on AriZona entering the hard tea war of 2023 against Twisted Tea.
A Legend Returns, a Cannabis Company Buys a Craft Brewery and Distributors Dish on Bud Light
Released Jun. 13, 2023
The Brewbound team breaks down the latest headlines, including Ken Grossman's return to Sierra Nevada as interim CEO, Bayou City Hemp's acquisition of 8th Wonder in Houston, and Wall Street analysts' survey of distributors that paint a bleak picture for Bud Light.
Plus, Justin and Zoe play Another Round or Tabbing Out on pickle hard seltzer.
Funky Buddha's Ryan Sentz on Buying Back the Florida Craft Brewery
Released Jun. 8, 2023
Funky Buddha Brewery co-founder Ryan Sentz discusses what it's like to buy back the business he and his brother KC sold to Constellation Brands in 2017.
Buying back the brewery has been a several-years-in-the-making process, Sentz shares. As Funky Buddha turns 10 years old, he also explores his vision for the company moving forward, the possibility of adding a distillery and why an independent seal won't be adorning the company's packaging any time soon.
Craft Beer Data Christmas is Here, Plus More Craft-on-Craft Deals
Released Jun. 1, 2023
The Brewbound team, along with Brewbound Weekend Insider newsletter writer Sean McNulty, reviews the Brewers Association's annual craft beer volume data. The team also discusses the latest craft brewery deals, including Funky Buddha and Appalachian Mountain Brewery returning to independent brewery status, and FX Matt buying the Flying Dog Brewery brand.
Zoe shares how the latest hard seltzers and canned cocktails were received over Memorial Day weekend. The gang also says farewell to Jess, as she goes on maternity leave (and promises to come back).