North Carolina Craft Brewers Guild Making a Name for Craft Beer in the Southeast and Beyond
Published: June 9, 2023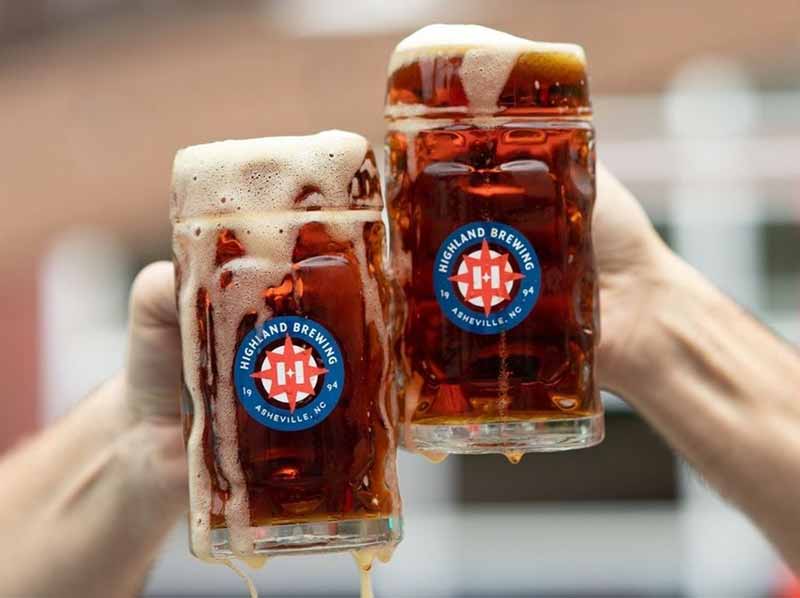 North Carolina has a reputation as one of the best beer states in the American South, boasting almost 400 breweries and brewpubs, the largest number in the region.
Within the state's borders, you'll find incredible breweries such as Bond Brothers Beer Company, Divine Barrel Brewing, Flying Machine Brewing Company, Fonta Flora Brewery, Heist Brewery, Hi-Wire Brewing, Highland Brewing Company, The Olde Mecklenburg Brewery, Protagonist Beer, Resident Culture Brewing Company, Salud Cerveceria, and Weathered Souls Brewing Company, to name a few. According to the Brewers Association, North Carolina ranks tenth in the country with 392 breweries in the entire state as of 2021 and eleventh in economic impact.
North Carolina has become a pivotal player in the brewing industry.
After all, there is a reason that major craft breweries such as Oskar Blues, Sierra Nevada, and New Belgium all opened up their own production facilities in North Carolina.
This makes the North Carolina Craft Brewers Guild's job incredibly important, striving to show not only the impact of North Carolina craft breweries on the Southeast but also the country and beyond.
As North Carolina Craft Brewers Guild Executive Director Lisa Parker says, "We want the world to know the greatness of North Carolina beer."
(Photography courtesy of the North Carolina Craft Brewers Guild)
Better Production and Enable More Sales With Ollie
Discover how breweries all over are making operations a breeze and enabling more sales with Ollie!
Ready to learn more? Drop us a line and our team will be in touch with more information on how to check out a demo of Ollie.
What Is the Mission of the North Carolina Craft Brewers Guild?
As Parker explains, the guild has a three-fold goal.
"We are here for advocacy—that's going to be legislative and regulatory; we're here for education—that is for a wholistic industry, reaching everybody from the brewer to the beertender to the marketing person, bookkeeper, or brewery owner; we are here for the promotion of North Carolina beer, ensuring that North Carolina continues to grow to one of the best beer states in the nation."
With just over 300 members, equal to seventy-three percent membership of all the breweries in the state, according to Parker, the North Carolina Craft Brewers Guild has become a beacon for many breweries in the state.
What Are the Goals of the North Carolina Craft Brewers Guild in 2023?
For 2023 specifically, Parker says the guild will focus on several areas, mainly about advocacy and legislation.
First, she says they're trying to make a technical correction that will allow production breweries to sell mixed beverages, namely cocktails. This change could be critical in an industry placing increasing importance on diversifying portfolios, selling more than just beer to attract a vast number of consumers.
Plus, the guild is working to ensure that the North Carolina Alcohol Beverage Control (NC ABC) has a fair process for renewing brewery permits. Last year, many breweries' permits lapsed without warning that they needed to be renewed.
"Now we're working on legislation to prevent that issue from happening in the future," says Parker.
Lastly, the North Carolina Craft Brewers Guild will work to provide additional funding for regulatory agencies—such as the North Carolina Department of Revenue and NC ABC—to help them implement electronic filing and streamlined reporting "because that's a tough issue for our industry," says Parker. "We're pushing to modernize the filing and processing procedures."
What Are the Benefits for North Carolina Craft Brewers Guild Members?
For those already in the North Carolina Craft Brewers Guild or those deciding whether or not to join, it's essential to understand the member benefits.
Parker says that, first and foremost, the North Carolina Craft Brewers Guild fights for legislation promoting the state's brewing industry. "It's not something as obvious as events we run or some of the promotional things we do, but it's really the meat and potatoes of why we're here, to protect this industry and advocate for its continued growth and modernization," she says.
The North Carolina Craft Brewers Guild acts as a collective voice for the beer industry in the state. "We hope that all of our breweries understand we are working on their behalf," says Parker.
The educational opportunities are another significant benefit of joining the North Carolina Craft Brewers Guild. Parker says the guild brings speakers from nationwide to talk with its brewers. For example, the guild recently announced that Dogfish Head Craft Ales Co-Founder Sam Calagione will be the keynote speaker at its annual conference in November.
"The level of education we provide is top-notch," says Parker, noting the guild also runs Brew Smart events or day-long educational seminars focusing on a theme. For instance, the first Brew Smart event in 2023 covered finance and reporting, the second brewery management, and the third coming up on June 12, 2023, will be on technical brewing.
Drilling down a level further, the North Carolina Craft Brewers Guild provides benefits such as shipping beer to major competitions like the Great American Craft Beer Festival and World Beer Cup for free.
"The beer arrives on time, arrives safe, and stays refrigerated the whole route," shares Parker. "We think that's a pretty big benefit."
From a business perspective, the guild also provides a variety of health benefits that member breweries can use in their businesses, including an NCCBG 401(k) program administered by Lincoln Financial; dental, vision, and life insurance and disability; a NexGen Employee Assistance Program + MeMD TeleHealth; First Benefits Workers' Compensation Insurance; third-party incident reporting; NCCBG Individual Contribution Health Reimbursement Account; and BioNetwork, a testing service for North Carolina brewers that allows guild members monthly lab assessments for their beers.
Beyond all these benefits, here are the significant events the guild has planned for this year.
The Five Can't-Miss North Carolina Craft Brewers Guild Events This Year
NCBeer Label Insanity Competition
One of the more unique programs put on by a guild, the NCBeer Label Insanity Competition allows breweries to win an award for their label designs.
Kicking off the North Carolina Craft Brewers Guild's event program in the spring, the label competition combines a panel of experts and people's choice through online voting and social media to find the highest-ranked labels in specific beer style categories.
Check out last year's winners here.
NC Brewers Cup Competition
A statewide beer competition for all its members, the NC Brewers Cup Competition typically gets over 900 entries, making it one of the largest state-run competitions in the country, according to Parker.
NC Beer Month
Every October, the North Carolina Craft Brewers Guild celebrates NC Beer Month. Partnering with Untappd, the guild incentivizes customers all around the state to go out and explore their local taprooms.
Offering an Untappd NC Beer Month Passport, the guild lets people check in using Untappd at a taproom. For every five check-ins, you get a badge, and every time you earn a badge, you're automatically entered to win a Beercation sweepstakes.
Although Parker said the guild is still deciding where the Beercation will occur this year, past locations included Asheville, Charlotte, and the Outer Banks.
NC Public House
The guild's largest fundraising event of the year, NC Public House, is a colossal taproom built from the ground up at the North Carolina State Fair. "Some guilds do festivals; this is our version," says Parker.
For all eleven days of the state fair, the guild welcomes over 20,000 visitors into the custom-built space, "introducing them to North Carolina craft beer that we bring in from the mountains to the coast," says Parker.
NC Craft Brewers Conference
Taking place every November, the state's premier industry conference, the NC Craft Brewers Conference, includes three days of educational sessions, networking, and shopping at 100+ vendors in a trade expo. According to Parker, this event is the largest craft beer conference.
This year will be even more exciting because the NC Craft Brewers Conference will celebrate its tenth anniversary.
How Can I Join the North Carolina Craft Brewers Guild?
If you're a brewery or brewery-in-planning in North Carolina interested in joining the North Carolina Craft Brewers Guild, it's pretty easy.
Just visit here to learn more