10 Most Popular Beers in North Carolina for the Last 90 Days
Published: July 26, 2023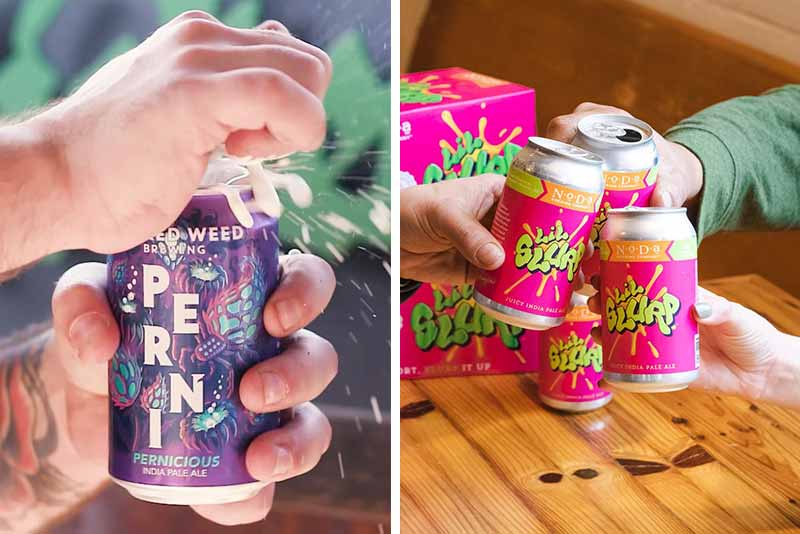 Ollie is a part of the Next Glass family of brands, which includes Untappd, Untappd for Business, Hop Culture, and BeerAdvocate, among others. With that in mind, we have access to vast data on craft beer drinkers on the world's largest social networking platform at our fingertips.
We can show you what beers Untappd drinkers consume the most in any given area, what styles are trending, and which are taking a turn downwards.
With over 10 million registered users, Untappd can easily tap into the trends and insights of drinkers in any city, state, region, and beyond.
Analyzing these behaviors and purchasing habits can help you to make crucial business decisions, including, but not limited to, what beers to brew next, what styles to stock on your shelves, or what beers to put on tap.
To show you the power of Untappd's analytics, we're breaking down the most checked-in beers in North Carolina over the last ninety days.
(Photography courtesy of @wickedweedbrewing (on the left) and @nodabrewing (on the right))
What We'll Cover in This Piece:
Better Production and Enable More Sales With Ollie
Discover how breweries all over are making operations a breeze and enabling more sales with Ollie!
Ready to learn more? Drop us a line and our team will be in touch with more information on how to check out a demo of Ollie.
North Carolina: The Tenth Most Checked-In Region on Untappd in 2022
Two years ago, North Carolina cracked Untappd's "Top 10 Cities of 2021" with two cities—Asheville and Charlotte. Both powerhouses in their own right, these cities have helped propel the entire state of North Carolina to the number ten spot with just over 1.7M check-ins in 2022.
For many years, Asheville ranked as one of the top beer cities in America, clocking in with the eighth most venue check-ins at 226.5k in 2021. Nestled in the western North Carolina Blue Ridge Mountains, Asheville has made a name for itself as a craft beer mecca with popular spots such as Burial Beer Co., Zilicoah Beer Co., Hi-Wire Brewing, and more.
Recently Charlotte has attracted renowned breweries like Weathered Souls, Hi-Wire, and Monday Night.
All make North Carolina one serious drinking state.
Here's a peek at what beers people have checked in the most in North Carolina for the last ninety days.
The 10 Most Popular Beers in North Carolina - Last 90 Days