Mocktails: Why Your Brewery Should Invest in a Non-Alcoholic Drink Program
Published: May 22, 2023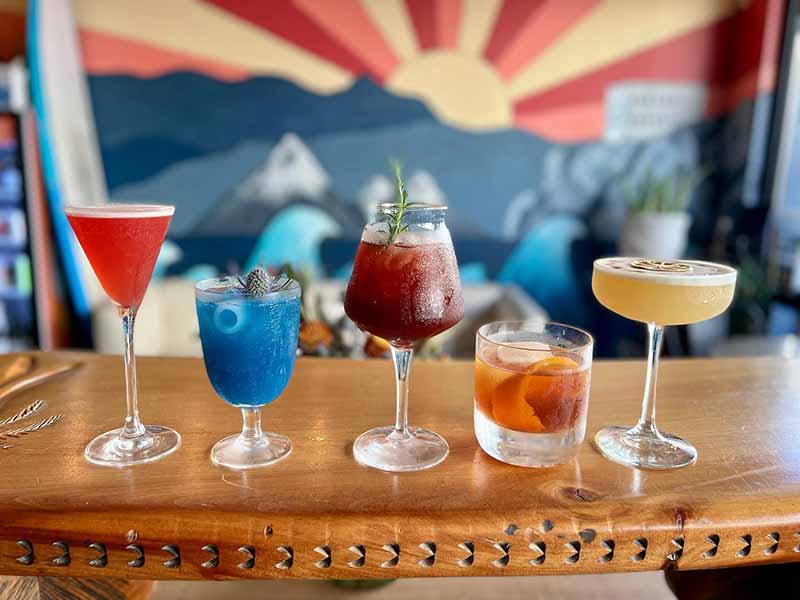 Sure, adults will always enjoy going out for a cocktail or beer now and again. But up-and-coming drinkers, especially Generation Z, continue to trend to a health-conscious, sober-curious approach. These folks are looking for alternative options like mocktails, or non-alcoholic cocktails, to quench their thirst for the drink without the guilt—or hangover in some cases.
According to NielsenIQ, between August 2021 and August 2022, total dollar sales of non-alcoholic drinks in the U.S. reached $395 million, a growth of 20.6 percent year over year.
As a brewery owner myself, there seems to be a more significant number of people coming into my establishment seeking non-alcoholic options. Undoubtedly, the same happens at your business in all corners of the country.
Although "Dry January" has risen in popularity, the mocktail market dips into the other eleven months of the year, continuing to gain traction, according to three mocktail-creating proprietors.
Owners of Austin, Texas-based Sans Bar, San Francisco's Ocean Beach Café, and San Jose's Fox Tale Fermentation Project advise that your brewery should invest in a mocktail program or risk losing out on welcoming in a new generation of drinkers.
Better Production and Enable More Sales With Ollie
Discover how breweries all over are making operations a breeze and enabling more sales with Ollie!
Ready to learn more? Drop us a line and our team will be in touch with more information on how to check out a demo of Ollie.
One thing that a mocktail is not, according to the three sources who spoke to us for this piece, is juice and seltzer water in a glass. Creating a non-alcoholic cocktail is a craft, and should be treated in the same vein as concocting a traditional cocktail recipe.
"Mocktails, for us, it's really intentionally crafted, non-alcoholic drinks for people to enjoy without feeling like they're missing out," Fox Tale Fermentation Project Owner and Fermentation Specialist Wendy Neff says.
Fox Tale Owner and Head Brewer Felipe Bravo emphasized Neff's "intentionally crafted" note and expanded on that to say mocktails are more than just throwing a few ingredients together.
"That's no better than a soda," Bravo says. "We're creators. We have the knowledge, resources, and availability to make something a bit more creative, and that's the avenue we're usually going for."
Sans Bar Founder Chris Marshall has built a solid non-alcoholic cocktail menu at his Texas-based business, which will open a second location. His view of the mocktail creates that success.
"I think a mocktail, or alcohol-free cocktail, is any beverage that's created with intentionality, complexity, [and] that has a spirit base most times," he says. "It's more than just juice in a glass. It's something that's thoughtful, intentional, and is created with sophistication and with the adult drinker in mind."
Joshua James, co-owner of the non-alcoholic bar and café Ocean Beach Café in San Francisco, is not a fan of the term "mocktail"—he prefers non-alcoholic cocktails—but he does have the same mentality as Marshall, Neff, and Bravo.
"The mocktail is a word that will still be used, and I think it should be used for sweet juice-based drinks of the past that a bartender will try to make on the fly and maybe begrudgingly," James says. "We now have these non-alcoholic spirits with super complex flavors, lots of adaptogens, and herbs and complex flavors, bold flavors for the adult palate, that make amazing cocktails."
The One Biggest Benefit of a Mocktail Program
One universal feeling by Neff, Marshall, and James when asked about the benefits of having a mocktail program at a brewery: inclusion.
"[It allows] something for everyone, and to make sure they feel a part of the club," Neff says. "We have a ton of people who don't drink alcohol and come here regularly because we have this."
Neff added that the mocktails give people the opportunity to enjoy different ingredients.
"It shows you care," Marshall adds. "As a risk mitigation strategy, you can say, 'we also offer this non-alcoholic option.' It's an easy way to add something new to your offerings."
Marshall says that the non-alcoholic trends are not going anywhere, so bars and breweries need to adapt.
"If you're still wondering if [the non-alcoholic trend] is going to be a thing … it survived the pandemic. It's going to be here to stay," he says. "Get with the times."
Marshall adds, "When you include it, people try it. That's the way forward. When I see a mocktail menu, even if it's not the best, I like the idea that they thought about me. To me, [adding a mocktail menu is] a no-brainer."
James says flatly that people don't get together over waters. Drinking is a social event—whether they have alcohol or not.
"Having a cool NA IPA or cocktail is a huge difference from water," he says. "Putting effort that translates to this plays a factor. Inclusivity is a big one. It shows you care about wellness, and you care about including people and their wellness, and you have a cool option for them."
How Much Does It Cost to Create a Mocktail Program?
Here's where the voices differ. Depending on your situation and what you're looking to build, it could cost a nominal amount to a couple thousand.
"If you already have a cocktail program in existence, adding on to that is super easy," Marshall says. "Because, in most cases, you're just doing a one-to-one swap out."
The Sans Bar founder says he is confident a mocktail program can be done with less than $2,000, which factors in the inventory and backups to all that shelf-stocking.
However, if you're starting from scratch and have to build out the bar and create a simple four- to six-drink menu that is still interesting for consumers, it would cost a little more.
"I think if you're gonna have a mocktail menu, don't just have a bunch of seltzer, lime, and sugar. You want to have really, mindfully crafted cocktails," Marshall says. "I'd say I could build that for $3K, easy, and that would be no problem at all. You can start that tomorrow."
James said building a mocktail menu at a brewery would be even easier than that because there is no need to worry about liquor licensing or any regulatory hoops.
"Sometimes you can just get one brand that has multiple flavor profiles, and you could get stuff done," James says. "It would cost you less than $100 to take people away from ordering a water or soda to getting a mocktail at $12 to $18 a drink."
Neff said it's hard to quantify how much Fox Tale's mocktail menu costs because everything is made from scratch. She says even with the expensive ingredients, the drinks only use a teaspoon to a tablespoon at most, so the cost is low for them—around $1 per drink.
"Overhead is minimal. Especially if they make a large batch of something, and it runs for a while. And it's a very affordable way to keep creative ingredients or keep a creative product," Neff says. "I think if you start doing things like buying prepackaged sodas to use or pre-made syrups or juices, that's when you're going to get more expensive because you're paying for something that's already made."
Three Examples of Successful Mocktails
At Fox Tale, Neff is the mastermind behind the mocktails—they call them Mock Tales. She says their most popular mocktail, by far, is their Nocturnal Dance.
Retailing at $8 for a thirteen-ounce pour, the Nocturnal Dance mocktail includes fermented strawberry, lemon verbena syrup, sparkling butterfly pea flower, violet, and rose tea. Neff makes the entire creation from scratch, carbonating it to order.
"It makes this very beautiful, like dark, botanical, refreshing drink," she says, adding she finishes with a rim made with preserved Meyer lemons "that literally everybody loves. Kids really enjoy it, but so does every adult that's ever had it."
Neff admits her process is "pretty intense" because of all the layers she puts into the mocktails, but it's with ingredients they have on-site that create the base of many concepts.
"In the end, you build this thing that's pretty complex, but you're able to sustain it by having each piece always available for you," Neff says.
For Marshall, he couldn't pinpoint a steady popular mocktail that moves on his menu; instead, he notes that the Sansgarita—a non-alcoholic margarita—is currently what's most popular.
Made from Ritual Tequila, Triple Sec syrup, lime, and agave, "[The Sansgarita] is super duper simple, but a great tequila-forward-tasting cocktail," he says. "And people really enjoy it."
Marshall adds that Sans Bar also has more inventive and creative drinks that move the needle for the consumers, such as gin-based cocktails that bring out the juniper notes, among others.
At Ocean Beach Café, James says the most popular drink from his viewpoint is the mocktail Destroyer of Bad Vibes.
The non-alcoholic drink contains numerous ingredients, including one called Pathfinder, like a fernet of the non-alcoholic world, which is bitter with notes of Douglas fir and sage, James says. The drink also has the botanical non-alcohol spirit Melati, with notes of herbs, flowers, cacao, and goji berries.
Additionally, James says they add orange bitters, aquafaba (a vegan egg white garbanzo bean juice), and top everything with soda water.
"It's a completely original flavor profile, and there's nothing that it tastes like in the alcoholic world," James says of the $18 mocktail. "There are functional ingredients. It's intensely flavored. And it's beautiful."
A Final Word on Crafting a Mocktail Program
Don't hide the non-alcoholic or mocktail options. Be upfront about it.
"Every single bartender right now is getting an insane amount of requests for non-alcoholic options at bars," James says. "And there's a bunch of people that aren't even asking. They're just looking at a menu and not seeing an option, so they're like, 'Okay, I'll get a soda.'"
James adds, "You just lost out on a $12 to $14 drink. That business aspect has got to be written down because if you don't put the option on there, [customers] can't choose it."
Marshall says that just having the non-alcoholic option adds twenty-five percent more sales, roughly, to the drinks ordered (if you sell a hundred cocktails, you'll sell twenty-five mocktails, he says).
But to do that, you have to commit to it.
"Give it time to work," he says. "If it's not on the menu, you can't say it's not working. Eventually, people will go somewhere else that has a mocktail option … Let it work before you decide it won't work."
Fox Tale makes a point to ensure everyone feels welcome when they visit. They do this by treating the non-alcoholic options like the drinks with booze in them.
"It doesn't need to be a big deal. Like, I never say, 'Hey, look at all this stuff if you don't drink,'" Bravo says. "I always recommend, 'Here are our non-alcoholic options, and here is our draft list.' No one should be treated like they're someone different for not wanting to drink."
And if none of that convinced you to start your own mocktail program, consider this stat.
"Non-alcoholic drinks generated $11 billion globally last year," Marshall says. "We're in a world where this is going to be a new norm, and you need a beverage program that includes mocktails."