Import all your orders from the top POS system in alcohol
Published: September 8, 2020
Import all your orders from the top POS system in alcohol Ollie Order has an importer tool that will make your weekly ordering task a breeze!
Our order importer tool is compatible with Barnet POS and Clear POS .csv export files.
To upload your .csv file with your orders, head to your Ollie Order Buyer portal and go to your Orders tab.
Click the Import Orders button in the top right-hand corner – you can either drag-and-drop your .csv file or you can click the Choose File option to find the file on your computer!
Press the Start Import button and Ollie will automatically pull all of the orders listed in your file 🎉
Once you click the Order Products button, the page will show you an itemized list of all the products you have successfully placed orders for.
Click on your Orders tab and you will see the orders populate by Supplier, listing each of the products you have ordered. It will also have an Imported tag on the order so that you can differentiate between orders you placed manually and those you uploaded from the importer tool. If you hover over this Imported tag, it will tell you which batch of uploads it came from and you can click the name to see the complete import list.
Important Notes:
✅ Ollie Order Importer will only pull orders for suppliers that are currently using the Ollie Order platform, and will only allow you to order products that are active: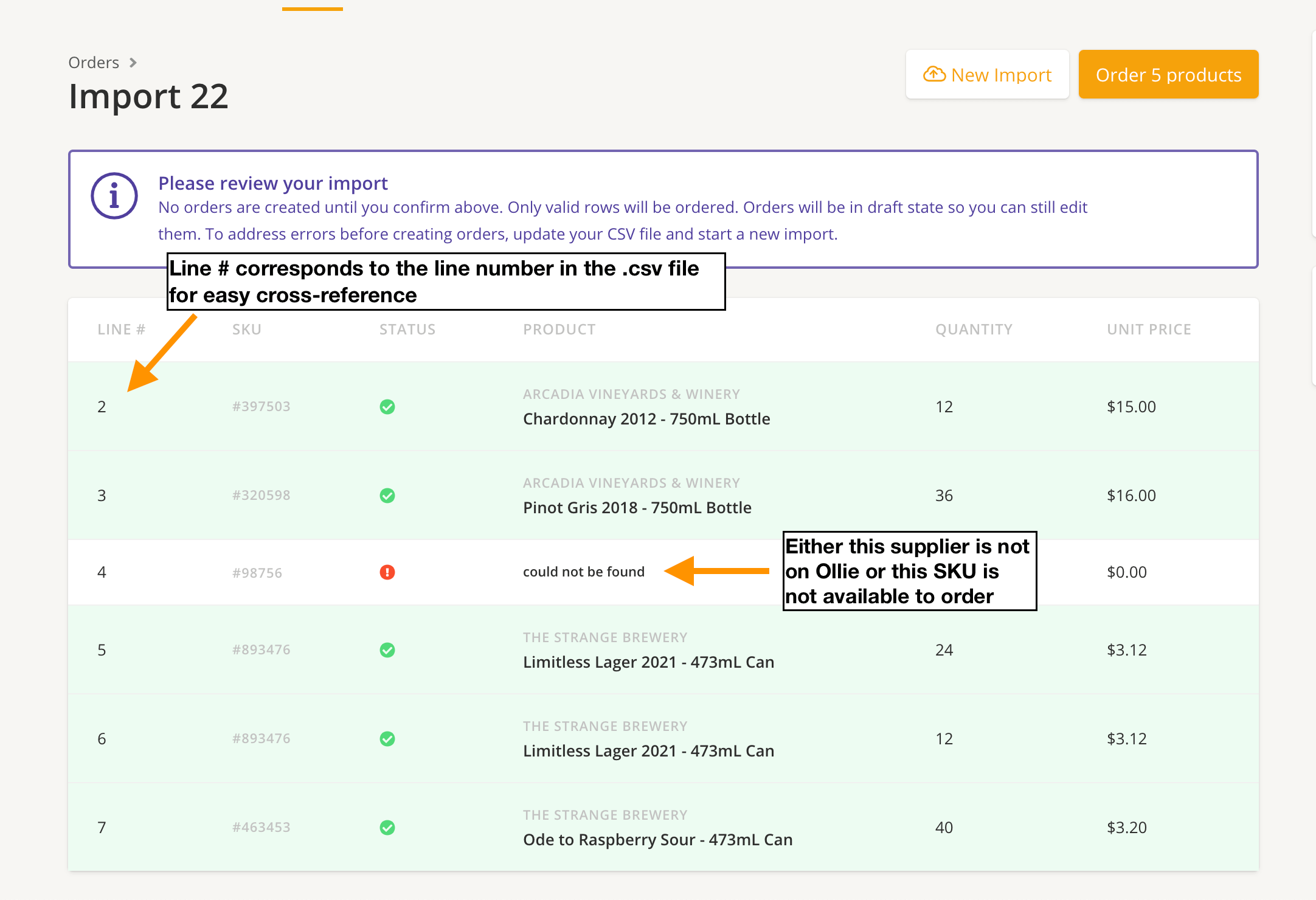 ✅ If you see the message Could not be found, such as the message on line 4 in the above screenshot, that means that either that supplier is not on Ollie Order, or that SKU is currently inactive. You can easily cross-reference this by opening up the .csv export file and matching up the line number from the upload page to the line number in the export file, as they correspond.
✅ Even if some of your orders could not be found, you can still order all of the products that were successfully found in our system without editing and re-uploading the .csv. Just click the Order # Products button at the top of the page!
✅ SKU number and quantity are the most important pieces of data for this import tool. You must at least have a SKU number, but if you do not have the quantity, Ollie will automatically pick the minimum order quantity for that product – i.e. 1 case of wine or 1 flat of beer.
✅ If you have multiple entries of the same product SKU, it will combine the order quantities into one total.
Ollie Tip
If you are a Barnet POS user, you can create Customer Groups so that you can easily keep track of your suppliers that are on Ollie Order. That way, you can export their orders in a .csv separate to those suppliers who are not yet on Ollie, and therefore their orders will not be processed in our system.
From the POS Manager, go to CUSTOMERS >CUSTOMER GROUPS
You can create a group titled "Ollie Order" and add in your Ollie suppliers