Imperial Stout: Experts Explain Wide Ranges to Create a Great One
Published: November 3, 2023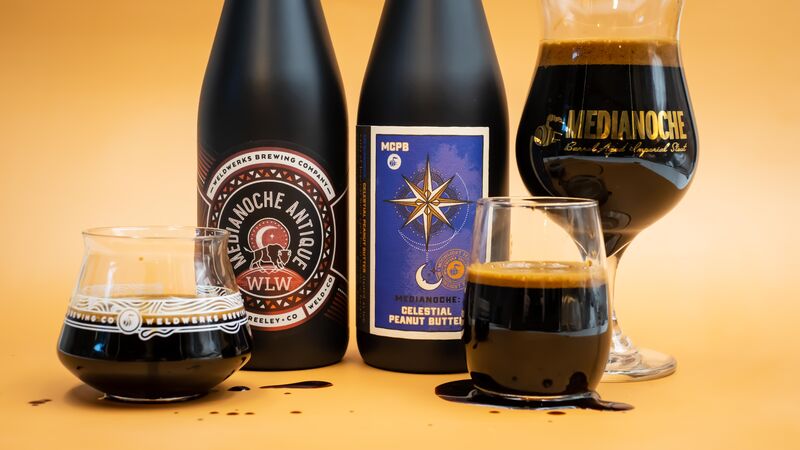 When it comes to imperial stouts in craft beer, it's go big or go home.
According to the previous two years of Untappd check-in data, imperial or double stout is among the top ten, with users checking in the style around 1,933,248 times in 2021 while landing at number seven on the list and 1,933,038 in 2022, jumping a spot to number six.
Stouts may never top the charts—dominated by IPAs for the foreseeable future—but they will always have a place in the industry.
Cerebral Brewing Co-Founder and Head Brewer Sean Buchan and WeldWerks Brewing Senior Director of Operations Derek Gold shared their thoughts on the top considerations, the things to look out for, and other vital processes brewers should be mindful of when brewing a quality imperial stout.
(Above photography courtesy of WeldWerks Brewing Co.)
Better Production and Enable More Sales With Ollie
Discover how breweries all over are making operations a breeze and enabling more sales with Ollie!
Ready to learn more? Drop us a line and our team will be in touch with more information on how to check out a demo of Ollie.
How Do Experts Define the Best Imperial Stout?
With imperial stouts, it's easy to lose yourself trying to achieve a higher ABV when concocting this type of beer.
"It's such a big beer and a big style, and it's easy to get out of bounds fast," Buchan says. "We're looking for that balance between body, sweetness, and roast and chocolate and umami. Depending on adjuncts, we like to add a little vanilla [too]; you have to keep it in check [and aim for] drinkability."
Gold says brewers can tend to get too roasty when piecing together an excellent imperial stout recipe and sides with Buchan, saying the final product should strive for balance.
It's such a big beer and a big style,
"We want something more approachable that stays away from the ashtray-type vibe," Gold says, noting that most of their imperial stouts are barrel-aged. "We showcase the roasty malts, but ones that trend toward the coffee, chocolate, and vanilla notes."
Gold says WeldWerks shoots for a great base beer, knowing that they will give their imperial stout many months aging in oak barrels which pick up additional characteristics.
Top Considerations When Brewing an Imperial Stout
Gold says the top item for him with imperial stouts is the grain bill, which he admits is complicated for their take on the style.
We try to stay away from too much roasted malts ...
"We look at eighty to eighty-five percent base to fifteen to twenty percent specialty malts," he says. "We try to stay away from too much roasted malts and lean toward the crystal malts and wheats and such. I feel a lot of brewers lean toward more roasted barley."
But Buchan cautions that you don't always have to overcomplicate things.
"More malt isn't always better," he says. "You don't need a bunch of crystal and chocolate malts to get the flavor you're looking for."
Instead, with imperial stouts, Buchan says pay attention to your hops and balancing bitterness.
"If you aren't using enough hot-side hops to create structure and bitterness—European chocolates give more roast and push bitterness—[your stout will trend sweet]," he says. "This bitterness can bring it all together."
Lastly, Gold emphasizes your yeast, making sure it's alcohol tolerant, highly attenuative, and neutral.
"People don't take attenuation too much into consideration," he says. "People think it's a normal ale and expect seventy to eighty percent attenuation. … We do a long boil, which caramelizes sugars, and that lessens the attenuation. We want a yeast to chew through complex sugars."
What Is an Ideal Imperial Stout Grist?
Buchan says that Cerebral's grist changes up a bit from batch to batch and also depends on whether they plan to put the imperial stout into a barrel.
"For non-barrel grists, we focus on base malt—either two-row or Maris Otter," he says. "Then flaked oats and unmalted wheat. We use a lot of English Crystal and English Chocolate malts and some roasted crystal malts."
Overall, when picking grains, Buchan stresses that you "be dedicated and dial that in," he says. "Do sensory on grains before using them. Chew malts and see what it's like; try it in small doses and build up from there."
Gold says they use seven specialty malts in their imperial stout grist. Among them, he says, are pale chocolate, from which you get more of a milk chocolate flavor, a small bit of roasted barley, standard chocolate malts, chocolate rye, midnight wheat, rolled oats, and several crystal malts. All the special malts vary in percentage, with nothing exceeding three percent.
"We're looking for complexity and nuance, especially since most are destined for barrels," Gold says. "We designed it to interact with the barrel. We want a complex base that picks up more nuance while in the barrel. I don't know if it's necessary, but it depends on what you want and need and the end goal."
Gold says WeldWerks is a bit unconventional with its approach to imperial stouts, doing two to three mashes with very little sparge water.
"We want to get as much sugar extracted as possible; we want to do all malt-derived sugars," he says, adding that they avoid using dextrose, lactose, or any other added sugars. "There's nothing wrong with adding sugar, but that's not what we do. We're aiming for viscosity and gravity."
What Type of Hops Works Best in an Imperial Stout?
As noted above, Buchan thinks bitterness cannot be forgotten when shooting for a well-balanced imperial stout. At Cerebral, he says they use high-alpha hops.
"We just go with the highest-alpha hop we have on hand," he says. "We do a first wort and a sixty-minute addition."
Buchan says the IBUs vary depending on what goes into the beer. When they use whole-bean coffee, which adds bitterness, the beer is around thirty-five IBUs before the coffee addition. When they don't add coffee, the IBUs in the beer are somewhere in the fifty to sixty range.
Gold says they, too, shoot for anything high alpha for hops. He says that their unconventional approach to imperial stout includes a twenty-four-hour boil (which they pared down from thirty-six hours).
"We add the bittering hop with about sixty minutes before we go to the whirlpool and shoot for fifty to sixty IBUs," Gold says. "Using roasted malts adds a perceived bitterness too."
What ABV Is Best for an Imperial Stout?
Gold thinks this style can run the gamut of ranges for ABV but should start somewhere around 8 to 8.5% ABV.
"The sky's the limit, though," he says. "Ours usually land between 10% and 14% ABV."
Buchan said there isn't necessarily an ideal range for an imperial stout ABV and that it all depends on your flavor profile, with higher percentages paired with sweeter takes.
"We do a bunch of imperial coffee stouts that are in the 8% to 10% ABV range," Buchan says, adding that most of their imperial stouts go through barrel aging.
Ours usually land between 10% and 14% ABV.
Two Great Examples of Imperial Stouts
Cerebral has a series of imperial stouts named Forever Awake. His favorite version of the series—Nola—is an 8% ABV beer with notes of coffee, vanilla, and fresh chicory.
"The chicory provides a nice balance and earthy bitterness, while the coffee and the vanilla round out the flavor profile."
WeldWerks has its Medianoche to hang its hat on. And why not? Gold says they built the brewery around the flagship barrel-aged imperial stout. In 2017, WeldWerks won gold at Great American Beer Festival for oak-aged stouts and has won medals at Festival of Wood and Barrel-Aged Beer as well.
"The beer has three mashes, extended boils, and all intentional to be savored and sipped," Gold says of Medianoche, whose 2022 version is 13.7% ABV. "Add in trying to find a wide breadth of oak casks from any famous bourbon or whiskey, and all that factors together to create a pretty special experience."