How Fresh Hops Can Invigorate the Brewing Process
Published: October 16, 2023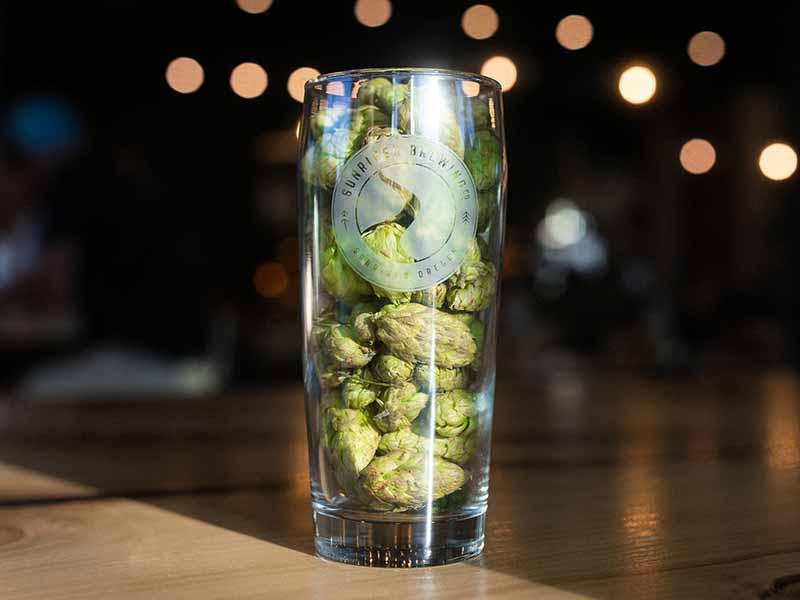 Brewing beer is essentially a controlled science experiment. We know all the variables that will help guide us from raw ingredients to a desired finished product.
Fresh hops throw a curveball. With no data and analytics on the hops picked this time of year in the Pacific Northwest—at least not until they've gone to a lab for testing—brewers play a guessing game.
How many hops do I put in? Which phase is the best to use the fresh hops? How bitter will this get?
But despite the unknown, with the new harvest comes excitement for brewers and breweries who use the fresh plants to concoct new beers. With so many variables at play when it comes to brewing with fresh hops, we heard from brewers at Formula Brewing and Sunriver Brewing to learn how they feel about making wet hop beers, what that brew day looks like, when they like to add in fresh hops, and why fresh-hop brewing is a nice change of pace from the routine process.
(Above photography courtesy of @sunriverbrewing)
Better Production and Enable More Sales With Ollie
Discover how breweries all over are making operations a breeze and enabling more sales with Ollie!
Ready to learn more? Drop us a line and our team will be in touch with more information on how to check out a demo of Ollie.
How to Game Plan for Your Fresh Hop Brew Day
Quite possibly, the most challenging thing about brewing with fresh hops is scheduling the brew day,timing everything just right.
You have a small window of time and two months of guesswork,
"You are to some degree at the whim or mercy of the farmer's pick schedule," Formula Head Brewer Jesse Brown says. "Leading up [to the harvest], weather can change and impact when they come out of the field."
Brown says he likes to do three fresh hop beers per harvest season using varietals at different waves throughout the weeks-long picking.
"Each year, I try to identify specific varietals I'm interested in using. I do one early, one middle, and one late in the harvest," he says. "What I'm hunting for is based on when it usually comes out of the ground historically."
Sunriver Brewer Josh Yoker loves using fresh hops each year. But that doesn't mean it doesn't come with a fair share of headaches.
"It's a nightmare to get it all scheduled out. You have a small window of time and two months of guesswork [leading up to the harvest]," Yoker, who has also brewed fresh hop beers at Project 9 Brewing, says. "Usually, especially in smaller breweries, you try to empty tanks to have it ready for fresh hops. You do what you can."
How Quickly Do You Need to Use Fresh Hops?
How about now!?
"Ideally, in a perfect world, the hop comes off the vine and goes straight in," says Yoker, based in Bend, Oregon, near many hop farms.
Yoker adds that some breweries are minutes away from a farm and can shoot over, pick some hops, and return to the brewery in no time to utilize the crop. Others, even in urban areas like Seattle, have a short window of about four hours to and from a farm to get fresh hops. But if you're farther out, you can still make it work.
"What we see now is fresh hops sent with overnight shipping," Yoker says. "There is some degradation, but it's not the worst. They carry through into the beer pretty well."
Brown says he has tackled using fresh hops in many different ways.
"You can have hops delivered to you, but it's a tight window. I would say twenty-four hours," Brown says. "Some people have done overnight [shipping]. You don't want the hops to get hot. You want to use them quickly [because] they degrade fast."
Fortunately for Brown, he is a short drive to a nearby farm and can use his hops as close to their freshest as possible.
"I'm lucky. I can be at the farm at 6 a.m. and in the brewery at 9 a.m., using the hops a few hours later," Brown says. "The sooner you can do it is ideal. The fresher, the better."
Top Considerations When Using Fresh Hops
Yoker points out several things to be mindful of when embarking on a fresh hop brew day.
"It's a raw ingredient. There's no lab testing, so you rely on guesswork and [senses]." Yoker says. "There's a real possibility it will not be what you expected."
Plus, the brew day itself will likely be a little outside of the norm.
"There's an added time to your brew day," Yoker says. "You're going to make a big, leafy mess, and cleaning that out before going home is a pain."
He adds, "But generally, it pays off. The beer comes out unique and special."
You have to plan, think ahead, and do your research ...
Brown notes that you must take precautions if you decide to drive a long distance to a farm and load up a van before heading back to a brewery.
"Roll your windows down and keep the A/C pumping," he says. "Hops are relaxing and will put you to sleep because of the oils."
In total seriousness, the critical consideration Brown says is in the preparation.
"You have to plan, think ahead, and do your research because you'll make your plans, and Mother Nature will change them," Brown says. "This happens to me every year. If you have a plan, it's easier to adjust those plans. You have to be able to swivel and be ready for anything."
Yoker also says to trust that the farmers pick the hops when they are fully ready to be harvested.
"Let [the farmers] run your schedule," he says. "Don't get stressed when you're three days off from your production date. It happens."
Brown says to dig deep to find the origin of the hops. The farmers typically will talk with you and share more information.
"The more you know, it's to your advantage," he says.
When in the Process Should You Use Fresh Hops?
For Brown, it's incorporating the hops in as many phases as possible.
"From experience, the more places you can put it in, the more complexity you're going to put in the beer," he says. "I like to use [the majority of] it post-boil, but I pepper it in everywhere I can. I might put ten to fifteen pounds in the mash, a little in mash out, and I might use them in the boil."
Brown adds, "Every way you could dream of using the hops on your brew day, I would tinker with it."
Yoker says he prefers fresh hops in the whirlpool or post-whirlpool.
"I get it down to 180 [degrees Fahrenheit] and drop them in with the mash tun," he says. "You get the most bang for your buck from them there."
He adds that he doesn't like to use them in the kettle.
"It can add depth, but I don't like the green vegetalness that comes from that," Yoker says.
Brown notes that fresh hops have so many variables and are generally unknown, and with the amount you use, you will most certainly get a bitter beer. But expecting that, you can game plan around it.
"Don't be afraid of the bitterness," he says. "Just tweak it to balance it out."
What Do Fresh Hops Cost Compared to T-90s?
Sometimes, it all comes down to green.
Even though fresh hops bring a unique twist to craft beer, and cost less per pound, you need to use a significantly larger quantity to achieve the same thing achieved with T-90 pellets.
Brown says that, per pound, fresh hops can go from $3 to $5 depending on the varietal. But that low cost is moot when you're hopping at twenty to thirty pounds per barrel on the hot side.
"Making fresh hop beer is expensive. It's not a cost-efficient endeavor," he says.
Yoker says the cost of the product varies on the hopping rate for him.
"I've done hopping rates anywhere from five pounds per barrel to twenty-six pounds per barrel," Yoker says. "You could go anywhere from making money to calling it a wash. I lean to calling it a wash."
You could use less hops, Brown says, but he feels most comfortable with twenty to twenty-five pounds per barrel, assuming it's for an IPA.
"Our pint cost goes up because of the incurred higher cost," he says. "But our customers expect it. It's ingrained in the beer culture."
Yoker says a big part of it is customer education. Generally, customers going to craft breweries are interested in the new products, especially ones you only make once a year.
"In the Pacific Northwest, people look forward to the fresh hop beer and are more willing to pay [more money per] pint," he says. "Being able to see true agriculture might help inform customers and let them behind the curtain a little bit."
What's the Best Beer to Make Using Fresh Hops?
Using fresh hops can be fun in many styles, but Brown thinks IPAs are where they excel.
"When I think of cutting-edge breweries making fresh hop beers and winning medals, these guys are putting in a real lot of fresh hops," Brown says.
I lean toward dry, crisp IPAs,
Yoker was born and raised in the Pacific Northwest and has been brewing in the area for over a decade, so there's one style he prefers, especially with fresh hops.
"I lean toward dry, crisp IPAs," he says, adding that he has also implemented fresh hops in a light pilsner. "Most certainly, being Pacific Northwest-raised, [IPAs] are what people look forward to with fresh hops."
Four Great Examples of Fresh Hop Brews
This is the most special time of the year. It's exhausting, more work, but the beers are so unique," Brown says. "Right now, I have two on tap, and they are the best sellers right now."
Those top sellers at Formula are Fast Dance and Psychic Hop Line, both IPAs. Fast Dance incorporates fresh Strata hops procured through Crosby Hops, he says. And Psychic Hop Line uses fresh Simcoe from Perrault Farms in the Yakima Valley.
Yoker also had two fresh hop beers top of mind: Bondi and Doug Said So. Bondi is a spin from Sunriver's core beer Bondi Beach Party, a San Diego-style IPA using fresh Strata hops.
"It's a light, showcase-the-hops beer," Yoker says. "It's killer."
Doug Said So, named after hop provider Doug Weathers at Sodbuster Farms, is an American Pale Ale with Talus hops.
"That has been killer this year," Yoker says. "It's a wild hop."