Could Hop Water Be the Next Big Trend in Craft Beer?
Published: February 3, 2023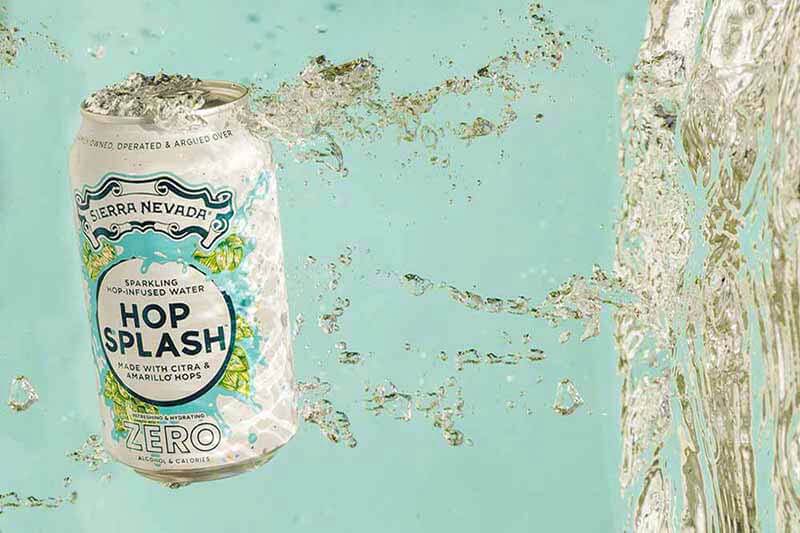 Just hops and water in a can or on draft, hop waters are a seemingly simple non-alcoholic beverage that have quickly made a huge splash in the NA craft category.
For instance, Sierra Nevada released its own version—Hop Splash—in early 2022, after almost two years of research and development. And Lagunitas has been a pioneer in the hop water category for the last four years, releasing Hoppy Refresher back in 2018.
With its small overhead, quick production time, and ability to use less raw materials, hop waters can be a profitable alternative to alcoholic beverages. For that reason, they should be a tool in every brewer's toolbox. Not sure how to go about brewing a hop water or where to start when developing a recipe?
We sat down with both Sierra Nevada and Lagunitas to find out why they both brewed hop waters, the advantages of this NA beverage, and the best way to go about brewing one.
(Photography courtesy of Sierra Nevada Brewing Company)
What We'll Cover in This Piece:
Better Production and Enable More Sales With Ollie
Discover how breweries all over are making operations a breeze and enabling more sales with Ollie!
Ready to learn more? Drop us a line and our team will be in touch with more information on how to check out a demo of Ollie.
It may seem like a hop water is just hops, water, and a little bit of carbonation. But hop waters are so much more than that.
... hop water is a really cool way to experience that pure hop flavor ...
"It's really a pure expression of hops and hop flavors that isn't masked by anything else," says Kyle Ingram, brand director at Sierra Nevada. "You don't have barley and malt components integral to beer, so for hop heads, hop water is a really cool way to experience that pure hop flavor and different varieties of hops."
Similarly, Paige Guzman, chief marketing officer at Lagunitas, which was one of if not the first brewery to release a hop water back in 2018, points out the ability of hop waters to truly express the flavors of hops. "Hop water is carbonated water infused with the flavoring of hops," she explains in an email to Ollie. "No grains are used in this brew, so it's 100 percent non-alcoholic."
All this means that hop waters are poised to make a big dent in a growing category of beyond-beer and non-alcoholic offerings.
The Recent Growth of Hop Water
Although still a nascent category (the very first hop water from a brand called H2OPS appeared on the market in 2014), hop water has already grown significantly.
Between August 2021 and August 2022, hop waters generated $5.5 million in sales, surging by 142.5% from the year prior, according to NielsonIQ's Off Premises data.
And here's a pretty eye-popping stat: The hop water category climbed to the fifth-biggest growing craft-style beverage in the U.S., with sales increasing by just shy of forty-four percent last year. Despite craft beer sales as a whole dropping by 7.2% based on Nielsen data through October 2022.
And just to give you an accurate picture of hop water's popularity, the styles that ranked above hop water included hazy imperial/double/triple IPA in first place, followed by hazy American pale ale, American lager, and hazy IPA.
That's a pretty significant accomplishment for a drink that doesn't contain any alcohol and isn't technically considered a non-alcoholic beer.
The Important Difference Between Hop Water and Non-Alcoholic Beer
You might want to group hop water in the same category as non-alcoholic beer. But according to Sierra Nevada, that would be a big mistake.
It opens up new occasions where NA beer doesn't play ...
In fact, although Sierra Nevada has been making non-alcoholic beers for a long time, they're way more excited about their hop water—Hop Splash.
Why?
"The challenge with making non-alcoholic beers is you're always taking something away," says Sean Lavery, VP of technical innovation and brewing at Sierra Nevada. "When you make a beer and then you run it through some process to strip all the alcohol away, it feels like you're dumbing everything down… It's hard for everyone to get super excited around that."
Whereas with hop water, you actually get to create a drink that is almost like the purest expression of hops. You can make the best version of a hop water and truly showcase the hops inside the can.
From a consumer perspective, hop waters are a product you can drink all day long.
"If you really love hops and want that hoppy experience at any time throughout the day, that is where [hop water] differentiates itself from non-alcoholic beer," says Ingram. "It opens up new occasions where NA beer doesn't play…times you are not even necessarily looking for an alcohol replacement but you're just craving hop flavor…that is still refreshing."
In other words, a hop water is something you can drink all day—morning, noon, or night.
"The thing that is really cool about Hop Splash is that it's something you can drink all day," says Lavery. "I haven't drank so much water since we made Hop Splash; it's probably been really good for my health, frankly, because it's something you can drink all the time."
Whereas drinking non-alcoholic beer in the morning although technically acceptable still has a bit of a social stigma around it. "It's weird to drink beers outside of a normal beer-drinking occasion," says Lavery. "The nice thing about Hop Splash is it feels like it can fit in so many other occasions. It's just a refreshing, sparkling, flavorful beer alternative."
Five Reasons Why You Should Consider Making a Hop Water
The fact that major players such as Sierra Nevada and Lagunitas have both released hop waters should tell you something about why it's worth exploring brewing one of these hoppy carbonated seltzers.
1. Diversify Your Portfolio / Be on Top of Trends
Brewing only beer isn't enough any more. The beyond-beer category is one way to diversify your portfolio, whether that's through ready-to-drink beverages, hard kombucha, hard teas, or non-alcoholic options.
According to the alcohol e-commerce site Drizly, RTDs within the spirits category gained +400% share year over year from 2019 to 2022 on the platform.
And in a survey performed on the site in October, forty-seven percent of respondents indicated that they would drink RTDs year round, regardless of the season.
Similarly, at this point, non-alcoholic beer isn't just another beer trend. In 2021, the non-alcoholic beer market in the United States recorded a revenue of nearly 5 billion U.S. dollars while the non-alcoholic beer industry generated 25.28 billion U.S. dollars in revenue globally, based on a report from Statista.
While hard seltzer has seen its time in the limelight dwindle over the last year, RTDs and NA options like hop water are just starting to shine.
"Non-alc continues to see significant growth and beverage categories continue to blur," wrote Guzman, noting Lagunitas is very energized by the explosion of the non-alcoholic category. "As we stay innovative with our brews and expand our offerings while staying true to who we are, we'll stay at the forefront of beverage trends."
Now is the time to hop on the bandwagon and develop a portfolio that has a little bit of everything for everyone.
2. Attract More Drinkers
More and more people are choosing to either moderate their alcohol intake or curb it all together.
According to Drizly, the share for non-alcoholic beer increased by forty-one percent on the e-commerce platform as of the end of October 2022.
Becoming a player in this space, whether with a non-alcoholic beer or a non-alcoholic beverage such as hop water, means you're opening up your brand to attract more consumers.
Whether they're simply sober curious, interested in a healthier lifestyle, want to moderate their drinking, or just love hops but are looking for something to drink any time of the day, these consumers interested in non-alcoholic options shouldn't be ignored.
If you are ignoring them, then you're potentially alienating a growing revenue stream.
That was the thought at Lagunitas. "The driver of all our innovations is that at Lagunitas we believe there is a 'seat at our bar for everyone,'" wrote Guzman, who pointed out that Hoppy Refresher has helped Lagunitas broaden its consumer base. "We are IPA, we believe in IPA, and we will always focus on IPA… So for consumers who don't want alcohol, we rolled out Hoppy Refresher that they can enjoy."
According to Guzman, Lagunitas Hoppy Refresher is showing strong organic growth of +73% vs. YA (Source: ACNIelsenFDMC+ Latest 52 weeks ending 6/25/22). "Lagunitas has a huge piece of the pie of the hop water category—we have sixty-seven [percent] share of the hop water style, accounting for over half of the category's dollar growth, per Nielson," she wrote, noting that Hoppy Refresher doubled in business in 2020 and 2021, growing at more than sixty percent.
Now more than ever consumers, especially Gen Z folks, are looking for a diverse non-alcoholic lineup of options. Hop waters often come packaged in cans or bottles looking very similar to a beer. Plus, they include hops, a key component of our favorite fermented beverage.
3. Profitable
Because of its quick turnaround time and small amount of actual ingredients, the margins on making hop waters are pretty reasonable.
"Hop water is very profitable being that you have less ingredients and it's a quick turnaround time," says Joe Shanahan, regional sales manager in the Midwest for Yakima Chief Hops, in a presentation on Hop Water for Craft Beer Professionals.
Since you have less overall overhead and use less raw materials when making a hop water, it also frees up your time and money to potentially be creative and trial a bunch of different versions.
Lavery does mention that a lot of variables go into the cost calculation including raw materials, labor, energy, shipping, price, capacity, equipment utilization, packaging, etc. So while it may not always be the easiest to make a comparison to the cost of brewing beer, "[the] bottom line [is that] we see hop water as a viable business option and as batch sizes grow hopefully because of consumer demand we can help make the production more attractive."
4. Explores Hops in a New Way
Hops—their flavor, aroma, and expression—are one of the most coveted ingredients to an American drinker right now. But hops don't need to go into just an alcoholic beverage.
Hop waters such as Hop Splash and Hoppy Refresher prove that hop heads can get their fix any time of the day without having to pop open a can of beer.
"We're not alone in our love of hops and we felt like there was a real market for our produce and we could do it in a way…that was consistent with our values," says Ingram. "We felt hop water was a great platform for us to experiment and find new ways to express even more hop flavor than we were able to achieve in certain beers."
5. Easy to Produce
Hop water isn't super hard to make and it essentially uses much of the same equipment you already have in house to brew beer.
You don't need to tie up additional tanks to make a hard kombucha per se or a sour, for example.
"This is a product you can make without having to sacrifice your brewing principles and still make something unique and truly craft," says Josh Wurzbacher, regional sales manager in the Mid-Atlantic for Yakima Chief Hops, in a presentation on Hop Water for Craft Beer Professionals.
Brewing a hop water isn't as easy as adding hops into a beer. You have to take everything into consideration, including when to add the hops, how to add the hops, what hops or hop combination to add, how long to keep the hops in the water, and more.
And it all starts with deciding on the hops.
First, Consider the Ingredients
In its simplest form, hop waters just include two ingredients—hops and water. Perhaps a bit of brewers yeast and, if you're looking to get creative, any type of fruits, spices, or botanicals.
But if you're looking to start with just a basic hop water, all you need are hops and water.
At Sierra Nevada, Hop Splash involves just that—hops and water.
But these aren't just any hops and water.
Lavery says their water, aka brewing liquor, has been adjusted for pH to "have optimal extraction, flavor, and balance."
And the hops are a combination of Citra and Amarillo.
Lavery and the brewing team worked for well over a year and a half to two years to perfect Hop Splash, trying all different kinds of hop combinations before settling on the two aforementioned.
But you really have the entire hop library of types to play with here—Cryo, whole-cone, pellets, even extracts and oils.
At Sierra Nevada, Lavery says the brewing team tried pretty much everything. "We played with all the different types of the way the hop comes—whole cones, pellets, lupulin, or cryo lupul—we played with all those different hop varieties and methods to see which one generated the flavors we liked the most."
Eventually they settled on whole-cone hops mostly because it's intrinsically Sierra Nevada and because the goal was to "capture that character so we're not bringing bitterness to the table and letting the hop shine through."
Which meant out of all the choices, Lavery recommends staying away from oils and extracts "because they tend to be really aggressive," he says. "For me it's like bug spray and not enjoyable to drink."
But other than that, it's up to you to play around with the variety of hop processes and see what works best for you.
And even then, Lavery recommends going as granular as identifying what you loved out of a particular hop lot and looking for that same expression in other lots. "It's critical to check the hop varieties we're using up front," says Lavery. "We're not just going to use this hop and this hop. That one particular lot could be so much more expressive than another lot… It's a particular type of character we're looking for in those lots they're expressing."
This is the fun part of your experimentation. Play around with all types of different combinations of hops, tasting along the way to find the versions that work best for you.
Once you have the hop combinations decided, there are essentially two main methods to brewing hop water. Both of which are provided by Shanahan and Wurzbacher in their presentation on hop waters.
Method One: Hot-Side Hop Addition
This method starts with adding your desired brewing water to the kettle before starting a boil.
"The goal from that is mostly deaeration and sterilizing," says Shanahan, who has worked at multiple breweries including most recently Lagunitas in Chicago. "This product is non-alcoholic, so it does need to be hyper sterile, free of microbes. There is no alcohol crutch to lean on for protection."
After the boil, lower the pH to 4.6 using either citric acid, lactic acid, or a combination of both. "This makes a shelf-stable product and helps prevent microbe growth," says Shanahan.
Next, you'll add in your hops and steep for anywhere from ten to twenty minutes or whatever you see fit. "It doesn't need to be an hour-long boil," says Shanahan. "But definitely something to blow off some of that oxygen."
The answer to how long you add the hops into your brewing liquor will differ for everyone based on your equipment.
"I would even say if I gave a time I don't know if it would work the same for anybody else," says Lavery.
What Lavery can share is that you don't want to leave the hops in the brewing liquor too long, "so you're not getting more of those vegetal-type, grassy characters."
Ultimately, Lavery says the best thing to keep in mind here is that you'll need to play around with the times to find what creates the flavor notes and bitterness level you're looking for.
In terms of the amount of hops, Shanahan recommends starting with one to two pounds and building from there. "If you're concerned that you're adding too much and there will be a lot of IBU carryover, the best way to mitigate that would be to bring [the boil] down to 165-170℉," says Shanahan. "That's still pasteurization temperature but not hot enough to bring out those IBUs."
After the boil, you'll knock out into the brite tank and scrub the beverage to "drive off as much oxygen as humanly possible," says Shanahan. "Oxygen is the enemy of hops…so reducing dissolved oxygen (DO) is key."
The last step will be to carb the entire beverage to a recommended 2.9-3.0 volumes of CO2. "I think the beverage does better as a hyper spritzy, effervescent beverage," says Shanahan. "It helps accentuate the hops more and ultimately it's what we want as seltzer water."
Really that's it.
Here are the steps for a hot-side hop addition
(Shanahan and Wurzbacher Presentation)
Add desired brewing water in the kettle
Heat to boil (helps with deaeration and sterilizes water)
Lower pH to 4.6 or below using citric acid or lactic acid (for stability and flavor)
Add hops in a hop sack to the kettle and steep for 20 minutes (lower temps such as 165 degrees will help mitigate IBUs)
Knock out directly to the BBT at chilled temp and begin carbonating to 2.9-3.0 volumes of CO2
If filtering, knock out the FV, crash, and filter to the BBT
Method Two: Cold-Side Hop Addition
The other method is a cold-side hop addition. "The biggest difference is you're not adding hops in the kettle at all," says Shanahan. "You still boil your water, sterilize it, drive off O2, and in this case knock out into a fermenter." You'll want to keep the temperature of the water in your knockout between 66-70℉. "You don't want it too cold for the hops to settle out too quickly, but you don't want it too hot either [to] change the chemical composition," says Shanahan.
From there, you need to immediately scrub the tank and drive off as much oxygen as possible.
Afterwards is when you can add your hops in what is, for all intents and purposes, a dry hop.
Here again, Shanahan recommends starting with one to two pounds per barrel of hops, but says that it's really about what you're hoping to achieve. "Do you want something more aromatic or something more subtle?" he says. "It's all an experiment, so I highly recommend messing around with it and seeing how it goes."
Keep the hops immersed in the water for at least one day but upwards of two or three. "Let it settle out like a normal beer," says Shanahan. If you have filtration equipment, this is a great place to remove all that hop material before sending everything to the brite tank to be carbonated and prepared for packaging or draft.
Here are the steps for a cold-side hop addition
(Shanahan and Wurzbacher Presentation)
Add desired brewing water in the kettle
Heat to boil to sterilize and deaerate water
Lower pH to 4.6 or below using citric acid or lactic acid (for stability and flavor)
Knock out water to the tank at 66-70 degrees F (18-21 degrees C); begin a CO2 scrub of water to reduce O2 in water
Dry hop tank with desired pounds per bbl (2 lbs per barrel is a general starting point); some brewers also "dry hop" with a package of yeast to help keep hops in suspension longer for optimal infusion
Leave for desired time (minimum 1 day)
Crash and begin dumping the cone
Filter/transfer and begin carbonating to 2.9-3.0 volumes of CO2
Four Pieces of Advice on How to Develop a Hop Water
A few pieces of advice from what the experts learned while running into their own challenges and hurdles along the way.
1. Make Sure You Separate Out the Hops
One of the biggest challenges for Lavery and his team was figuring out a way to separate out the hops from the water.
Normally, during fermentation yeast would settle out and drive a lot of that hop material to the bottom of the cone where you could blow and pull that material away. But because Sierra Nevada's hop water didn't have any yeast to help settle out that vegetative material, brewers were finding clumps of hops throughout their run.
For that reason, the team had to become very stringent about monitoring incoming turbidity and adjust flow rates to the centrifuge throughout the run rather than at the beginning and ends, like they would with a typical beer run.
Make sure you have a filtration method to pull the hop material away, "because if you sit on hop material for too long, you will get the bitterness and some of those grassy-type characters," he says.
2. Make Sure You Homogenize Everything
You want that water to touch every hop continually. This will ensure the most uniform distribution of flavor.
Sierra Nevada uses a process where hops are shot into the tank and circulated until everything is completely homogenized and held at a certain temperature to extract the best character and flavor.
According to Lavery, making sure every bit of the water is touching hop material is key to getting a uniform, clean flavor. It's pretty much the clearest piece of advice he could give to anyone looking to brew a hop water.
3. Make Sure Everything Is Super Clean to Follow FDA Guidelines
Since you're not making alcohol, yet you're working with an agricultural product, Lavery says microbial concerns are top of mind.
"You need really good brewing practices, being really clean with how [you] handle it," says Lavery.
Along with keeping oxygen out of the environment.
"You're not having active fermentation taking place that normally would naturally drive off oxygen, so you need to create an environment similar to what beer would be like to get that really good hop character and flavor," says Lavery. "Those are just good brewing practices from one step to the next and following things we do as brewers."
Additionally, because you're making a food-safe non-alcoholic product, hop waters actually fall under FDA guidelines. "Make sure you keep excellent logs and ensure you have the most sanitary brewing practices just in case of an audit," says Wurzbacher. "Especially if you're thinking in terms of distribution. If you want to distribute a product like this you need to ensure it passes all microbe tests, that it is an absolutely food-safe product."
Shanahan even goes so far as suggesting that you send the product out to be tested by a third party if you don't have the equipment in house.
Two key words here are certification and sterilization.
"We would recommend using separate hoses, separate gaskets, separate pump [and] you should caustic clean, acid clean, and sterilize your tank," says Wurzbacher. "Do everything in your power to make sure you are as hyper sanitary as possible."
We cannot stress this enough. If you are making a hop water, sanitation is absolutely key.
4. Make Sure You Taste Test Every Step of the Way
"Tasting every step of the way is the way to do it," says Lavery. Because Sierra Nevada played around with so many hop varieties, times, and temperatures, it was critical to take extensive tasting notes along every step of the way.
"We're like chefs combining things together to see how they perform," says Lavery. "We have all kinds of notes on different hop varieties, which ones work and don't work." (As a perk, Lavery says those notes have actually helped Sierra Nevada in its beer development as well).
Beyond their own notes, the team started putting different test batches with the latest variants in a kegerator in the office. Especially when they were testing out multiple combinations, they'd put on one versus the other and ask people for feedback. "It has been a fun way to approach it and everyone here is really excited…and hoping other people will pick some up and enjoy it too."
What Is the Future of Hop Water?
Basically, the future of hop water is already here, but "the category will continue to grow," wrote Guzman.
But if you're looking for hard numbers…
As we mentioned, Lagunitas Hoppy Refresher doubled in business between 2020 and 2021 and continues to grow at more than sixty percent last year.
"Hoppy Refresher reached high velocity with this incredible combination—insights of consumer needs, retailer and distributor white space, matching brand with Lagunitas, and simply the best delicious brew," wrote Guzman.
the category will continue to grow,
Based on the success of the original Hoppy Refresher, Guzman told us Lagunitas is currently working on releasing a variety pack that includes the original flavor and two new flavors—Blood Orange and Berry Lemon.
Sierra Nevada's Hop Splash has only been in the market for about a year, but the opening signs are very positive.
Ingram says whenever he's in the gift shop he sees employees and folks walking out with cases of hop water. Or when they host distributor meetings, Hop Splash is the number-one consumer product "because people are cracking one in the morning, cracking one at lunch, as an afternoon pick-me-up, or to moderate in between beers at the end of the night," he says.
The drinking occasions with hop water are just exponential and still a bit unexplored. "We're just scratching the surface of what this product could be, what it could achieve, and the role it could play in people's lives."
One thing is for sure though: Non-alcoholic beer is here to stay. And honestly, NA craft beer more specifically.
If we look at the total NA category, NA craft is driving the majority of growth there and that doesn't show a lot of signs of slowing down any time soon," says Ingram. "Just knowing that IPA is the dominant category within craft, obviously there are a lot of people out there who like hops and probably like to have more hops across different product verticals, different times of the day, etc. The future is bright not just for NA, but for hop water specifically."