Colorado Brewers Guild Helps Make Colorado One of Most Beer-Friendly States
Published: May 8, 2023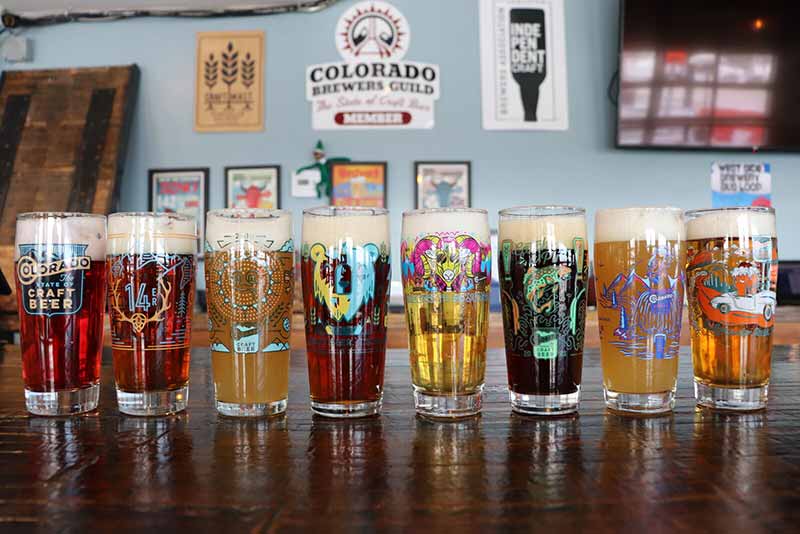 Colorado has a reputation as one of the best beer states in the entire country. And rightly so—Denver itself is home to one of the biggest craft beer festivals in America (aptly named The Great American Beer Festival (GABF)). And within the state's borders, you'll find incredible breweries such as Our Mutual Friend, Cohesion Brewing, New Image, Novel Strand, Outer Range, Primitive Beer, WeldWerks Brewing Co., and Cerebral Brewing, to name a few. According to the Brewers Association (which, by the way, Charlie Papazian started in Boulder, CO), Colorado ranks fifth in the country with 428 craft breweries in the entire state as of 2021 (it's probably even more now).
"People like to say craft beer is a part of our DNA," says Shawnee Adelson, Executive Director of the Colorado Brewers Guild. "There are certain things that define Colorado and one is craft beer. When people come here it's part of the experience they get."
Which makes the Colorado Brewers Guild's job that much more important. In fact, Adelson is one of the first guild directors we talked to who emphasized that one of the guild's goals is geared specifically toward promoting Colorado as a destination for craft beer.
Only a small two-person team, the Colorado Brewers Guild's work has had a big impact on the industry in Colorado, making it one of the most beer-friendly states in the entire country.
(Photography above courtesy of the Colorado Brewers Guild)
What We'll Cover in This Piece:
Better Production and Enable More Sales With Ollie
Discover how breweries all over are making operations a breeze and enabling more sales with Ollie!
Ready to learn more? Drop us a line and our team will be in touch with more information on how to check out a demo of Ollie.
What Is the Mission of the Colorado Brewers Guild?
Adelson likes to say "the guild protects, promotes, and propels Colorado craft beer."
Breaking that down, on the protection side, the Colorado Brewers Guild fights at the state capitol and with state regulatory agencies for favorable laws for "craft breweries to survive in Colorado," says Adelson, noting that the state's friendly beer laws are one of the reasons Colorado is such a great destination for craft beer.
From a media perspective, "We are the voice of craft beer for Colorado," says Adelson, who engages with media in traditional and non-traditional ways to promote Colorado as a craft beer destination.
To propel Colorado craft beer, the guild provides a wide variety of education and resources for its members, including a mini CBC-like conference every November and weekly emails covering industry updates, changes to laws, etc.
"Some members say it's one of our most valuable tools because we communicate so often with them and not just about the guild's doing; it's about what's going on and important to them as business owners in Colorado," says Adelson.
For instance, during the global pandemic, Adelson sent out emails daily illustrating the fluctuating laws and their impacts on breweries because oftentimes they were vague and unclear.
"Many of our members really appreciated that constant communication and clarification on what that meant for them as a brewery owner," says Adelson.
What Are the Goals of the Colorado Brewers Guild in 2023?
This year, Adelson says the guild has been working on two big initiatives.
First, the Colorado Brewers Guild received a grant from the Colorado Tourism Office to help the guild build better relationships with local destination marketing organizations (DMOs).
"It has been a great endeavor to get to know them and see how to better support them to be a voice for promoting craft beer in their communities," says Adelson.
For example, these DMOs helped promote this year's Colorado Pint Day, where Colorado Brewery Guild members release a special artist-designed glass for purchase at their taprooms across the state.
Adelson says this has been the largest Colorado Pint Day on record with more than 29,000 glasses going out to beer lovers. If we connect the dots, it seems like opening these communication lines has already been helpful.
"It's a two-way street," says Adelson. "What do they need from us and how can we help breweries communicate with them?"
Second, Adelson is part of a group working with the Colorado Liquor Enforcement Division (like the Alcohol Beverage Commission in other states) to review the entire liquor code and provide recommendations for next year's legislative season. "We've been actively following along and providing feedback…to ensure the laws stay favorable," says Adelson.
What Are the Benefits for Colorado Brewers Guild Members?
All told, a little over 300 breweries and breweries-in-planning make up the entire state guild.
According to Adelson, that number makes up about seventy percent of the breweries in the state, the highest percentage ever in the guild.
"At this point, breweries are seeing the guild as successful in advocating for them at the state capitol as well as putting on great fundraising events to provide exposure to them," says Adelson.
While the guild provides many benefits for all these Colorado breweries, one of the biggest is just "being a part of the community and having a united voice as Colorado craft beer," says Adelson.
To amplify that collective voice, the guild works tirelessly to advocate for breweries on a legislative level. "Breweries don't have time to be at the state capitol keeping tabs on all laws and changes," says Adelson. "They're entrusting the guild to represent them and keep an eye on changes for them.
Lastly, Adelson mentions an insurance program as largely beneficial to the guild's members. The guild helps breweries access any type of insurance they need, whether that's health insurance for their employees or property and casualty insurance for their business. "We've been able to save breweries money on…insurance that oftentimes is more than their yearly dues," says Adelson.
Membership to the Colorado Brewers Guild is $300 for the first year (and based on barrelage in future years) and includes all the following benefits:
Advocacy and representation at the state capitol and with the state Liquor Enforcement Division (LED) to ensure Colorado's brewing laws and regulations are fair and equitable.
Access to the Colorado craft brewing community through membership meetings throughout the state, informal networking happy hours, and brewery members-only Facebook group.
Eligibility to join the Brewers Insurance Cooperative of Colorado, a Colorado Brewers Guild initiative to provide breweries with affordable health, property, and casualty insurance options.
Option to participate in CBG events: Colorado Brewers Rendezvous, Colorado Pint Day, Collaboration Fest, and Lake Dillon Beer Fest. *These events are only open to CBG members*.
Weekly updates via email with important CBG and industry updates, event registration reminders, educational opportunities, and offers from allied trade partners.
Member pricing for CBG's annual trade show and conference, the Colorado Craft Brewers Summit.
Access the member dashboard and add up to 99 staff to your account.
Brewery profile listed on the CBG website (including logo, pictures, and information).
Option to join a committee or run for the Board of Directors.
A Guild logo tin tacker for your taproom.
License to use the State of Craft Beer logo on menus and packaging (signed agreement required).
Promotional efforts are provided through events, social media, traditional media, and fundraisers (where applicable).
Ability to vote in board elections and bylaw changes.
Beyond all these benefits, here are the significant events the Colorado Brewers Guild planned this year.
The Three Can't-Miss Colorado Brewers Guild Events This Year
Colorado Pint Day
Every year for Colorado Pint Day the guild provides breweries across the state with a specially designed glass to sell.
For the last couple of years, the guild hosted an art competition with a theme to find the winning design.
This year's theme was "the great Colorado Road Trip."
With over 29,000 glasses going out to about half the breweries in the state, this year's Colorado Pint Day was the largest in the guild's history.
"Most breweries ran out before 5pm," says Adelson.
With $1 from every glass sold going back to the guild, Colorado Pint Day is a great fundraiser, but Adelson says it's more than that.
"The goal is not just a fundraiser but to get people out to support their craft breweries," she says. "We can sell glasses online all day, but our point is to get people to go into the tasting rooms. Most breweries say it's their busiest Wednesday of the year."
Collaboration Fest
Hosted this year a couple of weeks ago, Collaboration Fest is the largest gathering of Colorado craft breweries in the country. "Even more attend [Collaboration Fest] than GABF," says Adelson.
The idea is that breweries collab on beers together even bringing in breweries from out of state.
"It's a great chance for people to work together and show community," says Adelson.
Colorado Craft Brewers Summit
The guild's largest educational conference of the year, the Colorado Craft Brewers Summit brings together brewers and industry leaders from around the state to take part in seminars and networking events, gaining valuable insight on important topics and meeting other folks in the industry.
"It's a driver for people to participate and learn," says Adelson.
How Can I Join the Colorado Brewers Guild?
If you're a brewery or brewery-in-planning in Colorado interested in joining the Colorado Brewers Guild, it's pretty easy.
Just visit here to learn more and fill out the sign-up form.