Why Two Breweries Used ChatGPT to Write a Beer Recipe
Published: April 24, 2023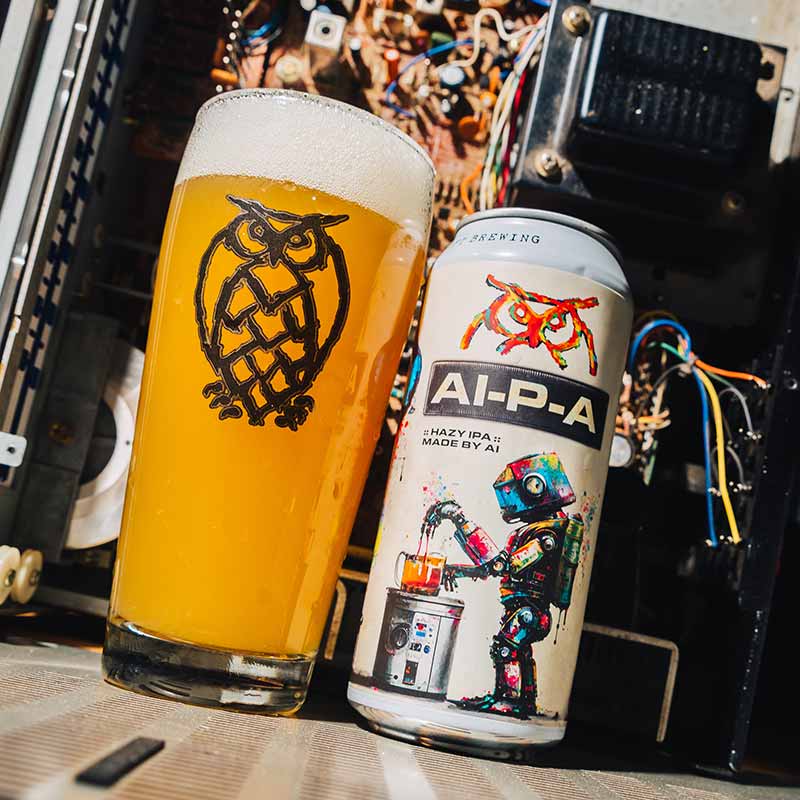 In November 2022, OpenAI released a new artificial intelligence tool called ChatGPT. Within just a few short months, ChatGPT has become the fastest growing 'app' of all time, attracting one million users only one week after its launch (good enough to beat the likes of Instagram and TikTok).
The incredible viral rise of ChatGPT has affected industries all across the world. You can use ChatGPT to find errors in written code, write an essay on a book, and even design a beer recipe.
Such as Atwater Brewery in Detroit, MI, which released Artificial Intelligence IPA in January, or Night Shift Brewing in Everett, MA, which came out with AI-P-A in March.
With more and more people testing the waters of ChatGPT daily, even in the beer industry, the technology begs the question: What is all the fuss about? Is the hype real? More importantly, how are brewers and breweries using artificial intelligence, and is it worth trying?
(Photography courtesy of Night Shift Brewing)
What We'll Cover in This Piece:
Better Production and Enable More Sales With Ollie
Discover how breweries all over are making operations a breeze and enabling more sales with Ollie!
Ready to learn more? Drop us a line and our team will be in touch with more information on how to check out a demo of Ollie.
A natural language processing tool, ChatGPT uses AI technology to converse with a user to solve problems, answer questions, and perform tasks.
ChatGPT can help you with things as essential as writing an email, essay, social post, or press release and even more complex things, such as designing a beer label, coming up with a beer name, or even writing a beer recipe.
You can use this technology for free, so the possibilities of ChatGPT can stretch as far as the human (and we suppose robot) mind can think.
How Is the Beer Industry Using ChatGPT?
We've seen a few examples so far of breweries using ChatGPT.
Atwater Brewery in Detroit, MI, claims to be the first to write a beer recipe using ChatGPT.
At the end of a Monday morning staff meeting, Atwater Quality Manager Joe Platt proposed an idea. Over the weekend, he messed around with ChatGPT, prompting the AI technology to write an IPA recipe.
Platt asked if they could give the recipe a go.
"That particular week, we had tank space, so we did it," says Atwater Brewery President Katlyn McBrady.
Atwater Brewery released Artificial Intelligence IPA in January to much fanfare.
"It gave us something fun to talk about," says McBrady. "ChatGPT is a really on-trend story to tell right now. If we're behind the bar at our taprooms, we tell the story because it's cool, relevant to consumers, and timely from a pop culture standpoint."
Plus, the beer tasted great too. According to McBrady, since launching, Artificial Intelligence IPA has been a top-five bestseller in Atwater's three taprooms.
At Night Shift, co-founder Michael Oxton had a similar experience.
"We're a group of [tinkerers] and experimenters; like many brewers and small business owners, we like to experiment with what's out there," he says. "We've identified a core value of our business is innovation. We realized that's in our blood: How do we innovate and experiment in fun ways?"
So one night, Oxton messed around with ChatGPT, thinking, because he was a brewery owner, why not ask it to make a beer?
The resulting recipe turned into AI-P-A, a 7.5% hazy created with artificial intelligence that generated a ton of buzz.
"The beer wouldn't have been interesting to anyone if this wasn't an interesting topic," says Oxton.
Of course, it wasn't as easy with both of these recipes as just asking ChatGPT to write a beer recipe. Although, that is a good place to start.
How to Write a Beer Recipe With ChatGPT
The core of ChatGPT's technology lies in having a conversation with a robot that has access to known sources of information across the whole World Wide Web.
But you need to ask the right questions to get the right answer.
Initially, Oxton asked ChatGPT, "Can you please write me a beer recipe?" The robot spit back "a fairly standard but useable IPA recipe," he says. "Wow, what it just gave me is something I used to crave when I was a homebrew looking for a good recipe."
Oxton says what impressed him the most was the depth of the recipe. "It wasn't just like these are the ingredients," he says. "It showed the number of ingredients, when you should add them, do this afterward… It wrote [the recipe] as if I was a homebrewer."
Which fascinated Oxton. But of course, he's not a homebrewer anymore, and that recipe would never work at a production-level brewery such as Night Shift.
Similarly, Platt at Atwater ran into the same challenge.
When he originally asked ChatGPT to write an IPA recipe, it gave him a homebrew-sized one. Platt had to take the extra step to ask the robot to scale up to the size of their brewing facility.
For Oxton, he wanted to see how far he could push this new technology.
So he asked: "If you owned a brewery and released a beer, what would you make?"
The robot responded, "Oh, I would make a hazy IPA."
"Great! Why?" Oxton queried.
"That's a popular style, and I think that would sell well," ChatGPT answered.
Of course, Oxton next asked the AI technology to write a hazy IPA recipe.
He says it churned out a reasonably nice recipe but with old-school hops like Willamette and Chinook. "It nailed the hazy part but gave me some hops that, eh, I don't know if I'd use those in my perfect hazy IPA recipe," says Oxton.
He refined his request. "Can you modernize the recipe?" Oxton quipped.
At that moment, Oxton convinced himself that ChatGPT would fail.
But ChatGPT answered, "Sure, let's update this with some of the more hype-driven hops that are popular these days with certain breweries on the East Coast, like Galaxy and Idaho 7."
"No shit, that's amazing!" Oxton thought.
From there, Oxton worked back and forth with ChatGPT for over half an hour to refine the recipe before emailing it to Night Shift Head Brewer Joe Mashburn to ask what he thought.
"Damn, that's a nice-looking recipe. We could totally do that," Oxton says Mashburn emailed back, asking where that hazy idea originated. "It came from a robot, which is nuts!"
The Best Tips for Working With ChatGPT
Although the entire process from the first to the final recipe only took Oxton a couple of days, he did mention that the exact questions you ask ChatGPT are essential.
"You don't usually get what you're looking for after one prompt," he says. "I will always think about what could I have asked instead, or what are three things you'd improve on my previous prompts? Or what things should I be thinking about but I'm not?"
Forcing ChatGPT to question what you're doing feeds its logic back to itself and "creates an interesting creative loop," says Oxton.
Don't give up because you asked one question and got a simple answer back. For instance, Oxton says that at one point, he had to tell ChatGPT what hops to exclude from the recipe because it included some he knew Night Shift couldn't access easily.
Working with ChatGPT has to be a two-way conversation.
If Platt or Oxton had stopped writing a beer recipe just because ChatGPT shot back a homebrew-sized recipe first, they never would have created real-life beers.
"Try asking the question in a different way or ask it what you should be asking because it almost always gives you a pretty good suggestion," says Oxton. "The biggest thing is being thoughtful about your prompts because the output is driven by your input."
What Other Ways Can Breweries Use ChatGPT?
Night Shift went further than just designing a recipe with ChatGPT. Committed to the technology, Oxton also asked the robot to generate a beer name.
"I came back and said, alright, we're going to brew your recipe; hope you're pumped, robot," says Oxton. "Now, let's work on a beer name together. What are ten names for this beer?"
As Oxton tells it, ChatGPT came back with some pretty common ones such as "Hazy Paradise," "Tropical Dreams," and "Citrus Heaven."
Not too impressed, he challenged the robot to generate names that reflected a beer made by artificial intelligence.
Listing ten more, ChatGPT came up with AI-P-A.
"Damn, that is the best possible name you could come up with for this beer," says Oxton. "What the hell? That's wild!"
Taking things further, Oxton asked ChatGPT for various art prompts to design the label. Oxton fed the different words and descriptions the AI tool gave him to another AI software called Midjourney to create the beer can art.
But Oxton emphasizes that a human hand was still heavily involved in crafting the final design. He went into Photoshop, took all the different AI images, and put them together to make a nice well-crafted label, building his own wordmark and more.
"AI made the label, but it was more human-made, while AI was a damn helpful tool," says Oxton.
What Two Breweries Learned From Writing a Beer Recipe With ChatGPT
Overall, both Night Shift and Atwater agree that while a fun experiment to write a recipe with ChatGPT, they don't see it as a sustainable long-term model at a brewery.
"Making a nice hazy IPA recipe isn't rocket science," says Oxton. "But it was a nice shortcut if I need one quickly because it was unique and gave us interesting ideas."
Oxton says that ChatGPT is more of a "tool in the tool kit," he says. "It didn't give us a recipe that our head brewer or even any good brewer couldn't make…but if I were in a pinch and didn't know how to brew beer, it would be really helpful."
Luckily, as Oxton reminds us, Night Shift knows a lot about brewing beer. "It didn't give us any information or reveal anything impossible to know, or we didn't know anyway."
Likewise, Atwater loved capturing a moment in modern culture but doesn't see ChatGPT becoming a permanent recipe writer.
"At the end of the day, we have brewers employed here whose livelihood is brewing really great beer," says McBrady. "It has been fun, but ChatGPT doesn't hold a candle to the recipes our talented brewers have created at Atwater since day one."
For Oxton, while he emphasizes the beer turned out as a great, juicy, hazy IPA, it wasn't the best beer ever made just because a robot assisted him. "I see some people try it, expecting it to be mind blowing, and they're like, 'Oh, this is a good IPA,'" he laughs. "And I'm like, yes, it doesn't have superpowers!"
The Future of ChatGPT in the Beer Industry
While both Night Shift and Atwater have no more plans to write beer recipes with ChatGPT, the former sees the value of using ChatGPT in other ways.
Oxton says at the most basic level, Night Shift's marketing team now leverages ChatGPT to develop rough draft ideas for copy, brand positioning, and inspiration. And he'll continue to use AI to help him build art, but he doesn't see any real value from a recipe-writing perspective.
Instead, on the brewing side, he would be curious to test ChatGPT on a more complex level.
For example, Night Shift's Head Brewer Mashburn could ask: "Hey, I'm thinking about brewing a bock, and I'm between these three yeast strains, give me the positives and negatives of each one," says Oxton.
Or, as Oxton says, he could prompt ChatGPT with this question: "Here is the price on various hops we're dealing with, and I'm trying to nail down the dollars per barrel cost on this recipe at this target. This is the cost of my malt, the cost of my yeast, and the cost of my hops. Can you help me get under my target?"
Using ChatGPT to write a recipe isn't all that helpful. In the future, brewers and brewery owners need to think about how they push the limits of this new robot.
"Maybe writing a recipe that isn't that hard to make was one of the most boring things we could do with ChatGPT," says Oxton. "But we ended up learning a lot about its capabilities."
How Can You Get Started With ChatGPT?
If you're interested in testing the limits of ChatGPT in your brewery, it's super easy to get started.
To use ChatGPT, simply visit chat.openai.com to make an OpenAI account.
Once set up, you can start asking ChatGPT any questions to get a conversation going.
That's all it takes.
Now the only question is: What question will you ask it first?