Industry Experts Share How to Keep Canned Beer Fresh for Distribution
Published: June 26, 2023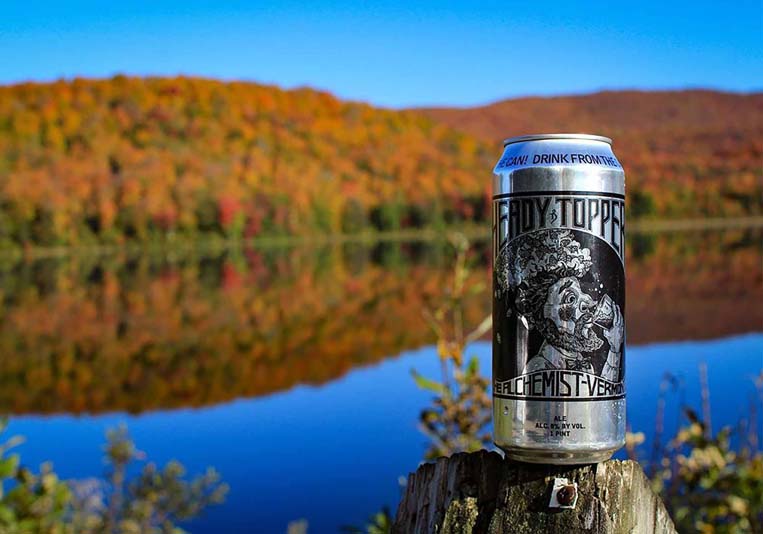 As a brewery owner, distributing locally, regionally, or to states nationwide is a great way to stretch your brand recognition, as well as build up your business.
But when you distribute canned beer, you have to deal with many variables to keep the beer as fresh as possible and taste as you intended. The shelf life of beers, while there are methods, such as using a flash pasteurizer, to improving it, isn't extensive—especially when talking about styles like hazy IPAs or Cold IPAs, among other hop-forward beers.
Industry experts at The Bruery and The Alchemist weighed in on best practices to maintain a quality product while sending canned beer out of your brewery.
(Photography courtesy of The Alchemist)
Better Production and Enable More Sales With Ollie
Discover how breweries all over are making operations a breeze and enabling more sales with Ollie!
Ready to learn more? Drop us a line and our team will be in touch with more information on how to check out a demo of Ollie.
The Top 3 Considerations When Canning Beer for Distribution
Fresh beer is the name of the game with craft beer. Especially with IPAs.
For The Alchemist, who mostly just distributes its well-known beers like Heady Topper and Focal banger in the state of Vermont (with occasionally out-of-state drops), there's a litany of things to consider as you can your beer. Operations Manager Joel Hartman boiled it down to three things they believe to be most important—but all go back to freshness.
"The top three [considerations] in my mind related to freshness are reducing dissolved oxygen, ensuring correct seal in the seaming process, and stringent cleaning procedures of all equipment involved in packaging," Hartman says in an email. "A brewery needs to invest in a solid packaging team to achieve tight control on these items, especially in a craft brewery using 'micro' packaging systems."
According to Hartman, "All the hard work that goes into getting the beer from raw ingredients to package-ready can be destroyed in an instant with poor packaging practice."
You need to start by taking every precaution to limit oxygen in the beer.
"The way you package your beer, the equipment you're using, and how good your seamer is is really important," says The Bruery Brewing and Cellar Manager Justin Radel. "If your packaging is really low oxygen [that's ideal]. You're never going to get rid of all of it. It's virtually impossible to get rid of all the oxygen in the beer, but there are definitely things you can do to mitigate how much oxygen there is."
Hartmans says he invests in a solid packaging team and "equips that team with appropriate quality control instruments to track dissolved oxygen and seam quality."
For Radel, once the beer leaves their facility, it's mainly about trust that the distribution company and final landing spot take good care of the product.
"There's only so much we can control when we package and send out beers," Radel says. "It's really important to us that we keep the beer as cold for as long as possible. Because once a distributor takes it and sends it to some other company, we don't know how they're going to keep our beer."
Case and point, Radel shares an anecdote of what could go wrong and how to address it potentially.
"If I go to the grocery store … and I noticed that they have [Bruery subsidiary Offshoot Beer Company IPA] Relax, but they have it past its freshness date, then it'll be on a sales rack for $5 and [people] drink it and they hate it," Radel says. "People's tastes have evolved, and people want good-tasting beer. When you go, and you see the beer that you worked really hard on didn't get bought in time, and it's sitting on a sales rack, and you see someone else pick it up, and then you immediately just know they're gonna have a bad experience."
Radel adds: "So when I see that, if I know the area, I'll get a hold of a sales rep and tell them, 'Let's get these guys fresher beer.' That's about as much control as we have."
Leaning in on the trust factor, Radel knows that once the beer is gone from their facility, it's beneficial for a customer to know the freshness of the product.
"If breweries haven't invested already in some kind of a coder [for can-on dates], I think that's got to be like the biggest one," he says.
When Distributing Canned Beer, Should You Vet Stores?
So if the control is minimal, how can you control it? Hartman says The Alchemist works hard to ensure its beer finds an ideal home through vetting locations.
"It is paramount to communicate with stores expectations for handling," he says. "In our case, we require our beer be kept refrigerated and inventory monitored closely."
Radel says The Bruery doesn't vet stores, but they ideally want the beer kept cold once in the store.
What matters more to Radel is when stores keep beer on shelves passed the freshness date. He says, "It's important [for consumers] to look at the dates on the cans. So breweries should make sure to provide "canned on" or "fresh until" dates to the bottom of its cans.
How Important Is Tracking Movements of Canned Beer at Stores?
Radel notes that it's essential to set up your beer accordingly, but he recognizes that once the product leaves the brewery, it's in the hands of other people who didn't initially create the product.
To mitigate that potential hurdle, Radel says, "When a member of the sales team or whoever brings the beer, they got to make sure that they arranged the beer according to when it was dropped at that facility."
He says that the store staff isn't stocking the shelves. That job lands on the distributor or a brewery's sales team member.
"If you have a shelf slot with only six packs in there, [the team will] go in the back and grab the extra allotments and fill up that space right away," Radel adds. "It's kind of this trust game you got to play when working with distributors and salespeople."
Radel adds that, if possible, self-distribution is a great way to monitor and track your beers at various accounts. That's something The Alchemist has followed for a while.
"Having done our own distribution for ten years, we know firsthand how important it is to have sales reps in the building regularly to monitor stock and rotation," Hartman notes. "Communicating with our delivery drivers to have the same expectations for handling, and we communicate with the stores as a second point of monitoring."
Hartman adds that he personally is "religiously checking dates on our cans" whenever he is at a store carrying The Alchemist.
"How we handle [the beer] … from the time it leaves our care until it is enjoyed has empowered our loyal customers to be an integral part of this monitoring process," he says.
Hartman says that The Alchemist also responds promptly to customer comments when the beer isn't the quality they expect. When that happens, they reach out to a store or distributor promptly, and, more times than not, it results in a quick resolution.
A Final Tip for Canned Beer Distribution
It starts with the people producing the beer and all those involved in packaging the product before relying on third parties to bring your beer to its end destination. Taking control of all the phases—from fresh ingredients to best brewing practices and a quality canning line operation—is paramount.
Bottom line, it's all about focus in all phases of the operation.
"It really is all about attention to detail," Radel says. "It comes down to how you treat the beer, how good your packaging team is, and catching any mistakes."