6 Reasons to Stop Using Google Sheets to Manage Your Brewery
Published: October 27, 2022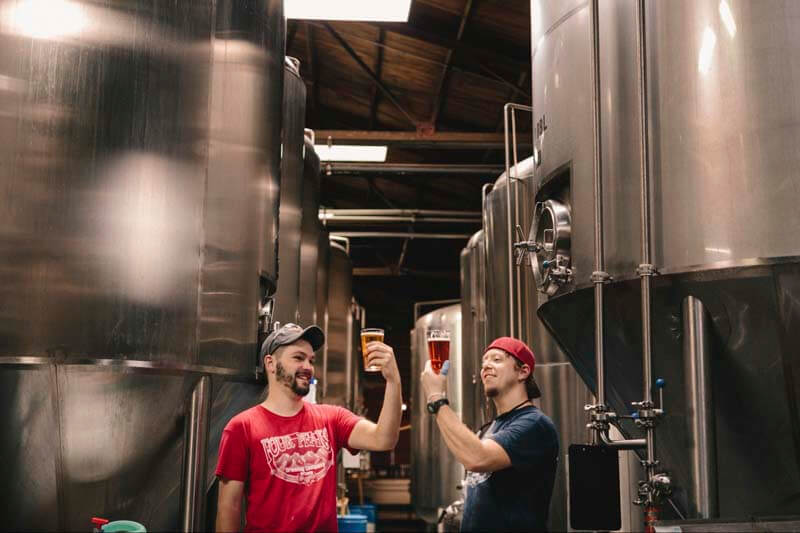 As a brewer, when it comes to your day-to-day operations, reliability is key.
Knowing that you're fully prepared to brew your brand's best-selling pilsner or making sure that your hops supplier received a timely invoice is crucial to healthy brewery operations.
Just as you pride yourself on using the best ingredients for your beer, why shouldn't the same care go into a reliable brewery management system that works with your brewery as it grows?
In the past, breweries have often used Google Sheets as a way to organize their inventory. But this can actually be a timely and inefficient process.
Ollie was built by brewers for brewers. Created by a professional brewer who experienced first-hand how frustrating it is to manage a brewery's day-to-day operations, Ollie takes the hassle out of managing your brewery. So you can get back to doing what you do best: brew beer.
Let's show you six reasons why closing out that messy, inaccurate Google Sheets tab and investing in Ollie will help you manage your brewery as efficiently and profitably as possible.
(Above photo by Elevate on Unsplash)
What We'll Cover in This Piece:
Better Production and Enable More Sales With Ollie
Discover how breweries all over are making operations a breeze and enabling more sales with Ollie!
Ready to learn more? Drop us a line and our team will be in touch with more information on how to check out a demo of Ollie.
Forget Manual Entry, Maintain Your Data in Real Time
No matter how skilled you are with Google Sheets, there is still a lot of manual data entry and maintenance required.
"I was spending hours every week keeping my sheets up to date, and that's not even taking into account the time it took to build them in the first place," says Kyle Kensrue, an Ollie Account Executive who used to run a 2,500 bbl brewery. "It's next to impossible to keep things up to date in real time. And I'd find that no matter how hard I tried, they were still inaccurate."
Ollie, on the other hand, maintains your real-time inventory automatically, saving you hours spent updating spreadsheets.
With Ollie, manage every part of the brewing process on any device—mobile, tablet, or desktop—and access everything from a single application.
For example, while you're on the brew floor, you can log on to your tablet and view the recipe ingredients you're currently using for your stout. Ollie takes into account all the raw material you're pulling out for that specific recipe, lists them on a bill, and removes them from your inventory.
Since Ollie keeps track of this information, you can spend less time updating spreadsheets from your drafty office and more time brewing or supervising on the production floor.
Ollie keeps up with you every step of the way from processing orders to managing inventory and payments to reporting more effectively. All on one single platform.
It's that simple.
Far more intuitive and easy than manually keeping track of everything in Google Sheets, Ollie saves you a considerable amount of time.
And if you're spending less time on data entry, you can spend more time figuring out how to help your brewery grow.
Ollie Gives You the Ability to Grow Your Brewery
When your brewery experiences rapid growth, it helps having a management system in place that will grow with you. A program that can handle your growth means that you can spend more time focusing on beer quality. And less on worrying about the inconsistency of an out-of-date Google Sheets, for example.
"You want a system that will be able to grow with you as you increase production or your sales footprint," says Ollie Brewery Solutions Consultant Dustin Jeffers. "The last thing you want to do while doubling production is to transition to a new ERP system or off of spreadsheets onto a system. At that point in your brewery's life, you want to make sure you are able to put the best product out there and make a great first impression on your new customers."
That's why it's important to think about your growth as a business when deciding what system you are going to use to track production, inventory, and sales.
And to us, it makes the most sense to put your brewery management in the hands of someone who has lived, worked, and breathed in the industry.
Built by Brewers for Brewers
Ollie was created with one goal in mind: to brew beer as efficiently as possible. Since the system was built by brewers, for brewers, Ollie took into account practical shortcuts and helpful lookouts when designing brewery processes to keep your brewery right on track.
For example, with Ollie, you can create invoices quickly and easily, build your own thorough custom reports, reorder bulk purchases with a couple quick clicks, and manage your customer data. All on one simple, intuitive platform.
With a program designed for any industry, Google Sheets just can't offer a tailored approach. One that understands the nuances of running a brewery every day.
For instance, with Google Sheets, you constantly have to upkeep and create manual entries. And when it comes time to create detailed and thorough reports, Google Sheets just doesn't have the intelligence to develop the data you need.
Simply because it wasn't built by brewers for brewers.
A Dedicated Support Team at Your Fingertips
When you can't get a formula to work or locate a report, who do you look to for support with Google Sheets?
By the time you get into a forum or conduct your own internal search, you'll have lost your entire afternoon.
With Ollie's custom-sized team of industry professionals, you'll always have someone there to assist you. Additionally, Ollie Support is available to guide you through everything from integration to account setups to building your beer recipes via video walkthroughs as well as in-depth knowledge-based articles.
Not only will your team of brewers find Ollie helpful, but your sales employees will too! Ollie makes it easy for them to quickly and accurately log sales visits and calls while on the go, as well as update accounts with a few simple swipes from one handy dashboard, wherever they are.
Ollie and Quickbooks Online Are a Perfect Pairing
When it comes to using a small business accounting software, most breweries opt for Quickbooks. In fact, roughly ninety percent of breweries report using Quickbooks.
In an effort to help meet brewers where they were already spending a bulk of their time, Ollie integrated with Quickbooks.
Together with Ollie, Quickbooks Online lets you submit invoices and notifies you when an invoice has been paid by a client. All with just a couple clicks.
Additionally, Ollie makes it easy to eliminate the need for multiple uploads of data by automatically integrating purchase orders, setting credit limits, and controlling open balances with the compatible Quickbooks Online functionality.
With Ollie, you receive complete CRM functionality including powerful inventory management, in-depth reporting, faster wholesale operations, and real-time payment processing.
Sounds like a lot to keep track of, but Ollie makes it easy.
Ollie's All-in-One Production Management Operates in Real Time
Isn't it nice having everything you need all in one place? Ollie makes sure you and your brewing team are set up for success with real-time reports of what's happening at your brewery from recording batch inventory to creating purchase orders.
Can you do that with Google Sheets? Probably not.
Having your production management set up in one convenient operation allows you and your team to schedule recipes in advance with Ollie's Raw Material Forecasting feature.
Being able to plan out brewing beers in advance allows your team to anticipate those high-volume fulfillment orders for your best-selling brew.
And here's a unique feature that you won't find in Google Sheets: Ollie offers TTB reporting, allowing you to quickly and accurately create the required government documents.
Just another way Ollie makes managing your brewery work for you!
Today, thanks to Ollie's technology, the brewing industry is undergoing a revolution that enables brewers to efficiently manage every part of their operations from grain to glass.
Ready to Make the Switch To Ollie?
There are way more than just six reasons to make the switch to Ollie, but don't just take our word for it—experience it for yourself! Request a free demo today.